It's actually pretty fast…
---
We bring to you today a short film from September 1932 of the new Pierce-Arrow Twelve taking part in a 24-hour endurance race. Ab Jenkins is behind the wheel of the car, which has a massive 462ci V12 under the cowling up front. Reading about cars back in the day doing high-speed tests at the Bonneville Salt Flats is interesting but seeing it in fairly clear video is even better.
Learn about a banned Dodge Daytona setting land speed records at Bonneville here.
While obviously not so impressive by today's standards, Jenkins pilots the Pierce-Arrow for an average speed of 112.91 mph. The whole point of this event was to test out the new V12 engine, which was new on the market, getting people excited about the performance it provided. Obviously, Pierce-Arrows were geared at the wealthy and the company wanted to prove how capable the new engine was, even if owners never pushed it so hard.
Pierce-Arrow was relentless about continuing to refine the V12's design year after year. From 1933 to 1935 displacement was consistent at 462ci and output peaked at 175-horsepower thanks in part to twin Stromberg carburetors. A 3-speed synchromesh transmission and 4.21:1 rear axle made it quick for the time and allowed owners to go over 90 mph. Even better, Pierce-Arrows were known for being durable and reliable. Today, Pierce-Arrows are rare and highly sought after in many circles.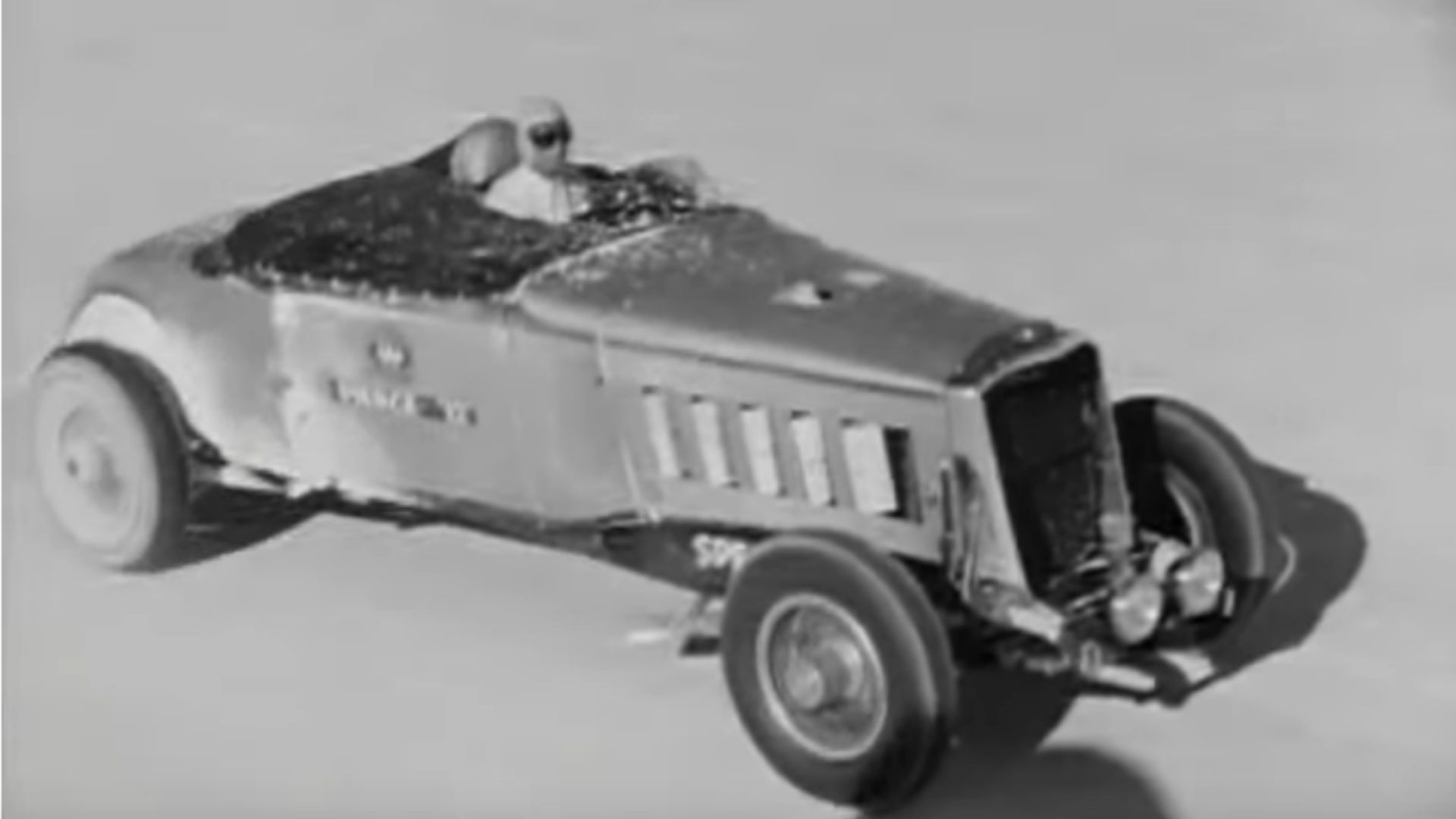 Launching such a performance-oriented and expensive design early in the Great Depression doesn't seem like a good idea today. We have the benefit of knowing how the economy languished for years on end, but many people back in the early 30s were hopeful good times were just around the bend. Sadly, this and other gambles proved Pierce-Arrow's downfall as the automaker declared bankruptcy in 1938. Having first opened its doors in 1908, the company lasted exactly 30 years.
Some people remarked at how there are multiple crew members rubbing down the car body during the pit stop. Some seem to think they're applying wax and they likely are. If you haven't been to the Bonneville Salt Flats, they might look solid in pictures, but the surface is fairly loose, so if you drive a car on it the salt will kick up and get all over the body. You can see in the shots of the Pierce-Arrow driving around that it has the white stuff all over it. Not only can that provide a little bit of wind resistance, it's corrosive and can fly off the body onto the driver, the instruments, steering wheel, etc. so getting rid of it during pit stops is a good idea. You can see Jenkins wiping down his goggles with a cloth so he can still see while driving.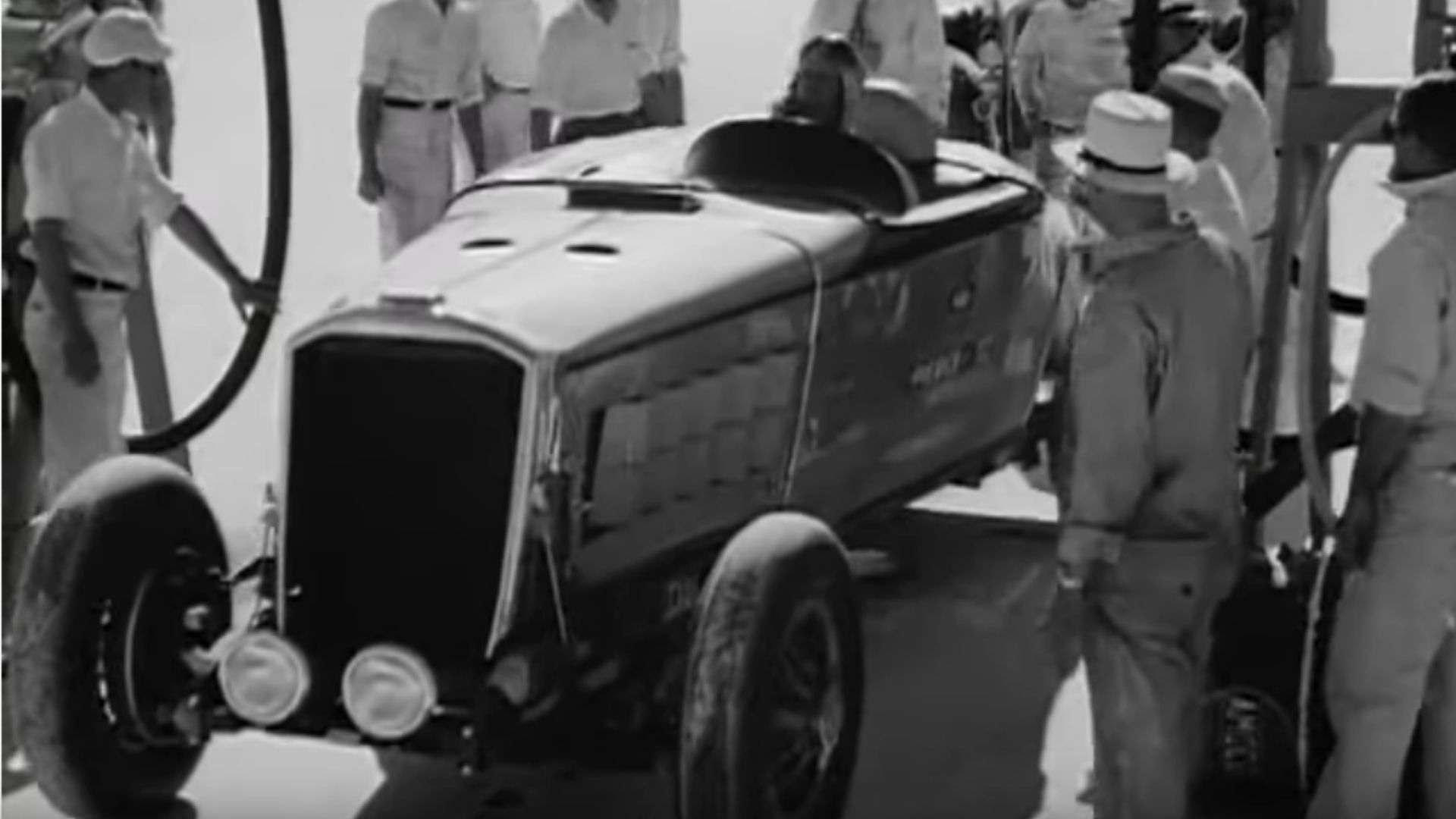 Filming was done through a variety of creative methods. While some shots are from cameramen just standing, others appear to be from a chase car. In one shot it looks like the camera was left on the ground and the Pierce-Arrow drives over it. And at one point we see they're filing from a biplane.
Since they didn't have the types of communication devices we do now, or even what was available after the close of WWII, they had to use a much more primitive way for the driver to pass messages to the crew. As you see in the video, Jenkins drops a tube behind the speeding Pierce-Arrow. Some crew members run and pick it up, pop off the end, and unroll a handwritten message about how the car is running cool while the driver is hot but ok. It's funny to see this method in action, giving us an interesting slice of history.
Another notable detail is all the precision watches used by officials at the event. They look like pocket watches in strange contraptions, a far cry from the tech-advanced timers with lasers used for races and other events today.
Check out the video for yourself.