This came from someone with a wild imagination!
---
With fewer and fewer original numbers matching cars out there and incredible automotive technology improvements, restomodding is becoming more common. People have even gone to the extreme of swapping bodies to make their classic perform like a new car, as seen in a recent YouTube video by B is for Build where they took two junkyard Mustangs, a 1967 and a 2016 and made a ridiculously cool ride. At what point though, would be taking restomodding too far? How about turning an American classic muscle car into a mid-engined supercar?
A Barracuda also got a widebody makeover. Check it out here and tell us what you think.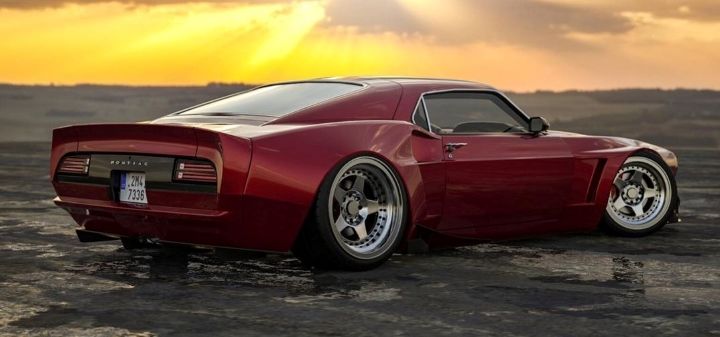 A Czech-based Rendering artist, Rostislav Prokop recently used his graphic editing talents to design a mid-engined, widebodied supercar based off a 1970 Pontiac Firebird. Despite its extreme stance and obvious mid-engine layout, some people may find the rendering to not be so unnatural for the classic muscle car. However, an actual example is very unlikely to come to fruition. Not that it couldn't be done, but the frame layout of the 1970 Pontiac would not be the best for mid-engine location. Not to mention the solid axle of the '70s would not fair well with the design either.
For more than just these reasons, it seems that the best course of action for someone intending to actually building a car based on this photoshop design would be to build a unique frame with a mid-engine and suspension system and piece the body of a 1970 Firebird around it. While this seems like a project that could gather some attention at SEMA or a similar car-builders show, to many this might feel a little sacrilege. Although, there is always a first for everything and with the right car-builder with enough financial backing maybe Prokop could see his drawing come to life one day. Until then, it is always nice to see automotive enthusiasts using their creative skills, even if the final product is only a rendering.
Motorious has an extensive Knowledge Base of the 1970 Pontiac Firebird and other model years of this quintessential American sports car. Click here to learn more.