This is a huge project that could have a huge payout for the right collector.
---
Barn finds are always exciting for collectors as they represent the opportunity to rescue a classic vehicle from an unceremonious slumber, and while some barn finds are complete cars that mostly need cosmetic and mechanical work, the saddest examples are the ones that have been stripped down and forgotten about. This 1954 Chevrolet Corvette barn find that is up for sale on eBay is a perfect example of the latter.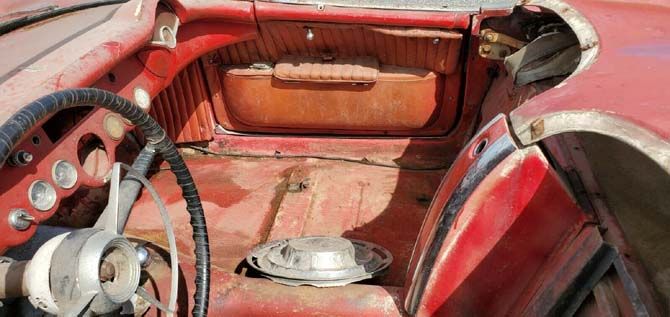 It isn't clear why this Corvette got stashed away back in 1969, but it's clear that the car was stripped to a bare shell sometime over the last 51 years. The listing says that if you don't see a part on this car, that piece is not included with the sale, which means most of the interior is missing as well as some of the exterior trim. The seller also states that the original inline-six engine is "long gone," but the listing doesn't say whether there is another engine under the hood. If there is an engine at all, the Corvette doesn't run or drive, but at least it is said to roll and steer easily.
What makes this 1954 Chevrolet Corvette so special is its production numbers. These second-year Corvettes saw production rise from just 300 units in 1953 to 3,640 units in 1954. Like the first year, most of these were painted in Polo White with a red interior, but if this car's color is original, only 100 examples were painted in Sportsman Red.
This 1954 Chevrolet Corvette barn find project car will be listed on eBay through Sunday, August 9th, and it currently has a buy-it-now price of $28,000. While that is a huge chunk of change for a car that is basically just a rolling shell of a car, it is a huge project that could have a huge payout for the right collector.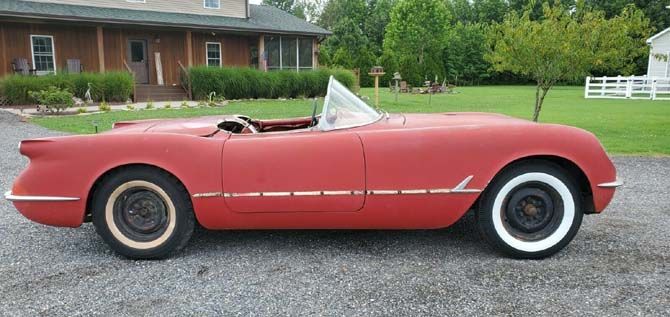 Source: eBay Motors