Now restored to former glory and being offered by Corvette Heroes, this is one of 36 cars discovered in the most epic Corvette barn find of all time.
---
Some may recall the epic barn find involving 36 Corvettes that were discovered sitting under decades of dust, each a different model year from 1953 to 1989. These epic Corvettes were once owned by renowned pop artist Peter Max who was going to use the cars as canvases to use for a series of paintings, but the project was never started so the cars have been sitting in various parking garages in New York City since 1989 collecting decades of dust and debris. One of those cars is a rare first-year 1953 Chevrolet Corvette. Finding one of these cars today would prove a difficult task, and it would cost a small fortune if luck was on your side. Here's your chance to take home that barn find 1953 Chevy Corvette through Corvette Heroes. Tickets are just $3 each or deals are available to purchase multiple tickets here with all proceeds benefiting American military veterans through the National Guard Educational Foundation.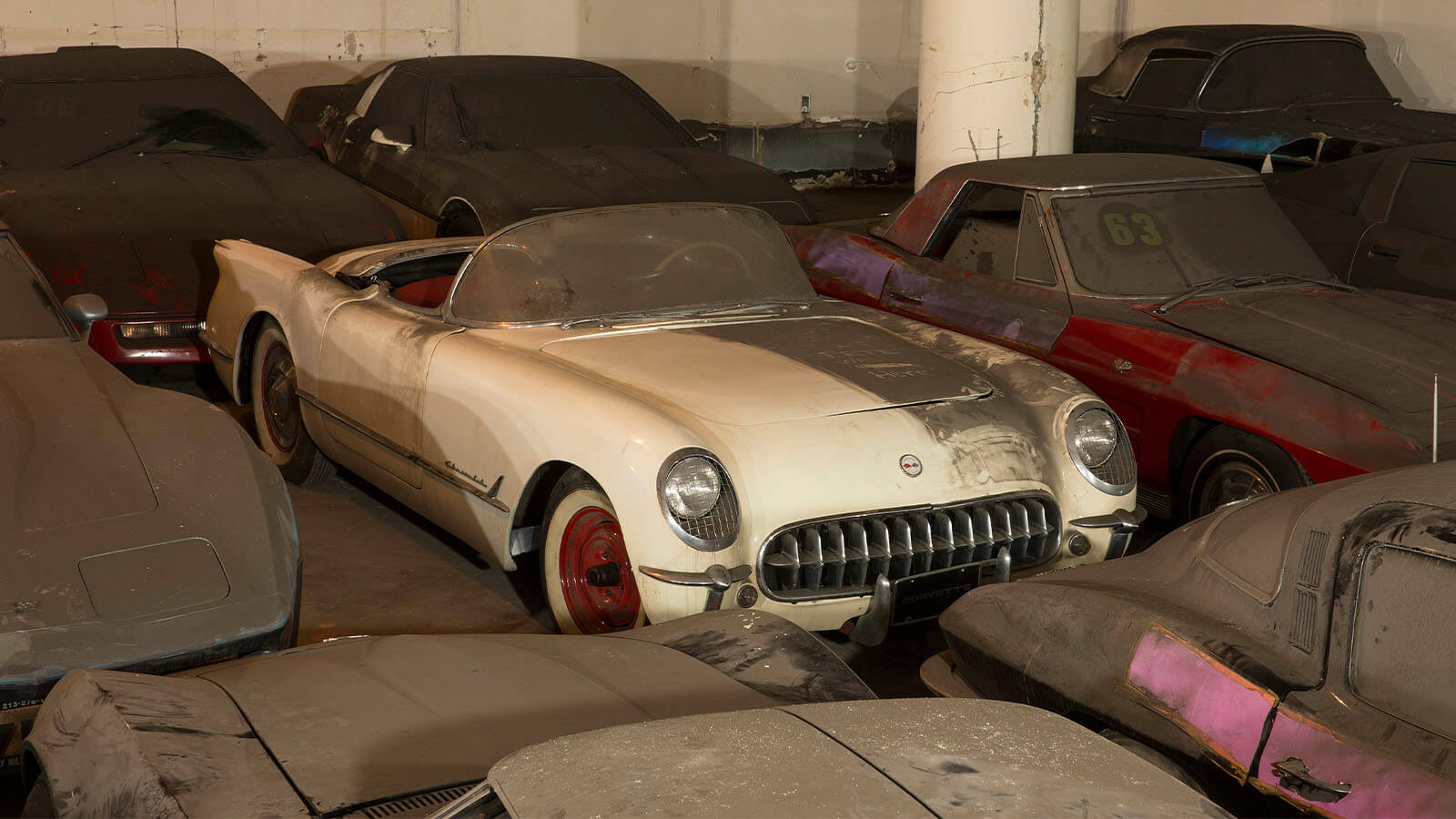 The Chevrolet Corvette is endearingly called 'America's Sports Car' with a production run spanning 67 years through eight generation changes. Introduced for the 1953 model year, only 300 Corvettes were produced by hand on a makeshift assembly line in Flint, Michigan inside an old plant used to build trucks. Even more, the body was constructed of a then-revolutionary glass fiber-reinforced plastic material and is considered the first-ever mass-production car with a fiberglass body. The cost to produce a 1953 Corvette was $3,490.
Each 1953 Corvette for the first model year were all finished in Polo White over a red interior and were equipped with a black canvas soft top. Stuffed under the hood is a 235-cubic-inch inline-six or "Blue Flame Six" engine given a higher compression ratio and fed by three Corvette-exclusive Carter side-draft carburetors. Other mechanical highlights include mechanical lifters, a higher-lift camshaft, and shifted via a Powerglide two-speed automatic transmission.
A representative for Max reached out to Scott Heller, who helped the artist move these Corvettes to different parking garages around the city for 15 years and asked if he wanted to buy the Vette collection. Heller sought out advice from his wife, two sons Michael and Adam Heller, cousin Peter Heller, and real estate agents Gary, Adam, and Fred Spindler. Corvette Heroes consists of real estate and parking garage professionals in New York and the co-owner of Gotham Comedy Club, and they are bringing the cars found in the "greatest Corvette barn find in history" back to life. Gotham Comedy Club's Chris Mazzilli also owns Dream Car Restorations on Long Island, and he is considered one of the world's foremost Corvette enthusiasts and experts.
Deciding whether it was worth purchasing the entire collection and restoring the cars back to better days, Mazzilli broke down the cost and compiled what needed to be done to each of the 36 cars to get them back to tip-top shape. The decision was made to purchase the entire Peter Max Collection of abandoned Corvettes.
Of course, a few years were needed to get these cars to where they needed to be and to figure out what to do with the entire collection once they were restored and fit for the road. The decision was to give the cars away in a national sweepstakes, much like TV network VH1 did 30 years prior that gained two million submissions.
VH1 held their sweepstakes in 1989 as a way to increase viewership, so they assembled 36 Corvettes to give the entire collection away to just one winner. A carpenter from Long Island won the 36-car collection, and Max purchased them from him shortly after. Now, Corvette Heroes has stepped in and is offering each car to 36 different winners. This greatly increases the odds to win one of these incredible Corvettes.
On top of that, a special series will premier on the History Channel on September 21, at 10 p.m. called "The Lost Corvettes" that documents the restoration efforts by the Corvette Heroes as well as the history of each car. Ironically, the series is produced by Bungalow Media+Entertainment, and CEO Robert Friedman is the executive producer, but he is also the man who ran the 1989 Corvette giveaway for VH1.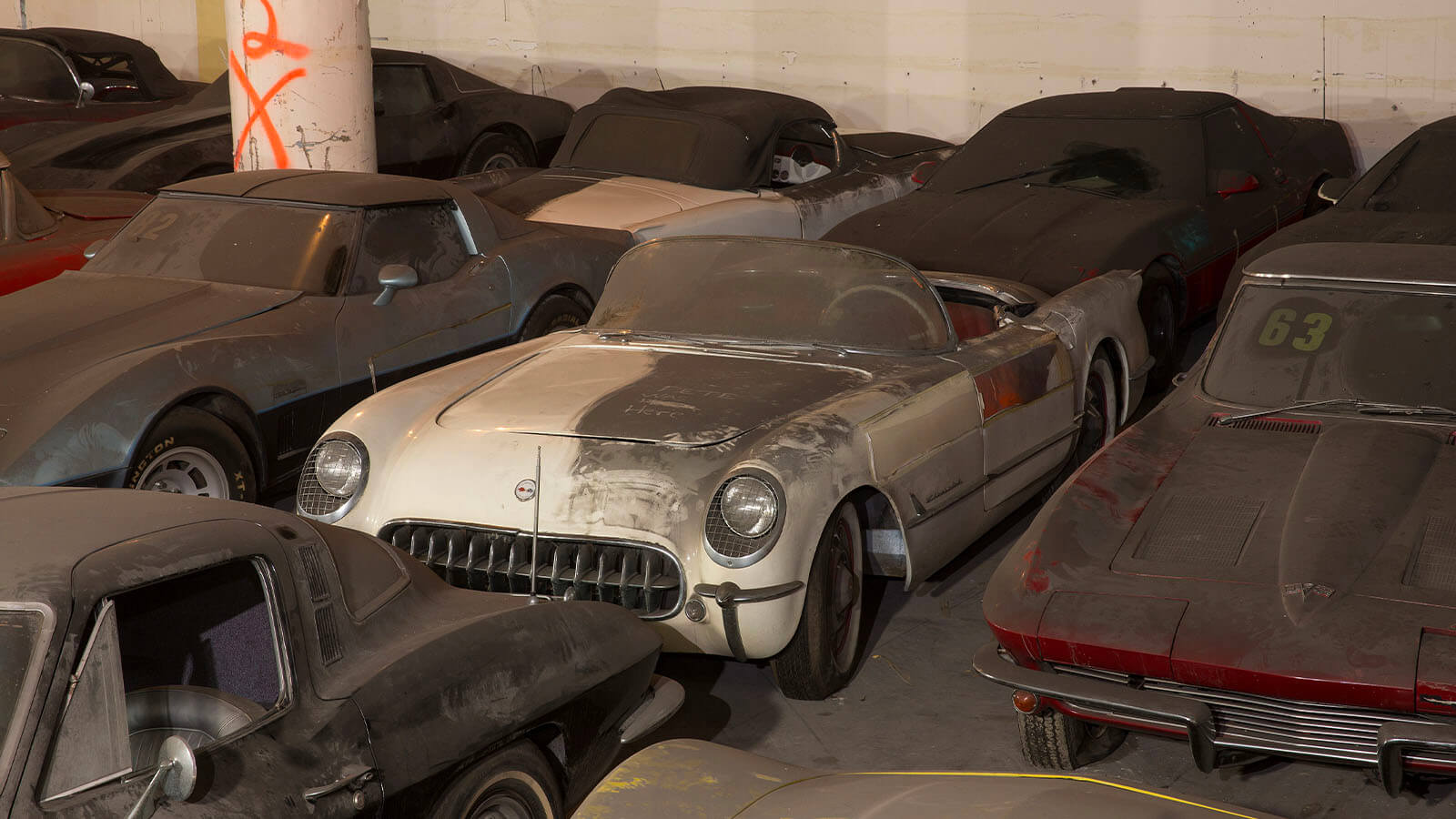 If you are interested in taking home the very first year Corvette from the most epic barn find, tickets are just $3 each and deals are available to purchase multiple tickets here. with all proceeds benefiting American military veterans through the National Guard Education Foundation.