Which horse do you have your money on?
---
It's always fun to see unexpected matchups at the drag strip. We're not saying a 2nd-gen Acura NSX has never raced a 6th-gen Chevy Camaro ZL1 before, just it's a thing you usually don't see on the internet. That's why this video of the potent American muscle car facing off against the technologically-advanced Japanese supercar is so interesting. We've seen plenty of these racing Shelbys and Hellcats, but this is something different with an American muscle vs Japanese sports car showdown.
Watch Dodge Hellcats race Nissan GT-Rs here.
When it comes to blistering performance, the 6th-gen Camaro ZL1 has it in spades. A supercharged 6.2-liter LT4 V8 produces 650-horsepower and 650 lb.-ft. of tire-destroying torque. You can get it either with a 6-speed manual or an automatic with paddle shifters. Magnetic Ride Control and a performance suspension specifically tuned for it are also included, making the muscle car quite the threat both on a straightaway and in turns. However, this thing isn't exactly lightweight, tipping the scale at a stout 3,907 lbs.
Some people will take issue with us calling the 2nd-gen Acura NSX a supercar. Those people think supercars are now hypercars or are so incredibly unattainable only the wealthiest can afford them. They'll also tell you a Nissan GT-R isn't a supercar. Well, they can believe what they want.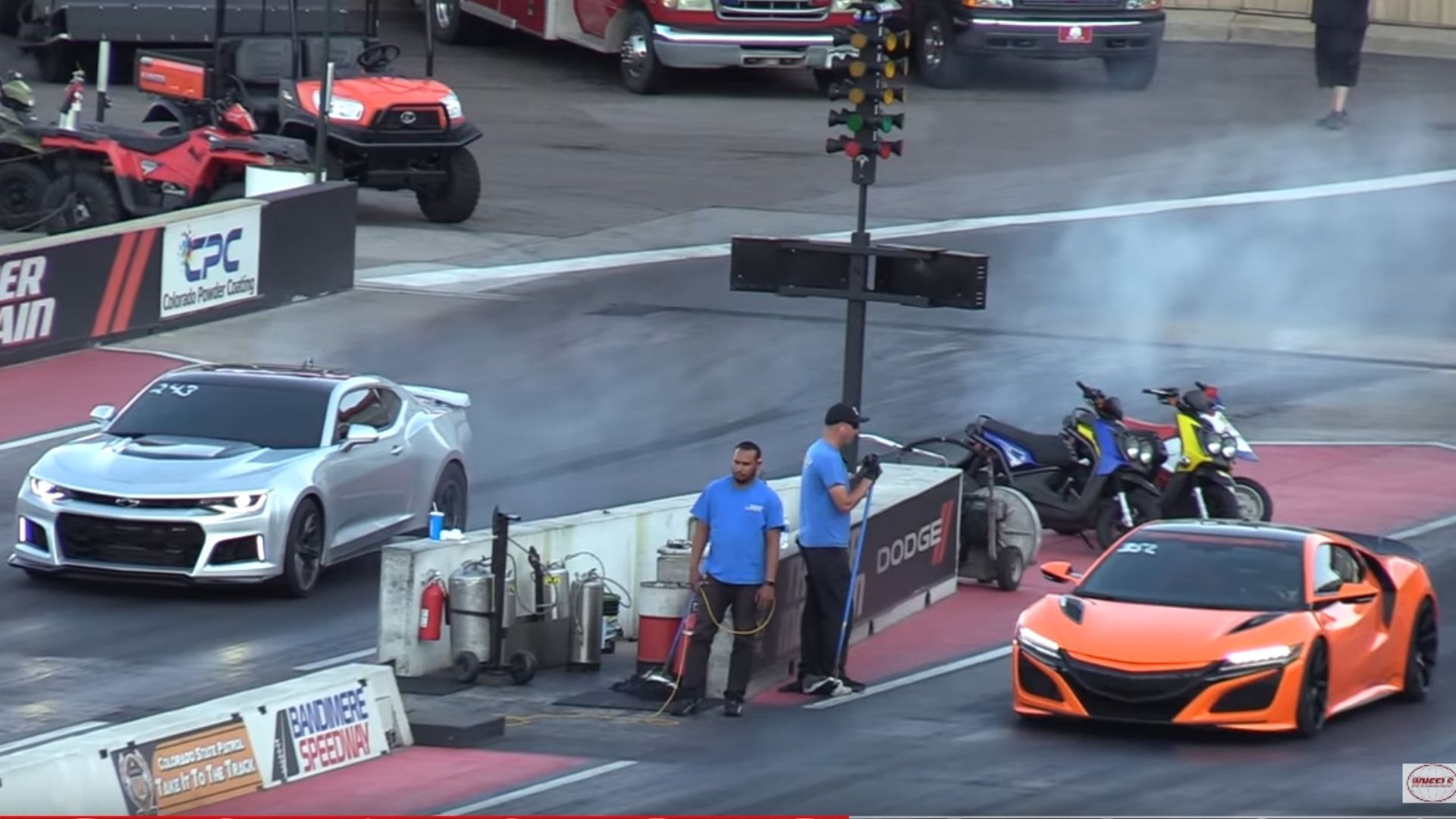 Anyway, the current NSX is an interesting vehicle, and that's not all good or bad. With a turbocharged 3.5-liter V6 and an electric motor it puts out 573-hp and 476 lb.-ft. of torque. Yes, it's a hybrid, something we've seen done before with supercars like the LaFerrari and Porsche 918, so we know it can be a potent setup. Sending power to the rear wheels is a 9-speed dual-clutch automatic transmission. But wait, there's more, because technically the NSX is an all-wheel-drive car. Twin electric motors drive the front wheels. As you might suspect, all that hardware isn't light, meaning the 2nd-gen NSX is pretty portly at 3,878 lbs.
So there you have it, two pretty powerful (by today's standards) yet heavy performance cars, one with rear-wheel drive and the other using all-wheel drive along with an interesting hybrid powertrain. It's not such a straightforward matchup, so the only thing left is to watch and see which one shreds the other in the quarter mile.