There's nothing wrong with improvising!
---
For many, winter is a time for warm fires, Christmas trees, and holiday cheer. However for some, especially in the northern states, it could also mean huge piles of snow that make it impossible to drive. With the immobilization of nearly half of the country during the cold months of the year, many people find weird and creative ways to push past the boredom and monotony of home life. This is especially the case for the Lithuanian couple who decided to recreate a supercar in their front yard.
Watch the latest Motorious Podcast here.
The chosen vehicle was to be the famed Ferrari LaFerrari, an Italian hybrid hypercar that was produced from 2013 until 2018 with only 710 units having been produced. Building materials consisted of Snow and some shaping tools used to carve out the body lines. Two days of meticulous craftsmanship and dedication produced a full life-sized model of the infamous red creature. After having completed the project, they finished it off with a spray-painted red and black striped exterior coat. When all was said and done, the wife was quoted at the end of their documentation as saying "Now no one can deny that there is a Ferrari in our yard."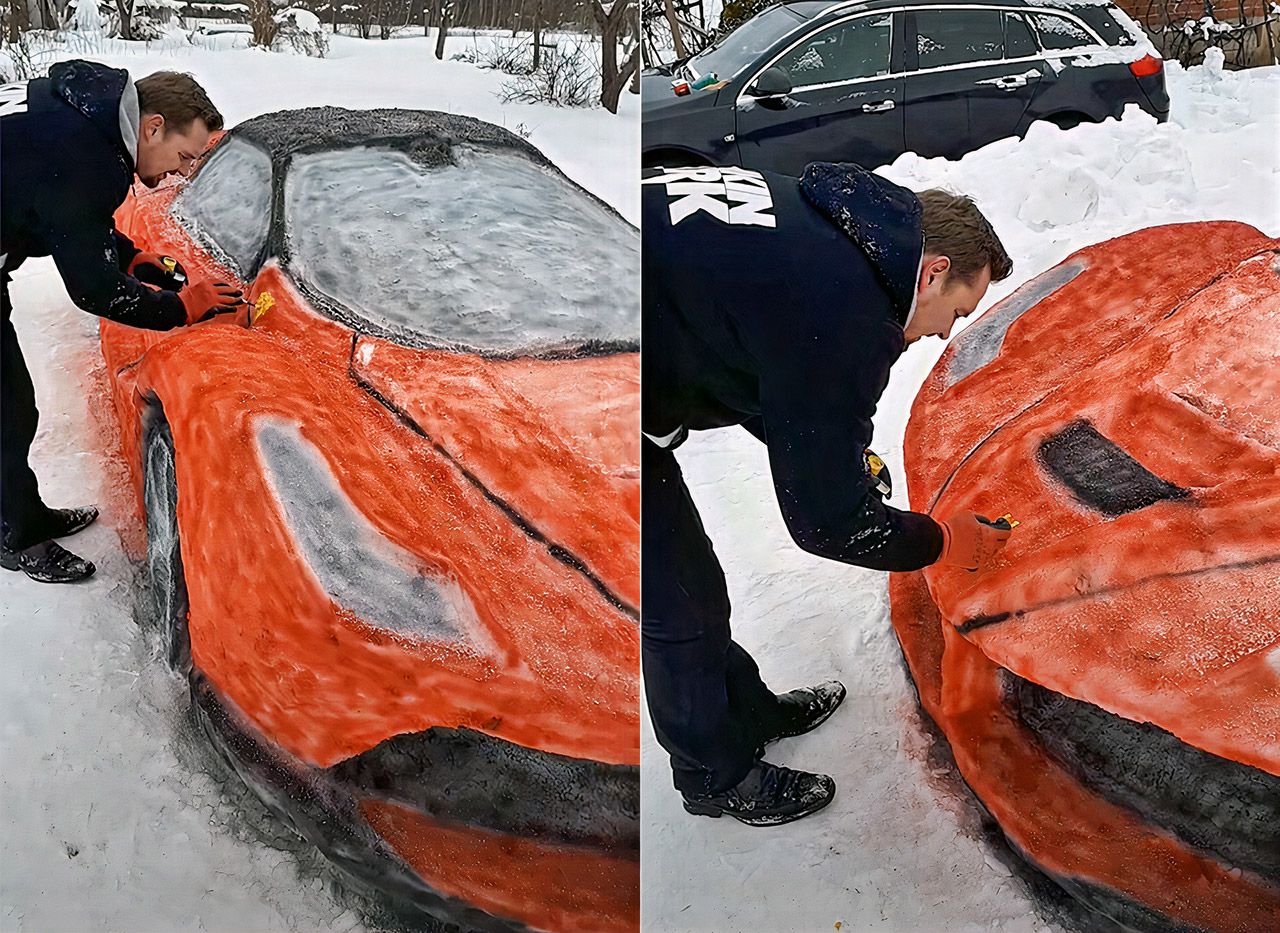 Love for the Ferrari LaFerrari has held strong, even though it ended production almost 3 years ago. This is because it didn't just compete with similar brands, it blew them out of the water. Many cars from the McLaren P1 to the Porsche 918 Spyder tried and failed to compete with the car's combination of style and performance. Accompanying the car's good looks was a 6.3-liter naturally aspirated V12 which was assisted by an electric motor, this mashup of displacement and electric power allowed the vehicle to achieve an incredible 950 horsepower and 664 ft/lb of torque. This, combined with a 7-speed dual-clutch automatic transmission, permitted acceleration from 0-60 mph in just 2.9 seconds. There is no wonder as to the legitimacy of the hype surrounding these cars and the snow-replica is a wonderful way to show that.