The Smoking Tire host's former 5.0L Fox-body is up for grabs on Bring A Trailer.
---
This 1988 Ford Mustang LX was once part of the California Highway Patrol having served the state from 1988 through 1994. In 2014, the car was purchased by Matt Farah known from his podcast The Smoking Tire. Since then, the car ended up in the hands of its current owner at the BaT auction in 2018.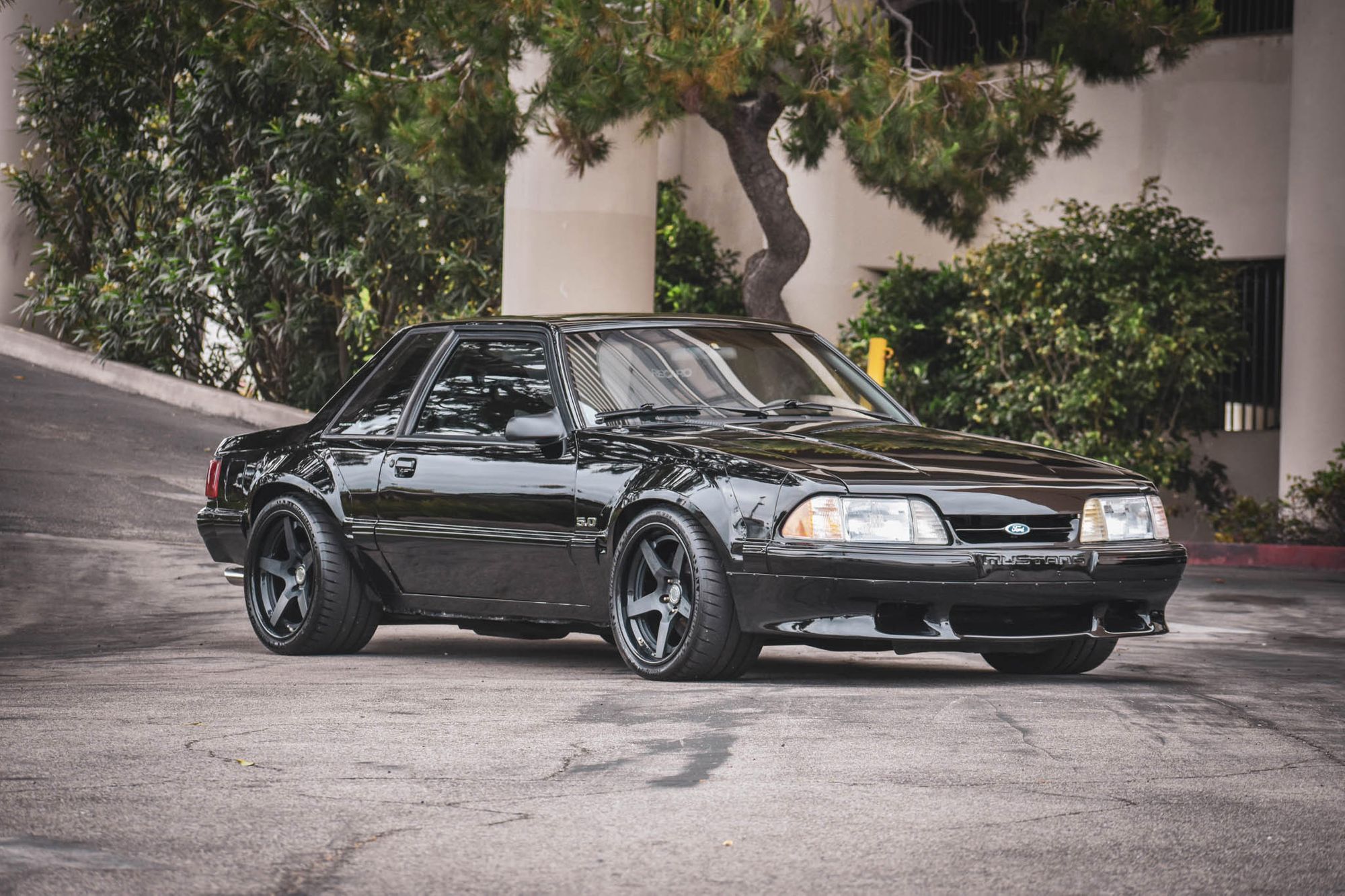 Once slathered in gray, this car featured a few different colors. From gray, the car was then partially finished in red, and then was given the black hue that it sports now from back in 2015 after bodywork was performed by RDB LA of Los Angeles. Exterior-wise, the car features widened steel fenders with carbon fiber wheel flares, and has been fitted with a Saleen lower front air dam. We must disclose that there are a few chips in the paint and windshield. A set of 18-inch HRE wheels on all four corners.
Under the hood sits a 302-cubic-inch V8 crate engine by Ford Racing backed by a Tremec 5-speed manual transmission that twists 3.55:1 Torsen T2 differential. More mechanical highlights consist of Mustang Cobra independent rear suspension, a strengthened front suspension, Bilstein springs and dampers, Delrin suspension bushings. Converted to five-lug hubs, this Fox-body now features four-wheel disc brakes from a 2004 Mustang Cobra complete with stainless steel hoses and Hawk pads.
Open up the doors to Recaro seats with custom upholstery, a roll bar, a Maximum Motorsports K-member, and more documented on a parts list. Comes with a clean California title with a Carfax report. SSP Lightweight Coupe. Only 2,400 miles shown on the odometer.
The SSP was the lightest of all Fox-body Mustangs, as it didn't have air conditioning, a stereo, power windows, or central locking. Replacing the factory seats in this example by Recaro Profi XL fixed-back buckets with Sabelt harnesses. Custom fabric by Exoticar, Inc. of Los Angeles have been used to reupholster the seat centers and door panels, and tears in the headliner.
Momo Prototipo steering wheel sits below a Florida 5.0 instrument cluster housing a AutoMeter Pro-Comp gauges. According to this listing of Mustang, the speedometer is inoperable and 2,400 miles are showing on the stopped odometer. Since then, a handful of miles were accumulated since the current owner as the true total is unknown. Included in the sale a Coolshirt system with a tank and control switch.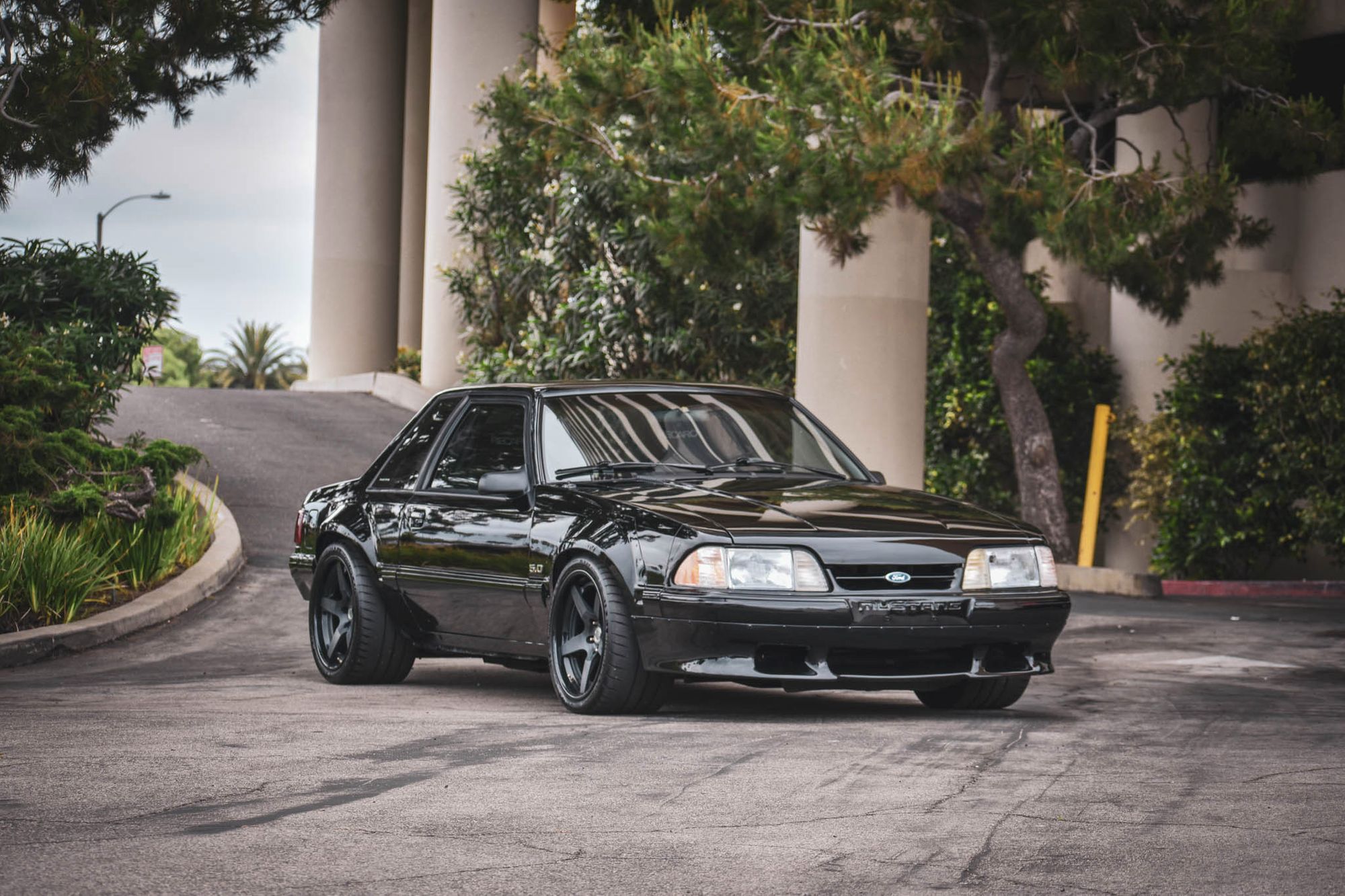 Modifications to the Ford Racing V8 crate engine features aluminum GT40 cylinder heads, MAC Performance exhaust headers, a high-flow water pump, and a larger-capacity Mishimoto aluminum radiator. BBI Autosport of Huntington Beach, California, handled the tuning. In a previous listing showed peak output of 270-horsepower at the wheels on 91-octane pump fuel. A Tremec 5-speed manual transmission connected to a Hurst short-throw shifter and a 3.55:1 Torsen T2 differential.
If this modified 1988 Ford Mustang Fox-body is right up your alley, make sure to contact Bring a Trailer.