This retro hotrod is a true time capsule.
---
Love it or hate it, the Plymouth Prowler was a truly special car that sparked a retro design fad that later included cars like the Ford Thunderbird, Chevrolet SSR, Volkswagen New Beetle and Toyota FJ Cruiser. The Prowler entered production in 1997, and Plymouth only built 457 that year with them all coming painted in Prowler Purple. These cars remain collectible today, but it's hard to imagine any exist with fewer miles and with the factory-made matching trailer.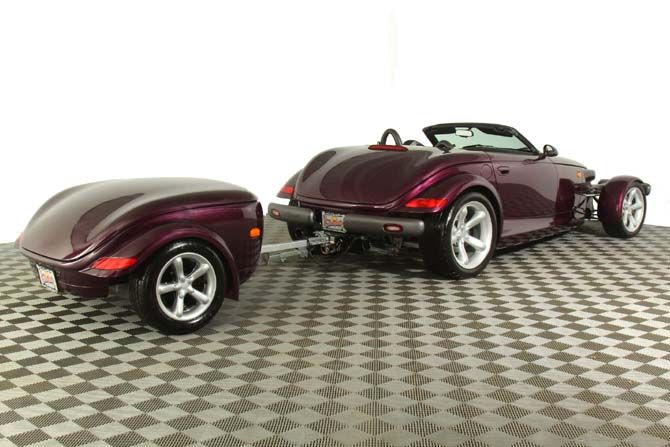 The highlight of this car is definitely the fact that it has just 225 actual miles on the odometer, which means someone had the foresight to lock this car away when it was brand new. As such, it is an exquisite show piece that might actually be a shame to drive. That being said, the classic hotrod looks made the Prowler an awesome cruiser, and the matching trailer – a $5,000 option brand new – ensures plenty of cargo space when traveling. Or just use it for collecting trophies!
In stark contrast to its vintage design, the Prowler featured a modern aluminum construction, and the 1997 model was powered by a 3.5-liter V6 putting out 214 horsepower. hese weren't speed demons after all, but they are sure to get noticed wherever they're parked with the chopped-looking roof, the front open-wheel design and those wide, 20-inch wheels at the rear.
Thanks to its ultra-low miles, this 1997 Plymouth Prowler survives today looking as good as it did the day it was built, and it would be a great addition to any private collection or museum. It's up for sale through Sunnyside Classics for $49,600, or you can click HERE to make an offer.