Call them what you want, these cars are very special, but where did they all go?
---
It certainly seems like we've pieced together a lot more information than has existed out there before in the prior two articles. The disputed number of the disputed-name cars have distinct differences from the production 1963 Corvettes: no one can agree on how many there are, or what the proper name for them even is. But most of our sources agree on the final leg of this journey, where they ended up!
Finding The Ones That Survived
Virtually all of the 21 (23, or 25, depending on who you ask) pre-production 1963 Corvettes were convertibles, and only a handful are known to still exist today. Regardless of the number that made it to the road, it's generally agreed upon that there are no more than 8-10 still around.
The current accepted, or agreed upon, information shows that there are two pre-production 1963 Corvettes in California (VIN #3), another in North Dakota, VIN #18 is in Alabama, and there's a split window coupe in England. Oddly enough, I authored an article about the Alabama car a few months ago, not knowing the topic would come back around, and this time I could write a small book about the cars.
We reached out to the owner in England, and hope that we will get to gather his perspective on the unicorn 1963s. There could be more to that car, as we learned along the way that three Corvettes, noted in GM historical material as "not worked on by Engineering", were delivered to Europe for promotional shows. One can't help but wonder if one of these three cars is owned by the current English owner, and how they came about getting one.
The Pete Vicari Three
This whole journey began when we learned that three pre-production Corvettes were going up for sale in October. We thought it was interesting, three 1963 Corvettes, with the hopes of not splitting them up, of course they're going to end up on our radar. But we could never have imagined it would be in such a big way.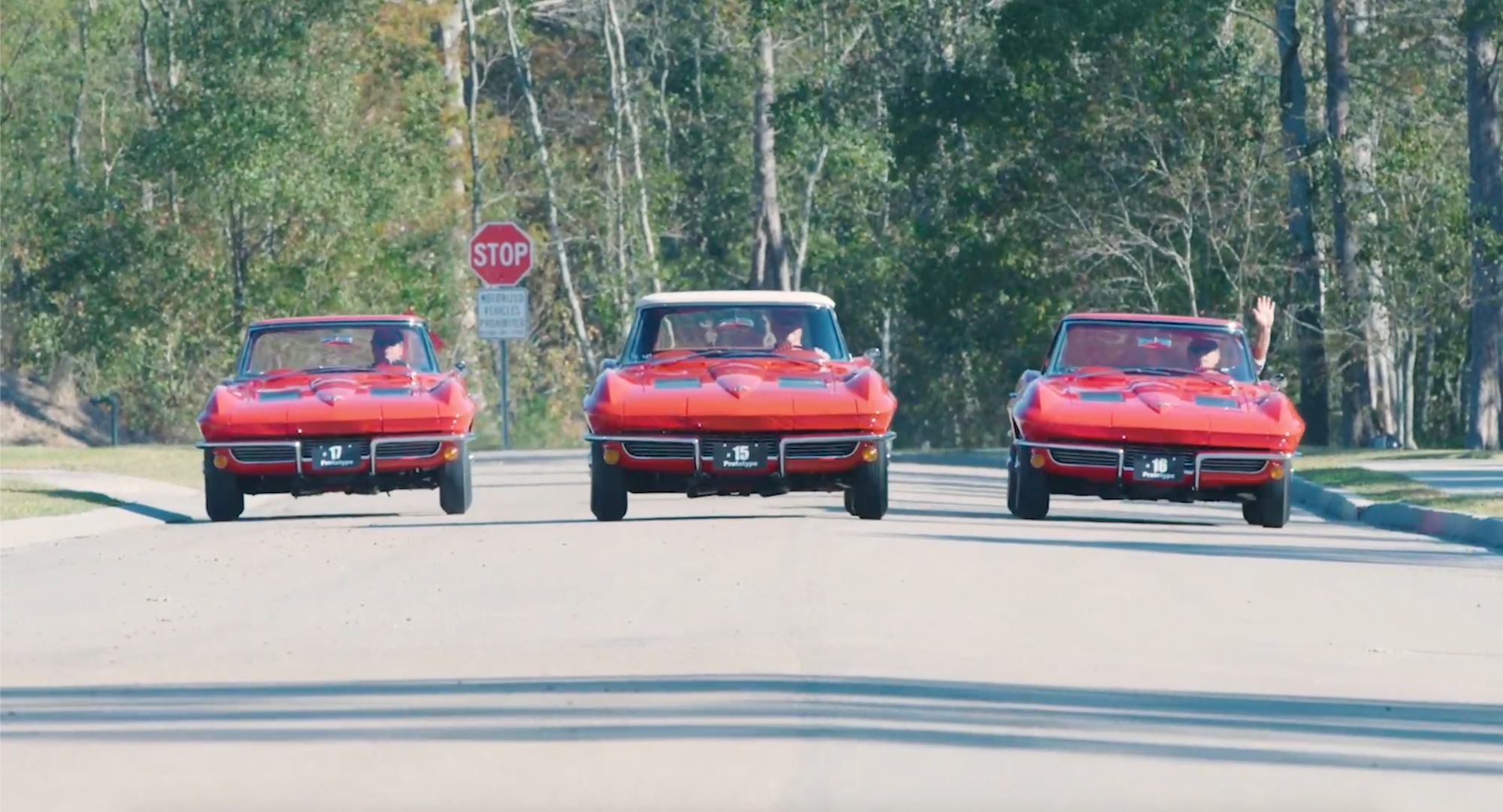 Owning the set is a collector's car dream, but after what we've uncovered over the last several weeks, it's a genuine once-in-a-lifetime opportunity to bring them home. The 3 of 23, with three with sequential VINs, are something most car collectors can only dream of, if they can even imagine the possibility to begin with. Factoring in these key elements, this trio of 1963 Corvette Pilot Line, prototypes, or pre-production Corvettes, whatever you want to call them, are the true holy grail of auction cars. The red convertibles with fuel injection-fed engines are all privately owned in Louisiana, and are on the auction docket for the upcoming Vicari Auction Cruisin' The Coast.
The Louisiana trio of 1963 Corvette Prototypes are all red 'Verts,' restored to pristine condition and feature VINs #15, #16, and #17. In the 120 historical photographs taken to document pre-production life (which we referenced earlier in the series) for the 1963 Corvettes, one distinct photo shows VIN #16. On the inside of the car, a firewall panel has both the VIN number and body tag, it was the only one in the series that shows both.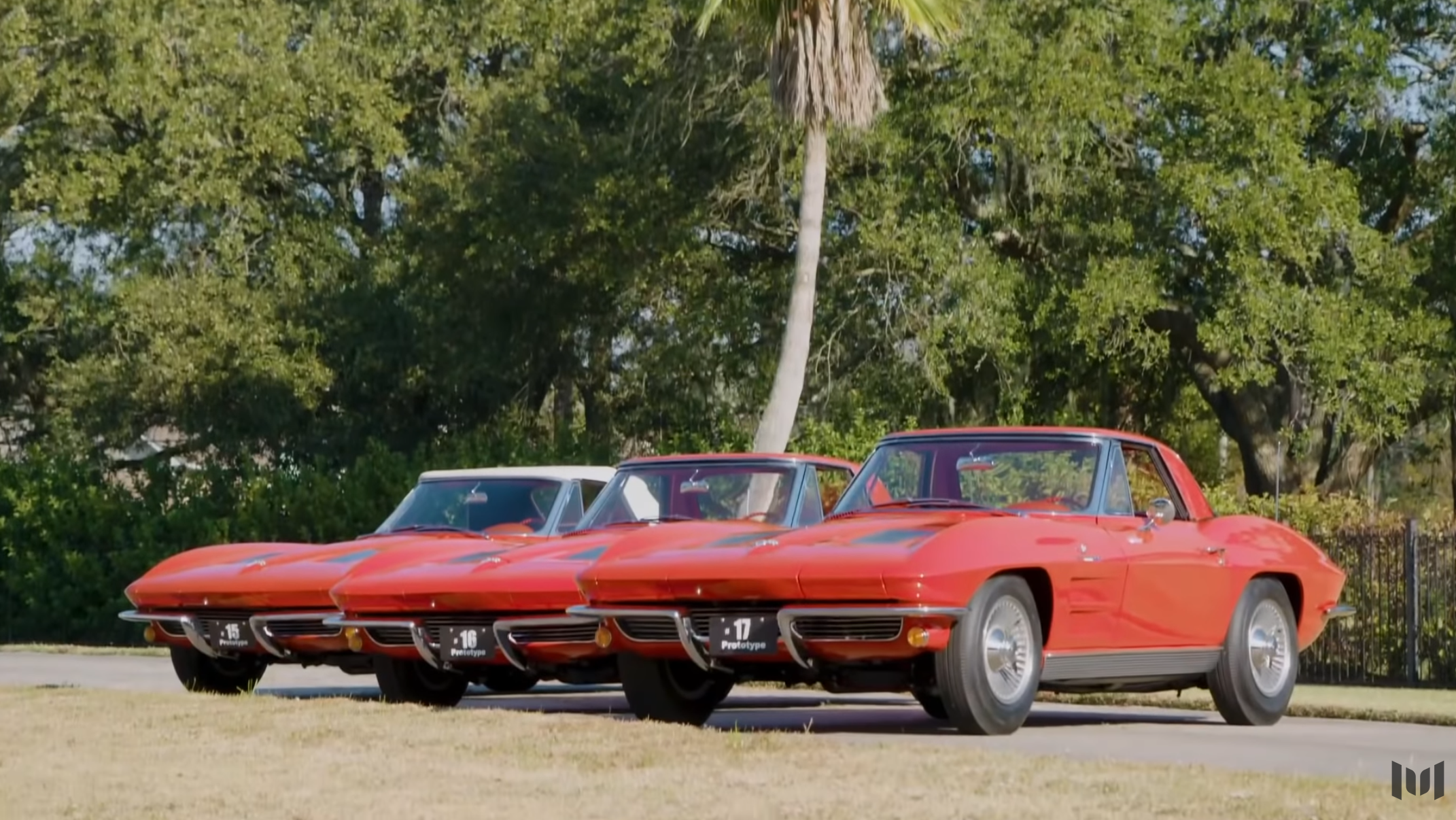 While the photo found of the VIN and body tags was not clear enough to read, a photo taken during a restoration in 2014 lines up perfectly with the black and white one, and it's undeniably the same plates, in the same position, with the same characters on the plates, same visible scratches besides the VIN tag, and same filler smear on the firewall - this is about as conclusive as photo evidence gets.
While the pre-production trio is three convertibles, it's worth mentioning that the split-window aspect of the 1963 hardtops is the most notable distinction of maybe any Corvette year/model, ever.
Vicari's VIN #15, #16, and #17 Corvettes are all convertibles, and #15 was only delivered with a soft top and didn't have a hardtop, while the other two wore two tops. Cars #15 and #17 were both restored while owned by Pete, and #16 already had a complete frame-off restoration.
Pete Vicrai's Corvettes are from the era of Corvette testing that was spearheaded by Zora Duntov. Dick Thompson and Sam McDonald were filmed testing a coupe and convertible on a track. When the cars pulled up, the convertible can be seen as having two-prong wheels, where the production cars had three - one of these cars was pre-production! Although it doesn't elude to be a Pete Vicari owned car in the video, although there's a three in seven chance it just may be.
While Pete Vicari has clearly invested a lot of time, money, and research in the trio, it's time for them to find a new home. Pete, and any other red-blooded enthusiast, would love to see these cars stay together. Owning one of these cars would be extremely rare, but owning three is a chance you'll likely only get once in a lifetime.
As we conclude this series, we don't feel like we've completely uncovered the meaning of 1963 'Pilot Line', or 'Prototype', or really even 'Pre-production'. However, something tells us this isn't truly concluded, even after the trio moves on. There seems to be a lot more to this story than we know, yet.
Let's Keep This Story Going...
While we have done our absolute best to present the facts to you, please do not hesitate to email editorial@gmail.com, or me directly at Elizabeth@Motorious.com to setup a time to chat about these cars. Most of the information uncovered in the last three articles is documented, at least in some historical way or another, but the documents and pictures were shown to us under strict confidence that they would not be shared outside of the few authorized members of the team that were allowed to see them.
See them, here, here, and here!
Source: Vicari Auction