One man has been collecting like crazy for a long time…
---
Barn Find Hunter's Tom Cotter usually tracks down collections of old cars but generally has stayed away from motorcycles, at least on the web series. The latest episode is a huge departure from that as the barn find sleuth tracks down an absolutely humongous collection of barn find motorcycles which is guaranteed to leave you impressed.
Check out the Harley-Davidson designed to be driven from the sidecar here.
This episode is actually connected to Barn Find Hunter Episode 20, where Tom met a guy named Steve in rural South Carolina. The man had a barn just stuffed with classic cars and thousands of motorcycles. When the episode aired back in October of 2017, there wasn't time to explore all the wonderful two-wheeled vehicles stashed away. However, Cotter says viewers have been chomping at the bit since then to get a tour of that massive collection.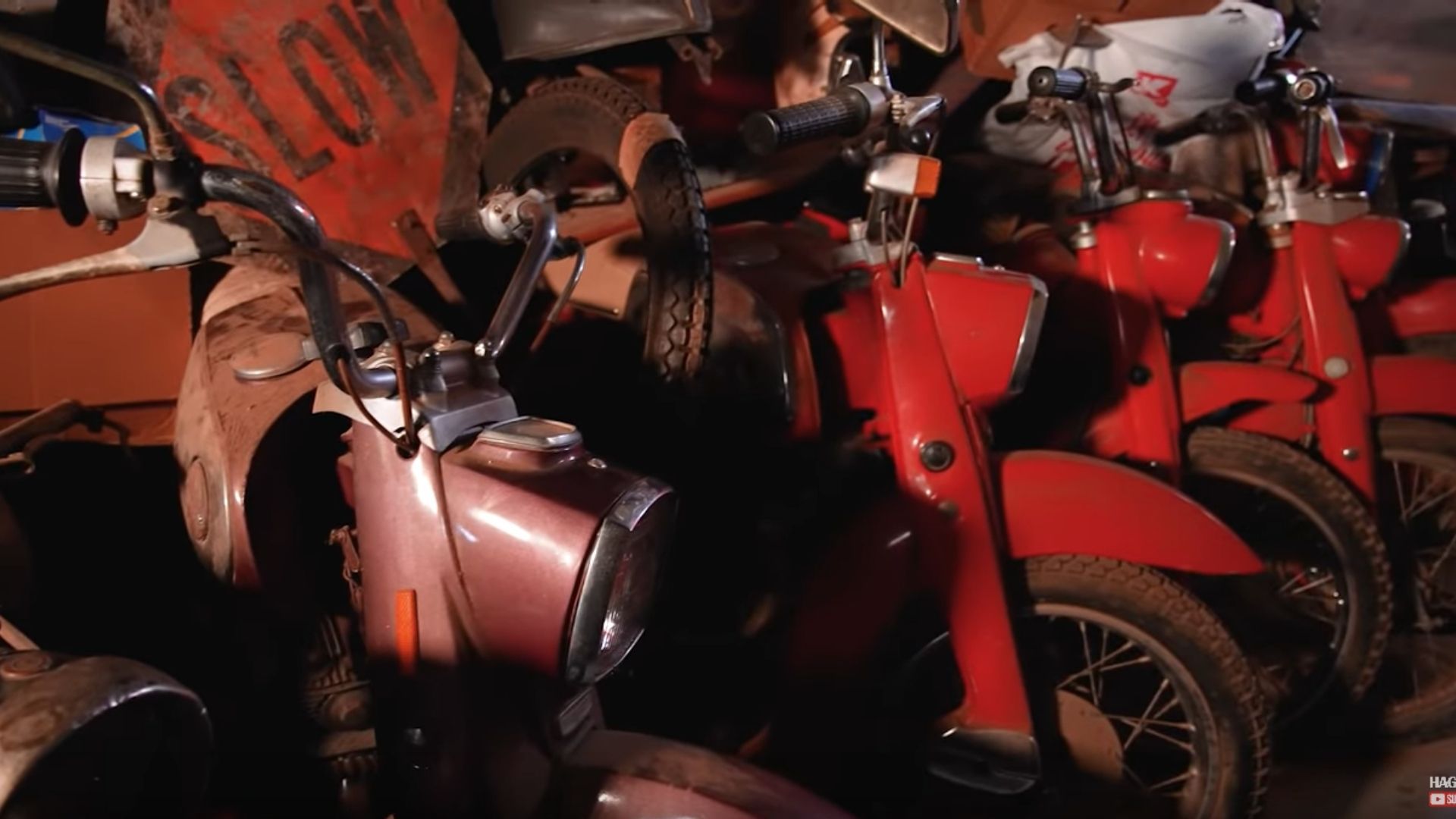 So, we get to see Tom make the journey back to South Carolina and get a better taste for all the wonderful vintage motorcycles Steve has stashed in his garage.
Right off the bat, we see a whole lineup of Honda motorcycles from back when they absolutely blindsided Harley-Davidson in the 60s. Many of the bikes look absolutely amazing, other than being a little dirty from sitting in the barn for so long. But as Steve points out, at least one of them has well under 1,000 original miles on it, so that's why they're wonderfully preserved.
Then things take a turn for the amazing when Steve points out a 1928 Ariel motorcycle be bought in Australia. With exposed valves, the rider has to oil them using an oil can which is stored in a compartment by the fuel tank. This is a fascinating slice of history, so it's great to see it documented on YouTube for all kinds of people to view.
Speaking of British motorcycles, there are plenty more. One of them is a first year Norton Atlas. The guy has more than a few Triumphs squirreled away, over 200 he says.
Buried under boxes is a 1967 Suzuki Titan 500cc, the first year the bike was made. Despite it not looking perfect and being buried, Steve insists it still runs great. If anything isn't running well in his collection, he has a shed just full of components from cylinders to wheels.
In one area he has almost a whole series of Yamaha bikes from the 70s, all in factory-original condition. Steve told Tom a lot of them sat in people's garages for a long time after they got scared riding the motorcycles once, then they finally parted with them.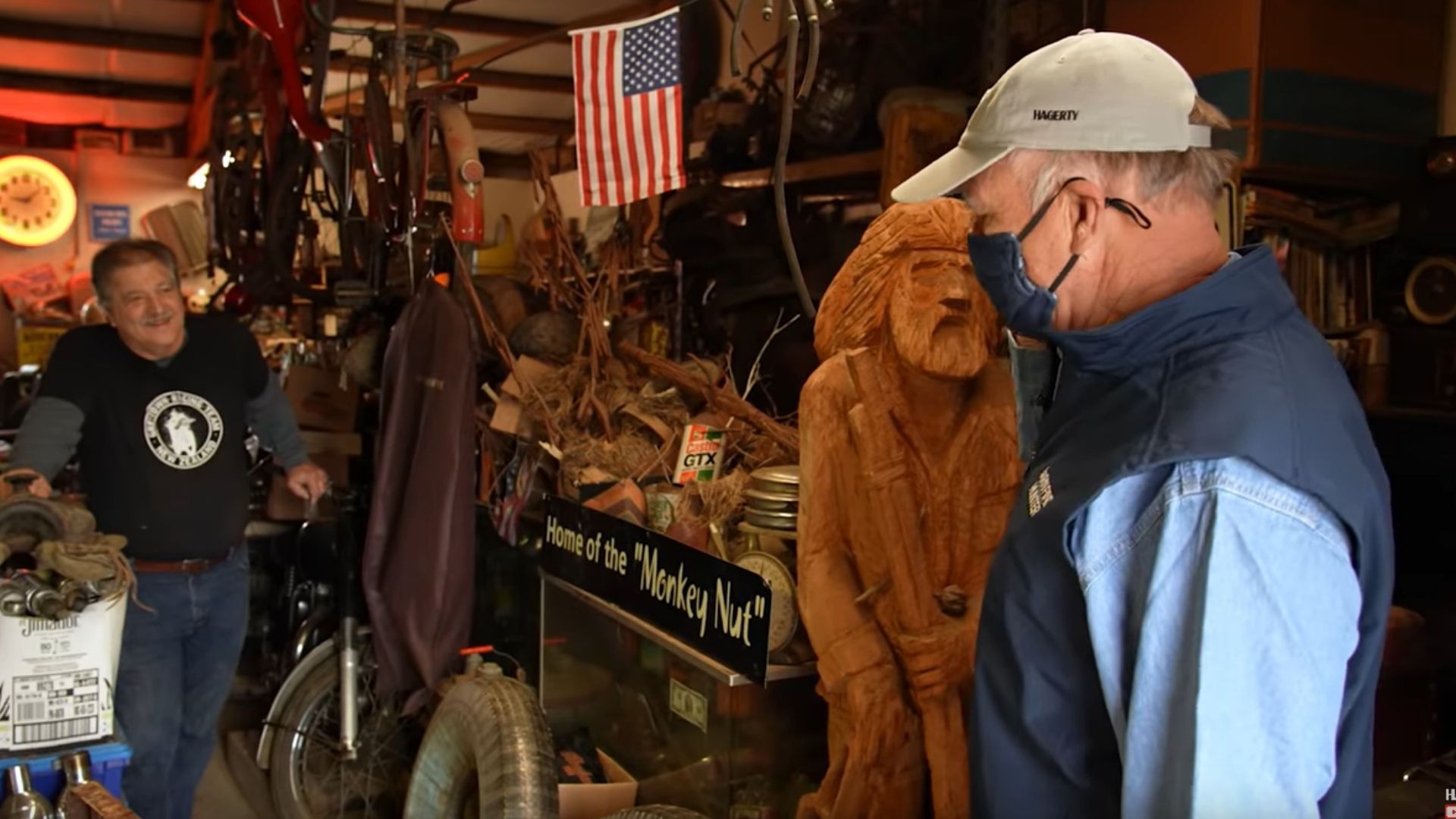 Not only are there thousands of bikes stashed away, Steve has collected all kinds of motorcycle gear and memorabilia. The guy makes a big deal about how he's not selling anything, but instead has been holding onto the stuff as a collection. Either it's all going in a museum when he passes, or everything will be sold off and scattered all over.
There are simply too many cool motorcycles in this episode to even try calling all of them out. You really just have to watch it to appreciate how amazing this collection is. Plus, Tom visits another guy's collection which is smaller but still very cool.
Also interesting, if Tom Cotter looks a little different it's for good reason. This is the first episode of Barn Find Hunter that's been filmed in a year, which is crazy to think about. We've been living off outtakes from other episodes and other filler content, so finally we're getting fresh videos from Tom and crew. That does mean we get to hear a muffled Tom as he wears a mask, even though this Steve guy doesn't. However, this episode is a hell of a way to kick things off again, so let's hope it sets the right tone for a tremendous season of Barn Find Hunter which hopefully will include even more motorcycles (Tom sounds like he got the hint).