The Albers also lost their 500-piece train set, 200 plastic model cars, 500 dolls, a stamp collection, and plenty of antiques along with their home of 30 years.
---
Ken Albers, a 72-year-old retired land surveyor, and his wife Marci, 70, have lived in their house for 30 years on a five-acre property in Vacaville, California. That's three entire decades of memories made in a home that no longer exists after the LNU Lightning Complex Fire swept rapidly through the countryside on Wednesday, August 19th. The Albers were lifelong collectors, so not only did they lose their home, but the wildfire showed no mercy as it engulfed Ken's entire collection of restored classic Chevrolets.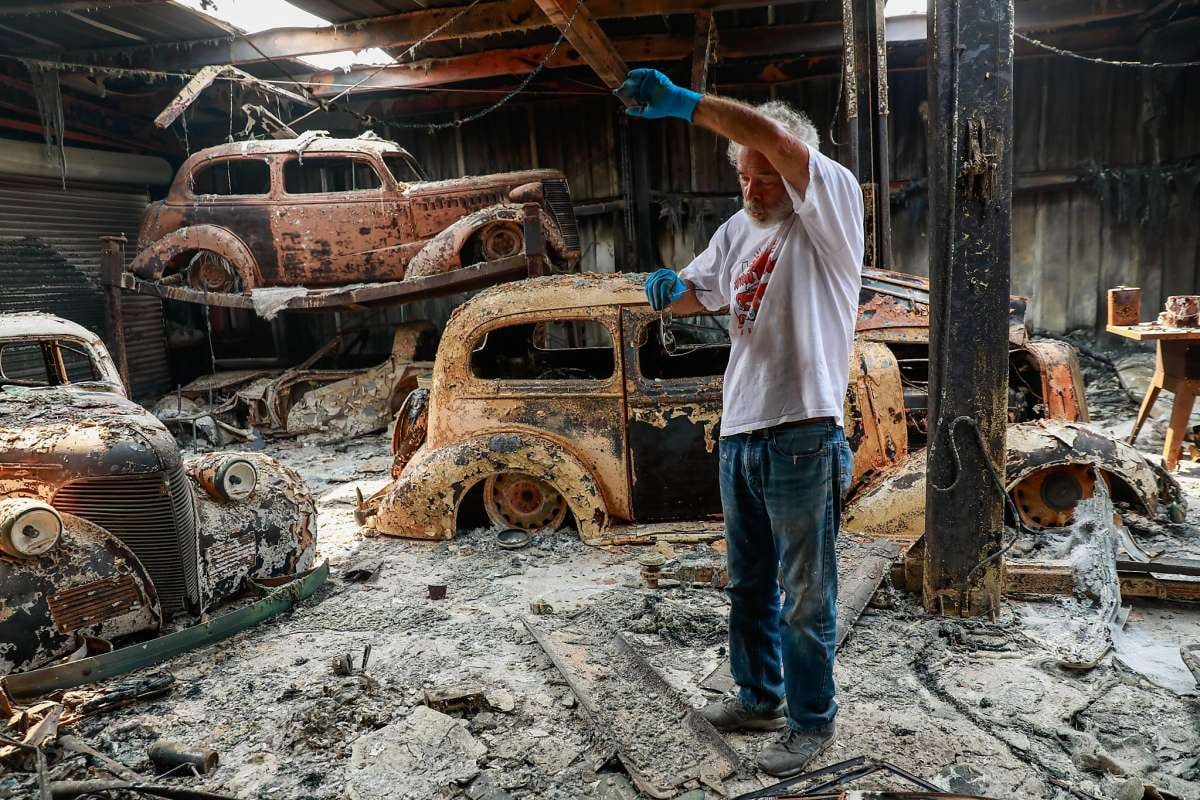 Ken's collection included eight Corvettes ranging from 1957 to 2016, a 1954 Chevy Bel Air convertible, a 1936 Chevy standard coach that was restored to stock, a 1938 two-door Chevy sedan, and a 1970 Chevy Camaro that Ken purchased for Marci when it was brand new.
On top of that, Ken lost his 500-piece train collection and 200 plastic car models. Marci was a collector herself, and she lost 500 Ginny dolls, a stamp collection, and her antiques.
"It's pretty devastating," Ken Albers said. "There's nothing left of the house but the chimney."  
A GoFundMe for the Albers was created by a friend's son to help the couple during this unexpected and difficult time. According to the description, when the Albers were told to evacuate their property, PG&E had shut off their power as a safety precaution. With no power making it hard to find anything and with little time to get out, Ken and Marci fled at 2:30 a.m. with just the clothes on their back and their two beloved dogs, Zooey and Reggie.
The GoFundMe continues:
"Ken and Marci do not anticipate insurance covering the majority of their loss. Anything you can spare to help a truly great couple would be much appreciated. Any and all proceeds will go directly to Ken and Marci to pay for clothes, supplies, housing, etc and help them get back on their feet during this unexpected disaster. Thank you."
The fire chief, who was directing traffic out of the neighborhood, told the Albers that no trucks were available to battle the fire because they were all out battling the fire in Lake Berryessa.
"(Firefighters) couldn't do anything, they just had to watch it burn," Marci said. "They had no trucks to take out there."
Ken said that the fire was coming their way, and there was nothing they could do. Marci said they both thought the house would make it. The two first tried going to a friend's house to ride out the fire, but they found themselves being evacuated from there as well.
"I'm in shock. I can't even think straight," she said. "We had 30 years of stuff in that house."
By early Friday, the LNU Lightning Complex Fire incinerated 215,000 acres. California was battling 360 recent fires with most sparked by lightning and were being fed by high temperatures, inaccessible terrain, and limited resources. These blazes have damaged or destroyed 660 structures statewide.
As for the Albers, the couple registered for the shelter, and they hope to possibly stay with a friend. But, the long term plan is uncertain. Ken Albers said he wasn't sure what they were going to do.