This is unreal…
---
Car thieves have become incredibly brazen, but even we were shocked to see video of a brand new Subaru WRX STI stripped on a dealer's lot. There isn't a whole lot of information included in the video and a search turned up zero local news stories, so we don't even know where or exactly when this happened. However, this is perhaps the most aggressive strip job we've seen outside of public streets in Detroit.
Speaking of Detroit, video shows thieves swiping a Corvette Z06 from a dealership. Check it out here.
As you'll see in the video, the most obvious thing missing from the Subaru are the wheels. People have been swiping expensive wheels from cars for a long, long time, so that's not all that shocking. However, when the cameraman mentions the thieves swiped the Brembo brakes, then zooms in on the hubs to show the missing discs and calipers, that's when we realized something very strange was going on.
Usually, thieves are concerned about taking too long when stripping something off a car, whether it's on a public road or on private property. Maybe they couldn't get the WRX STI started, so they decided to take what they could, but swiping brakes is a pretty advanced move. And we're sure they'll get a pretty penny for those on the black market.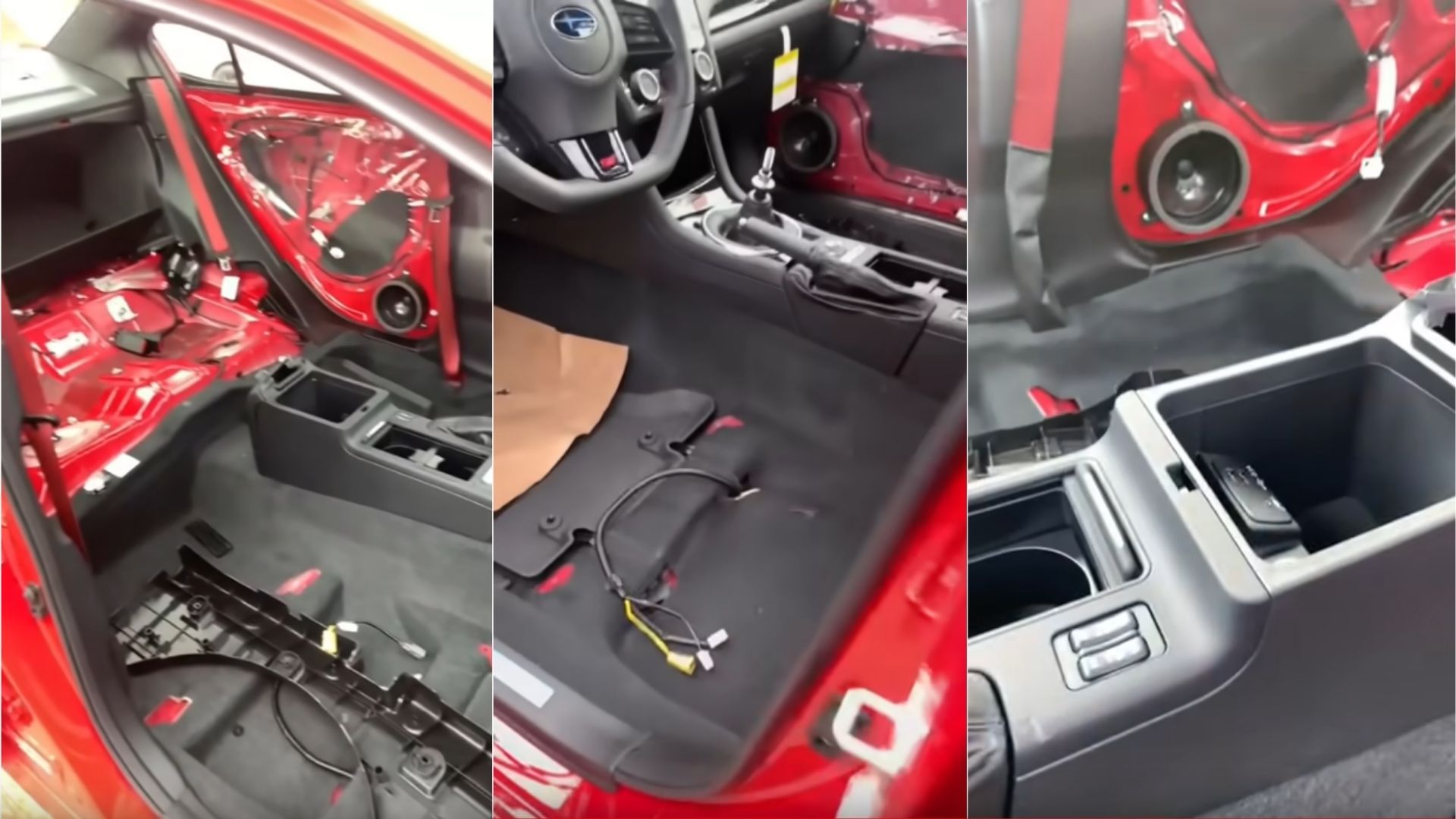 But wait, there's more: while we were waiting for the cameraman to pop the hood and show a missing engine, which would be crazy, we were not prepared for him to open the door and show off an interior stripped to bare metal. Well, part of it was. They left the center console and the carpeting, but that's about it. The seats, door panels, console covers, and even the shifter knob were all taken. They also stole the floor mats, guys, the floor mats! Oh, they didn't touch the dash because that would be extra nuts, but there's always next time, right?
What's really crazy is just how cleanly everything has been stripped. It's like the crew that did this really knows Subarus or something. Some people are thinking this was an inside job, which it could've been. There's also the possibility these individuals are part of a well-funded, highly-organized criminal empire. We don't know exactly what to think right now, other than crimes like these don't help with the extra-tight vehicle market and sky-high prices at the moment.
Check out the video and let us know what you think (warning: language).