American muscle takes on European finesse…
---
Many car reviewers have lavished the current Shelby GT500 with high praise, saying it beats any performance car produced by mainstream European automakers. As you might imagine, some Europeans take exception to that since they're offended an American muscle car, which are often characterized as brutish knuckle dragger vehicles, could possibly lay the smack down on some of their most prized rides. However, you're about to see an included video where a 2020 Shelby GT500 drag races a 2020 BMW M5 Competition.
See a Dodge Demon and BMW M5 Competition face off here.
Sure, some right out of the gate will say of course the brutish, unsophisticated American muscle car can drive in a straight line faster. After all, the roads in America are all straight with no real turns. That attitude is obviously born of sheer ignorance. Also, the new Shelby GT500 has been praised not just for its power but also its incredible handling dynamics. Some have said it's good enough to go toe-to-toe with a Porsche 911 GTS on a twisting, winding road course – we'd love to see that tested.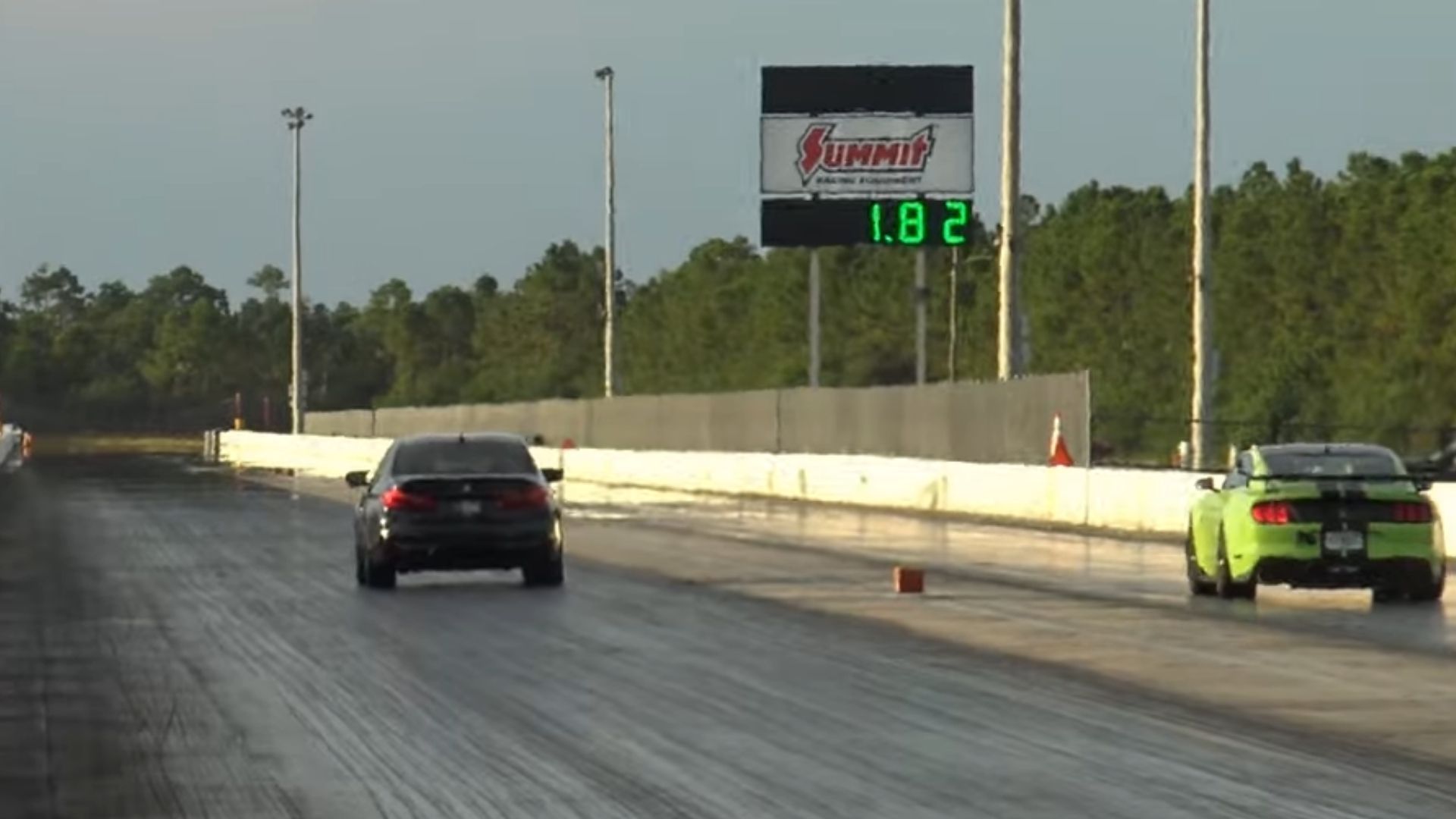 The 2020 Shelby GT500 has the Track Pack and carbon fiber wheels. Nothing is said about modifications, so we assume the thing is stock front to back. From the factory, the supercharged 5.2-liter V8 produces a mighty 760-horsepower and 625 lb.-ft. of torque, making it the most powerful production Shelby GT500 ever. That power is routed through a 7-speed DCT for quick-shifting, error-free action. We do know the owner is Shmee150, however he's not driving it for the race, which is probably a good thing. Instead, a guy named Brooks from Drag Times is behind the wheel.
As for the 2020 BMW M5 Competition, it's pushing 617-hp and 553 lb.-ft. of torque using a twin-turbo 4.4-liter V8 with an 8-speed automatic transmission. That right there puts the thing at a disadvantage, but it also tips the scale at 4,400 lbs. versus about 4,200 lbs. for the Shelby (maybe less with the factory modifications). And there we thought American muscle cars were the bloated, overly heavy land yachts, something we've heard from Europeans for decades.
Which car do you think will win this race? Check out the video to see what happens.