Keep your eyes on the skies of Miami!
---
In a high-profile plea for help, Bob Benyo, the owner of a distinctive purple limited-edition Rolls-Royce, has employed an aerial banner to offer a reward for information leading to the recovery of his stolen luxury car in North Miami. The vehicle, a sentimental anniversary gift to his wife, holds an estimated value of over $200,000.
Bob Benyo, president of Aerial Banners, has been left devastated after the car, bearing the Florida tag PUPSK, was stolen in broad daylight. "It was an anniversary gift to my wife. She's the best wife on the planet," Benyo expressed, emphasizing the emotional value attached to the "very special" car. The theft, he said, has not only deprived them of a cherished possession but also of their sense of security.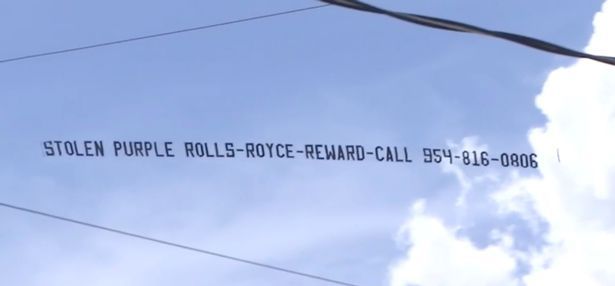 Benyo suspects that the thieves may have cloned one of their clickers and trailed his family home around 3 p.m. on a Thursday. Surveillance footage reveals a silver Mercedes-Benz pulling up to Benyo's residence, with the culprits sprinting up his driveway and managing to abscond with the Rolls-Royce within 30 seconds, even as a mailman was nearby.
The incident has left a deep impact on Benyo's family, adding a layer of distress to the loss. "It's a violation of privacy. My kids and my wife were right inside that door," he remarked, grateful that the violation didn't extend to a home invasion.
Adding to the predicament, the criminals also swiped keys to an Aston Martin parked on the premises, prompting Benyo to change the locks on the vehicle. In a mix of frustration and disbelief, Benyo questioned the choice of the thieves, "Why take a purple Rolls-Royce? Go steal a black car, if you are going to steal something! How are you going to drive that around? You got a nice ride now give it back!"
The North Miami Police Department is rigorously investigating the case, with crime scene investigators gathering DNA evidence to aid in the apprehension of the thieves. Authorities urge anyone with potentially valuable information regarding the theft to come forward and contact Miami-Dade County Crime Stoppers at 305-471-8477.
The uniqueness of the stolen car and the elevated plea for its recovery accentuate the urgency and determination of Benyo in reclaiming the sentimental gift. The case has become a communal call to action to restore not only a rare vehicle to its rightful owner but also to re-establish a sense of safety and privacy to a family left violated and vulnerable.