The museum has been hard at work making renovations and upgrades during its 12-week closure.
---
Due to the COVID-19 pandemic, the National Corvette Museum temporarily closed its doors to the public on March 18. In that time, the museum's organizers have been hard at work ensuring that when its doors reopen, the experience will be even better for visitors, and that includes expanded and renovated exhibits as well as an all-new exhibit celebrating the mid-engine Corvette.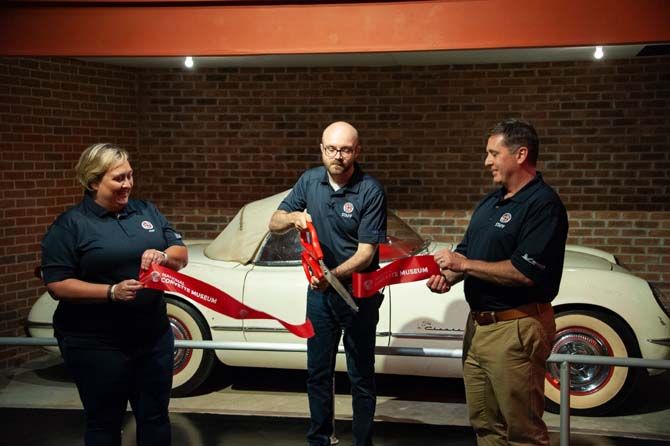 Additions have been made to the museum's E. Pierce Marshall Memorial Performance Gallery, which now features a more interactive experience and the addition of a Pierce Marshall, Jr.'s C7.R racecar. Another exciting car added to the museum is the famous Entombed Corvette that spent 27 years in a brick vault inside a Maine grocery store. The exhibit recreates the "tomb" of the iconic 1954 Corvette in an attempt to preserve the car and the story behind it. There's even a new exhibit dedicated to the 2014 sinkhole offering a look at all eight cars affected by the natural disaster and a virtual experience of the collapse.
The most exciting addition for NCM visitors, though, is the all-new exhibit dedicated to the long and interesting history of the mid-engine Corvette entitled The Vision Realized: 60 Years of Mid-Engine Corvette Design.
"General Motors approached us about an exhibit they were developing, which focuses on the key vehicles that built the foundation for the 2020 Corvette Stingray. It features original renderings from our Museum alongside photographs, artifacts and ephemera from both the GM Design Archive & Special Collections, and GM Heritage Center. We are excited to be the first location to display the exhibit."
For now, this exhibit features the two-rotor XP-987GT from 1973, the Corvette Indy from 1986 and a production version of the 2020 C8 Corvette including a clay scale design model. This summer, these three mid-engine Corvettes will be joined by others including the 1960 CERV-I, 1964 CERV-II and the 1964 XP-819.