It's an old school muscle car showdown!
---
There is a long-standing rivalry between the GM and Mopar classics, this carburetor clash of two automotive legends has been going on for centuries. With every new Camaro owner that says that GM is the best, there has always been a Mopar maniac willing to challenge them. In the first act of the muscle car revolution, there was one word on the tongues of young enthusiasts, that word was speed. There was no better way to test this speed than drag racing. So, many car fanatics would bring their newly acquired Dodges and Chevys to compete in an ultimate decider of speed, a run down the quarter-mile would decide who was the fastest. This practice has carried over even today and is still one of America's greatest automotive pass times due to the ease of access and low starting cost. In this article, we'll break down an enchanting head-to-head battle between two incredible American icons and their journey to see who truly is the fastest car.
Watch two vintage GMs go head-to-head here.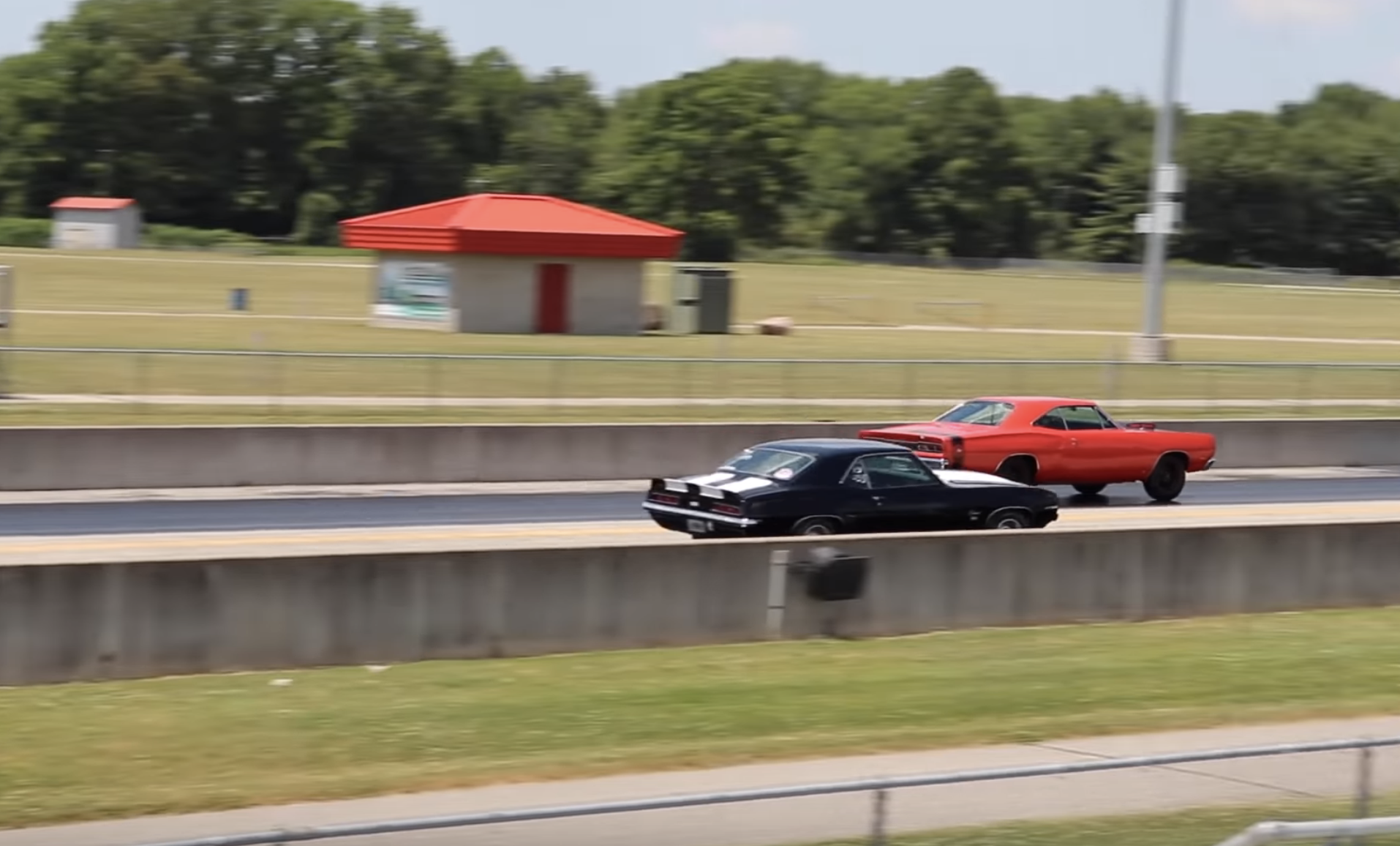 First up is the Camaro, this beautiful black machine bears the SS Super Sport badge. Under the hood of the beast is an L78 396ci V8 pushing out an incredible 375-horsepower at 5600 RPM, this powerful engine also sports an 11:1 compression ratio which allows for maximum efficiency of power. This thing is also packing more than enough torque to jump off the line with a massive 415 ft/lbs at 3600 RPM. Transferring power from the engine to the wheels is a 3-speed automatic transmission and 4.10 gears. This powerful pony only weighs around 3500lbs with the driver making it an absolute drag strip dominator.
Representing Mopar we have the infamous 1969 Dodge Super Bee A12, this massive muscle car is packing a 440 cubic inch V8 under the hood with a compression ratio of 10.5:1. That massive power plant manages to squeeze out an insane 390 horsepower at 4700 RPM and 490 lb/ft of torque at 3200 RPM. Power is transferred similarly to the Camaro, also sporting a 3-speed automatic and 4.10 gears. Weight with the driver adds up to just 3,800lbs, this is 300lb addition over the Camaro will most likely be canceled out by the increase in power so this should be a close race. It is also worth pointing out that the classic Mopar suspension is particularly good at drag racing due to the asymmetrical leaf springs which act as natural traction bars.
In the first round, Mopar takes the cake with a 12.469-second quarter mile, compared to the Camaro's 12.728-second pass this was a very close run. The Super Bee stayed in the lead until the halfway point when the Camaro started to catch up, this could mean that if they ran again the Camaro would have a fighting chance but alas we are not so lucky as this was only a single head to head race. Regardless of how many passes these guys did, no one can deny that they are both incredible cars and, while Mopar is the clear winner today, they are both winners in our hearts.