Would you vote for this unique Datsun?
---
Bart Zandbergen bought a Datsun 240Z specifically because it was the first car that both he and his wife agreed they both liked. His wife was not a fan of his other choices, like Corvettes and Porsches, and it was important to him that she actually liked the car that would eventually consume so much of his freetime. Beyond the intial approval of the model to get, the whole family chipped in with ideas on the direction of the car. When they came together with a plan, Bart purchased his 240Z in 2004, noting that it was a 'blank canvas' when he got it.
After the car joined the family at home, there were no major surprises, but there was more work ahead of him than he anticipated. The body panels didn't quite line up correctly, and Bart had to weld material on the front edges of the doors, and grind it down to even out the gaps.
After taking care of a few things, it got serious for the Datsun build. Bart pulled an LT1 engine from a 1994 Camaro Z28, and T-56 six-speed transmission to drop into the 240Z. The powertrain got an overhaul with a completely rebuilt top end with ported and polished heads, a new intake and throttle body, custom ground camshaft, and new roller rockers - the build is now churning out more than 360 rear-wheel-horsepower.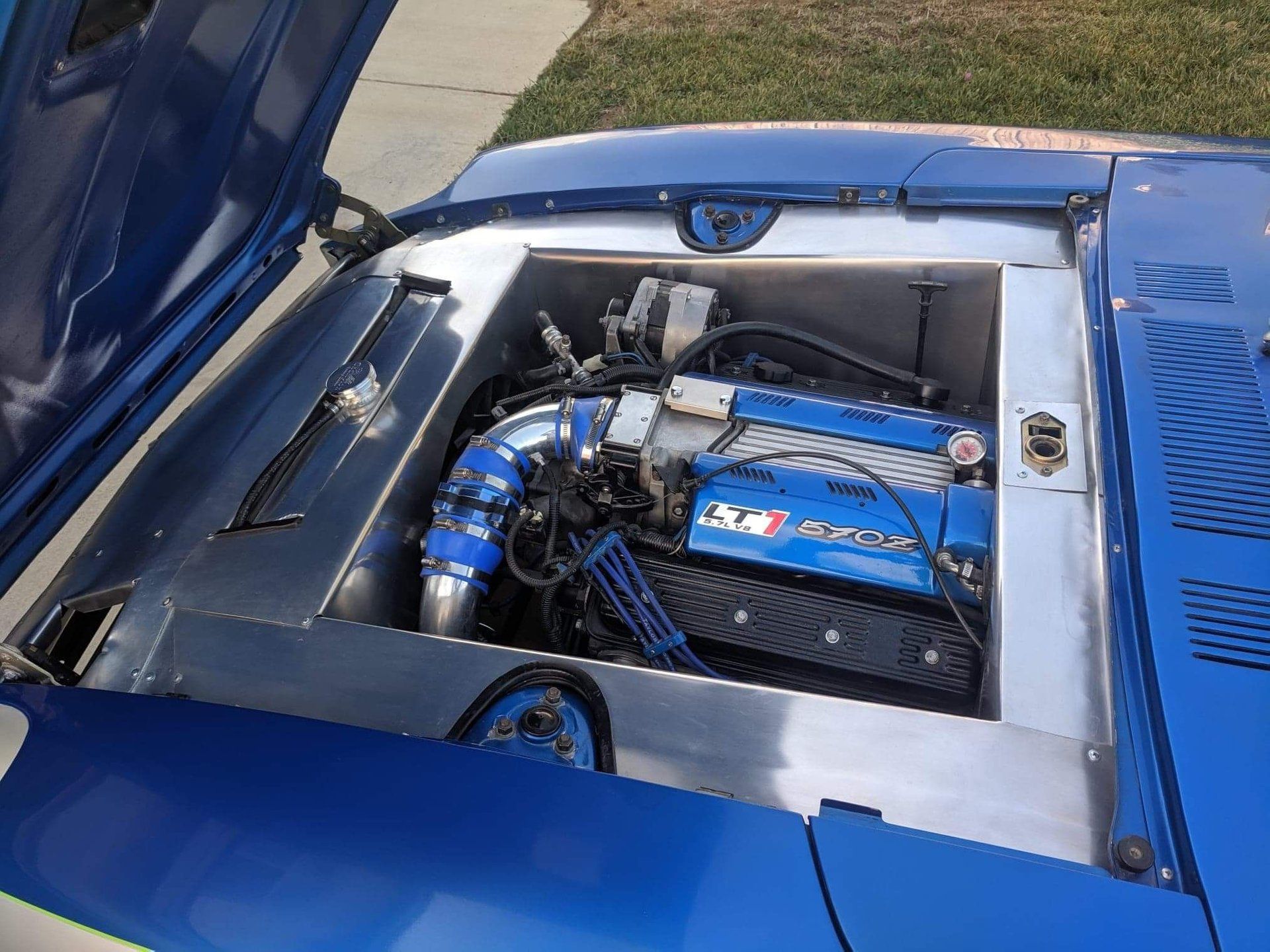 Because this newly found power needs to actually make it to the ground, the Datsun got independent rear suspension is from a 94 Infinity Q45 to handle the increased horsepower and provide limited slip. While the differential bolted right up, the axles required more work to get them to bolt up.
The gas tank was upgraded with a 2000 Trans Am gas tank with an in-tank pump to support the fuel injected engine. Another benefit to the new tank is, it allowed Bart to fit a true dual exhaust under the body of the car without having to reroute the pipes in some crazy way.
With more power, more stopping power is needed, so the rear drum brakes were tossed for discs, and the front were upgraded to vented disc brakes from a Toyota truck. Bart also implemented five lug front hubs from a 280ZX, and re-drilled the rears so he could run much wider wheels. What the car rolls on now are custom ordered 17x10" wheels on the front and 17x12" on the rear. The carry the car along, the suspension has been upgraded to utilize adjustable height coil-overs and adjustable front and rear control arms.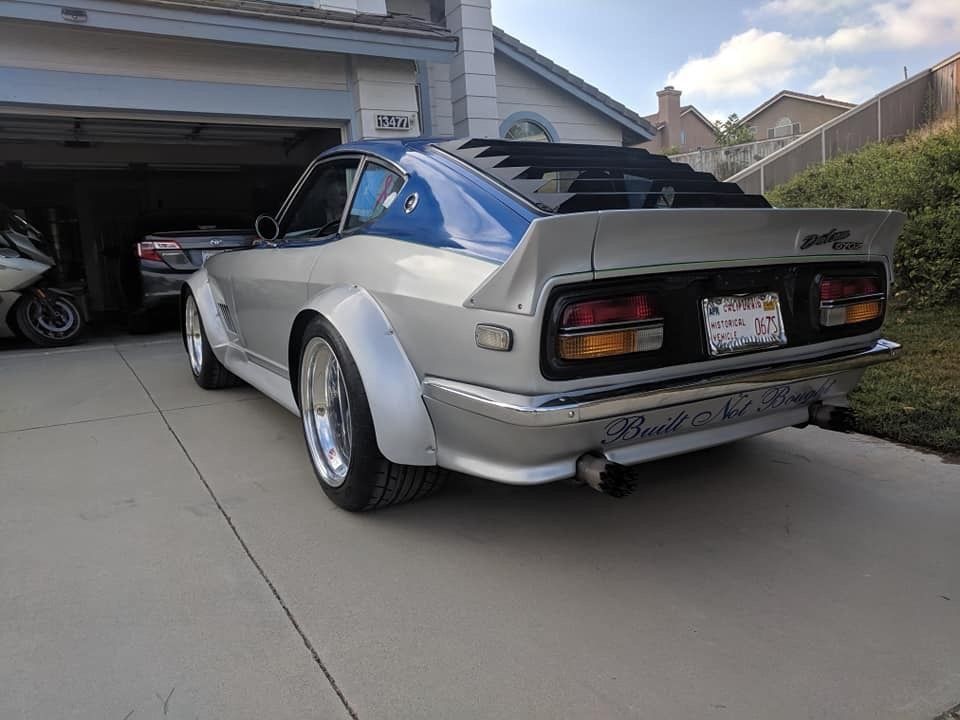 The body work includes added fender vents from a late seventies Camaro, shaved the door handles, added custom vents to a 280Z hood, and pieced together a one-off wide body kit with customized front air dam, side and rear skirts, rear spoiler, and highly modified flares made by piecing together two separate kits. Bart also updated the bumpers to thinner, more streamlined early JDM units without over-riders and no rubber strips around the perimeter.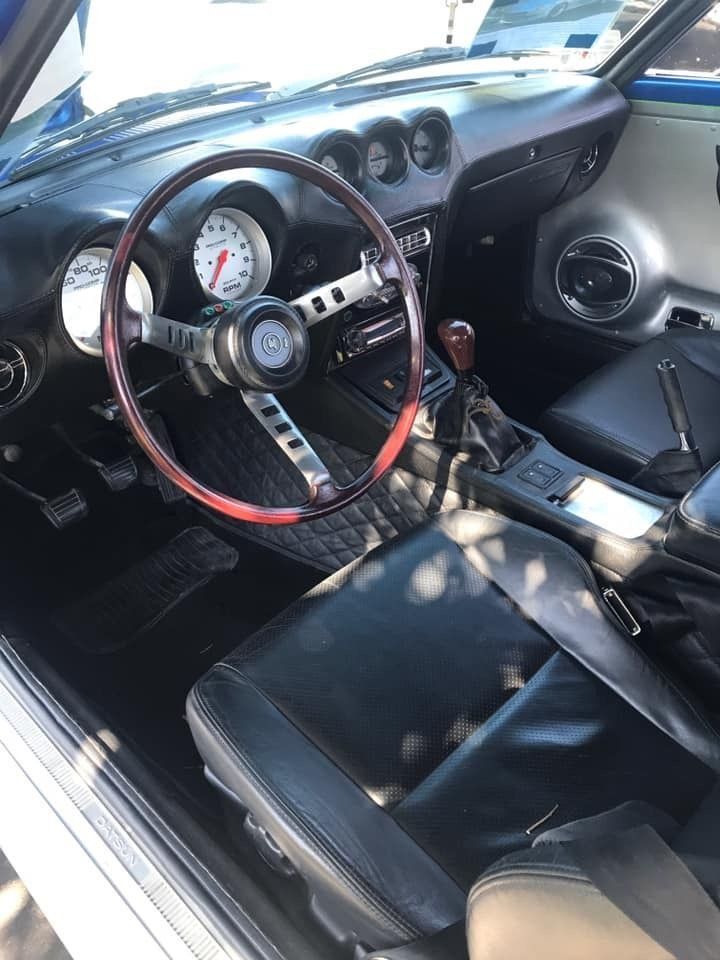 The interior was updated with custom painted door cards, custom diamond stitched headliner, leather seats from an Acura RSX and leather covered tunnel cover, dash, center console. The speedo and tach were replaced with Autometer units, and the auxiliary gauges are all working with electro-luminescent faces added to ensure all gauges have a similar look to them.
There were no major surprises when I got it home, although it did require more work than I anticipated.  All the body panels didn't align that well and ultimately I had to weld material on the front edges of my doors and then grind it back to get the gaps where I wanted them to be.

"I don't have future plans right now," Bart tells us, "But I've already gone through multiple iterations including different paint schemes, a carbon fiber hood and hatch that I later removed, and converting it to a wide body."