If you've wondered what this car looks and sounds like running, check this out.
---
Five years ago, pretty much nobody wondered what it would be like to put a Ferrari F430 engine into a 1968 Ford Mustang. It's like the exact opposite of Ford v Ferrari, violating the sensibilities of two sets of purists. That's exactly what American Legends, a Phoenix shop specializing in hotrods and muscle cars did, and the result is completely awesome.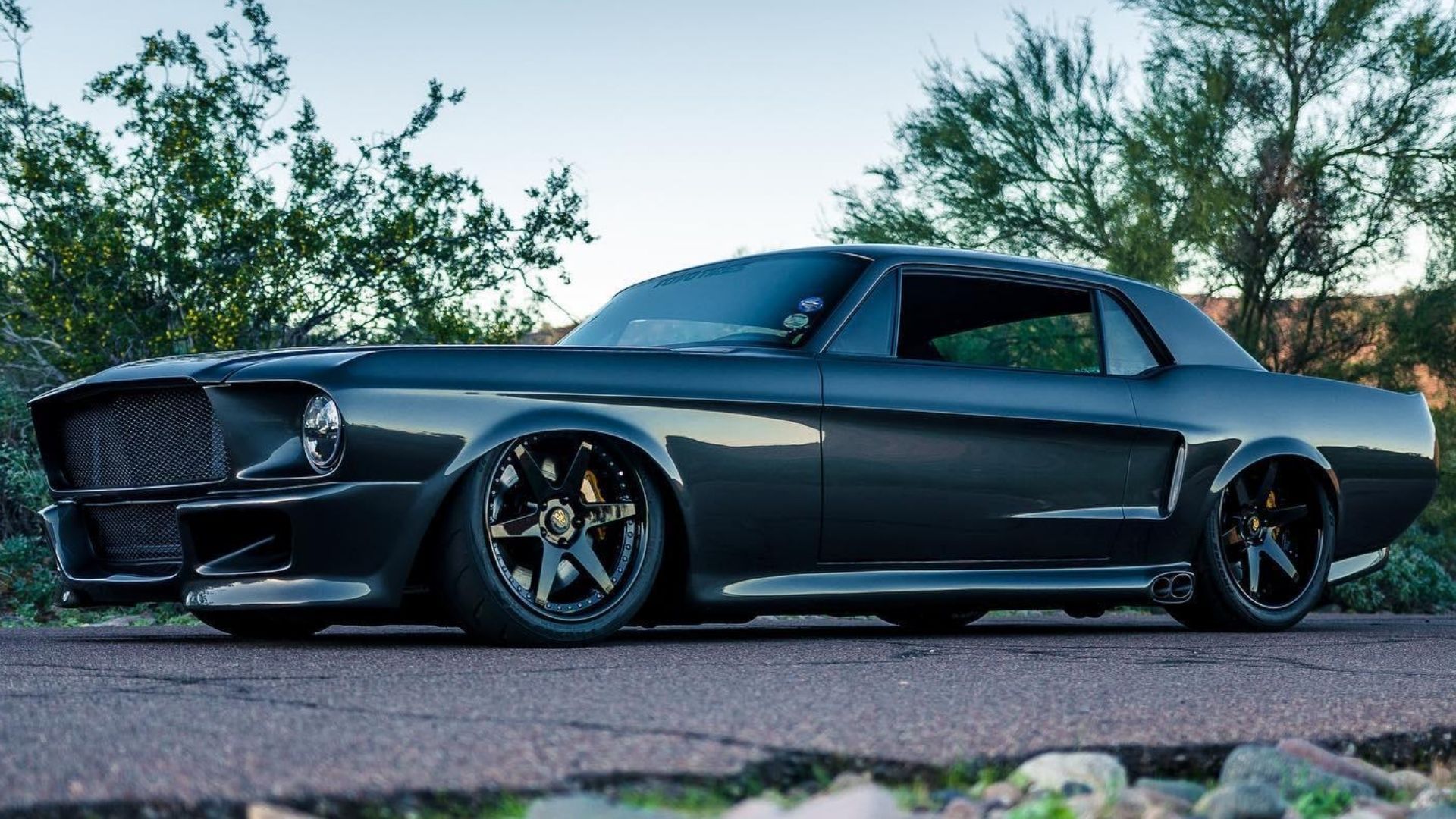 Called the Corruptt Mustang, you can imagine this little pony generates a lot of commentary. Most stare at the 4.3-liter twin-turbocharged Ferrari V8 under the hood in disbelief. Others get angry a perfectly good car or engine was supposedly wasted.
If you're seen this Mustang in person like we have, you know this build is super clean. Considering it was made for the 2018 SEMA Show in Las Vegas, it couldn't be some cobbled-together work in progress. Since then the Corruptt Mustang been at quite a few shows, getting plenty of amazed gawks as well as rewards. In fact, it captured the Goodguys Builder's Choice award in Del Mar last year.
There are a long list of mods for the Corruptt Mustang. Among them is a 2.5-inch chop to lower the roof. The rear taillights are three clear bars on each side, and they light up red sequentially, which is a very nice detail. As for the exhaust, dual tips exit out of the sides just behind the doors. You'll note the front bumper is actually an Eleanor but has been altered big time, including 3D-printed air intakes inserted at each end. A handcrafted rear decklid spoiler adds some more subtle flair.
Unfortunately, even if you've seen the Corruptt Mustang in person, you likely haven't heard or seen it running. The videos accompanying this post gives you an idea of what it's like, although we apologize you can't experience it firsthand. Essentially, it sounds like how you'd expect, that characteristic Ferrari flat-plane crank V8 snarl and unearthly exhaust note. Hearing that from a classic Mustang is crazy and cool at the same time.
Lowered, 18-inch wheels tucked in nice and snug under the fenders, and with what certainly appears to be a firm suspension, this Ford-Ferrari hybrid seems to be quite the competent performer. Creating such a build and allowing it to have sloppy handling would definitely be a waste of the Ferrari V8 as well as a perfectly good Mustang. We just hope some celebrity doesn't end up buying the car, handing the keys to a "friend" who then wrecks it, then the car enthusiast community getting blamed for the situation. It's not like that's ever happened before, right?