We hope this was for his kid…
---
When someone affluent dies and their heirs put an impressive lifetime car collection up for auction, it usually causes a big stir. RM Sotheby's rightly counted on that late last month when it hosted the late Gene Ponder's collection auction. However, the auction house might not have anticipated a Ferrari bed included as one of the lots would snatch some big cash.
Learn which famous family Ferrari is rumored to have blacklisted here.
Granted, this car-themed furniture didn't pull down six figures, before you start fantasizing wildly, but it did snag way more than we would've thought. When the dust settled, someone actually shelled out $5,000 for it, which is just astounding. We also really hope it was purchased for a child and isn't going to be used by a short adult, but one never knows.
Ponder had a thing for Ferraris, including the factory Scuderia Ferrari race team, so it's not entirely shocking the Texas kitchen cabinet mogul owned this bed. We don't know if he used it personally or was enjoyed by his grandkids, or perhaps was just décor in a Ferrari-themed room. Maybe the man, who certainly had excellent business sense, could tell the collectable would be worth a few thousand one day.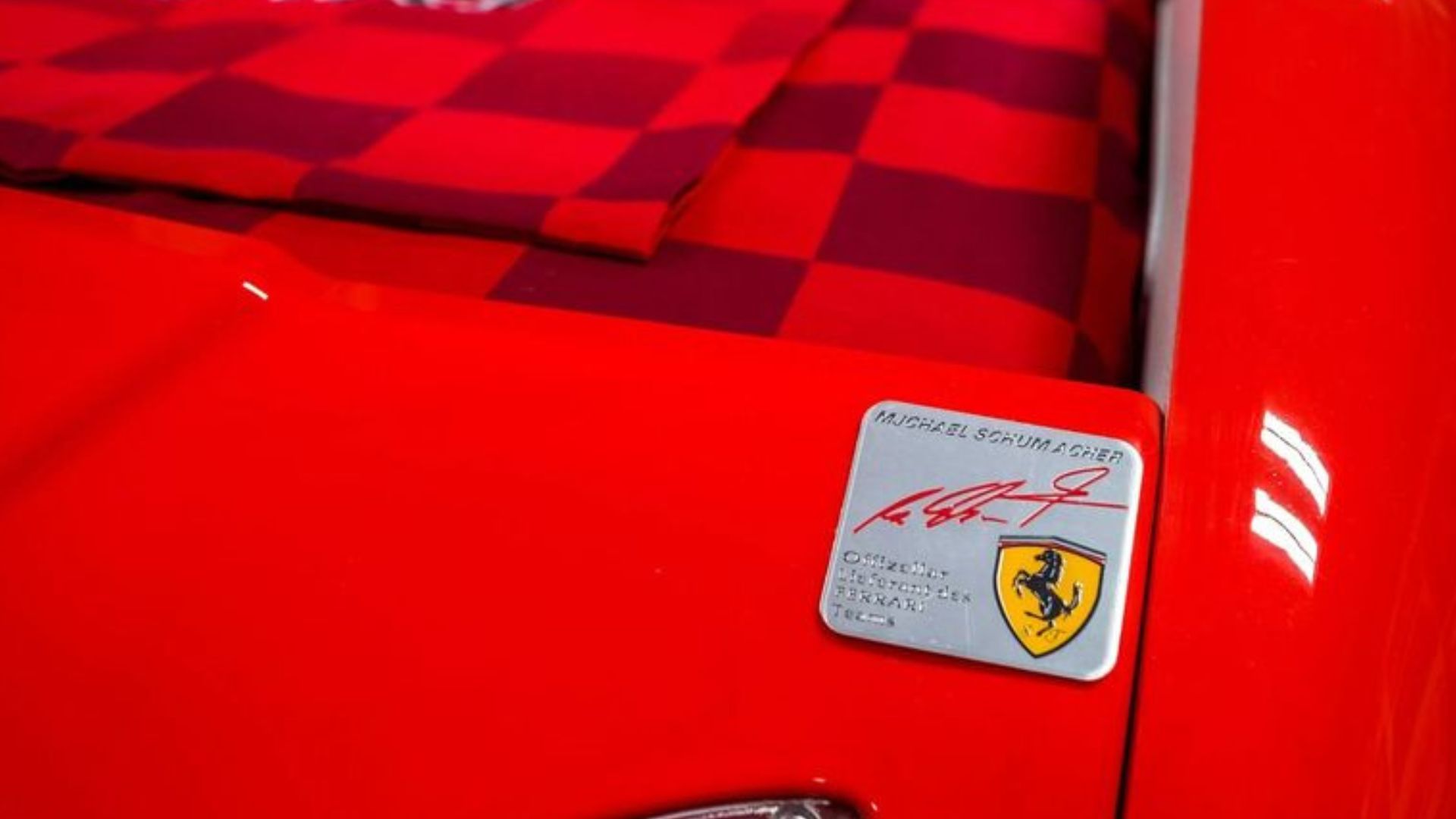 As you can see from the photos, this bed came with Scuderia bedding, completing the look. There are also a smattering of nameplates on the bed, including a signature plate from Michael Schumacher himself. In other words, this twin bed was either made for a kid who's a total nut about Ferrari racing or an adult who just couldn't resist, or maybe both.
While plenty of impressive cars were included in the auction lots, there were other memorabilia items. Another curious one was a set of three Ferrari trash cans which shocking went for $3,000. We know some diehard Ford fans will love making jokes about that, meanwhile the Chevy and Mopar guys will keep sharing photos of the blue Ford with its sunroof open in the parking lot.
Source: Road and Track
Photos via RM Sotheby's