This is so, so bad…
---
After taking a break from the internet, Chip Foose Draws a Car is back and is coming in hot! Foose decided to take on the impossible and make the 2022 Ford Maverick look cool, which is like trying to dress a turd for a nice dinner. The man really shoots for the stars and dreams what it would be like if Shelby tuned the truck. I can hear Carroll screaming from beyond the grave right now.
See how Chip Foose turned a Dodge Caravan into an off-roader here.
First, you need to understand why the Maverick is a turd of a pickup. I know some people will be screaming at me for daring to criticize the compact, unibody truck if I compare it to larger, body-on-frame trucks which are automatically superior. Well, comparing it to the laughable Honda Ridgeline and Hyundai Santa Cruz makes the Ford look pretty bad.
According to Ford, the "Maverick is the truck for people who never knew they wanted a truck." No, I'm not joking, that statement was probably signed off on by many top-level managers at Ford who thought it was a good idea. Anyway, the Maverick can handle a payload of up to 1,564 lbs. Yes, that's a joke, but the joke is on anyone who buys it. For comparison, the Hyundai Santa Cruz can handle up to 1,906 lbs. in its payload and the Honda Ridgeline is rated at 1,583 lbs. Yes, they're all pathetic, so feel free to just laugh.
Towing is another thing people do with trucks, maybe even if they didn't know they wanted a truck. Well, you won't do much towing with the Maverick since it can only handle up to 2,000 lbs. If you add the Towing Package, the turbo-four engine can then pull up to 4,000 lbs. Depending on how it's outfitted, the Hyundai Santa Cruz can tow up to 5,000 lbs., as can the Honda Ridgeline. Wait until people who buy these things find out what they can actually tow.
What's really great is Foose acknowledges all this up front, as well as the fact four-wheel drive isn't an option, but you can get stuck on a trail using the optional all-wheel drive because you're an idiot. Wisely, he decides to not make the Maverick look more rugged. Not wisely, he tries making it look sporty. Look, the thing is neither rugged nor sporty. It would've been more honest to slap some cow dung on the body panels, maybe dump the contents of a dumpster in the bed (being careful not to exceed the payload rating), and let everyone know what a piece of garbage this thing truly is.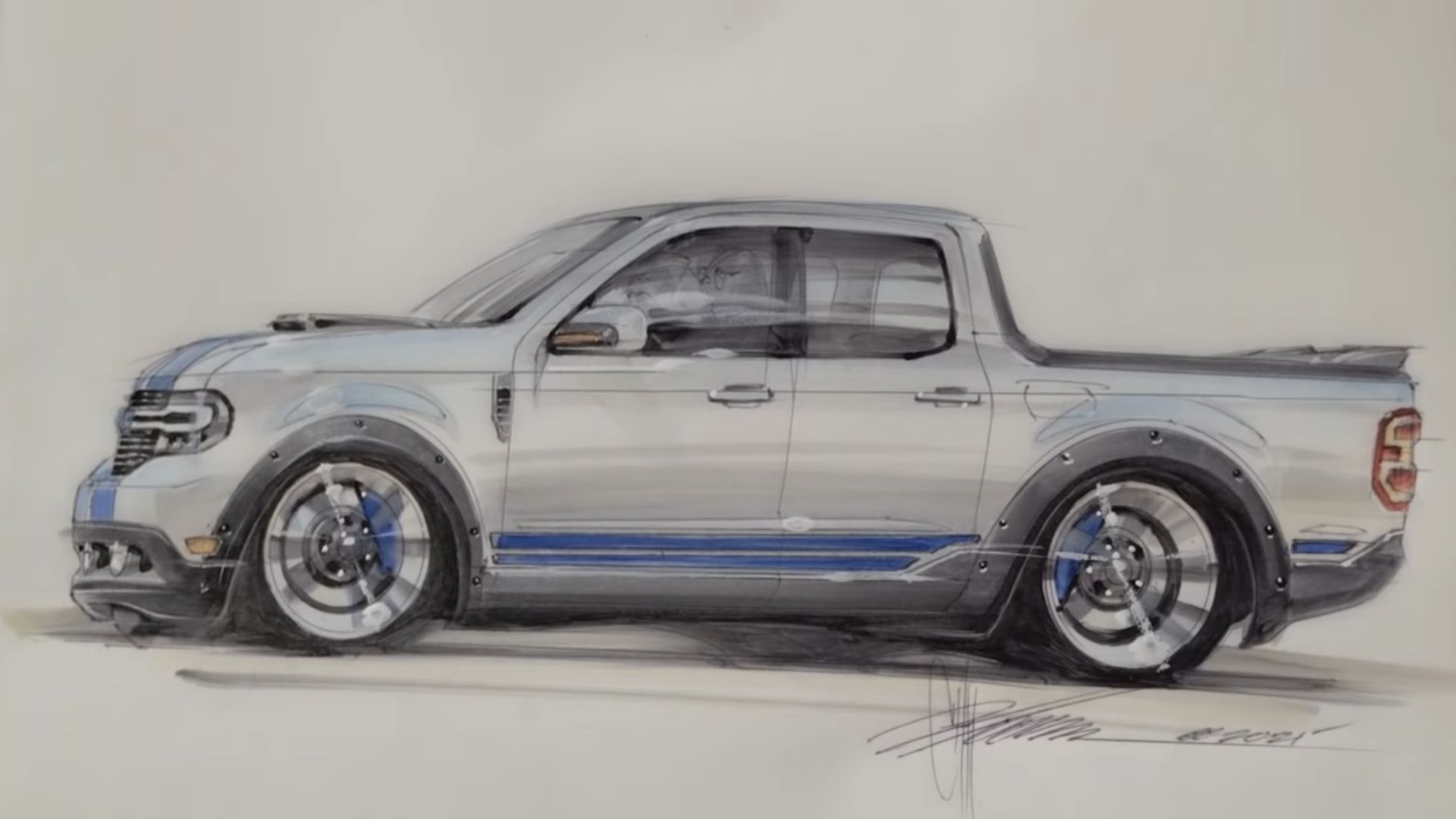 Predictably, Foose slams the Maverick within an inch of the ground, gives it a non-functional hood scoop, rear spoiler, big wheels tucked under the fenders, and Shelby stripes. This is hideous and I expected nothing less from the man. I'm so excited Chip Foose Draws a Car is back, I can't wait to see what he does next (please let it be the Hyundai Santa Cruz lifted for some "serious" off-roading).
Watch the video for yourself, but make sure you haven't eaten recently first.