The battle of the AWD imports is on!
---
For the past while we've been enjoying Hoonigan's YouTube series This vs That where they take two fairly dissimilar vehicles and drag race them. It's more of a friendly thing, but we're sure the drivers are taking it pretty seriously since their honor is on the line. This time we have two all-wheel-drive compact sport sedans from companies with rally racing roots, so it's a little bit more of an even match… at least sort of.
We've seen some mean Audi RS3 builds lately, we're talking like over 1,000-horsepower. The little sedans might not look that dangerous, but they can be tuned to heights that will shock you. This one isn't quite as extreme, but it's still something to take seriously.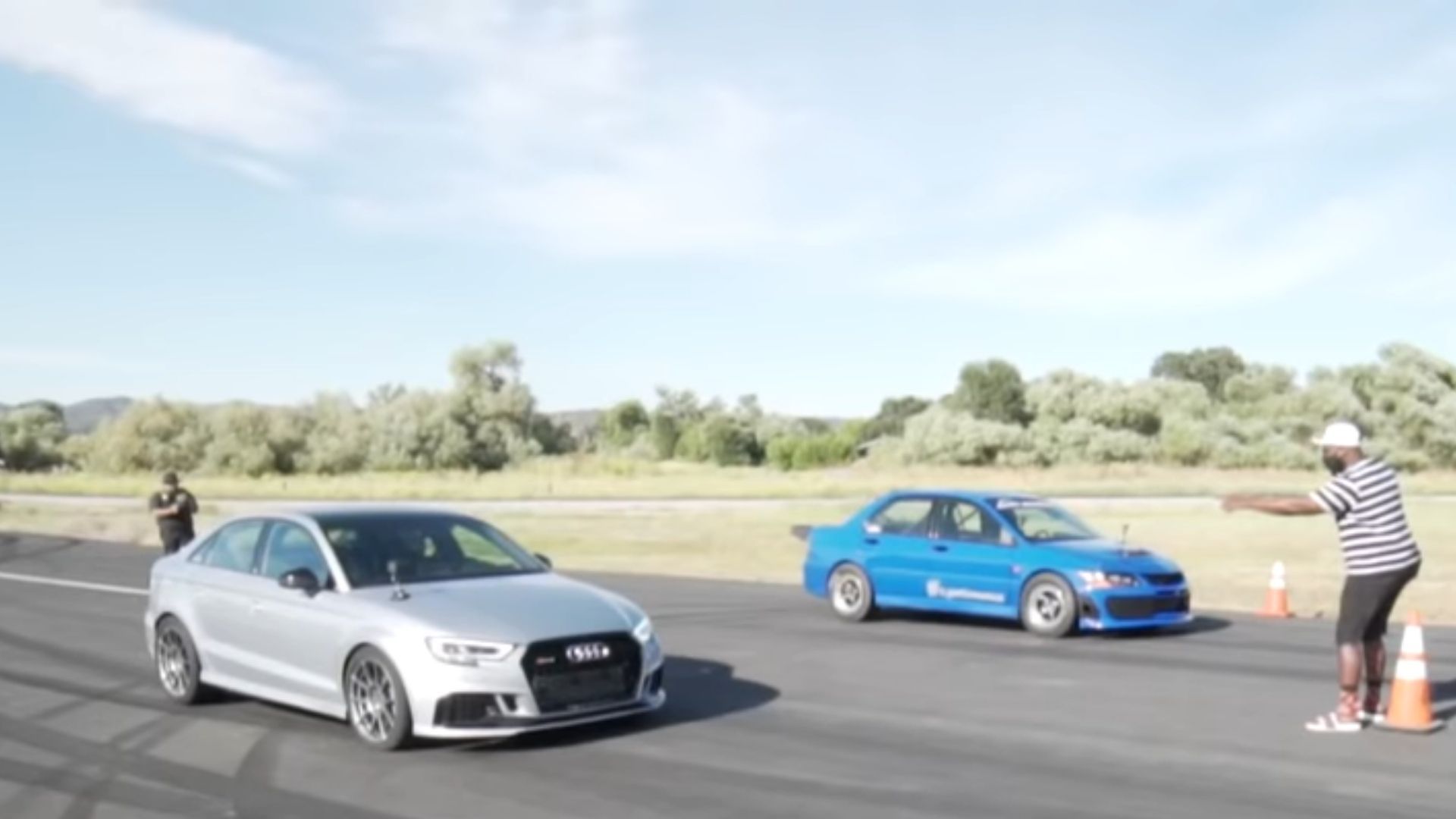 At first glance some might think the Evo VIII is some sort of "ricer" car with no real balls. But when they pop the hood and start showing the interior, it's obvious the Mitsubishi has been built for extreme acceleration. Amazingly, the owner says it's street legal.
When you look at the two cars on paper, they're surprisingly even. Both are pushing 800-hp, which is more than respectable. The Audi's transmission, a 7-speed DSG, might be considered "cheating" by some but gives it an advantage over the Evo VIII's 5-speed synchromesh. But the Mitsubishi has a big advantage when it comes to curb weight since it's about 500 pounds lighter. Then there's the issue of traction.
Considering these races aren't done at a track but instead an airport runway, all-wheel drive is the thing to have. It provides better grip on the unprepped surface, but you have to take into account not each all-wheel-drive system is created equal. Yes, the Audi loyal will swear quattro is superior always, but Mitsubishi has been an underrated player in this space.
All-wheel drive isn't everything. Look at the slicks on that Evo. Look at the low-profile tires on the RS3. That could be what decides the race.
Which do you think is going to win? Check out the video to see if you're right.