Which Corvette would you bring home?
---
The collection dubbed, "A Once in Lifetime Offering of Corvettes" is headed to Mecum Auctions, and is made up of some of the finest Corvettes around.
"Precision, innovation, force: three words that harmoniously describe the unmatched and undeterred reckoning the Chevrolet Corvette exudes when performing on road or track. Throughout history, the famous Corvette has pushed boundaries, bravely entering into the most challenging and award-worthy competitions in the world in an attempt to prove itself as one of, if not the most, keenly designed and beautifully constructed automobiles ever produced. Thanks to the men who helped breathe life into the original and ensuing Corvette models, striving to make their once-in-a-lifetime dream of automotive perfection come to fruition, there are many top-shelf variations of America's Sports Car available today, and the rare opportunity to own some of the most significant ones is finally here," According to Mecum.
Here are some highlights:
1960 Chevy Corvette 'Rat Race' Tanker
1 of 10 Produced, First in Class at 1960 12 Hours of Sebring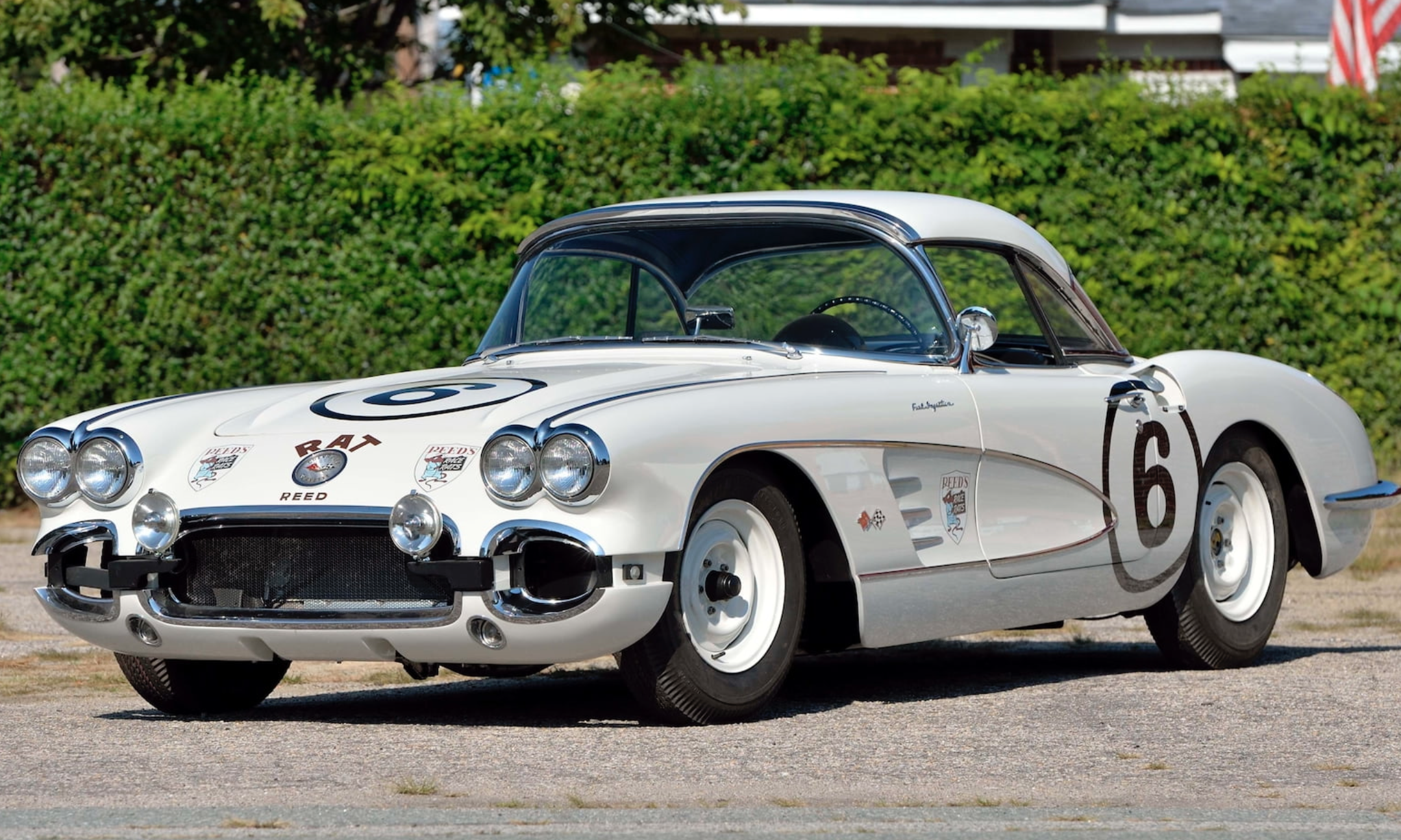 GM factory built race car known as the Race Rat
GT14 class winner at the 12 Hours of Sebring in 1960, 16th overall
Zora Arkus Duntov personally assisted the Reed Team in the Sebring pits
Legendary Ronnie Kaplan-built engine
Rare RPO 1625, 1 of only 10 1960 Big Tank production Corvettes
Rare RPO 687, 276 and 1625 version as-delivered
First in class at the 1960 12 hours of Sebring
Faithfully restored by Marque experts
283/315 HP OHV V-8 engine modified to 397 HP
Rochester mechanical fuel injection
4-speed manual transmission
Independent front suspension
Solid rear axle with semi-elliptical leaf springs
Eligible for leading historic events, tours and Corvette Gatherings
2004 Amelia Island Concours d'Elegance
2009 Los Angeles Concours d'Elegance
2009 NCRS Heritage Award recipient
2010 NCRS 50th Anniversary display
2013 Greenwich Concours d"Elegance- Most Outstanding Pro-Race Car
2014 Amelia Island Concours d'Elegance Award winner
Vintage photos from 1960
Many validating photos of car as found prior to restoration
See it here.
1957 Chevy Corvette Big Brake Airbox
1 of 44 Produced, Bloomington Gold Special Collection
Factory Big Brake Airbox Corvette
SCCA racer between 1957-1959
Raced at Sebring, Daytona International and Lime Rock,
SCCA Regional tracks in Colorado, New Mexico, and Central Florida
Known ownership history for over 50 years
RPO 684 heavy duty brakes and suspension, 1 of 54 produced
RPO 579E fresh air Airbox intake, 1 of 44 produced
HD shocks and springs
HD drums with vented backing plates
Quick steering adapter
RPO 276 Wide Wheel option
Fuel Injection
4 speed transmission
Radio and heater delete
Corvette Race colors of White with a red interior
Car was restored again in 2017 by Dick Robinson
Original GM parts installed during restoration including all 5 tires, exhaust, 5.5 inch wheels, front scoops, rear scoops, shocks, nuts and bolts, black widow tach, backing plates and drums
Many period race photos of the car from 1957 to 1959
Many photos as found condition validating original airbox
Many photos of restoration process
1981 NCRS Top Flight Award at Cypress Gardens
1981 Bloomington Gold Certified
1985 Bloomington Special Collection
1987 Chevrolet 75th Anniversary Monterey Historic
1987 Bloomington Gold Special Collection
2017 NCRS Regional Top Flight Award
1981 Vette Vues Magazine multiple page article
See it here.
1967 Chevy Corvette Coupe
Known as the Vault Find Corvette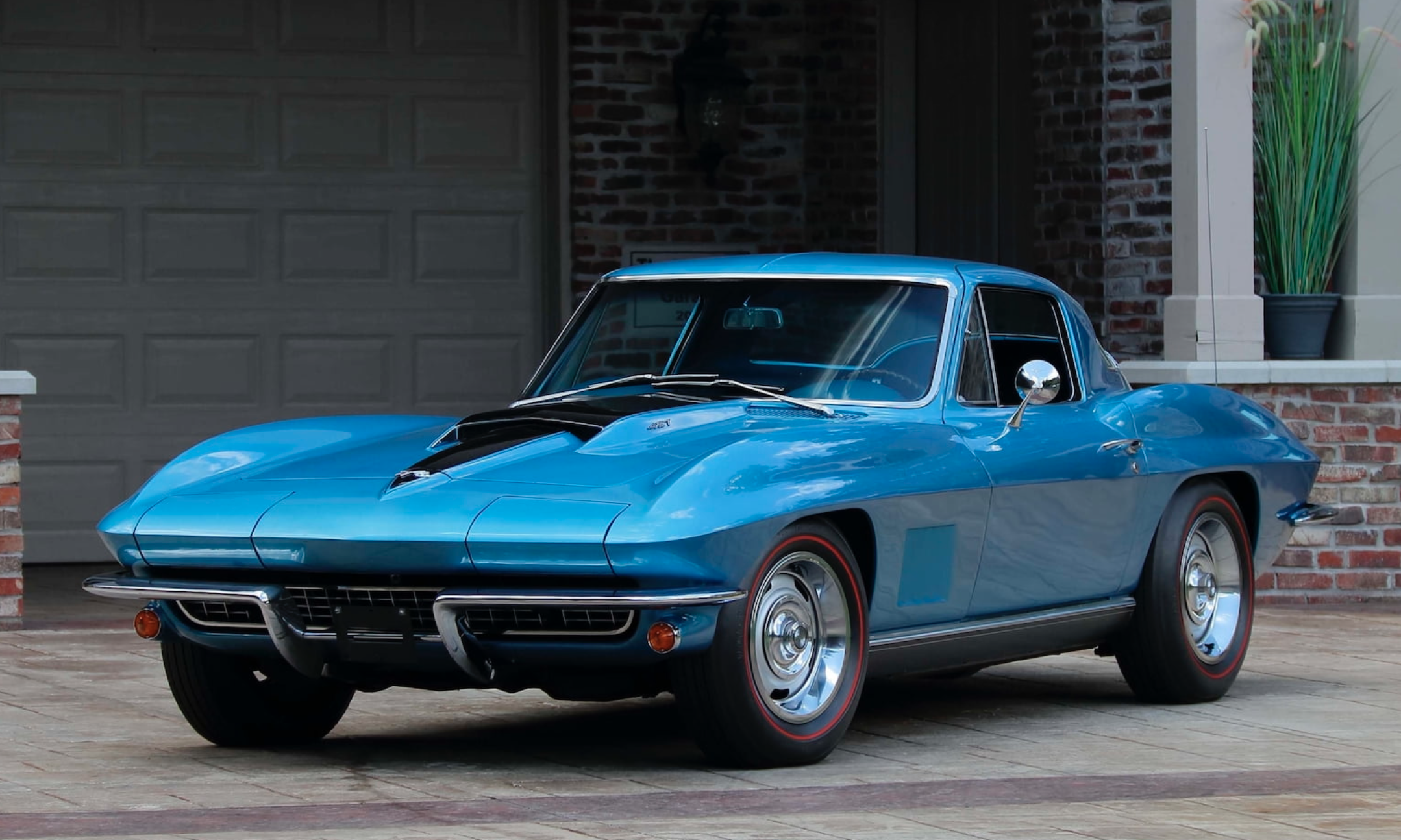 Known as the "Vault Find" Corvette
Owned by one family from new until 2017
8,533 original miles
Original unrestored condition from top to bottom with exception of battery and mufflers
Ordered new by Keith Richard Litavsky and delivered to Jack Douglass Chevrolet in Hinsdale, Illinois, on December 23, 1966
Immediately recognized by Litavsky as a future collector car amidst rumors that Corvette production would cease
Never judged or shown publicly in its 50-year history
Meticulously cared for in climate-controlled storage
Driven a mere 15 miles in the last 15 years
Documented with the original window sticker, car shipper, Protect-O-Plate, original radio tag, owner's manual and extensive handwritten maintenance logs
The original tank sticker is still affixed
Original drivetrain and components
Tri-Power 427/435 HP L71 engine
M21 close-ratio 4-speed transmission
4.11 Positraction differential
F41 Special suspension
Original Marina Blue paint and Bright Blue interior
Power windows and tinted glass
Telescopic column, speed warning
AM/FM radio, Rally wheels
Retains all five of its original non-DOT redline tires
Framed vintage photo
Framed letter from E.M. Estes, General Manager, Chevrolet Motor Division
See it here.
1957 Chevy Corvette Super Super Show Car
Show Car Used to Introduce Rochester Ramjet Fuel Injection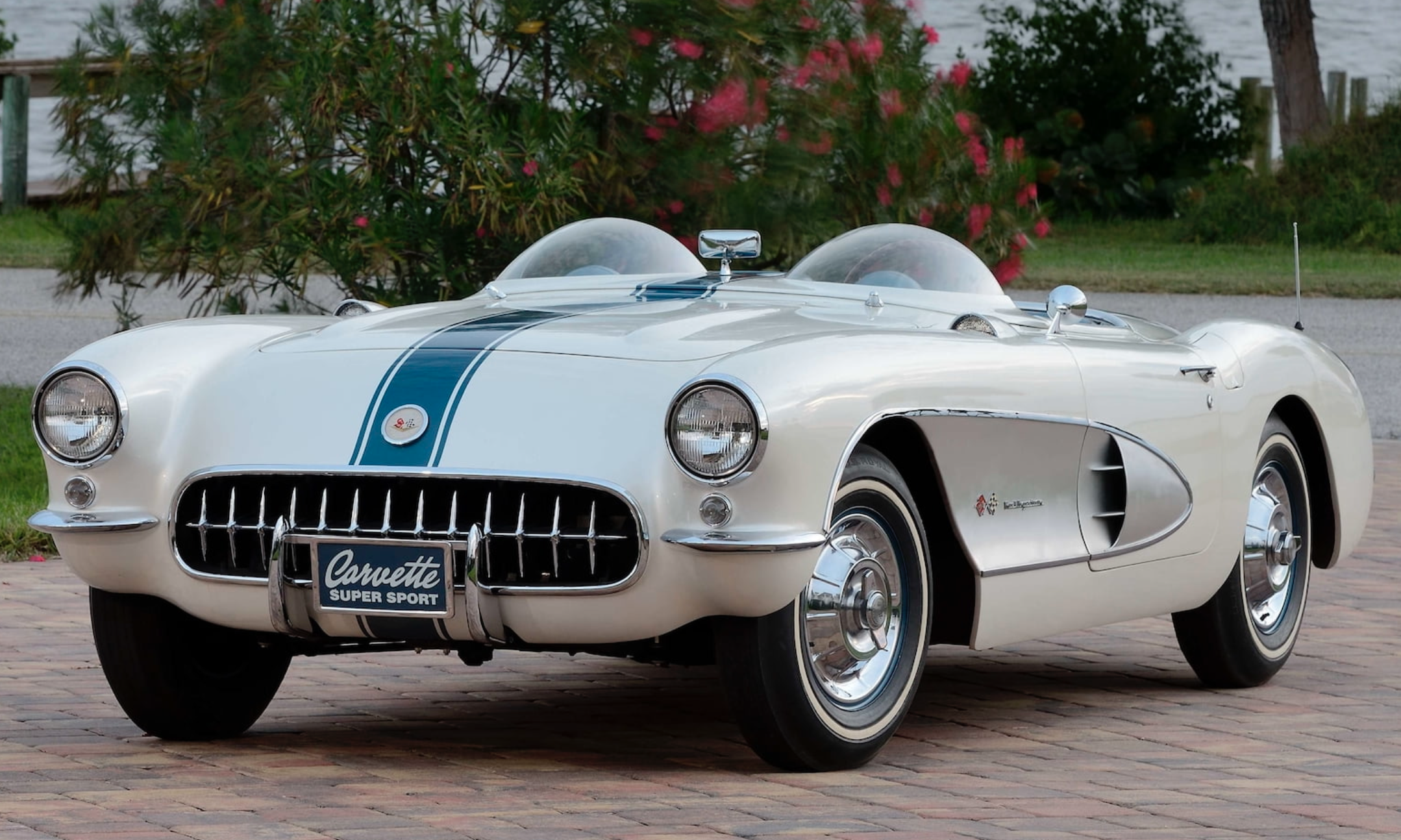 The 1957 Chevrolet Corvette Super Sport Show Car
Created under shop order SO-90181 in March of 1956, tag affixed to cowl
1957 GM Show Car used to Introduce the Rochester Ramjet fuel injection to the GM line of cars
Debuted at the Coliseum in New York in January 1957
Shown at the 1957 SCCA Convention and Chicago Auto Show
Featured on the cover of the June 1957 issue of Speed Age magazine
Sold to first owner Ron Wilsie after completing the show circuit. Wilsie/Kelley Chevrolet, Caro, Michigan
In the care of the same owner since 1997
Faithfully and extensively restored to its original GM Motorama condition
Displayed at the 2017 Amelia Island Concours d'Elegance where it won the unique Presentation of Significant Cars award
Recipient of the Historic Vehicle Association National Heritage award
Completed the first half of obtaining the NCRS Heritage award, second half may be completed by showcasing the car at a National NCRS meet and the award will be presented in the new owner's name
Awards not included
Featured in the May 2018 issue of Vette Vues Magazine
Original drivetrain with 4,372 believed-original miles
Original EL-stamped fuel injected 283/283 HP V-8 engine with special camshaft
4360 first design fuel injector with double spider
889 first design distributor with original tag
Ultra rare first design one-piece louvered chrome air cleaner
Factory original chromed aluminum valve covers
Original off road exhaust system
Close ratio 3-speed manual transmission
Finished in Pearlescent White with Blue stripes and brushed aluminum coves
Rally-inspired design with rear brake ducts, dual cut-down air-craft style plexiglass windscreens and tail lamps with unique divider trim
Cove trim is unique chrome-plated brass and wider than production Corvettes
Original Blue-dyed leather seat covers, dash roll and floor pan pads
Die-stamped metal floor pans with upholstery trimmed in chrome
Unique door panels that featured armrests, safety lighting and coves similar to those on the exterior
First use of a center console in a Corvette
Console-mounted clipboard paper rings
Custom tachometer housing with specially-built tachometer
Ribbed aluminum floor panels and leather heel pads
Custom one-off metal ribbed tunnel cover
One-off solid-spoke wood-rimmed steering wheel
Special one-off gas, clutch and brake pedals
Magnetized cup holders with original Blue anodized cups and cushions in the glovebox for a thermos bottle
Original US Royal XP-140 non-DOT narrow Whitewall tires with Corvette cross flags on sidewalls, believed to be the only set of five in existence
Trunk contains the original Blue carpet, jack and handle, lug wrench, spare and tire board cover with the S.O. number on it
Original chrome-plated horn relay and generator regulator covers
See it here.