This barn find is ready to cruise or restore.
---
While the all-new C8 Corvette shows how far this American icon has come in the last 67 years, the C1 is still as timeless as ever. This once-regal 1958 Chevrolet Corvette sat in a barn for more than 30 years before being rescued and given mechanical repairs, and now it's up for grabs through Awesome Joe Auctions for someone looking for a solid restoration project or a driver-quality classic.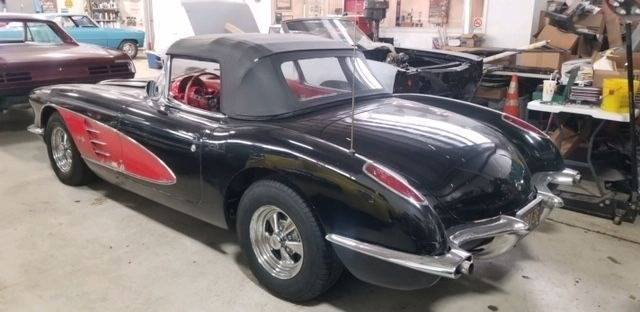 According to the listing, this Corvette was parked after a repaint in 1985, but the years in storage weren't exactly kind to this car. Today, the body shows its age with dings, scratches and general wear, but for the most part, this seems to be a very solid and complete car. Realistically, all it seems to need is a cosmetic restoration to get become a show-winning classic. This process has already been started as the black convertible top and red carpeting are both brand new and the red seats were recently reupholstered.
It's not clear what engine is used under the hood of this C1, but it is a brand-new small-block Chevy V8 that has been done up for a period-correct look; the 1958 Chevrolet Corvette came from the factory with four versions of the 283 cubic-inch V8 both with carburetion and fuel injection. Since being pulled from the barn, this Corvette has been given a new radiator, Vintage Air, new front disc brakes and new Bilstein shocks, and even without a full restoration, this beautiful 'Vette would be a strong and reliable cruiser.
Bidding for ends on July 20th, so if you want a shot at this 1958 'Vette (the first year of the quad headlights), be sure you're registered to bid.