This Corvette features a stunning black over red color combination and a 4-speed.
---
Immerse yourself in a symphony of power and design as we introduce you to the iconic 1963 Chevrolet Corvette Split-Window Coupe. Radiating strength and timeless style, this beauty is an ode to the golden era of American performance cars.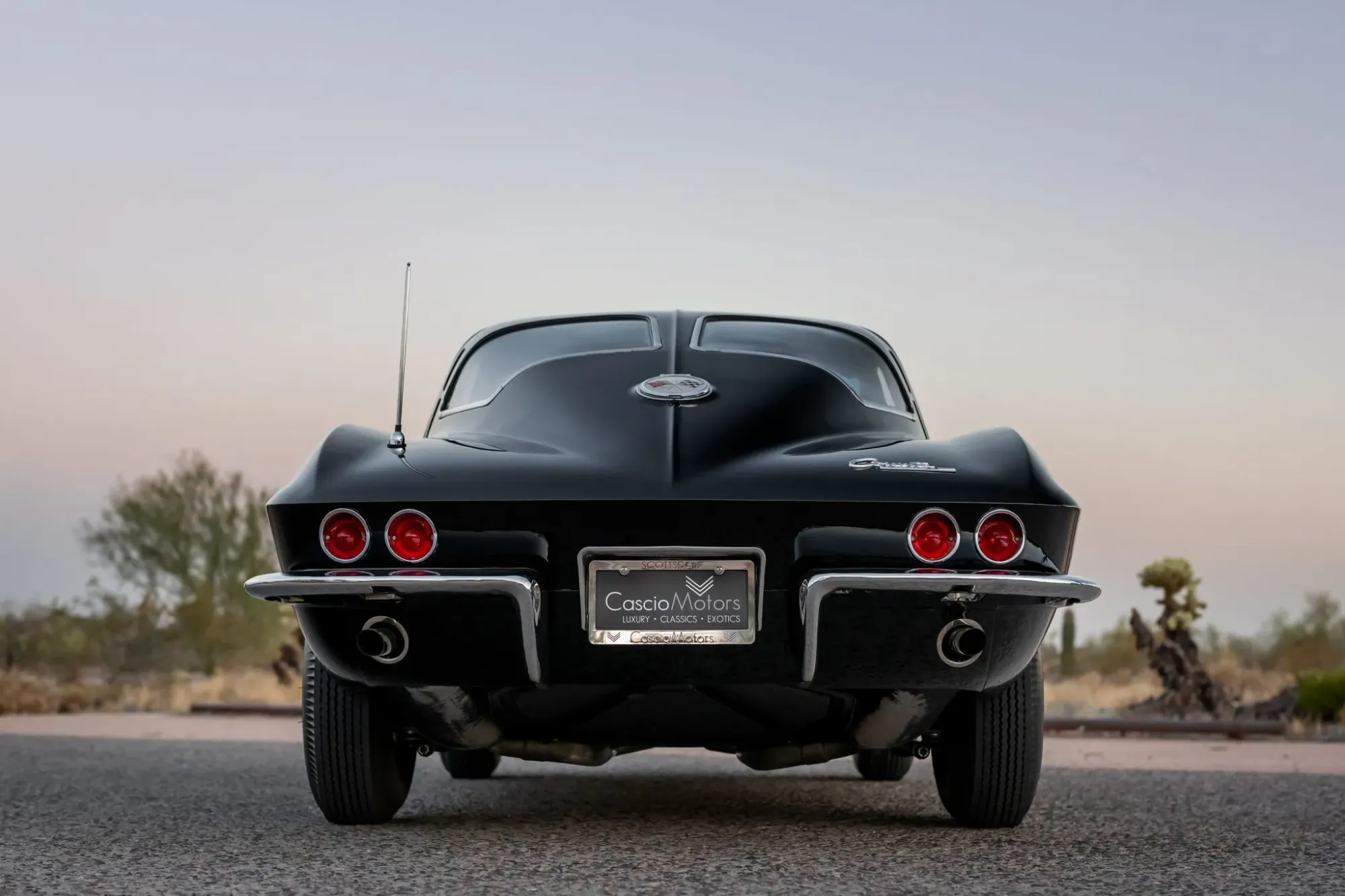 A Glimpse into Its Heritage:
This split-window masterpiece is driven by a mighty fuel-injected 327ci V8 engine. Paired seamlessly with a four-speed manual transmission, it guarantees an exhilarating driving experience every time you turn the ignition. Adorned in a regal Tuxedo Black, the car boasts a lustrous finish, emphasizing its sleek contours and audacious design.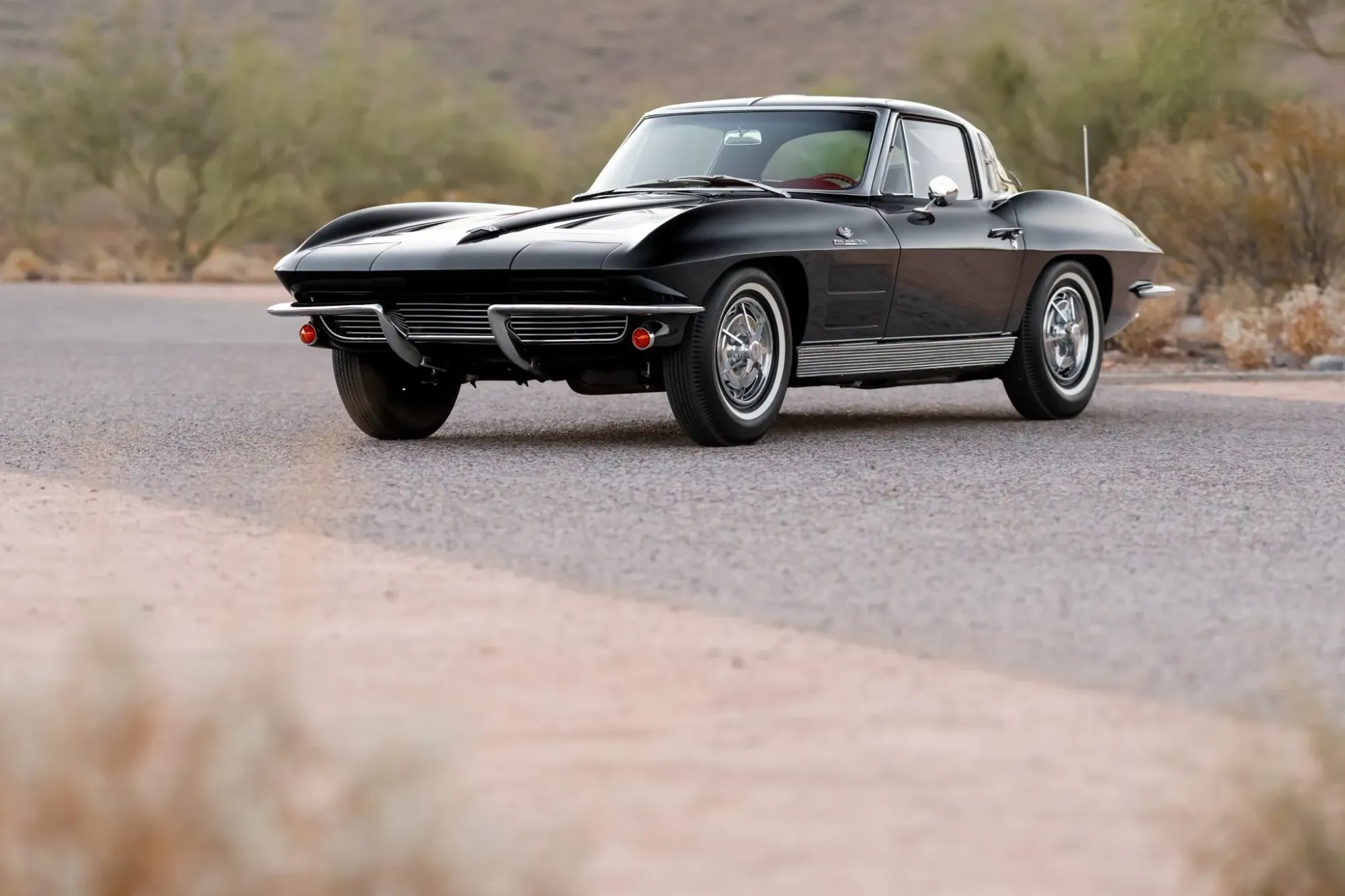 The Corvette emerged from its cocoon, gleaming anew, after an extensive refurbishment process. Its rejuvenation was complete well before it found its way into the current owner's collection in 2013. One of the crowning achievements in recent times was a meticulous overhaul of the renowned Rochester mechanical fuel-injection system, assuring optimal performance for years to come.
Unparalleled Features: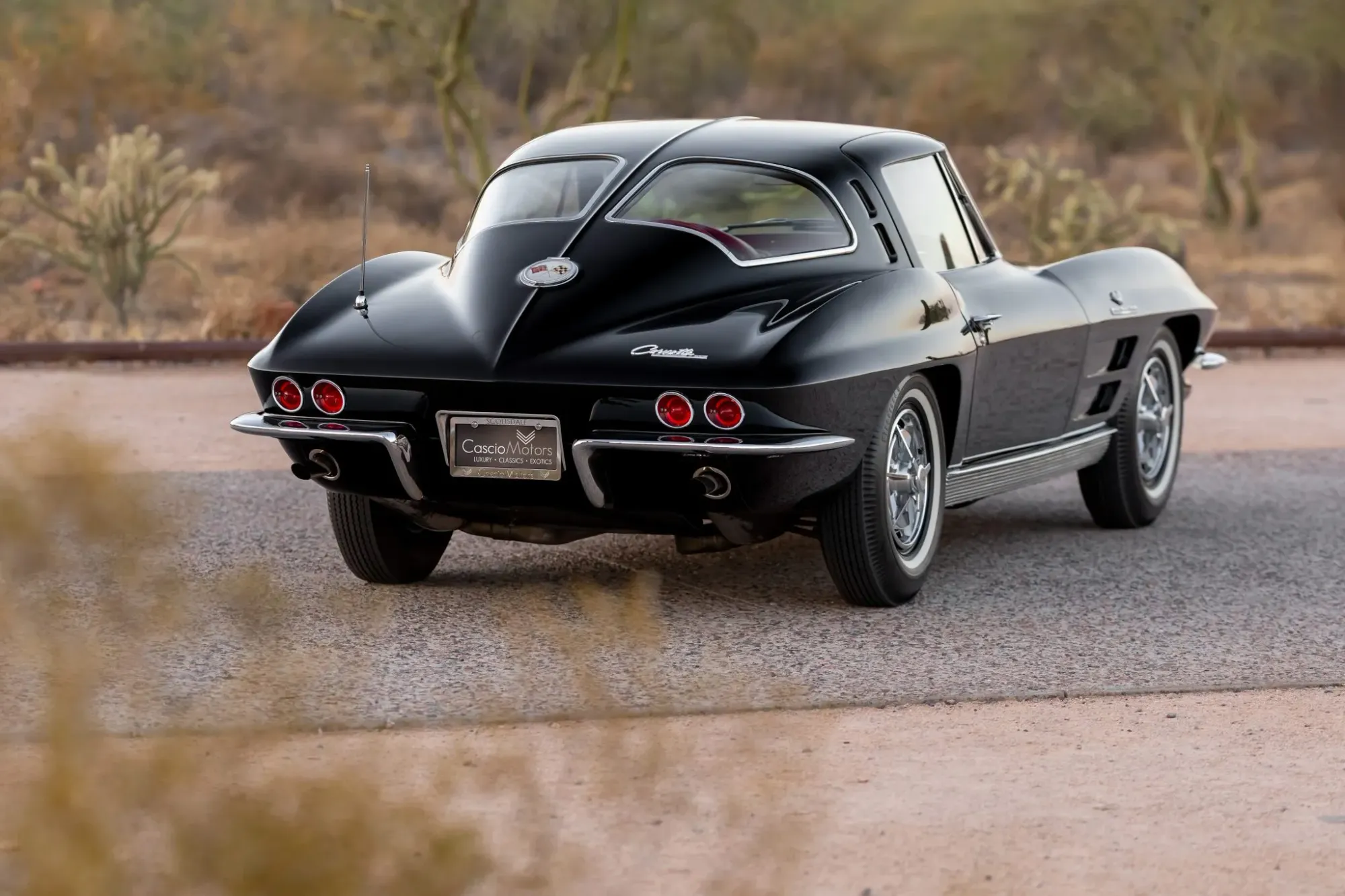 Eyes are immediately drawn to the unique split-window design - a distinctive feature that sets this model apart from the rest. The car also sports:
Concealed, flip-up headlamps that give it a stealthy facade.
Evocative fender vents and the signature quad tail lamps.
Chrome highlights with the bumperettes, adding a touch of elegance.
Dual exhaust tips neatly integrated into the rear valance, hinting at the power within.
For the wheel aficionados: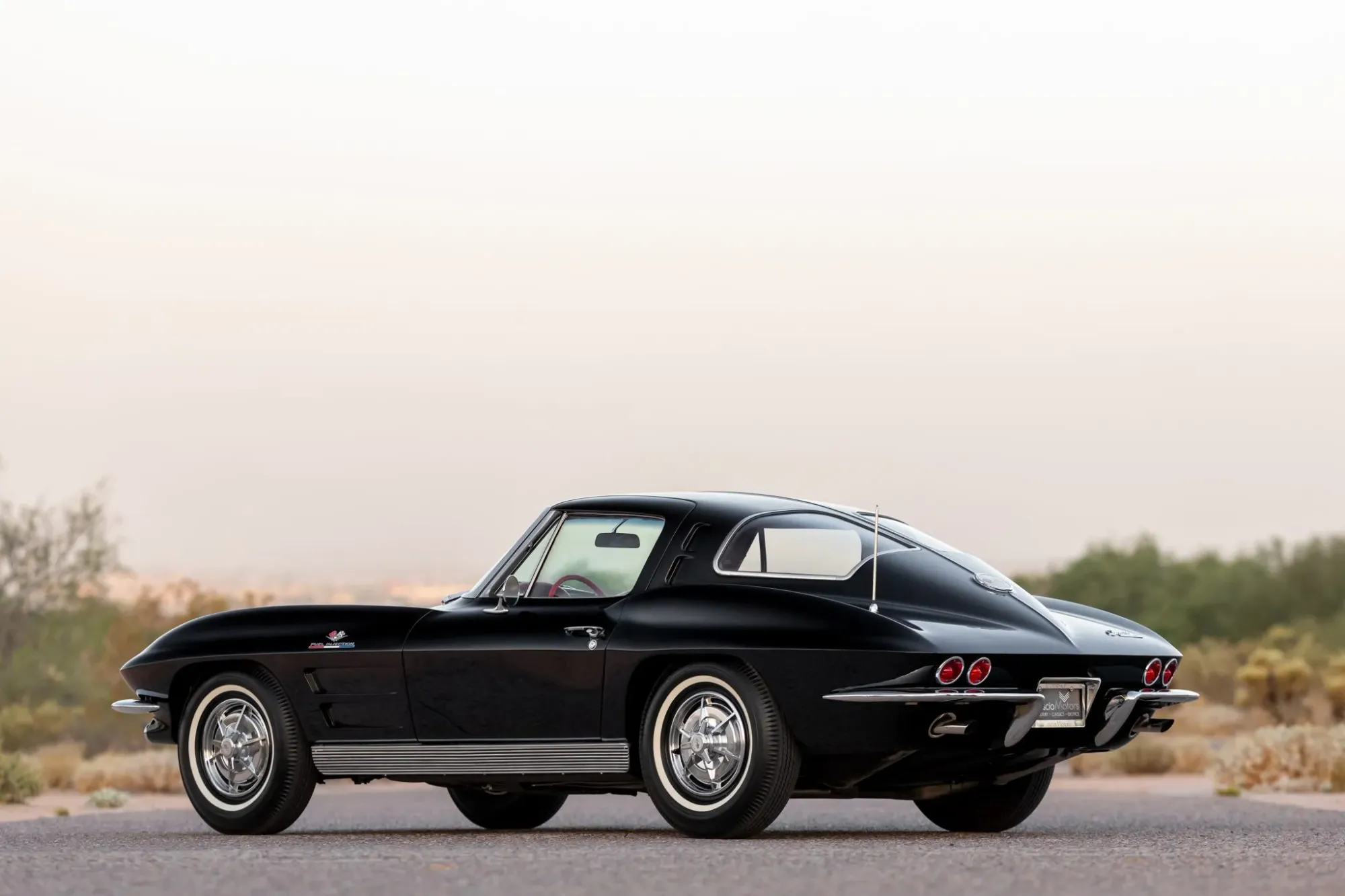 Robust 15" steel wheels, adorned with three-eared spinner-style covers, firmly grip the road with 6.70-15 thin whitewall tires. Ensuring safety with style, the car is equipped with reliable four-wheel drum brakes.
Inside the Cockpit:
Step inside to be greeted by an atmosphere of luxury and nostalgia. The interior showcases plush bucket seats wrapped in a vibrant red vinyl, creating a beautiful contrast against the Tuxedo Black exterior. Complementing this are the harmonizing red door panels and lush carpeting. Modern comforts haven't been overlooked - enjoy features such as a cozy heater, an AM/FM radio for those classic tunes, a vintage analog clock, and the essential lap belts.
Behind the wheel, drivers can monitor the Corvette's vitals via the 160-mph speedometer, the spirited tachometer with a 6,500-rpm redline, and an assortment of gauges that keep tabs on amperage, oil pressure, coolant temperature, and fuel level. The odometer modestly displays 17k miles, with the current owner contributing about 500 of those memorable miles. The true extent of its adventures, however, remains a mystery.
Seize the Legacy: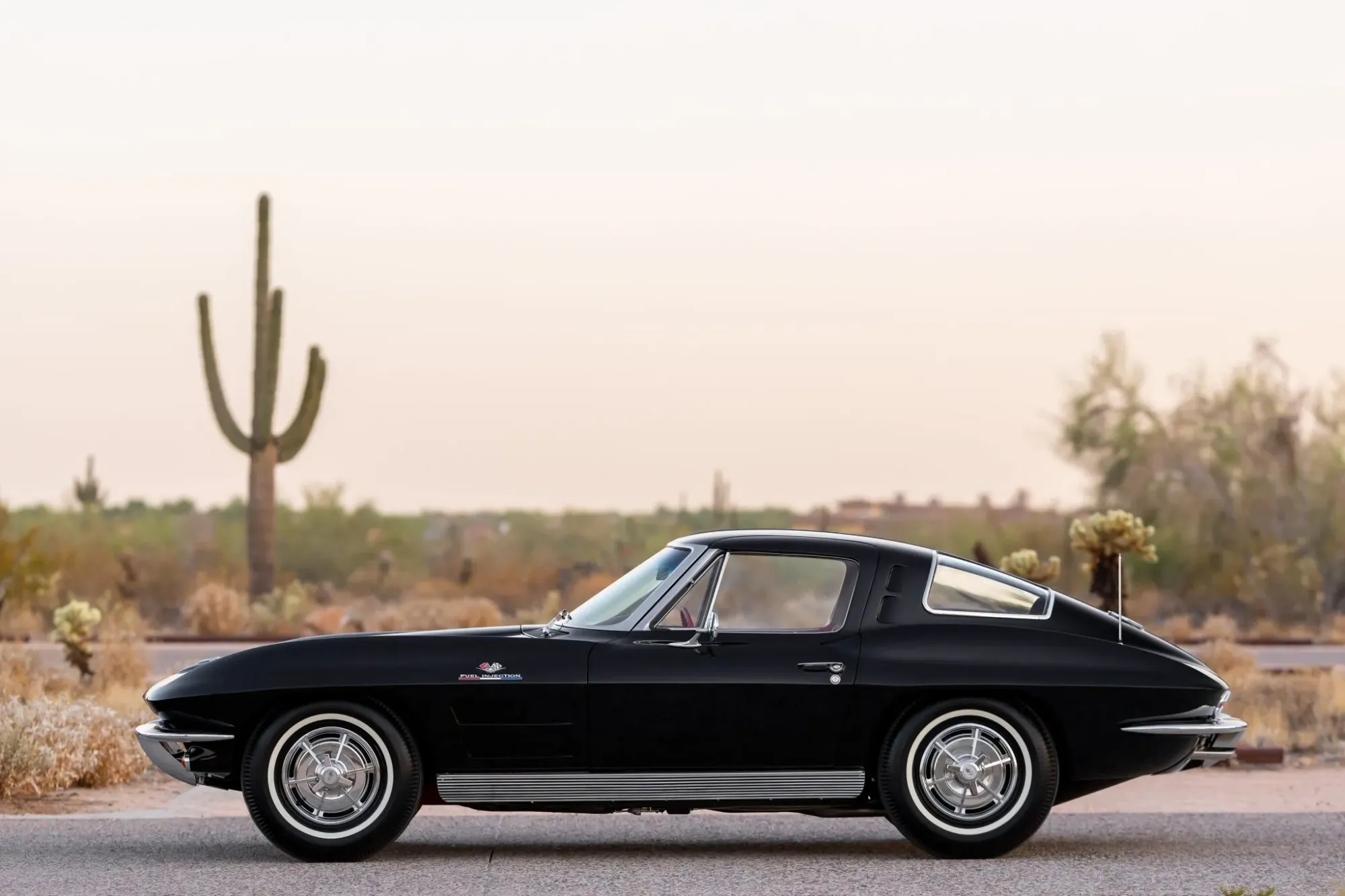 Now stationed for consignment, this C2 split-window coupe comes replete with invaluable documentation, including the esteemed NCRS Shipping Data report and the original manufacturer's literature. This Corvette isn't just a car; it's a piece of American history, waiting for the next chapter in its journey.
Embrace the past, drive into the future, and own a legend: The 1963 Chevrolet Corvette Split-Window Coupe awaits.
Visit Casciomotors.com to see more great vehicles and to learn more about selling your enthusiast vehicle on Bring A Trailer.