The 1957 Chris Craft Sportsman 'Wine Down' Boat Bar.
---
Dive into a world of grandeur and sophistication with this unparalleled 1957 Chris Craft Sportsman 'Wine Down' Boat Bar. Every inch of this masterpiece is curated to offer an exquisite experience for marine and bar enthusiasts alike.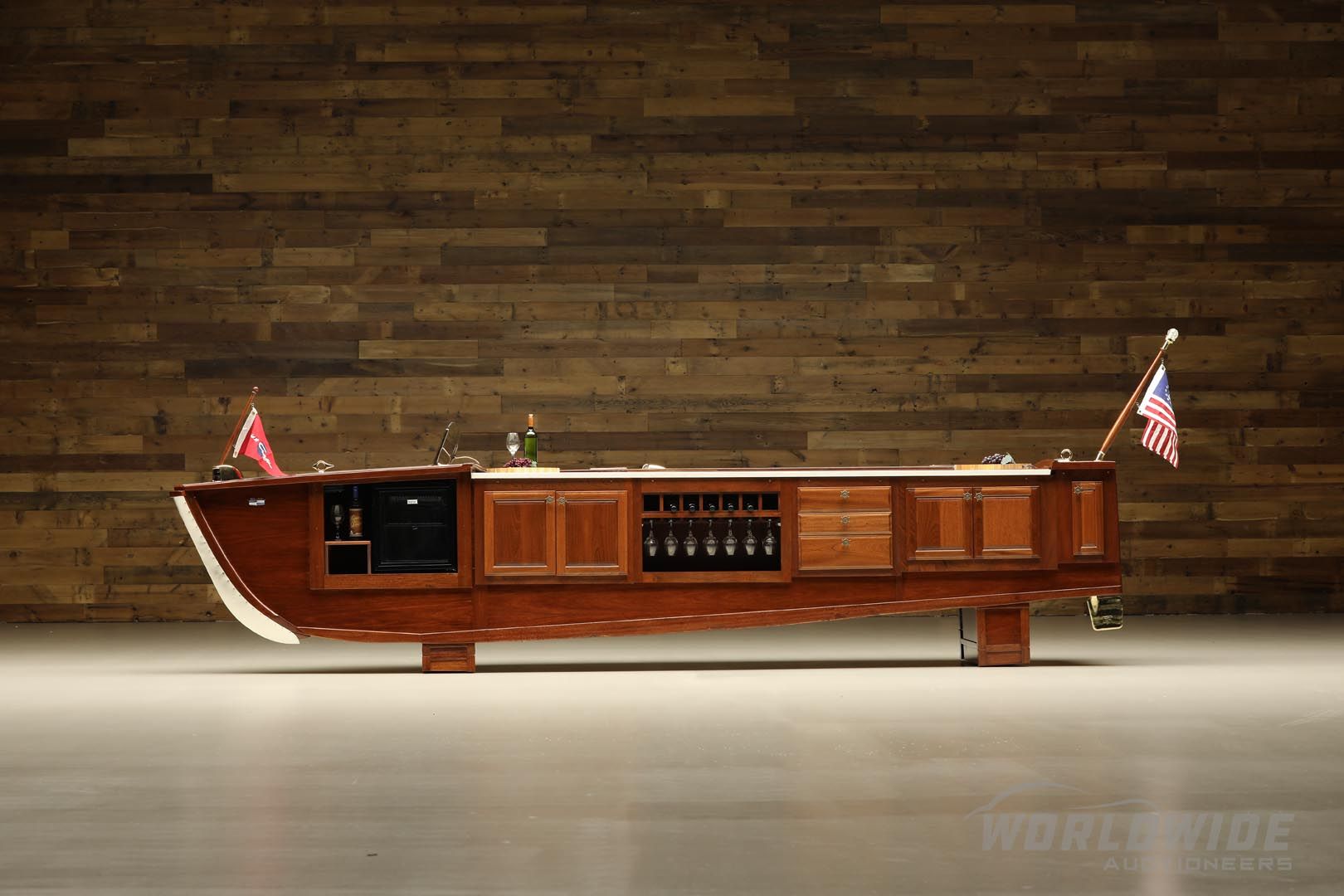 Sail through its Features:
A genuine 1957 Chris Craft Sportsman woody boat has been artfully transformed into a luxury bar that's bound to be the focal point of any gathering. Enriched by a warm mahogany finish, its stunning craftsmanship resonates in every intricately designed cabinet, each displaying the precision of dovetail corners.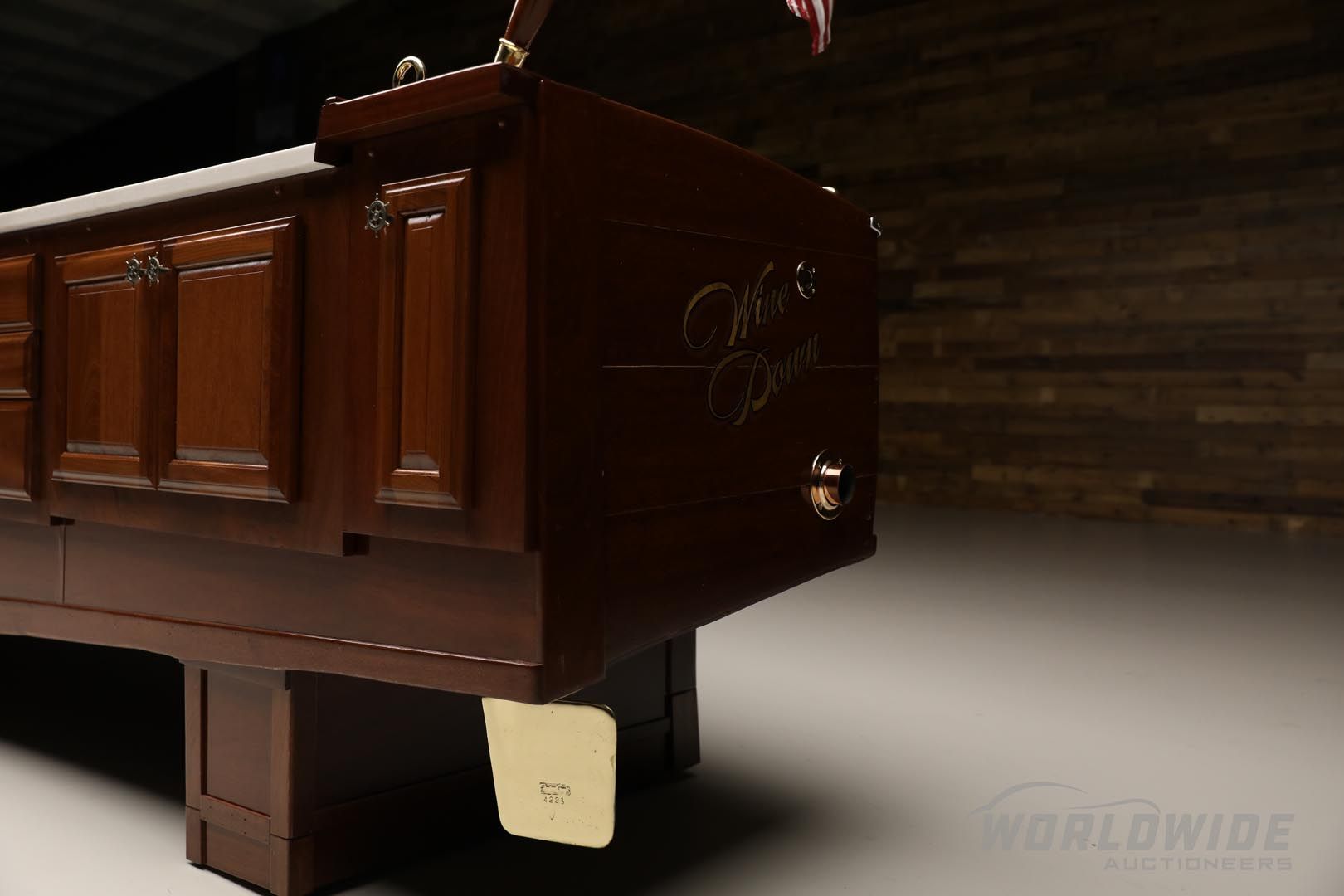 The brass elements, already resonating with luxury, have been further fortified with a ceramic coating, ensuring enduring allure while withstanding the test of time and weather. With bespoke spaces curated for every bartending essential, you can elevate your mixology game. Let the LED lighting from beneath the cabinets cast a gentle glow over the bespoke wine glasses, each etched with the vessel's evocative name, 'Wine Down'.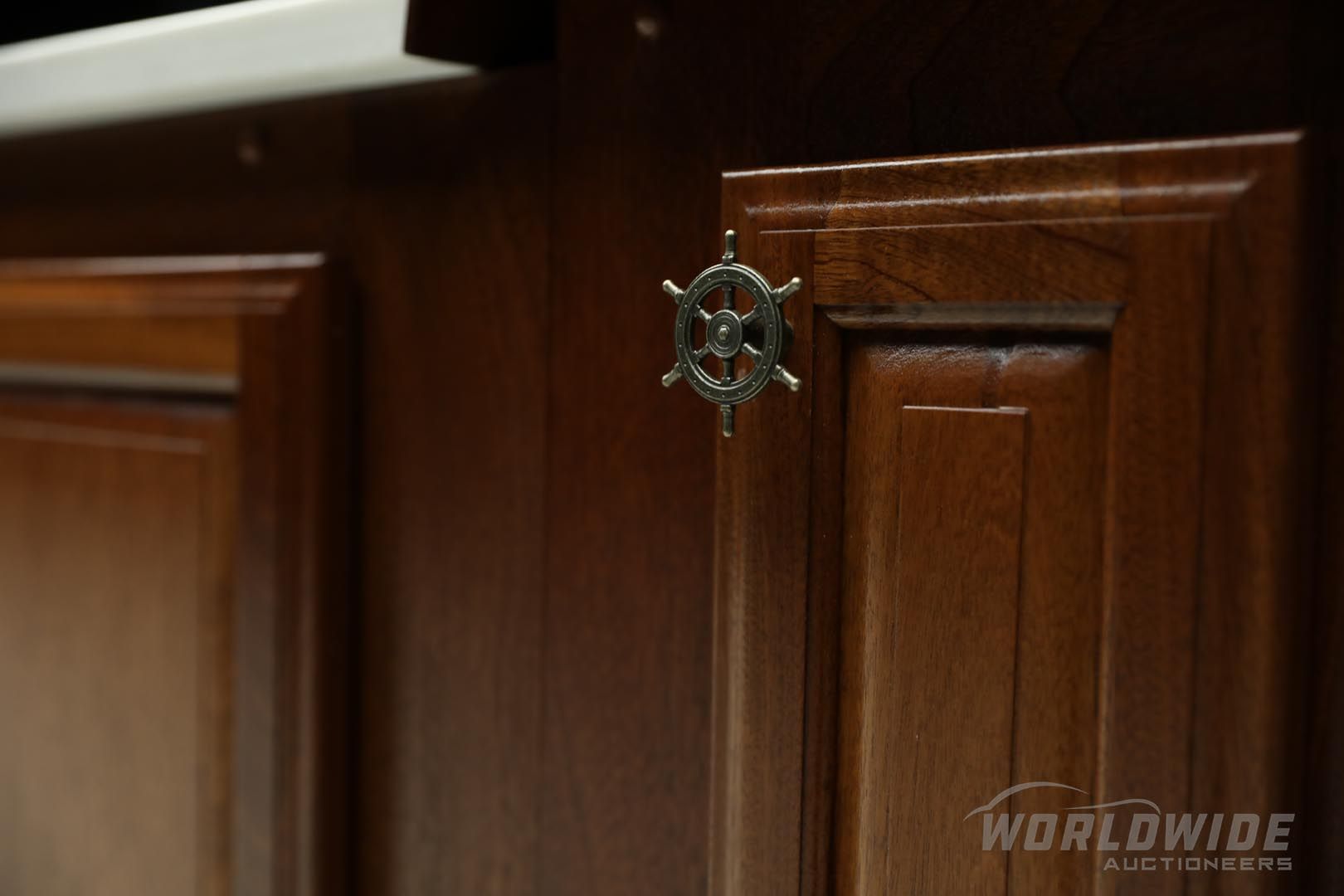 For those who appreciate the finer things, the boat bar also boasts a plush, glass-front beverage refrigerator, ensuring your drinks stay at the optimum temperature. A dedicated wine rack, extensive storage options, and a custom-made cutting board (perfect for flaunting your culinary delights) augment the ensemble.
The entire setup, spanning a majestic 17 feet, includes a pristine quartz countertop. This countertop stretches 36" by 10.5' and comfortably accommodates four chic bar stools. But perhaps its pièce de résistance is the intricately hand-painted graphics rendered in gleaming 23-karat gold leaf.
Mobility meets Magnificence: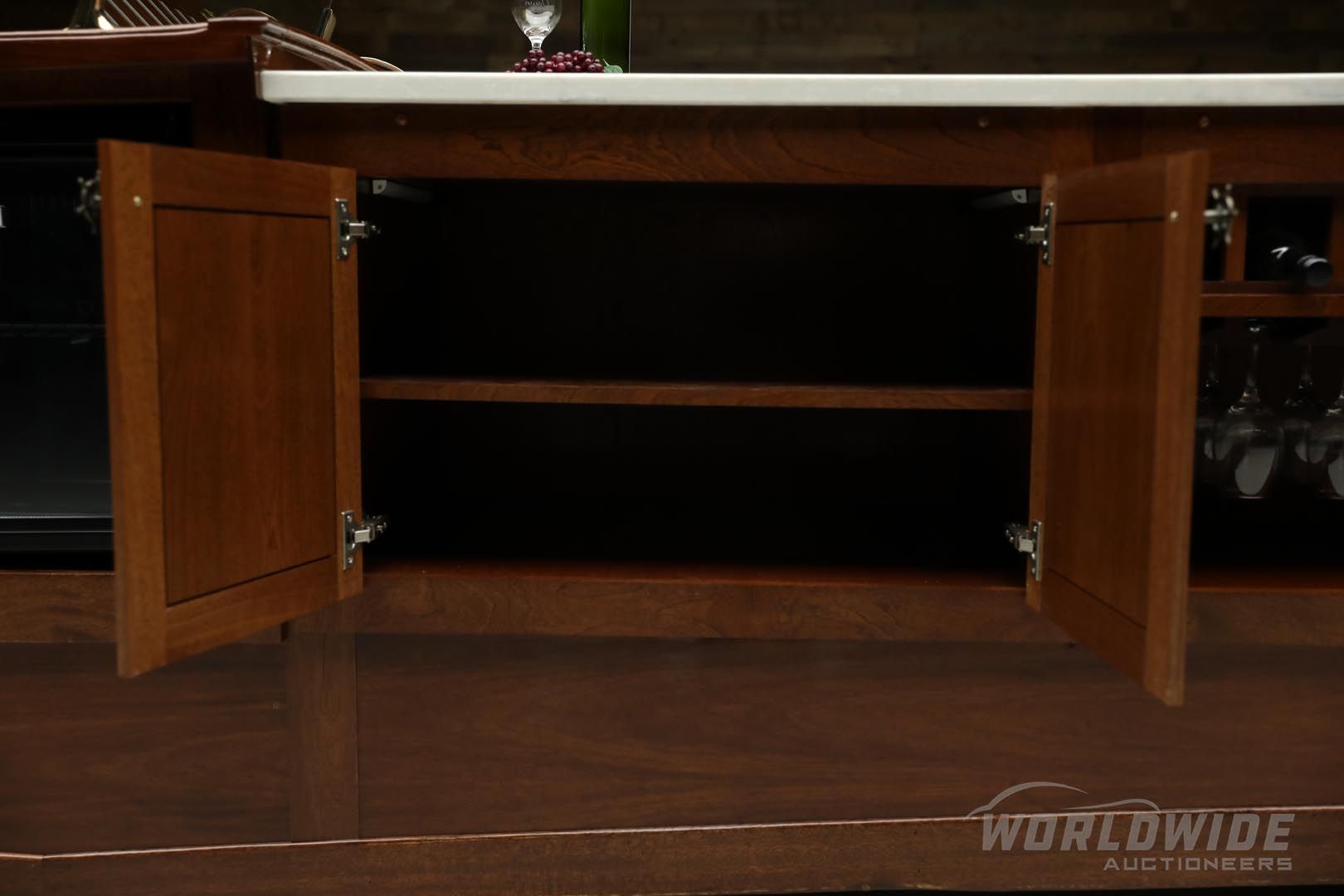 Designed with pragmatism in mind, this luxurious bar comes with wheels, ensuring effortless mobility. Whether it's to grace your showroom, embellish a patio gathering, elevate a business setting, or to be the crown jewel of a personal space like a kitchen or a man cave, moving it around is a breeze.
Anchor your Celebrations: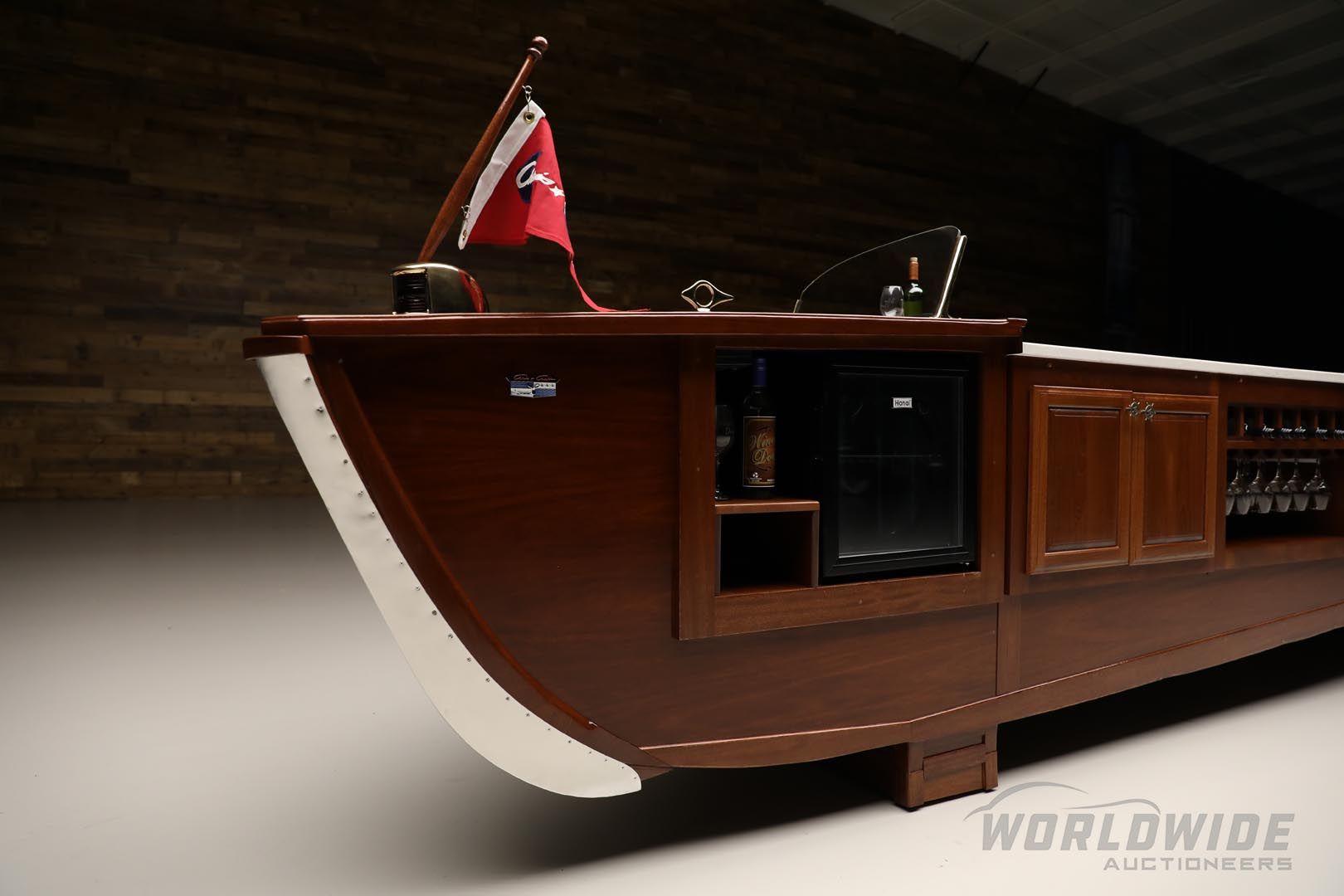 Here lies more than just a bar; it's an embodiment of art, luxury, and functionality. This Chris Craft Boat Bar is more than ready to set the stage for countless unforgettable moments. It's not just a bar; it's an experience. Welcome aboard!
For all those enthusiasts and collectors eager to buy and sell great cars this summer, the road leads right back to Auburn, Indiana, the original "Classic Car Capital of the World" and birthplace of the collector car auction industry in America.
The next catalogue sale, also the industry's next catalogue sale in North America, the Auburn Auction, will take place August 31 – September 2, 2023 at our Indiana headquarters. To be presented as a simultaneous live and online event for collector car enthusiasts and aficionado to enjoy.