The 1970 Ferrari 365 GTB/4 Daytona Berlinetta Awaits!
---
Strap in and hold tight, as we transport you back to a bygone era of luxury and innovation. Presenting the dazzling 1970 Ferrari 365 GTB/4 Daytona Berlinetta - a car that effortlessly defines grace, strength, and sheer Italian craftsmanship.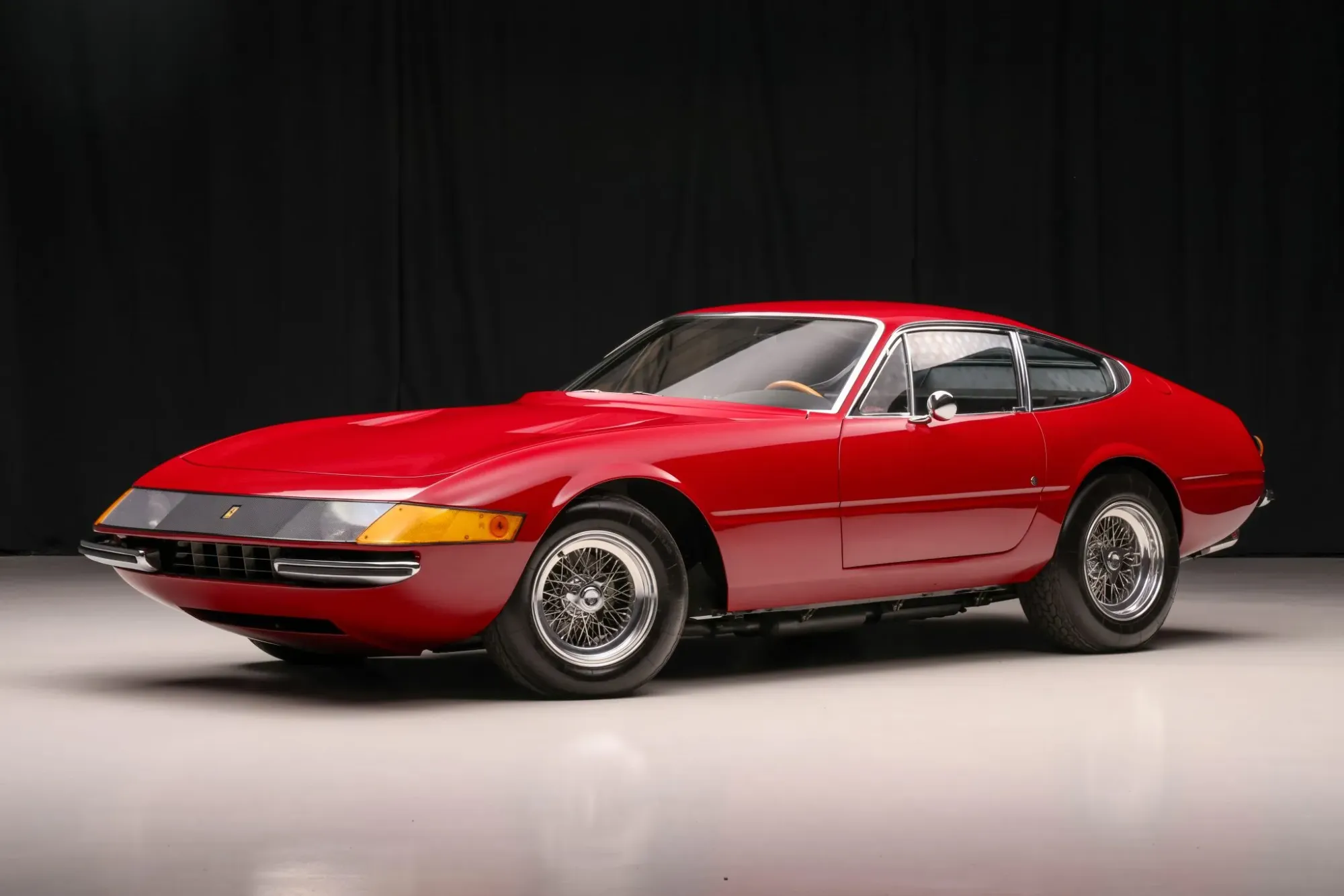 Revel in its historical journey:
This exceptional Ferrari 365 GTB/4 stands as one of the rare gems, with its distinctive fixed headlights nestled behind a pristine plexiglass nose panel. It's a rare breed, considering only 410 such models were produced during its initial two years before transitioning to a pop-up headlight design in 1971. This beauty, bearing the chassis number 13231, was meticulously crafted on March 6, 1970. Its journey commenced in the historic lanes of Bologna, Italy, and later ventured across the seas to the US, basking in a glorious refurbishment under the Californian sun during the '90s.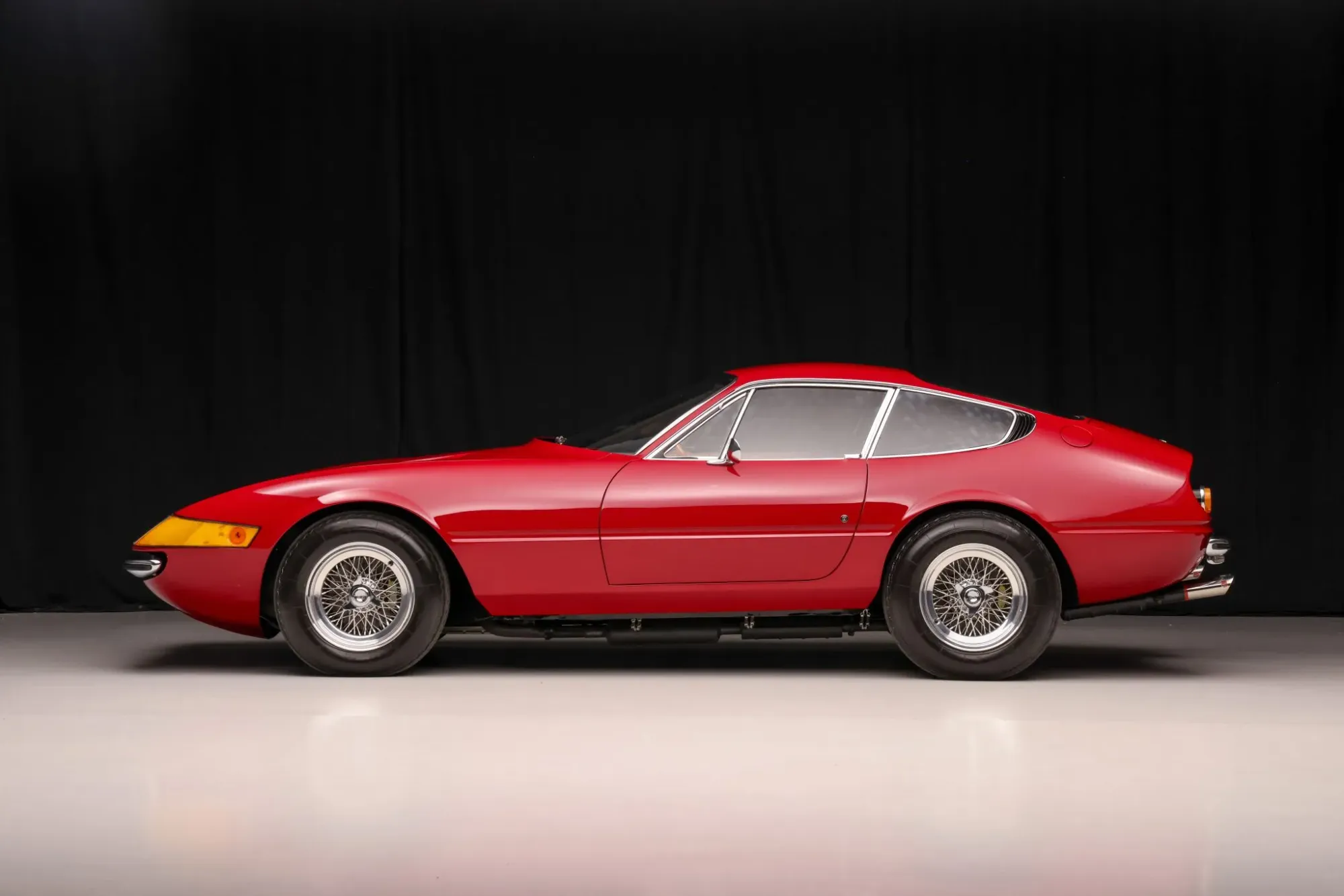 An Evolutionary Tale:
A memorable highlight includes the revamp of the 4.4-liter Colombo V12 powerhouse and its six impeccable Weber carburetors in the late 2000s. Following a subsequent refurbishment between 2013-2014, this car proudly showcased its magnificence at renowned events, including the Amelia Island Concours d'Elegance, the Greenwich Concours d'Elegance, and The Quail, A Motorsports Gathering.
Resplendent in its original hue of Rosso Rubino, the car is accessorized with:
A robust five-speed manual transaxle paired with a limited-slip differential.
Servo-assisted disc brakes and a state-of-the-art four-wheel independent suspension.
A classy set of 15" Borrani wire wheels.
An opulent interior, wrapped in tan leather upholstery, accentuated with black touches.
Modern amenities like air conditioning, power windows, and an authentic wood-rimmed steering wheel.
For the connoisseurs of history: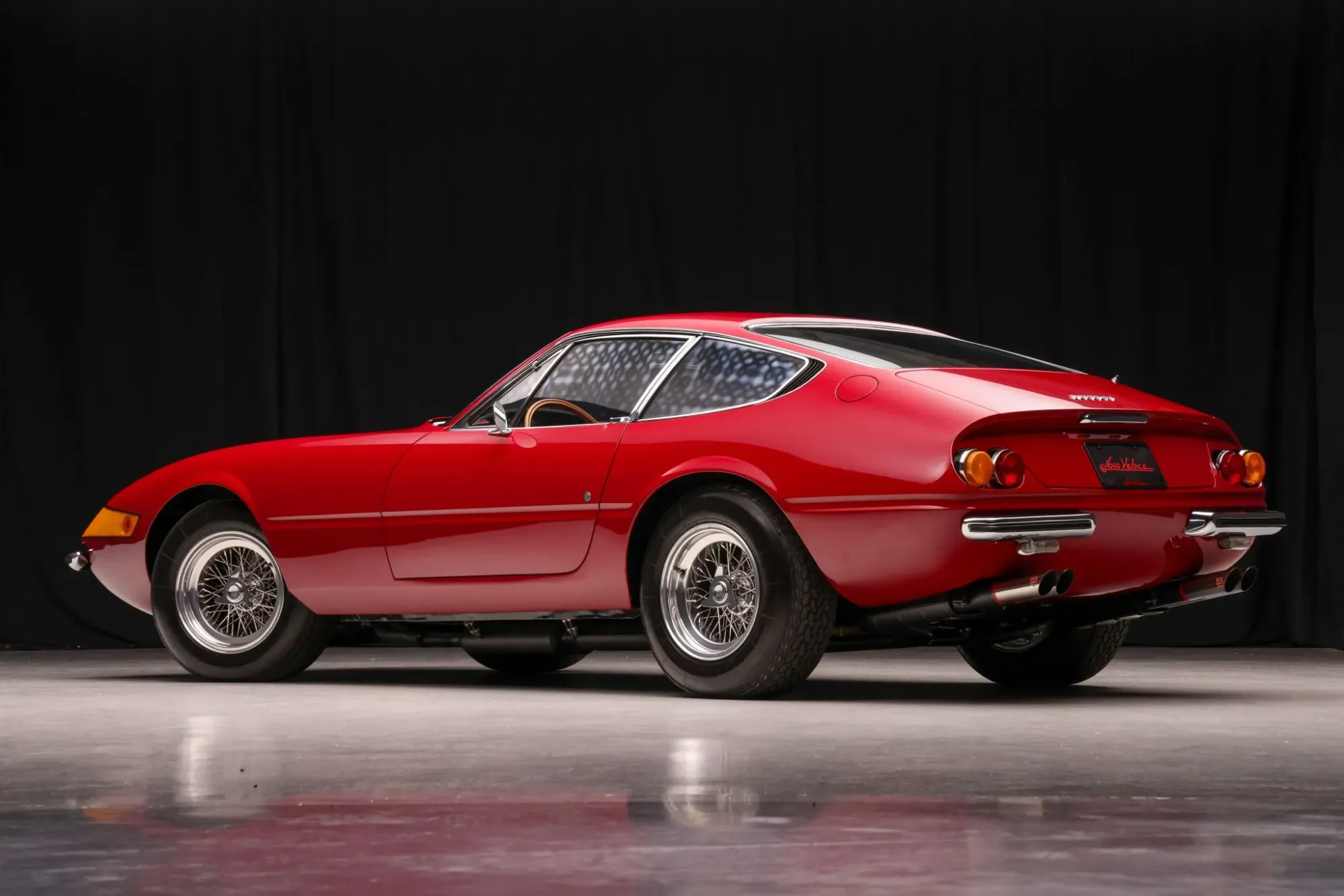 The 365 GTB/4 made its grand debut at the 1968 Paris Motor Show, flaunting a svelte fastback silhouette crafted by Pininfarina's maestro, Leonardo Fioravanti. The plexiglass cover, spanning the width of the nose, remained a signature design before the introduction of pop-up headlights in 1971, in adherence to US regulations.
This car has experienced a kaleidoscope of colors, transitioning from Rosso Rubino to black, and later back to red. It regained its original sheen during a detailed refurbishment at Autosport Designs, New York, between 2013 and 2014. This process meticulously restored its body, seals, and the iconic plexiglass nose cover, ensuring its vintage charm remained intact.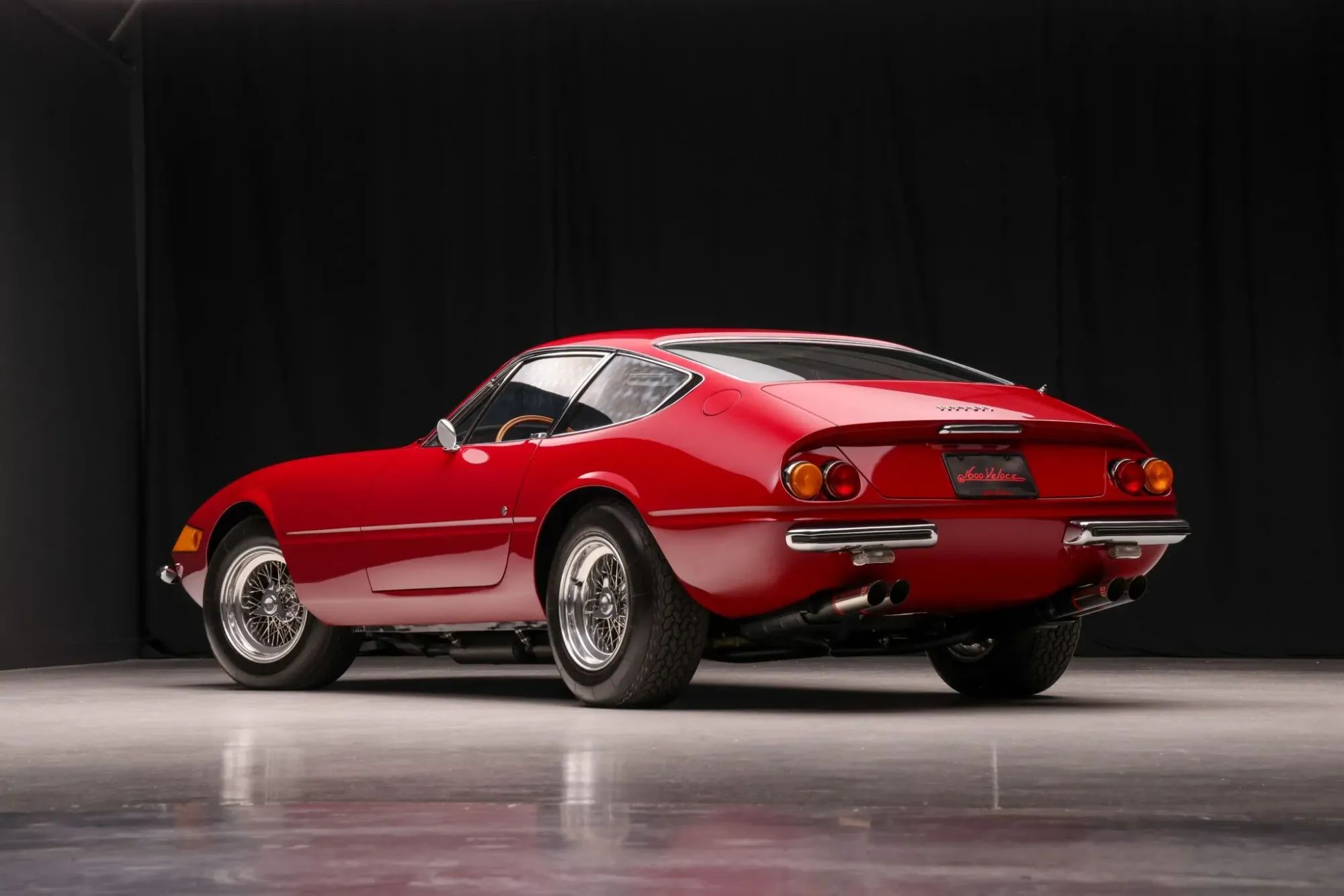 The wheel magic:
Glistening Borrani wire wheels, reinforced with Michelin XWX tires, give this beauty an undeniable edge. The detailed brake overhaul in 2014 ensures this classic's safety matches its elegance.
Elevate Your Garage:
Now stationed in New York and procured by the selling dealer in 2023, this plexiglass-nose Daytona comes replete with the esteemed Marcel Massini report, detailed invoices from its 2013-2014 rejuvenation, authentic owner's manuals, a comprehensive toolkit, and a pristine Montana title.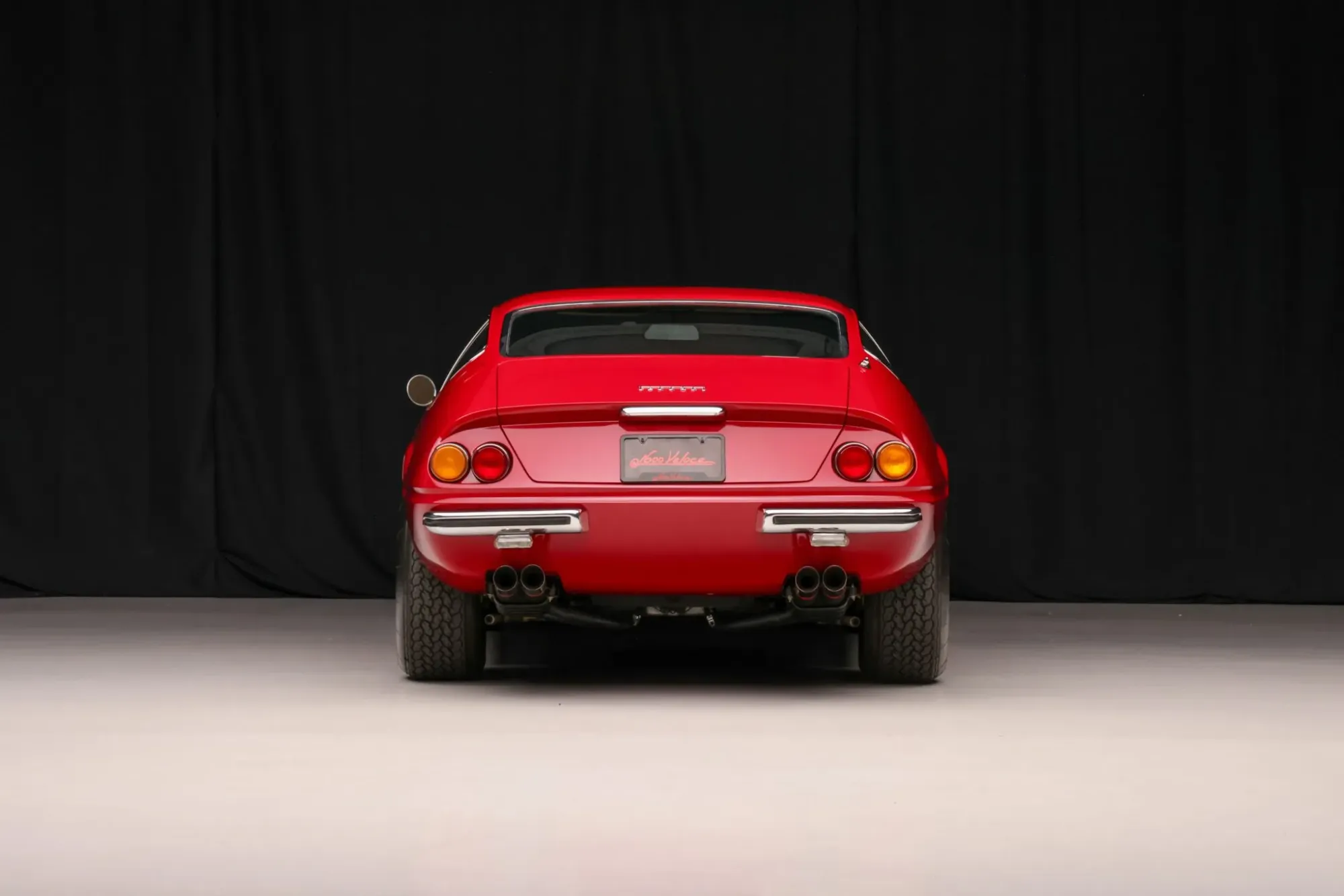 Join hands with history, immerse yourself in luxury, and drive home a legacy with the 1970 Ferrari 365 GTB/4 Daytona Berlinetta. This isn't just a car; it's a chapter from the annals of automotive greatness.
1600Veloce.com is a leading seller on Bring A Trailer. With over 1,000 vehicles listed, 1600Veloce.com can get your vehicle listed quickly with top-notch presentation.