The 'Cuda is the epitome of the American muscle car, and these are the pick of the litter!
---
It would be a challenge to think up a car that better represents the gold era of the muscle car better than the Plymouth 'Cuda! Over the years, it has earned legend states, and risen to the top of the muscle car wars, and for good reason. This performance variant Plymouth is full of punchy styling and lot of power. Here are some of our favorite Cudas in the Motorious inventory right now.  
1970 Plymouth 'Cuda
Pairing an original Super Commando 440 with correct 6-bbl induction and a correct A833 4-speed, this Plymouth is prime Mopar muscle! And if you're looking for some choice metal that'll stop the show and tear up the road, it's a fine candidate for your next classic. Methodically restored, this E-Body's latest rebuild began in 2016 when its solid, original exterior sheetmetal was carefully stripped and lovingly refinished.
1970 Plymouth 'Cuda Convertible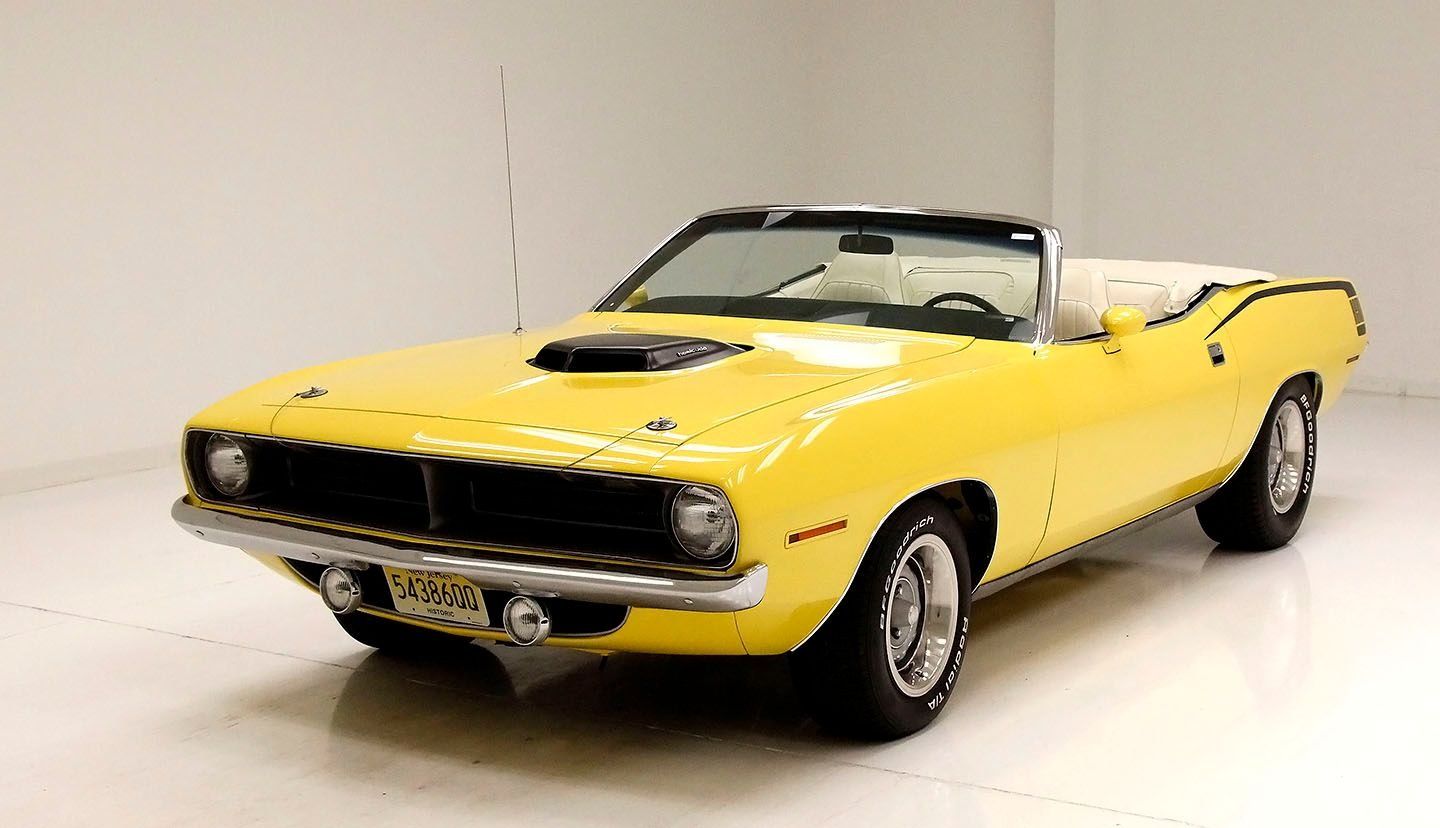 This lemon twist 1970 Plymouth 'Cuda convertible was one of the biggest shots fired by Chrysler in the muscle-car wars, but some say it came late in the game. A beautiful job has been done with this 'Cuda, and some interesting options where ordered with this muscle car. At the front of the car, a traditional blackout split grille with single black bezel headlights flanking on either side. At the top of those lamps, a familiar Shaker Hood in Lemon Twist, replaces the original 2 port hood, and now has a corresponding black scoop. Under the hood is a 426 HEMI, which is backed by a Torqueflite A727 automatic transmission.
1971 Plymouth 'Cuda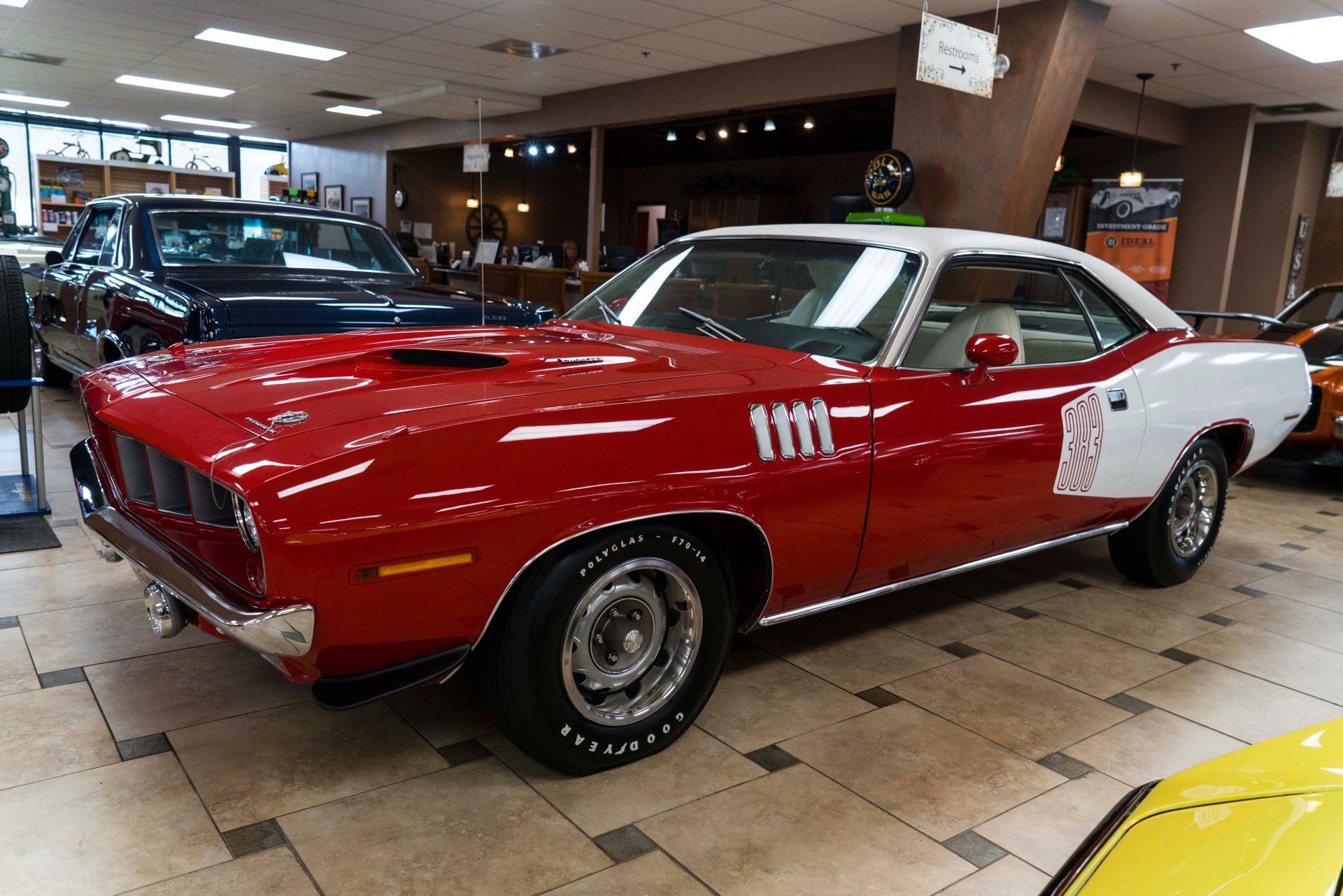 This 'Cuda is so full of options and features that 2 fender tags were necessary to list them all. In addition to those double fender tags is the always desirable original build sheet along with a reproduced window sticker, showing the incredible amount of options that were added to this legendary Mopar muscle machine. Under the hood is the high performance 383C.I. V8 engine, mated to the famously strong A727 TorqueFlite Heavy Duty automatic transmission and 8¾" rear end. The slew of options equipped on this '71 include H51 air conditioning, A62 Rallye instrument cluster, B51 power disc brakes, G11 all tinted glass, G36 painted dual racing mirrors.
1970 Plymouth 'Cuda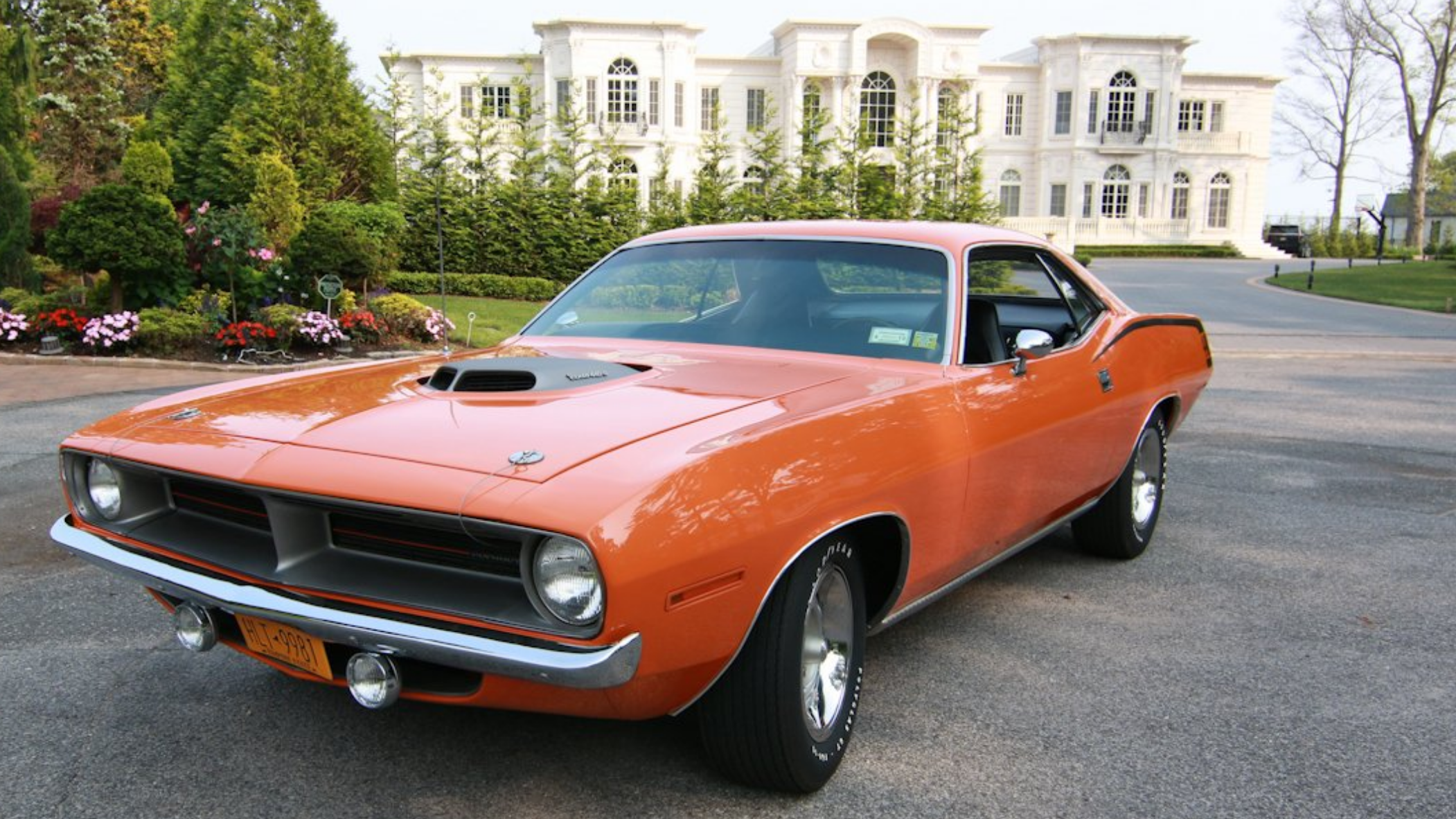 Americn muscle cars don't get much more azure than a Vitamin C Orange '70 Plymouth 'Cuda packing a four-speed-backed and Shaker-topped 440 6-barrel under the hood. That's what we're looking at here—a numbers-matching 440+6 'Cuda with all the right equipment, including the Track Pack, with the 3.54-geared Dana 60 rear axle and Hemi four-speed.
1970 Plymouth AAR 'Cuda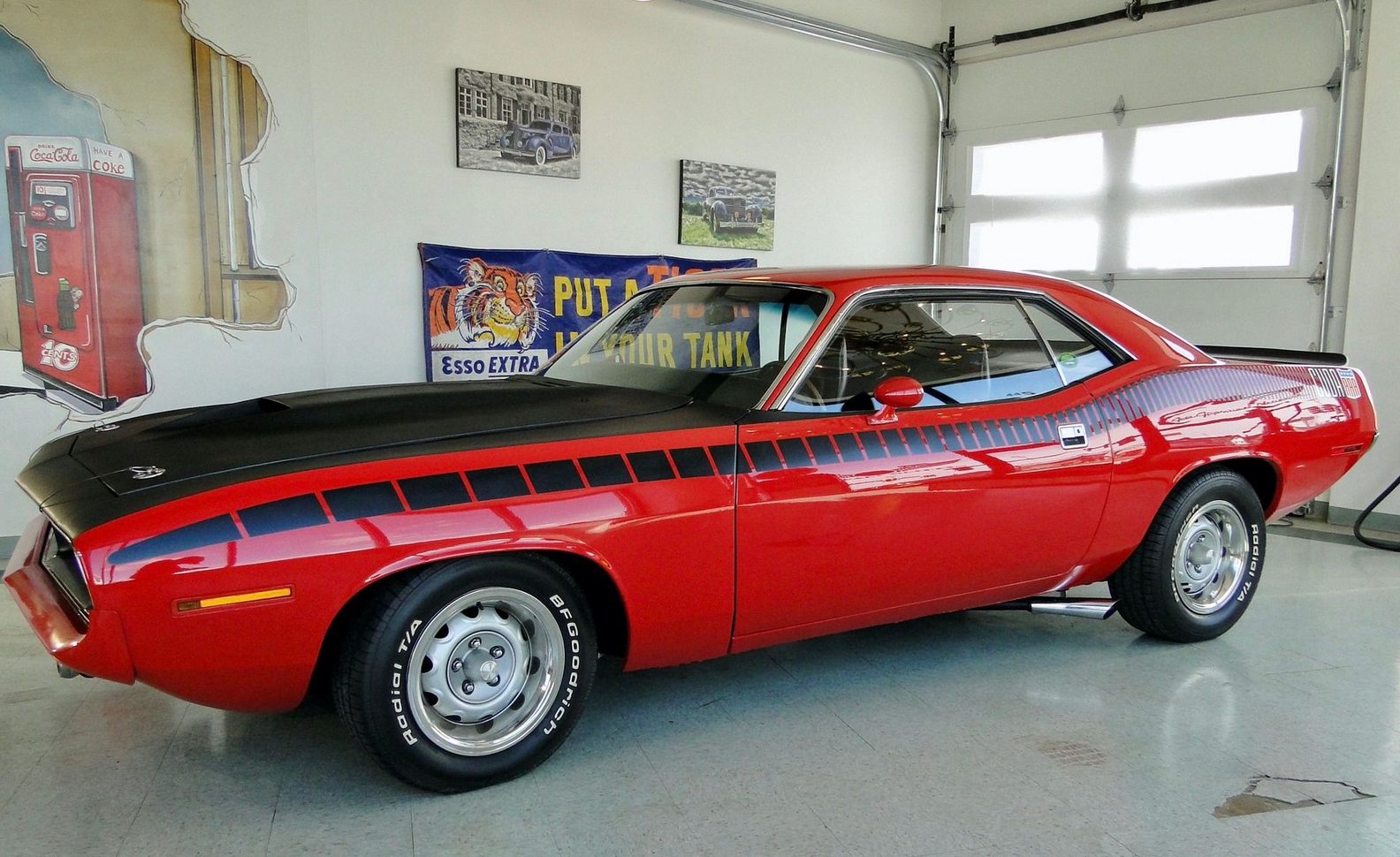 The 1970 Plymouth AAR Cuda name originated from Dan Gurney's All-American Racers (AAR) team.  SCCA homologation required that manufacturer built a minimum of 2500 of the car in order to compete in the Trans Am series.  In a 5-week period between March and April of 1970 a total of 2,724 AAR Cuda's were built. This 1970 Plymouth AAR finished in the original color Rallye Red is accented by the black longitudinal strobe stripes and matte black hood and fender tops and duck tail rear spoiler.
1970 Plymouth 'Cuda 440 Six Pack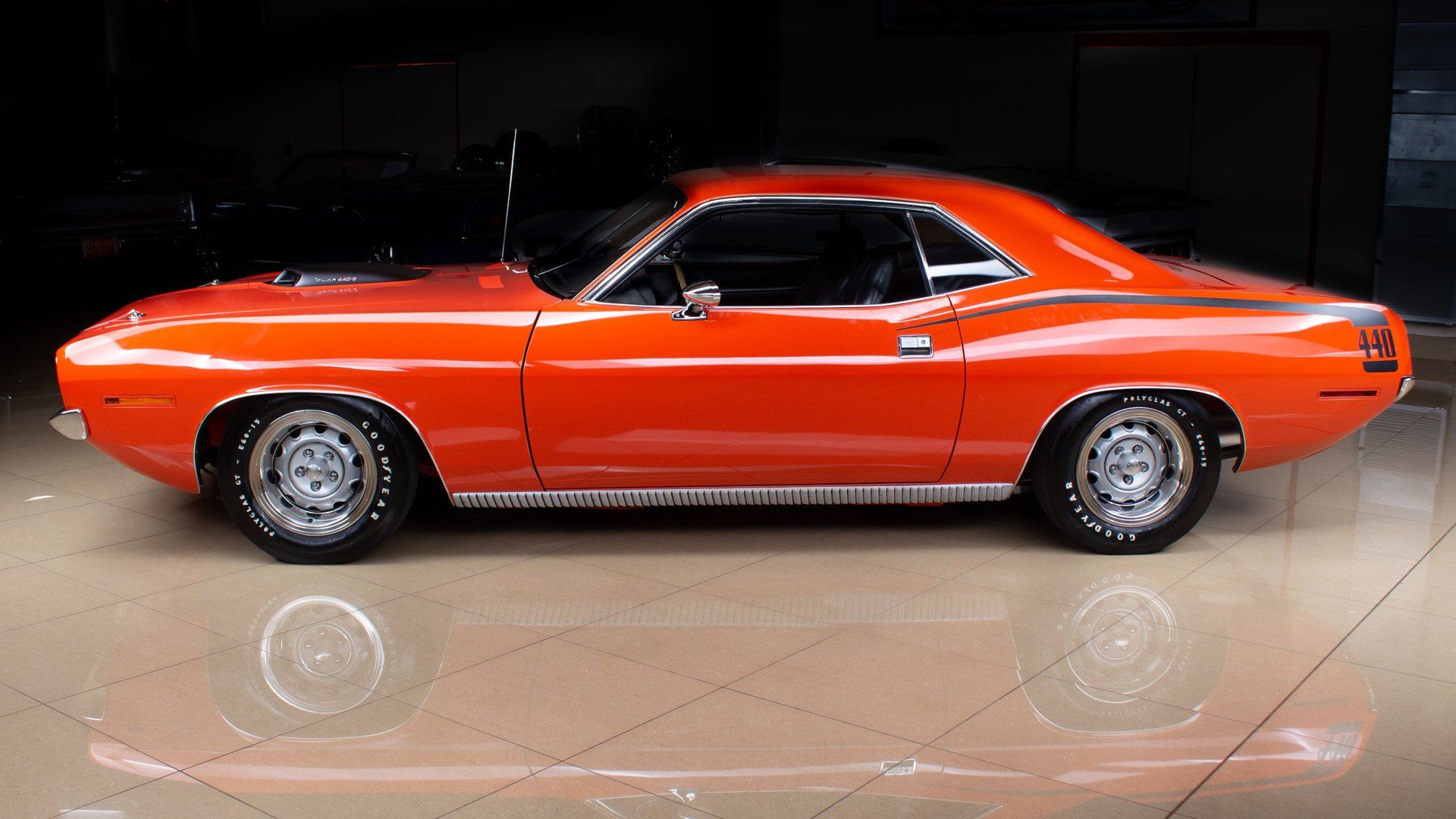 A Fresh no expense spared rotisserie nut & bolt rotisserie restoration was completed on this 'Cuda. A correct matching #'s vin shows a 440 cubic-inch, 6-bbl  "Magnum" V8 with correct Holley 3x2bbl carbs - the engine is rated at 390-horsepower, but makes more like 500-hp. It has swapped aluminum heads (stock heads come with it), and feeds into a A833 HD 4-speed close ratio manual transmission. The drivetrain feeds in the optional Super track pak with HD Dana 60 Sure Grip rear 4.10 posi rear differential.
1970 Plymouth 'Cuda Hemi Restomod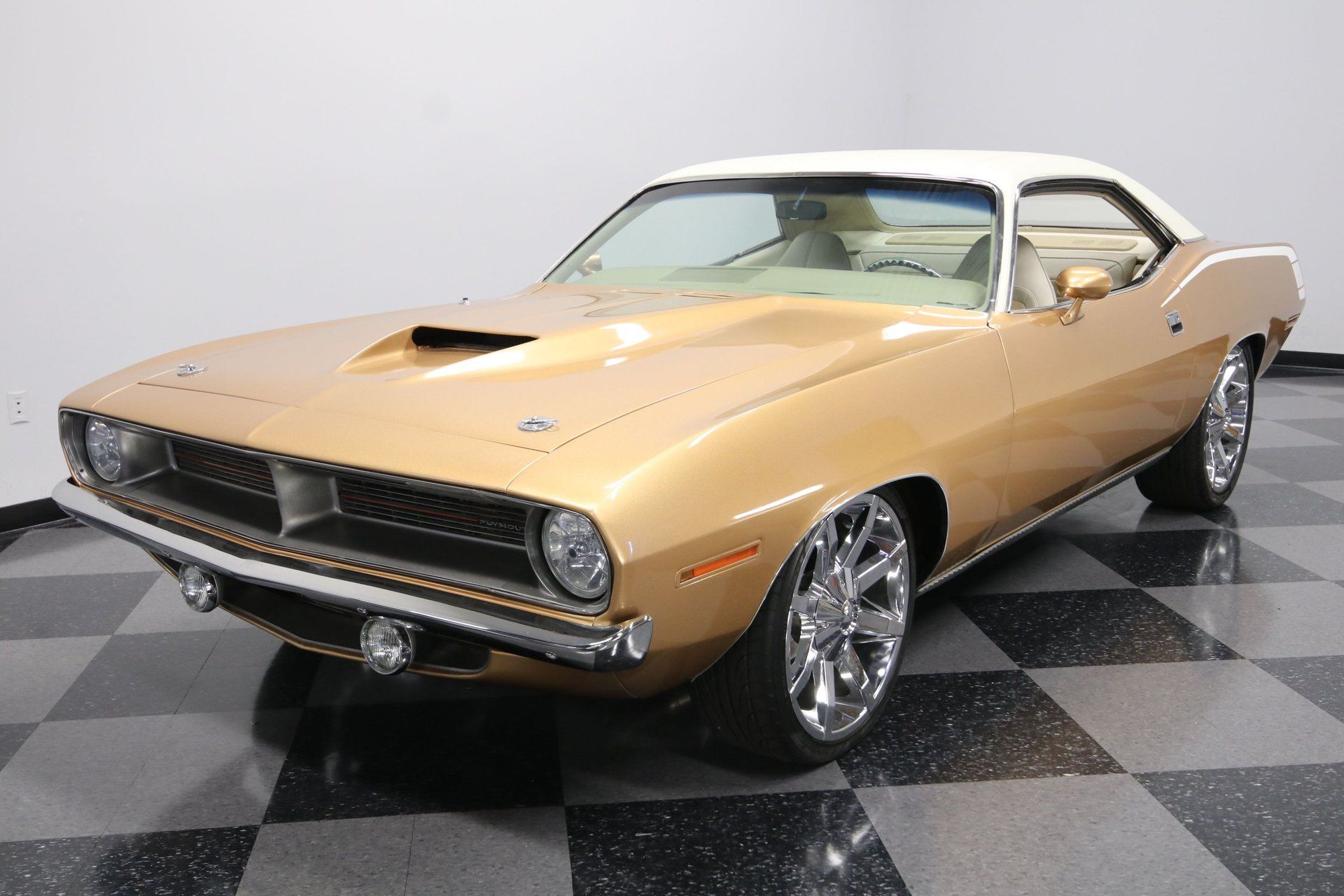 This 1970 Plymouth Cuda Hemi Restomod takes a muscle car legend and gives it award-worthy paint, a custom leather interior, and a serious V8 power upgrade.  So if you love iconic Mopars, welcome to the next level. Finding a real-deal 1970 'Cuda is already quite rare, but they turned this one into a snowflake.  This is a full rotisserie restoration with around 100 miles on it since completion.
1971 Plymouth 'Cuda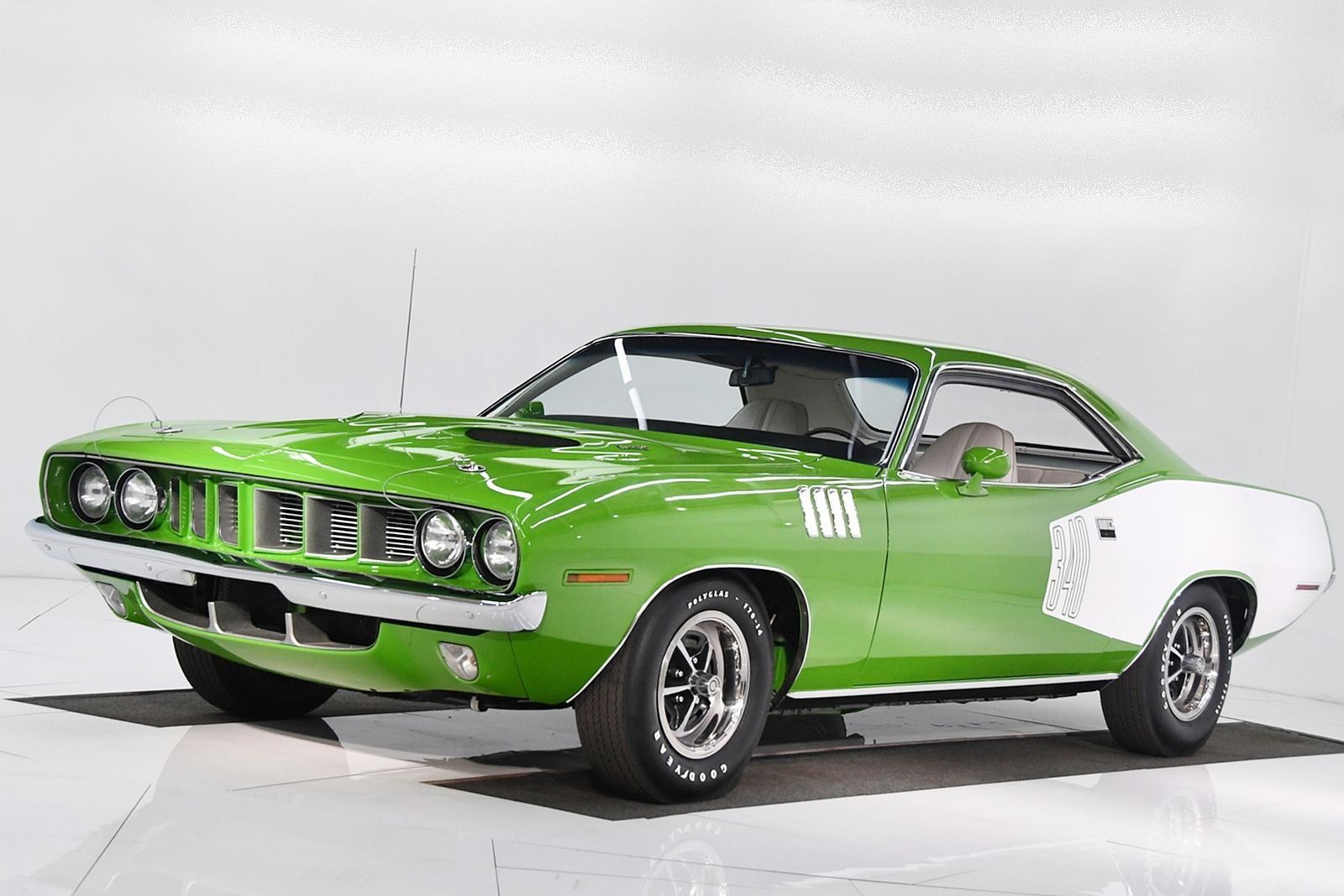 This the real deal, born as you see it. Documented by VIN, fender tag, and build sheet, this genuine Cuda, has a number's matching engine, transmission, and correct colors - it was even born a billboard car! Rotisserie restored. The 1971 Cuda is one of the most desirable muscle cars and are rare to find.
Motorious would like to thank the TechForce Foundation for their continued support of the Automotive Technology Career path. The mission of the TechForce Foundation is to support and encourage technical education for the  automotive, diesel, collision repair, motorcycle, marine, NASCAR and other transportation industries through scholarships, grants, career development, and other special programs. Click here to see the exciting  programs that TechForce offers and the people they support.