This is one of the least sophisticated burglary attempts we've seen in a while…
---
Salt Lake City Police say that on the night of October 30 a 34-year-old man was taken into custody after he broke into a Ferrari dealership just outside of downtown. Photos released by police show a broken glass door in the showroom and a wheel laying on the floor, seemingly used to bust through the glass. The guy must've thought it was the perfect crime, but obviously it wasn't.
To see an example of what happens when the thieves break into a dealership successfully, check out another story here.
Witnesses saw someone walking around inside the dealership at about 6:13 pm and they called police. It sounds like the caller might have been an employee, but that's not entirely clear. However, while officers were setting up a perimeter around the building and plotting an approach, an employee inside decided to confront the would-be burglar.
Whatever that employee said spooked the trespasser, who turned and fled from the building and ran away so quickly officers had to chase him down. Even when cornered by the police he didn't do the smart thing and resisted being taken into custody. Thankfully, nobody was hurt as they were finally able to subdue him.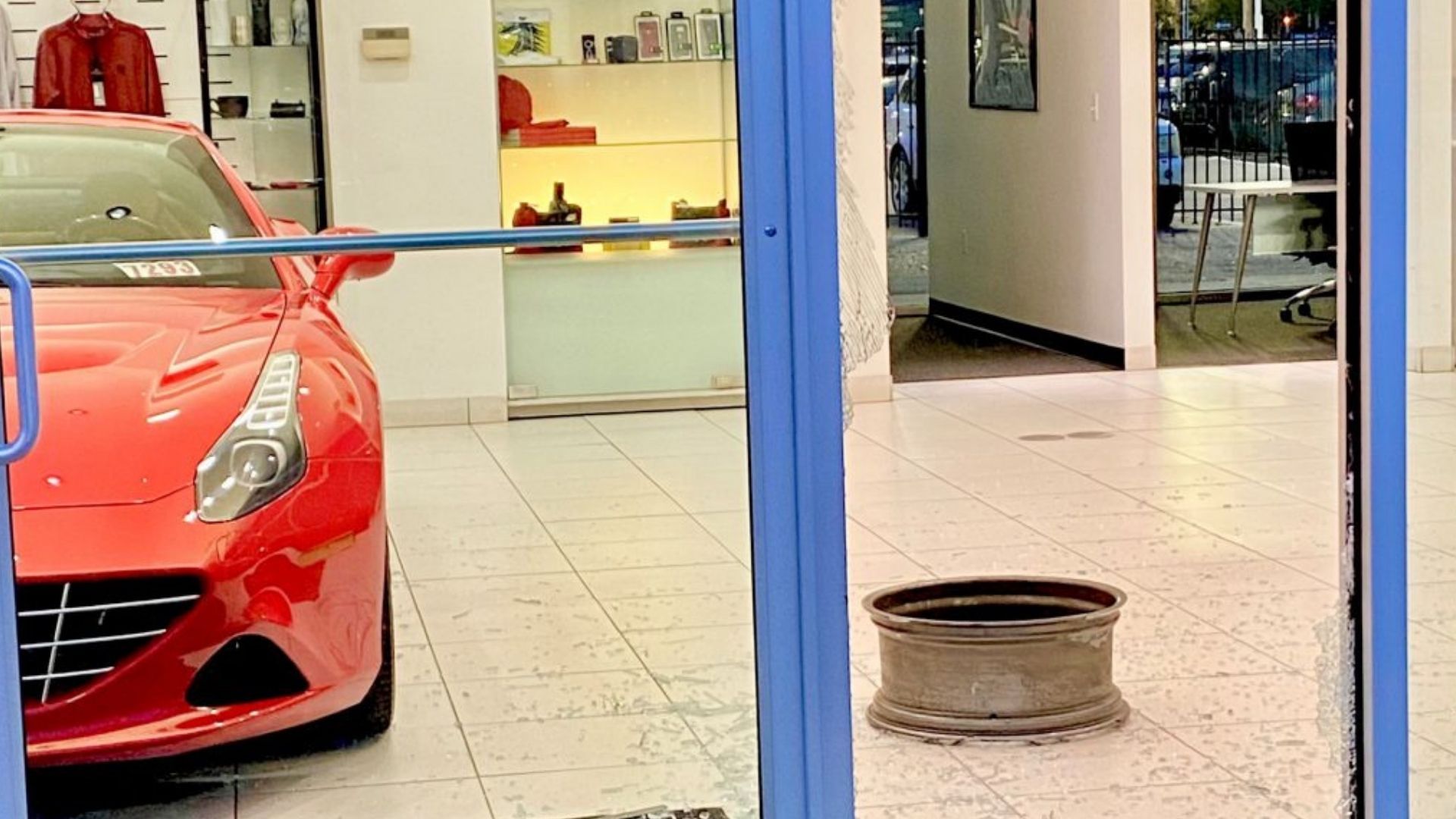 According to police, the man had several Ferrari keys on him, so we don't think he was there to grab a cool jacket and hat. We've seen other dealership break-ins where the thieves had keys already, allowing them to program them for the vehicles on the spot and drive away with whatever ride they desired.
The suspect was also reportedly in possession of cash, stolen credit cards, and drugs. Police are remaining tight-lipped about any more information regarding this crime, probably because they don't want to mess up potential prosecution. It would be nice to see a prosecutor take something like this seriously since car theft, including from dealerships, has been a huge problem for at least two years. The fact this guy was so brazen in throwing a wheel through the glass door, then strolling inside shows just how bad things have become.
Photos credit: Salt Lake City Police