Let the Mopar battle begin!
---
YouTuber Kali Muscle not only likes building big muscles but also driving muscle cars like his Dodge Charger Hellcat Redeye. And while his Mopar is plenty quick, the man accepted a challenge to race against a friend in a Dodge Challenger SRT Super Stock. That might not sound like a fair matchup and Kali Muscle definitely approaches it with some humility, especially considering the Super Stock has the splitter guard still attached, which as we all know adds like 10-horsepower or something like that.
This is the hearse all true Mopar fans want right here.
On paper, this doesn't seem like much of a competition. After all, the Super Stock was designed to follow in the footsteps of the mighty Demon. Even though it has the same supercharged 6.2-liter Hemi V8 as the Hellcat Redeye, revised calibration for the powertrain boosts peak output to 807-hp vs 797-hp for the Redeye.
That 10-hp difference might not sound like too much, but the Super Stock comes as a widebody only to accommodate standard drag radials. Stickier rubber means it can hook up quicker and make other muscle cars shut up, or at least that's the idea.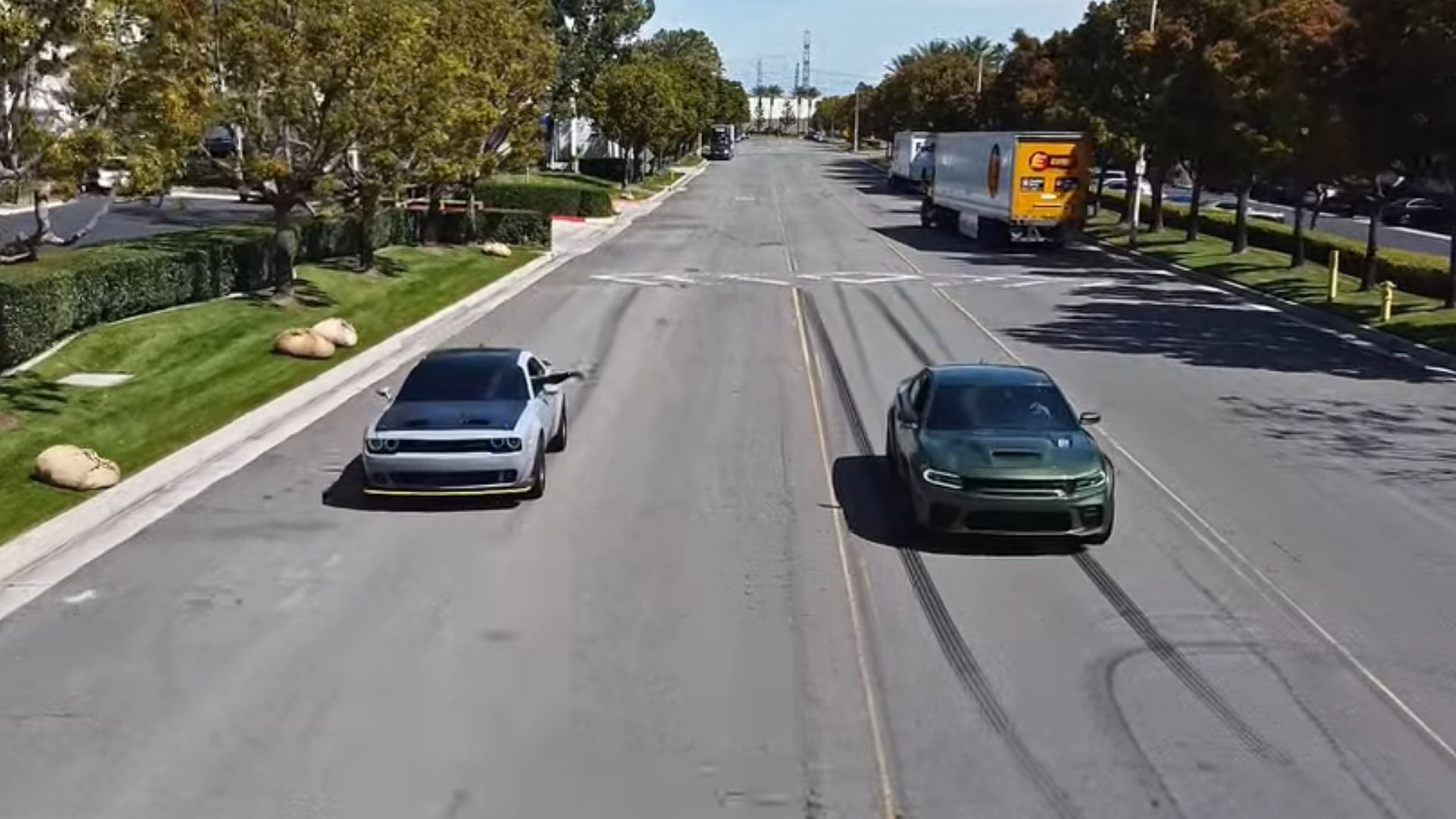 And there are other subtle differences between these cars non-gearheads probably wouldn't understand or really even pay attention to. For example, the Super Stock has an asymmetrical limited-slip differential with a 3.09 final drive ratio. It's also equipped with a Bilstein adaptive-damping high-performance suspension specially tuned for drag racing.
Don't forget the Dodge Charger Hellcat Redeye has two extra doors. That adds to the weight and apparently makes it "not a muscle car."
Basically, the deck is stacked in favor of the Super Stock. But, as anyone who's raced knows, driver skill and other factors can make the difference. As you'll see in the video, getting all the right settings on the car is also key. Also, they did this on an "abandoned back alley" or a commercial park probably on a weekend with nobody else around, so it's not a drag strip.
Kali Muscle says he did this for our entertainment. The man even acts like he's kind of nervous before the race. Anyway, check it out to see if this race is even close.