Own a rags to riches barn find build that was displayed at the largest premier automotive specialty products trade event in the world.
---
Every so often we stumble across a gem in a world full of coal when scouring the infinite amount of car listings at our fingertips. This time around, eBay did not disappoint as we bring you this 1957 Ford Custom 300 Post that was found in an Iowa barn with just 63,000 original miles. Since its days of barn hibernation, this car has been transformed into an old-school Gasser that follows the Southern Gasser Rules from the 1960s. Even better, this old Ford was displayed at the SEMA show in 2019 inside the Stewart Warner Gauges Booth.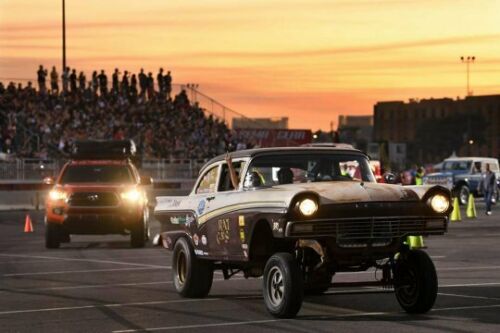 Everything on this Ford-turned-Gasser is new including the engine, drivetrain, and axles among other things. The car is updated with new floor pans, rockers, and trunk floor all paint-sealed with Lizard Skins inside and out.
According to the listing, this classic Ford has mostly original paint along with most factory sheet metal such as the fenders, trunk lid, hood, roof, doors, and quarter panels. The graphics on the car were done by Cedar River Signs with the hand done by Rick Nootnagel. The faux rusty appearance was chemically made in-house to match the car. Rare wheels off a 1965 Shelby GT350 Mustang sit up front with a pair of old-school Appliance Wheels out back. A custom one-off interior that was special-made by Michael Lightburn in Mexico.
Powering this Gasser is a 1968 FE 390 engine equipped with 1964 heads. The engine was custom built in-house and bored .60 over and given extensive machine work. Shifting comes from a 4-speed top loader manual transmission that twists a Ford 9-inch rear end equipped with a Detroit Locker. Spent gases flow through custom-made headers that were created to specifically to fit the car. Even more, a modern wiring harness by Kwik Wire was installed.
This Gasser build is soon to be featured digitally by Car Craft, and it makes and makes an appearance in plenty of YouTube videos. A simple Google search "1957 Ford Gasser" will show you plenty of photos of the car. Also, the car is being sold as is with no warranty.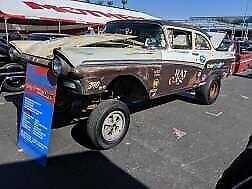 If interested in this 1957 Ford Gasser, you can 'Buy It Now' on eBay for $28,500 or go ahead and place a bid. There are 26 days left of this online listing, but someone is sure to snag this cool build for themselves at any given moment.
Read More Car News Here...