Well, that was quick!
---
The Ford Mustang Mach-E just landed in the hands of consumers and already somebody wrecked theirs. While this isn't too surprising since people crash the hottest new performance cars all the time, it's still crazy to see one absolutely thrashed. This is likely all the more frustrating to see for consumers who are still waiting for their Mach-E after Ford had to stop shipping thanks to a quality control problem.
A C8 Corvette fell of a lift. See the carnage here.
Since there's no biohazard tag on the car, we're going to guess nobody inside was seriously hurt or killed. At least we're hoping not. Plus, there's no smoke or fire damage, so the battery cells held up under the collision, a big concern many people have about electric vehicles when they crash.
Even more amazing, just about every body panel on this Mach-E is damaged. However it was wrecked, and whether it was the Ford driver's fault or not, there's little doubt it was totaled out by the insurance. The front end seems to have taken the brunt of the collision, especially the absolutely demolished passenger-side front fender.
We don't get as clear of a view of the doors and rear fender on the passenger side, but on the driver's side all three are thoroughly damaged, like either the Ford skidded alongside another vehicle after the front impact or another car slid across it.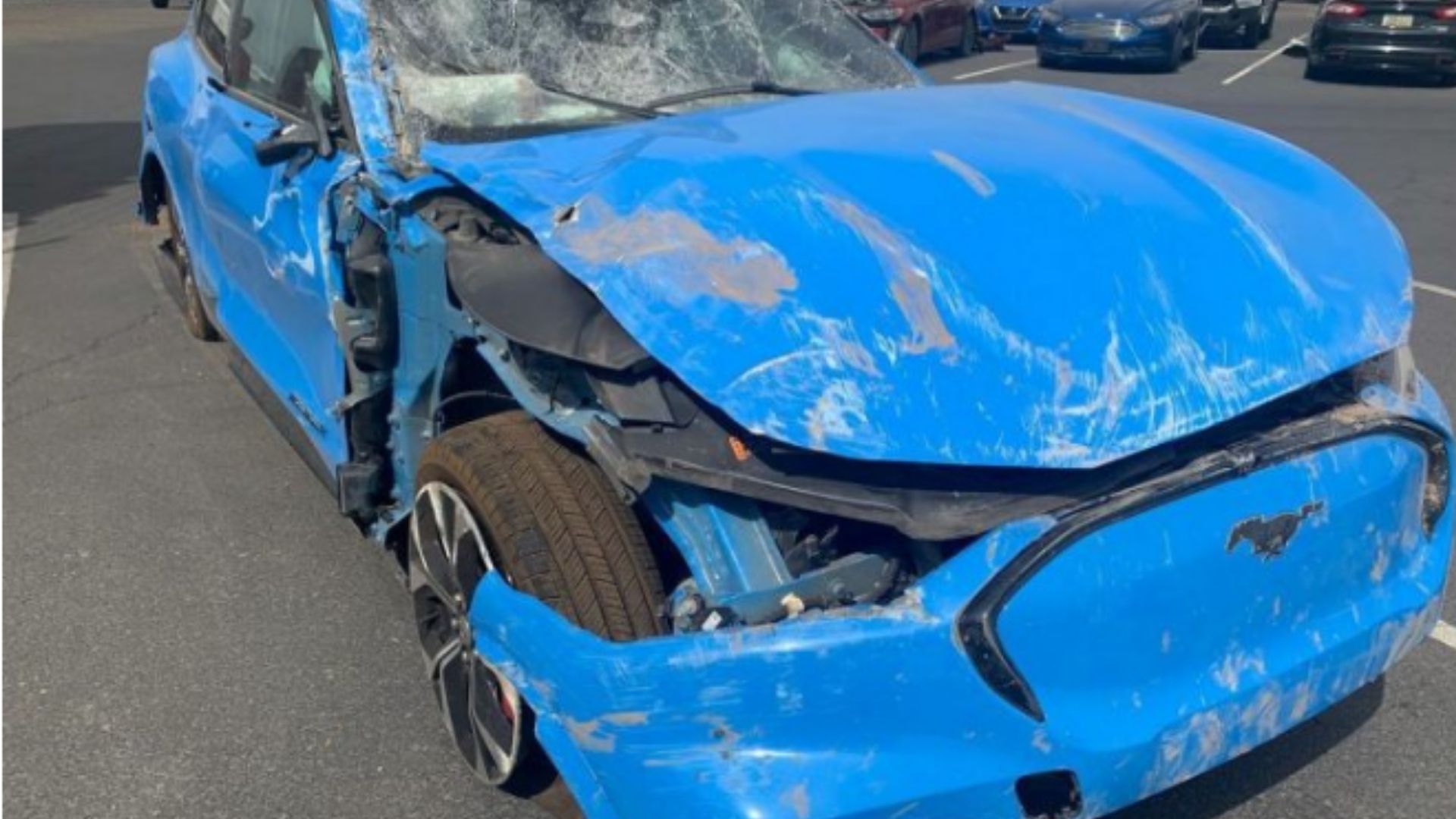 About the only portion of the all-electric crossover that's not damaged is the tailgate. Yes, the rear bumper has been knocked off, but the tailgate glass shows no cracks in the photo and the tailgate itself doesn't even seem to have a scratch.
One Instagram user claims the wrecked Mach-E is being kept at Sanderson Ford in Phoenix. We can't confirm if that's the case and we don't know what this Ford hit/what hit it but it would be interesting to know that and more. For now we just have the dramatic photos to stare at while shaking our head.