This retired racer has been restored back to its Australian V8 Supercars livery.
---
NASCAR fans have the GM Goodwrench Chevrolet, Le Mans fans have the Martini Lancia and Japan Touring Cup fans have the Castrol TOM's Supra, and if you're into classic Australian V8 Supercars, then you almost certainly recognize this racecar. With Australian driver Russell Ingall (aka, the Enforcer) behind the wheel, this Castrol-liveried Holden VT Commodore was nicknamed the "Silver Bullet," and it recently sold for an impressive $380,000 Australian (about $260,000), according to Just Cars.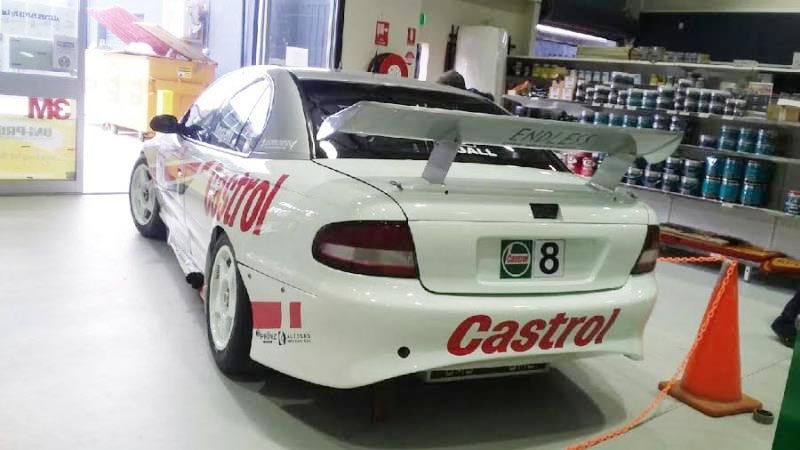 According to the listing, this no. 8 Holden was built to race in 2000, which was the final year of the VT Commodore's production, and this car is noted for being the first to use a certain type of safety roll cage. In stark contrast to NASCAR "stock" cars from the last 40 years, the V8 Supercars series is about as close to stock as you can get even including the factory 3.8-liter fuel-injected V6 and four-speed automatic. After being retired from racing, the no. 8 Holden Commodore was purchased and owned by the same person since 2005,  and it was last raced in 2006 before undergoing a restoration back to its 2001 Castrol livery and including a fully rebuilt powertrain.
An article from WhichCar showed that the asking price for this Holden had been listed at $500,000 Australian (about $340,000) at one point, and that helps to show just how recognizable this racecar and its livery still are especially considering the Earnhardt-driven 1996 Monte Carlo that recently sold for $425,000 during a charity auction. Nissan even ran a tribute to this Castrol "Silver Bullet" livery at the 2019 Bathurst 1000. Included with this Holden's $260,000 purchase price, the seller apparently threw in two sets of wheels (each set wearing racing slicks and wet weather tires) as well as the racecar's logbooks and paperwork from Ingall's former team, Perkins Engineering.