Watch this Mopar versus GM clash!
---
There is a debate that never ceases in the classic automotive community, which is better GM or Mopar? If you look, you'll find thousands of forums littered with varying arguments about who has more horsepower vs torque, or which company has the superior-tech for the time. However, these connoisseurs of classic cars have largely forgotten, mostly in recent years, what these cars were made to do, go fast! While they may not have the advantage of speed compared to their newer cousins, these antique automobiles dominate all corners of the drag strip. Fortunately, we have two examples of both GM and Mopar, these beasts are going head to head to finish the debate and answer the question of who is the faster brand?
Watch a COPO Camaro ZL1 and Duster showdown here.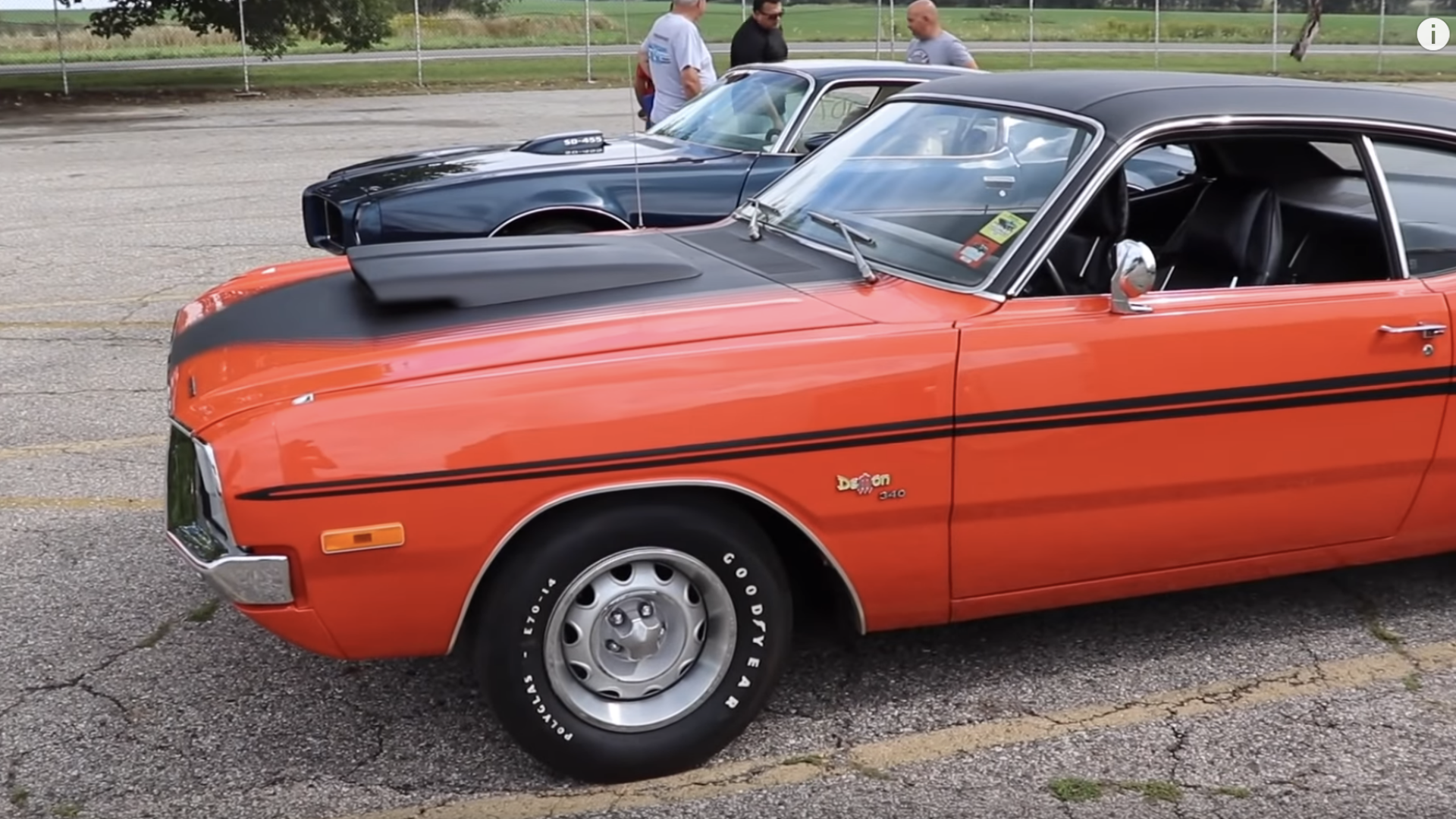 The two cars in question are one 1972 Dodge Demon 340, and a 1968 Pontiac Firebird 400. Under the hood, the Demon is a 340ci V8 pushing 240 horsepower through a 3-speed automatic transmission and 3.91 gears. The whole of this car weighs in at just over 3400lbs making it an absolute beast on the drag strip. Our second competitor, the Firebird, is sporting a high output 400ci V8 engine, the compression ratio of 10.75:1 is monstrous compared to the Demon's 8.5:1. In terms of horsepower, the Firebird takes advantage with over 100 horsepower differences, that engine pushes out 335 horsepower. The car also has a 3-speed automatic transmission which drives the power through 3.08 gears.
Moving on to the part you all came for, let's take a trip to the drag strip. Testing seemed to be over in a flash with the Firebird taking the win with a final time of 14.8 seconds. The Demon came in far behind at 16.5 however this run was simply a test and the Demon was having some mechanical issues. Something went right for the Demon in round one with the Firebird falling behind slightly at 14.5 and the Demon taking the win with 14.2 seconds on the clock. Again the Demon kicks some tail with similar drag times and it's time for round three. After having already one the best out of three competitions the Demon decides to finish the job and blows his competition out of the water with its reliable 14.2 second quarter mile. Although this may not be the best representation of Mopar vs GM, it does speak wonders that the Demon, who had over 100 horsepower less than the Firebird, still won.