Whether looking to survive the apocalypse or wanting to drive off the beaten path on a relaxing Saturday, this Battle Wagon offers the best of both worlds.
---
With the world becoming crazier by each passing second, maybe one might invest in a vehicle that is completely durable and battle-ready. While the zombie apocalypse isn't upon us just yet, this year has us questioning what could be in store next. Okay, we are (somewhat) kidding, but this fully restored 1952 Dodge Power Wagon is an insanely cool vehicle, and the good news is that RK Motors is offering the opportunity to snag it for yourself. You can't go wrong with a B-3 PW with 4-wheel-drive, especially one as nice as this beastly example.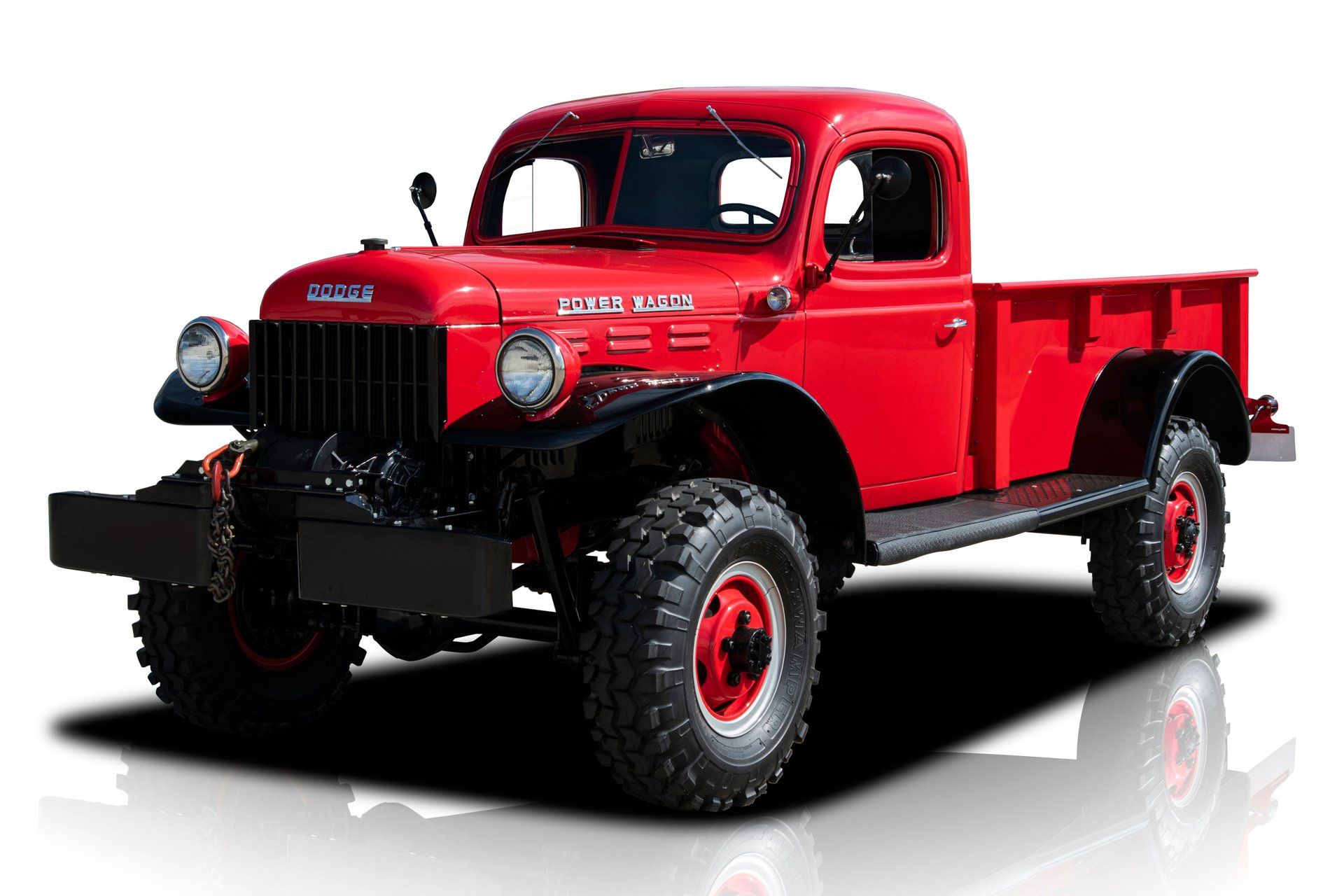 Created at the dawn of World War II, this brute vehicle started out as a carryall exclusively for the Army, commonly called a Battle Wagon. Constructed to be tough, these trucks were used to transport soldiers, towing equipment, and all-terrain motoring. In 1946, Dodge decided to sell these creations to the public.
Given a detailed, body-off restoration, this vintage 1952 B-3-PW has incredibly low mileage. While it was under the knife, it was sprayed in the glossy red and black 2-stage paint it currently sports. Stand out from the crowd full of typical "mall crawlers" with half-done suspensions, and drive a real truck that could survive the harshest of battles.
The front of the truck features aggressive bumper that houses a massive Braden winch, stainless steel-trimmed headlights, and a rugged grille. And, on the hood, "Power Wagon" is spelled out in chrome lettering, and a full-size spare tire is held beneath the red-trimmed glass. Other exterior highlights include extended mirrors, polished door handles, a polished fuel cap, and small driving lamps. The bed of the truck is wood, a feature that was given to a few Dodge work trucks up until 1985. Also out back is a Pintle Hook, and a fuel tank painted to match. On all four corners are painted 16-inch Split-Rim Wheels wrapped with Q78-16LT Interco Super Swampers.
Powering this beast is a 230-cubic-inch Chrysler T137 V6 engine that appears to have been fully rebuilt during the recent restoration process. Shifting is provided by a 4-speed manual transmission set between hefty Chrysler axles. An air cleaner forces oxygen through a Carter carburetor that sits on cast manifolds. Keeping everything running cool is a tall radiator with a traditional pulley fan and old-school Chrysler generator.
The undercarriage is in great shape, and the drivetrain sits on a factory frame that has been painted Gloss Black over the heavy duty springs and shocks. This wagon has manual steering, and stopping power is provided by manual drum brakes. Additional rumble and performance comes from an exhaust system with aluminized pipes and a fresh muffler.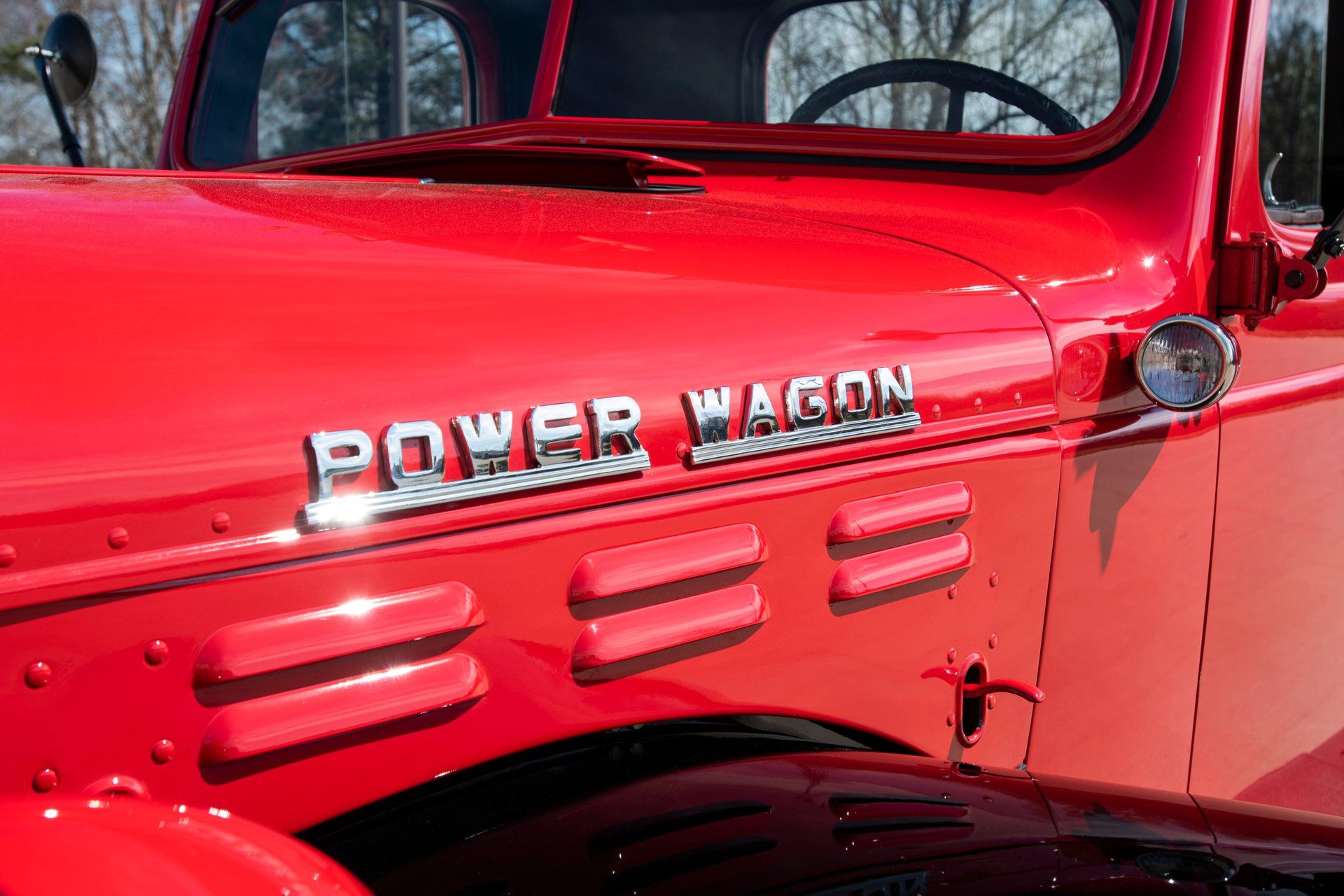 Peek inside the truck to a black vinyl interior equipped with a wide bench seat. The dashboard has been painted to match the body of this vintage pickup, and a large steering wheel has the driver navigating the off-road like a champ. Shifting gears is allowed by a long shifter, and short sticks are used to kick it into 4-wheel-drive. Adding classic style to the interior are polished door handles, polished window cranks, a polished cowl pull, and an old-school VSM 900 turn signal switch.
If this would make the ultimate vehicle for those ready for battle, or maybe just for anyone looking to take the road less traveled with one cool truck, contact RK Motors about this 1952 Dodge Power Wagon 4x4 "Battle Wagon". The price is listed at $117,900, but feel free to make an offer.
Read More Truck News Here...