Weird name, weird design, but is this the perfect forgotten treasure?
---
Sometimes you run across online vehicle listings which leave you speechless. This is such a time. A 1987 Chevy Grunt has appeared on Craigslist for Tucson, Arizona. If you're acting like you know what a Grunt is, just stop. Nobody knows what this thing is, except for maybe a select few, and you're probably not one of them. The question is, would you pay the asking price of $19,500 for this creation which could have been the dream of Doctor Frankenstein himself?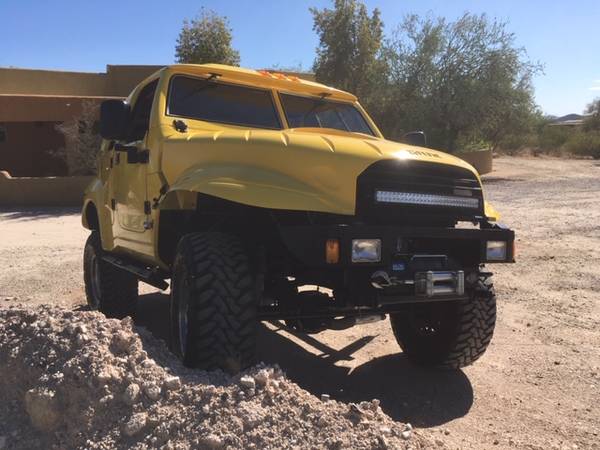 Just look at that face! As they say, it's one only a mother could love. Two prominent giraffe nostrils in the ultra-wide hood, fender flares large enough to sit on, and headlights mounted so low they'll easily be caked with mud on even leisurely trail runs. Plus, you get a split windshield, something that hasn't been featured on Chevy trucks since 1953.
That light bar embedded in the grille looks cool, and apparently it's not blocking much airflow to the radiator. Behind that is a 350 cubic-inch Chevrolet V8. This provides one important clue about the origin of this Grunt. Added to that is throttle body injection and a turbo 350 transmission.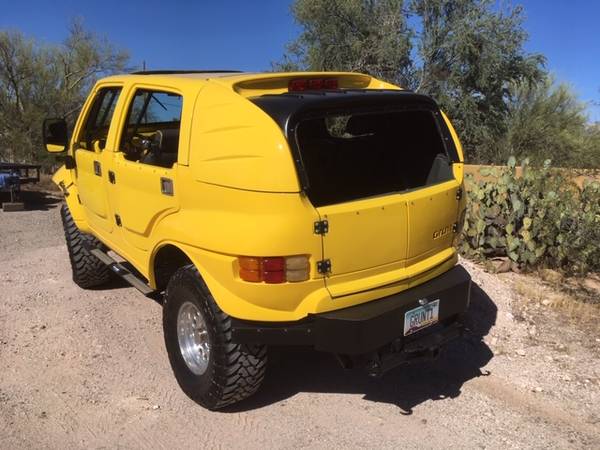 A side profile has hints of the Jeep Wrangler and Hummer H2 mixed together. You judge if that's good or not. Then things get weird around back. Let's start with the tailgate split like barn doors, featuring some rather gaudy exposed hinges (same as on the doors). Above that is no hatch like on the Ford Excursion, which would've been a good idea. Instead, everything is open all the way to what looks to be part of the original truck's roof (the second clue about what this thing's origin). Some will love the wrap-around taillights and some will think they look like Lego bricks. Same goes for the third brake light.
The presumably steel rear bumper looks like it could take a nice hit from a rock while off-roading, but the low-hanging tow receiver doesn't help with the departure angle at all. Then you have those flimsy-looking side steps which are notorious for getting caught on trail obstacles. On the Craigslist ad, the seller does emphasize the Chevy Grunt has four-wheel drive and front/rear air lockers.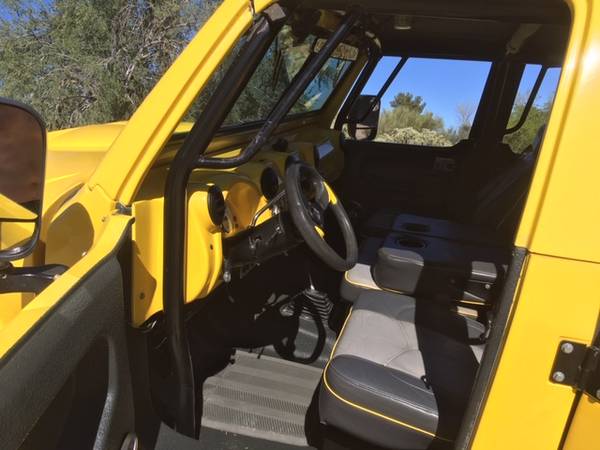 The interior has modern seats with heaters for the front and almost no legroom in the rear. Plus, there's a nice roll cage you can smack your head on when this truck lurches over a rock or hits a deep hole in the trail, just to let you know you're still alive.
A best guess for this rig is that it's a Chevy Blazer, but that admittedly is a guess. The real question is if you would make an offer on this creation? The current listing has been sitting on Craigslist for 7 days as of the writing of this article, but perhaps you would give this misunderstood creation a new home?
Source: Craigslist
h/t: Bangshift
More Off-Roaders