Add a unique touch to your collection.
---
In a beautiful synthesis of craftsmanship and history, a 1957 Dual-Ghia convertible, chassis #124, reflects the immaculate collaboration between the Italian coachbuilder Ghia and Dual Motors Corporation of Detroit, Michigan. The Dual-Ghia is one of approximately 115 convertible examples ever produced, standing as a testament to the luxurious and exclusive design of its time.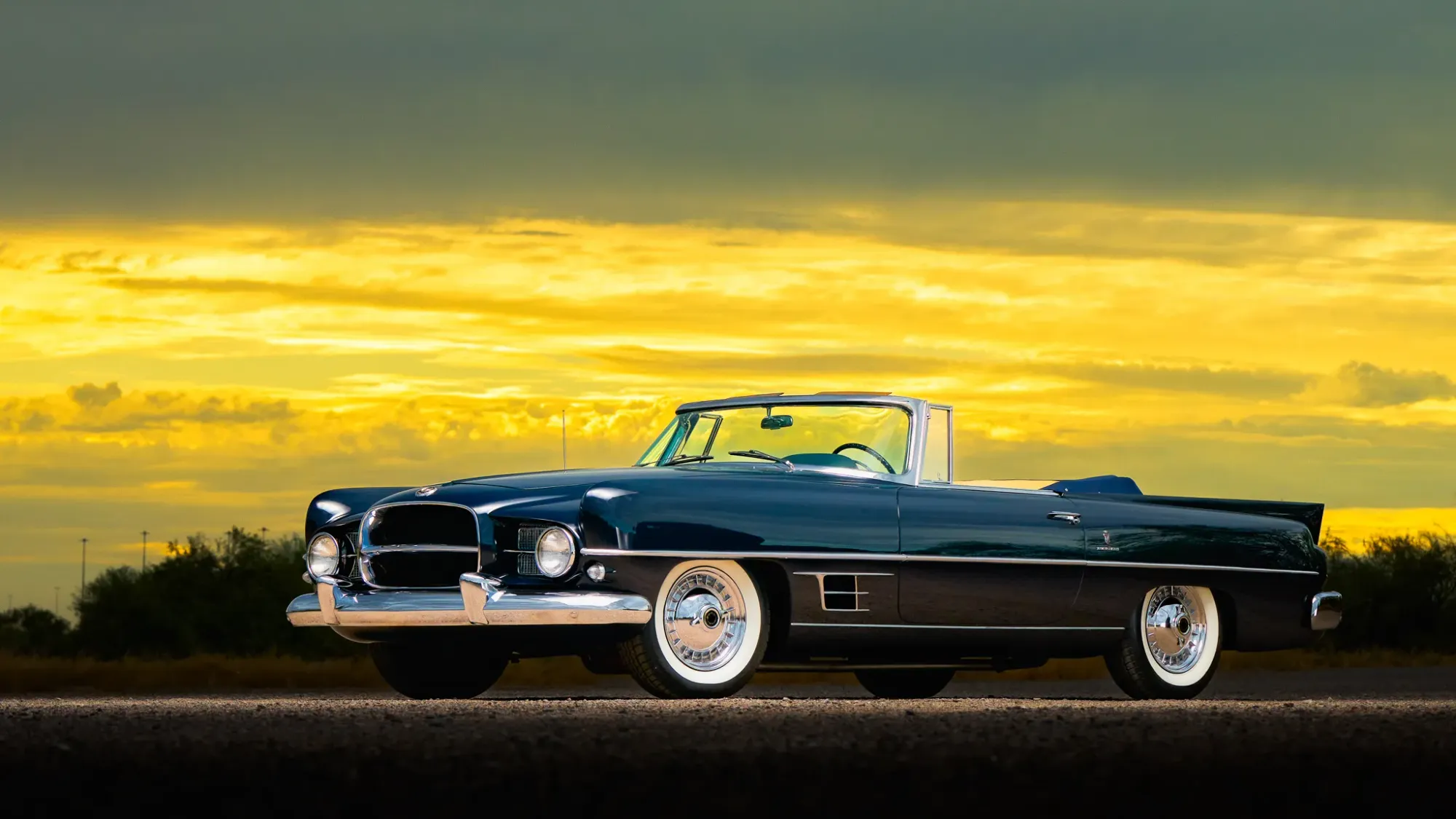 The current owner reportedly acquired this automotive masterpiece in 1981 and embarked on a meticulous, multi-year restoration journey, executed by Muscle Car Restorations of Chippewa Falls, Wisconsin, and concluded in the 2010s. It now proudly displays a polished dark blue finish, complemented by a two-tone cream and blue interior upholstery.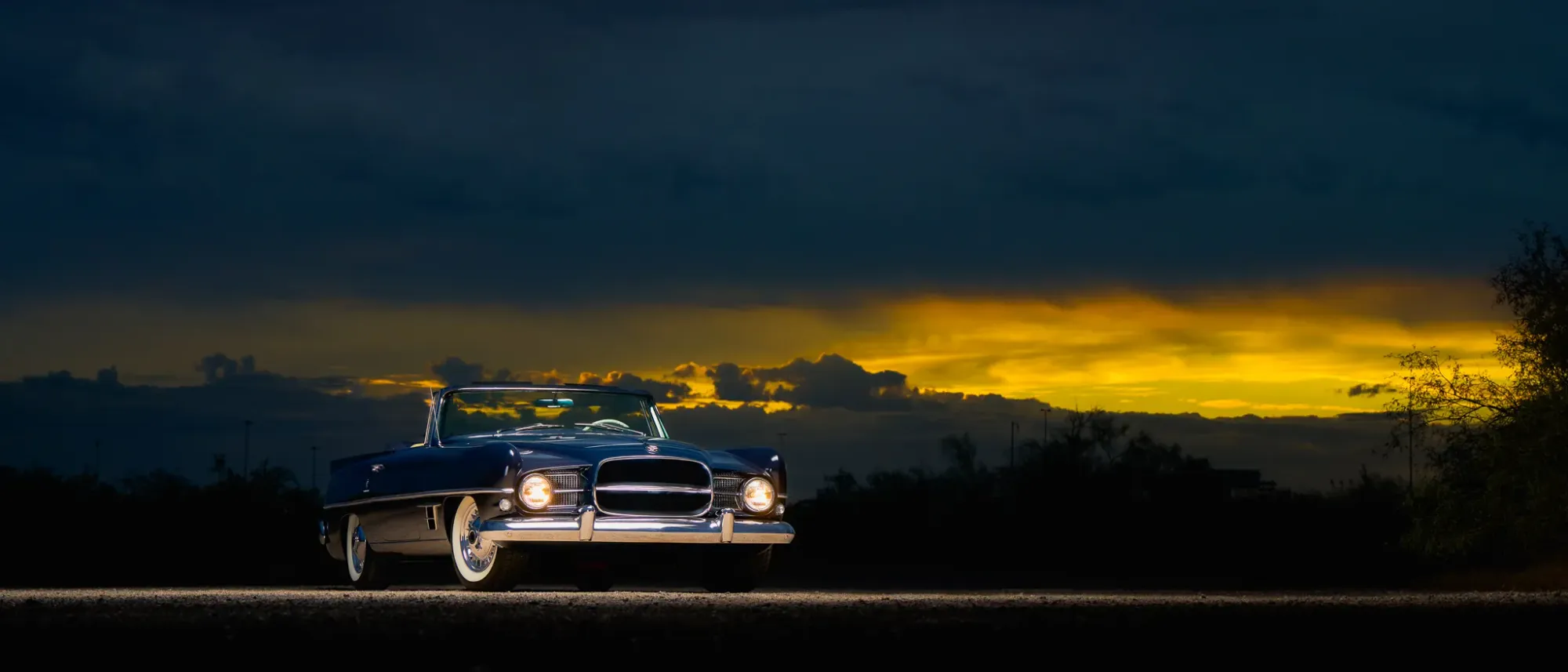 Under the hood, the Dual-Ghia harbors a 315ci Dodge Poly-head V8, paired seamlessly with a two-speed PowerFlite automatic transmission, contributing to its enduring allure. It is endowed with various distinguished features including power-assisted four-wheel drum brakes, power windows, a blue soft top, and a Town & Country AM radio, allowing the driver to revel in the nostalgia of the era.
The Dual-Ghia was conceived from the inspirations drawn from Chrysler's Firearrow series of concept cars, particularly the Firearrow IV, designed by Virgil Exner and constructed by Ghia in 1954. The design was subsequently acquired by Detroit entrepreneur Gene Casaroll. With subtle modifications by US Ghia representative Paul Farago, it was unveiled as the Dodge Firebomb at the 1955 Geneva Motor Show before entering production as the Dual-Ghia in 1956.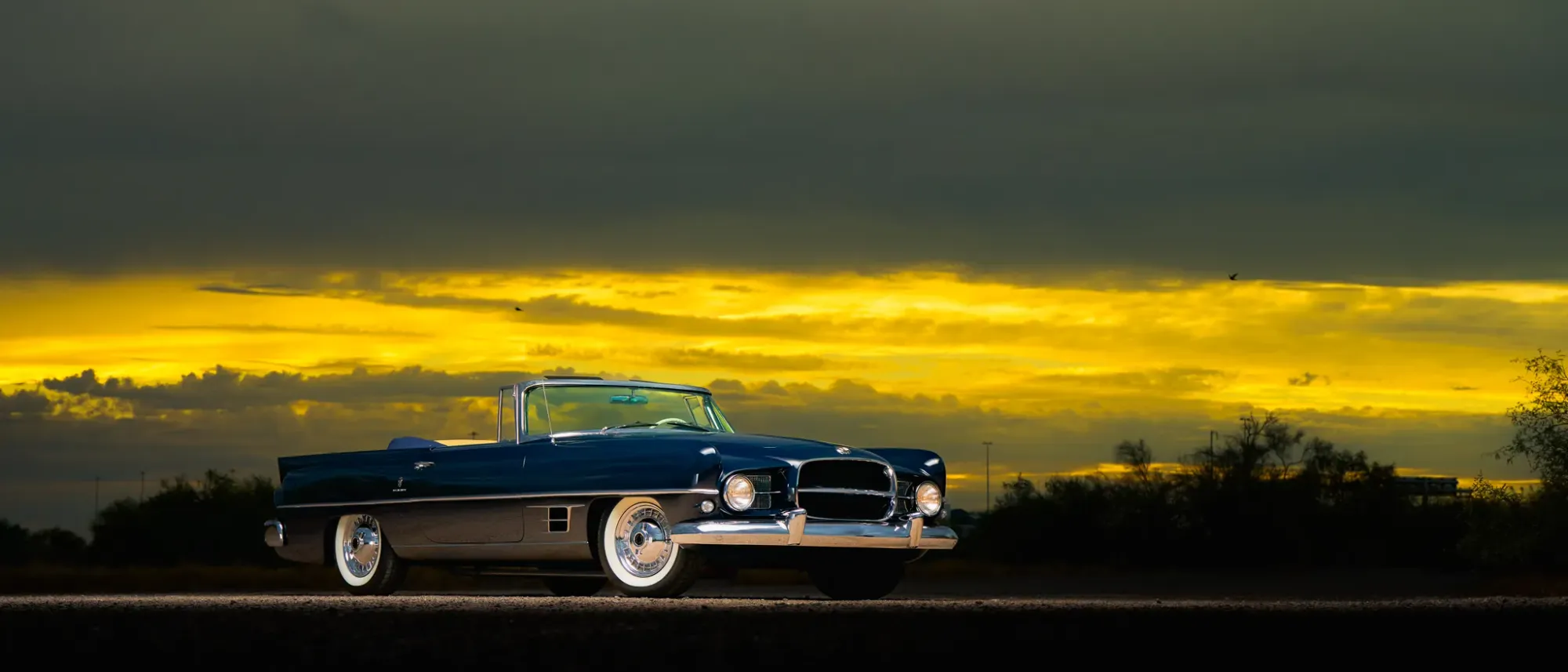 The car blends meticulous Italian craftsmanship from Ghia with the robust assembly processes of Dual Motors Corporation in Michigan, merging European flair with American robustness. During the restoration, the bodywork was stripped from the frame and bestowed with its current vibrant dark blue hue.
The exquisite exterior incorporates chrome bumpers with overriders, fender vents, a retractable antenna, a wraparound windscreen, and signature Ghia quarter panel badges, all crowned with the elegant blue soft top. The interior encapsulates the luxury of the era, featuring two-tone upholstered bucket seats and a rear bench, a locking glovebox, and plexiglass sun visors.
This luxurious vehicle rests on 15″ painted steel wheels adorned with refurbished chrome Dual-Ghia-branded hubcaps and is mounted with BFGoodrich Silvertown Radial whitewall tires. The robustness of the Dodge passenger car chassis, combined with the unequal-length A-arms and coil springs front suspension, and the live rear axle with semi-elliptical leaf springs, contribute to a smooth and stable ride.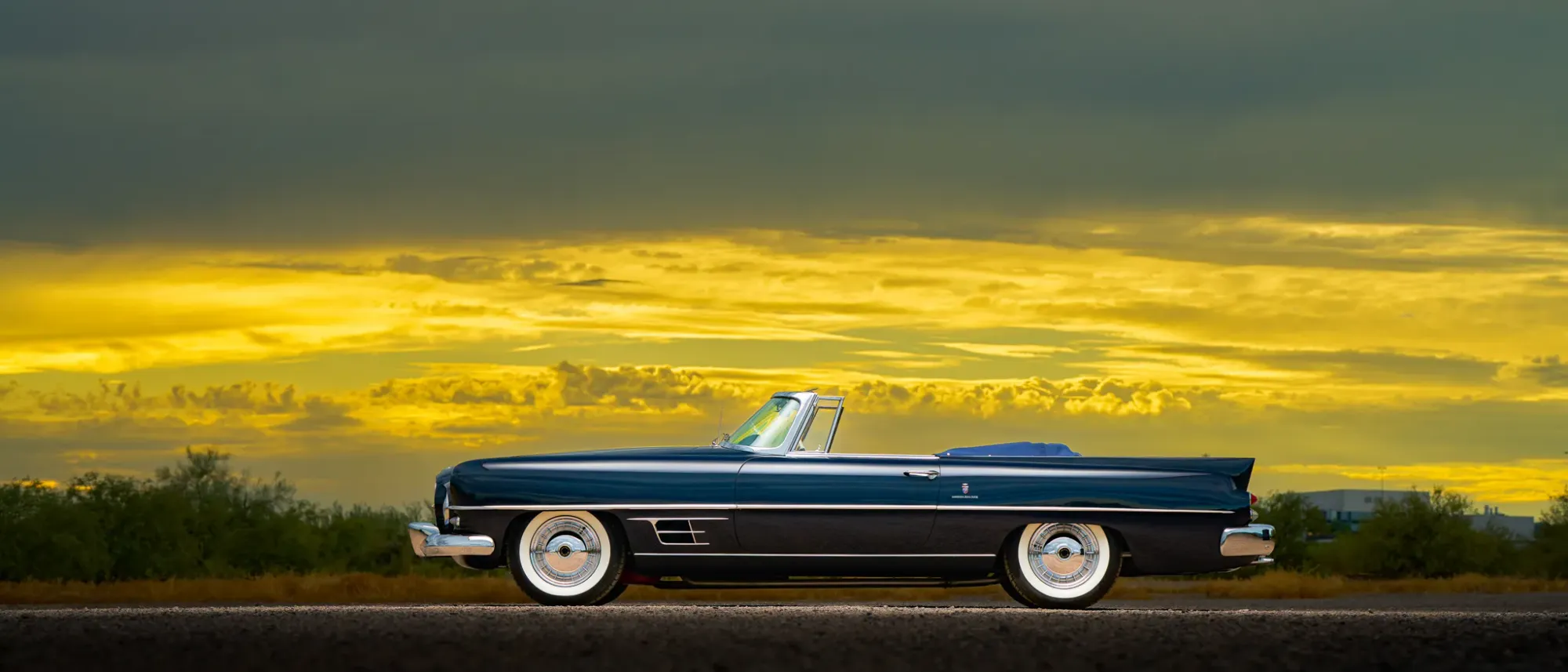 The meticulous restoration revived the 315ci Dodge Red Ram V8 to its prime, complemented by polyspherical combustion chambers and a Carter four-barrel carburetor, aiming to reach its factory-rated output of 230 horsepower at 4,300 rpm.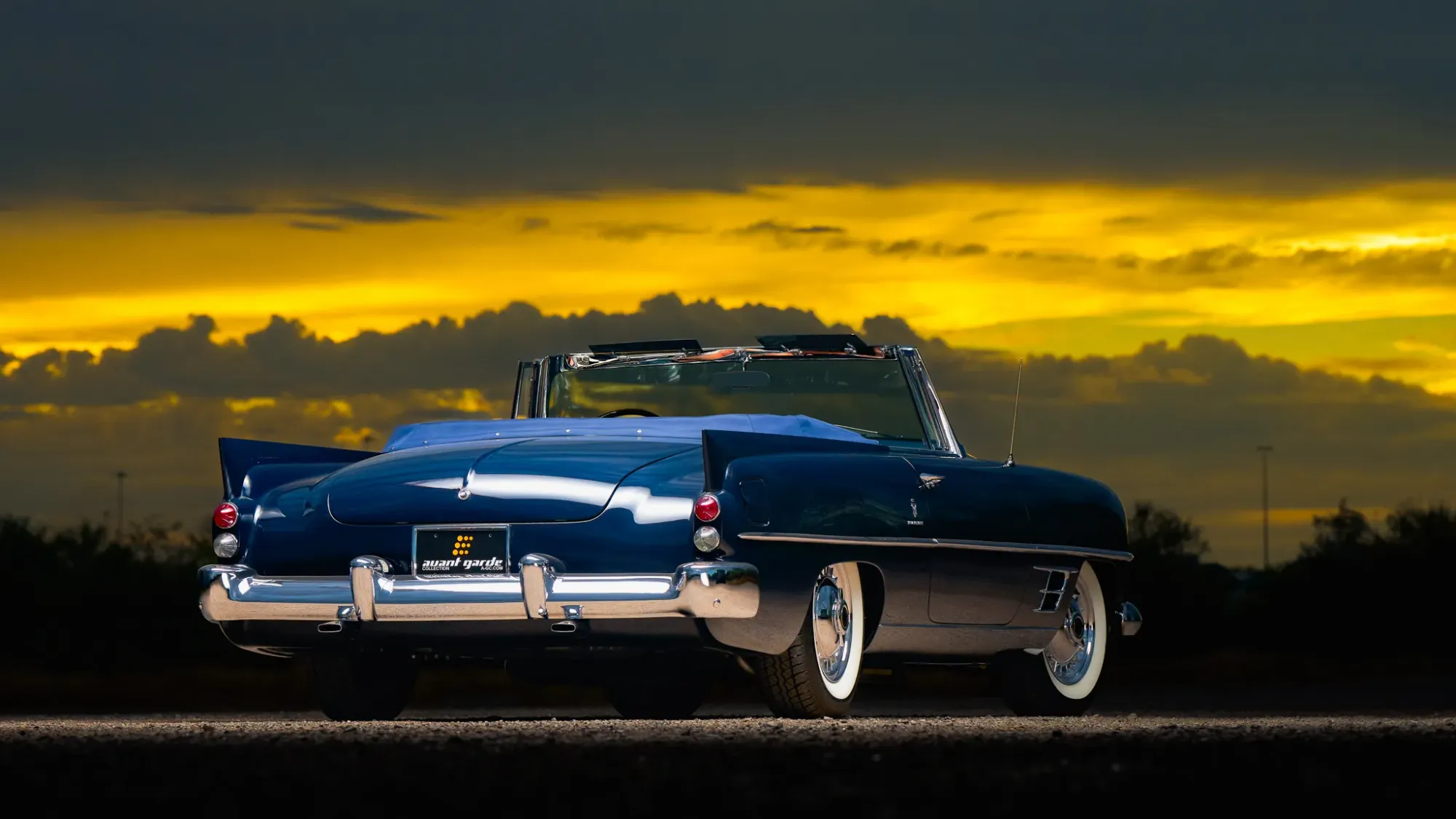 With its rich history, impeccable restoration, and the seamless amalgamation of Italian design and American engineering, this 1957 Dual-Ghia convertible is more than just a vehicle. It is a rolling testament to a bygone era of automotive elegance and luxury, a rare gem in the automotive world that continues to captivate aficionados with its timeless charm.
Avant-Garde is well-known as an award-winning, top seller (@911r ) on Bring a Trailer. We provide turnkey auction management for our clients. Avant-Garde presents cars in an unparalleled fashion, with a comprehensive history, descriptions, photos, and video for each vehicle. We want to put buyers in the virtual driver's seat so they can experience a vehicle as if they were present, giving them confidence in their purchase.