This car is just one of 385 left-hand drive E-Types produced with the rare outside bonnet latch and flat floor configuration.
---
Now on Bring a Trailer, this distinctive 1961 Jaguar XKE is a paramount example of the Series I roadster's enduring allure, highlighting the meticulous craftsmanship synonymous with the Jaguar brand. Completed on July 5, 1961, this iconic vehicle is #172 of the purported 385 left-hand-drive roadsters, specifically featuring external bonnet latches, built before subsequent refinements were made by Jaguar later the same year. This noteworthy roadster is reported to have remained in Texas with two preceding owners until its acquisition by the present owner in 2023.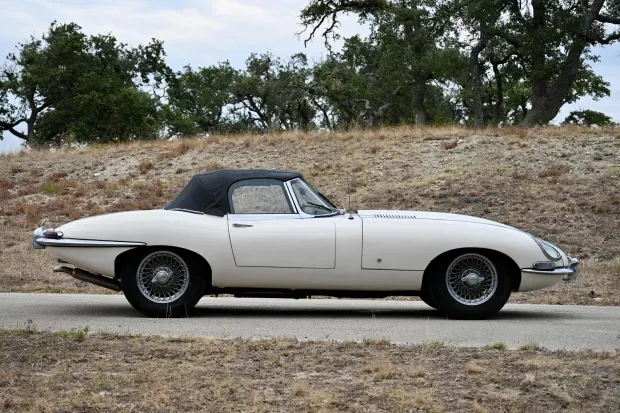 The roadster radiates elegance with its cream finish, complemented by sophisticated black upholstery. It breathes life through a 3.8-liter inline-six engine, harmoniously paired with a four-speed manual transmission. Further enhancing its refined exterior are 15″ wire wheels, a black convertible soft top, and a vented bonnet with meticulously welded louvers. The interior is equally refined, featuring a pair of low-back bucket seats upholstered in premium black leather, integrated with a Blaupunkt push-button radio, creating an environment of luxury and comfort.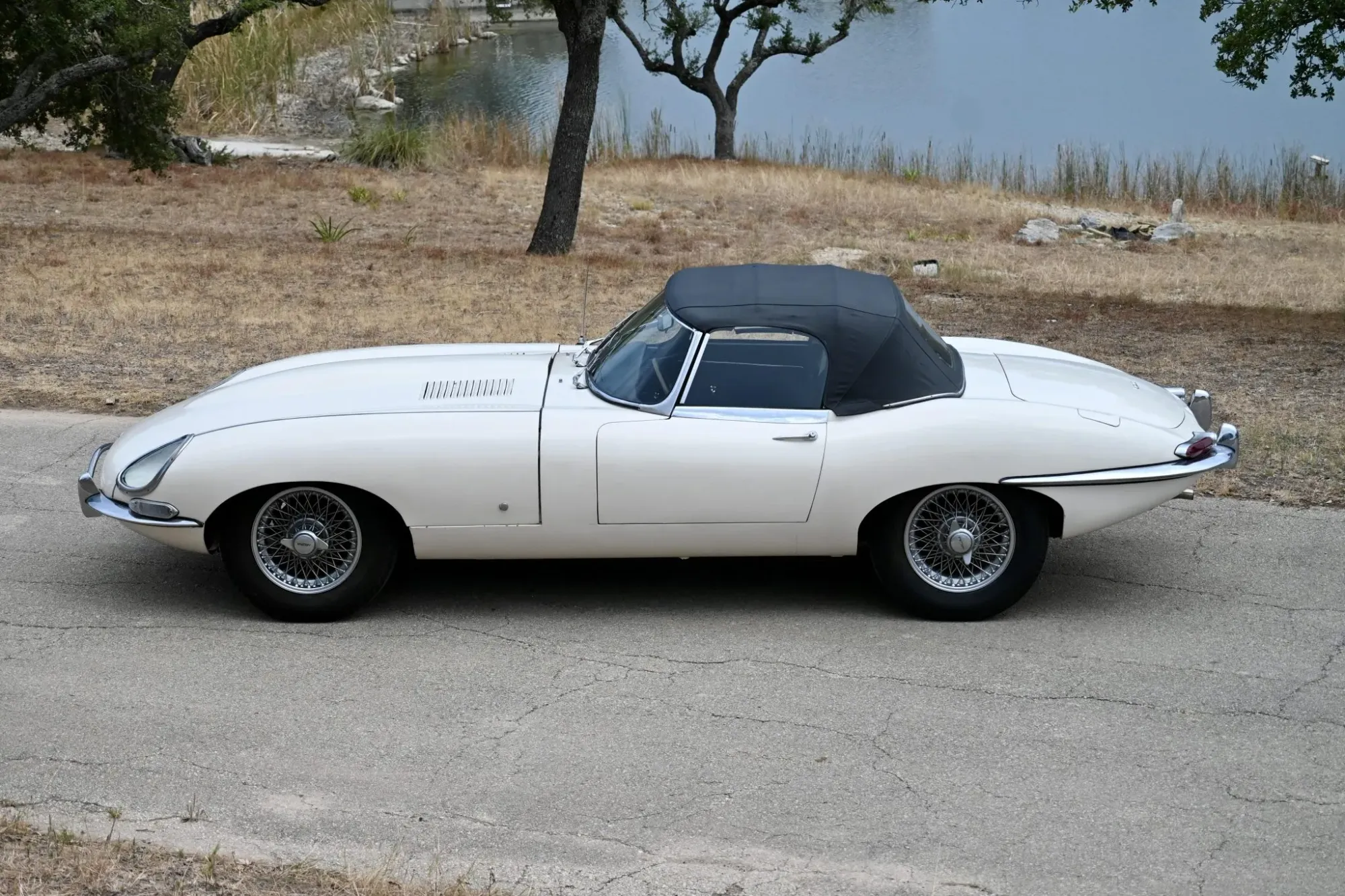 Early productions of the XKE Series spotlighted distinctive outside latches that secured a vented bonnet, coupled with a singular, unbroken floorboard beneath each seat. These iconic external bonnet latches were gradually phased out in 1961, marking the end of the "flat-floor" cars production in 1962. This specific model, originally enveloped in a factory Cream finish, is said to have experienced a meticulous refurbishment in the mid-1980s.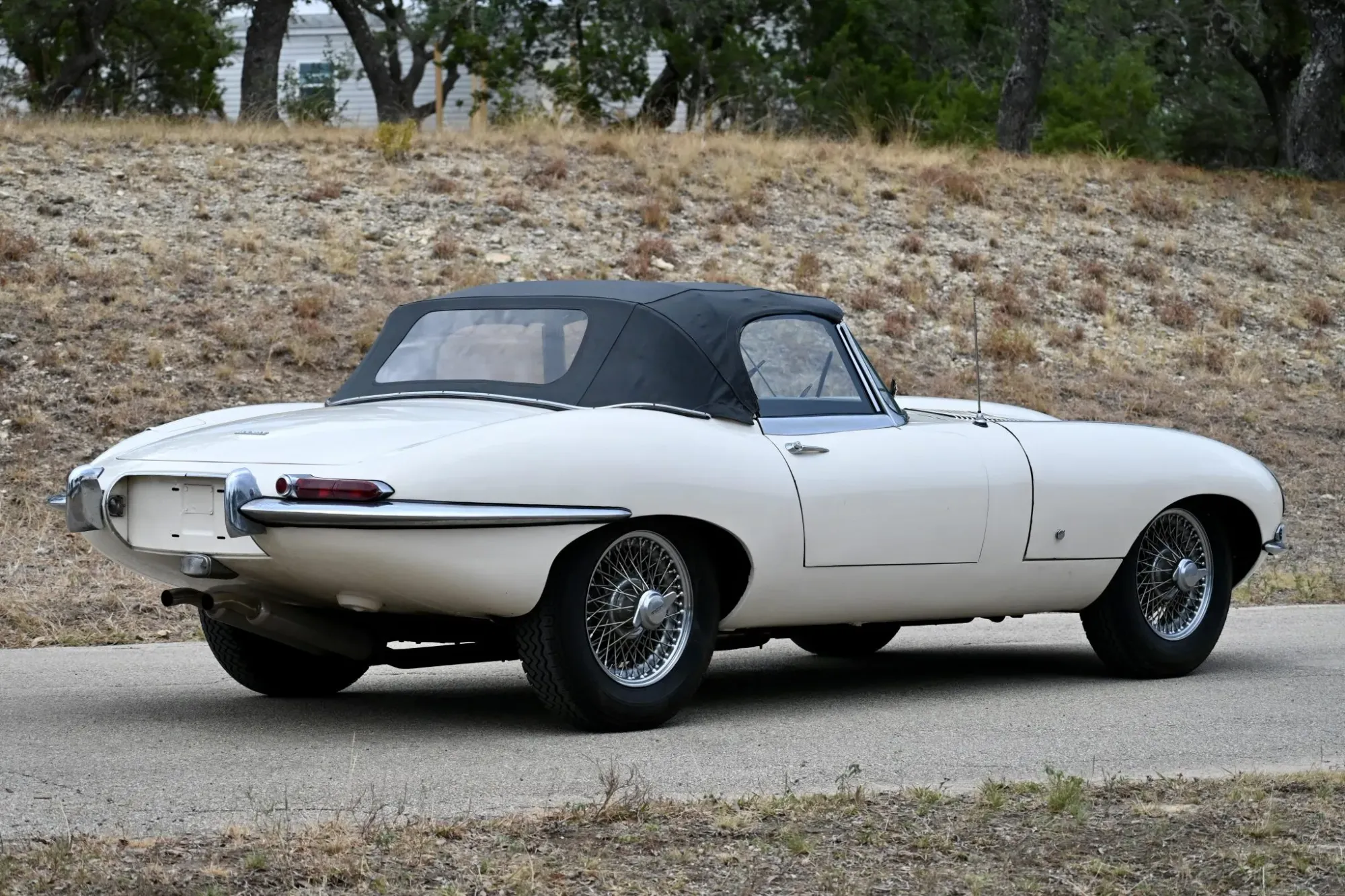 The sleek exterior is adorned with recessed headlights encompassed by clear covers, triple windshield wipers, and taillights strategically positioned above the rear bumpers. Although the split chrome-finished bumpers exhibit some pitting, and the latch escutcheons have been replaced, the overall aesthetic remains undiminished. The chrome 15″ wheels, anchored by two-eared knock-off spinners, are fitted with 185-width Michelin XVS tires, exuding a sense of timeless elegance.
Inside, the ambiance is enriched by a color-coordinated dashboard, door panels, carpets, and textured aluminum trim adorning the dashboard and center console. The wood-rimmed steering wheel is a focal point, sitting before Smiths instrumentation that includes a 160-mph speedometer and a 6k-rpm tachometer with an inset clock.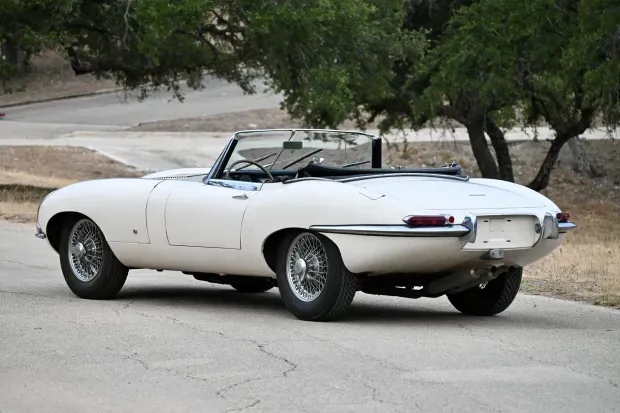 Functionality is not overshadowed by elegance in this roadster. It is equipped with a fully independent suspension and robust four-wheel disc brakes, with the rears mounted inboard, to ensure a smooth and responsive driving experience. The odometer displays a minimal 21k miles, reflecting the vehicle's preserved state.
Blue Chip Car is based out of Texas and gives car enthusiasts a way to buy and sell cars with ownership shares. Shares are sold and owners realize whatever the profit or loss may be once the car is sold. Please visit Blue Chip Car for more information. Blue Chip Car gives investors and enthusiasts astute access to the Collector Car Market. Become an investor or shareowner to FLIP or HOLD Collector Car Assets. Since the 1920s, "blue chip" has been a market term for the most stable and consistent assetsActivity