Sleek Caddy is ready for your collection…
---
Starting out as a trim level of the 62 Series, the Cadillac DeVille became its own model when the 62 Series designation was dropped. The original DeVille was a pillar less two-door hardtop that was positioned above the 62 in luxury. Examples like this 1958 Cadillac DeVille exemplifies the peak of classic 1950s Cadillac goodness, and the last year of the DeVille made under the 62 Series platform, before the DeVille branched out on its own in 1959.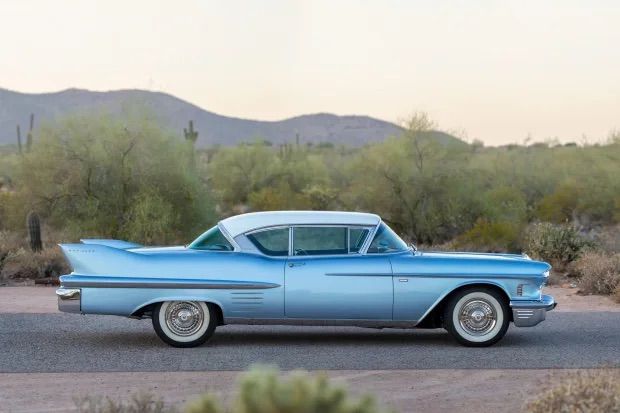 The DeVille, name meaning 'of the town' was first shown at the 1949 Motorama, and had a good reception. By the time the 1958 year model rolled around, the last run of the 62 based DeVille was largely a carryover car from he previous year. It did get a new facelift with a new grille that was highlighted by a series of round 'cleats' at the horizontal and vertical members. It also got new headlamps and small chrome fins on the fenders.
Powering this land yacht is a massive and powerful 356 cubic-inch engine, which is equipped with three dual-barrel carbs, and backed by a four-speed automatic transmission. It has been repainted in metallic blue, and has a white roof, over black leather interior. Additionally, it's equipped with Automatic Eye automated high-beam headlights, power steering, air conditioning, an AM radio, and a six-way power-adjustable front bench. This DeVille has undergone a refurbishment while under the ownership of a prior owner, and the only thing it needs is a new owner.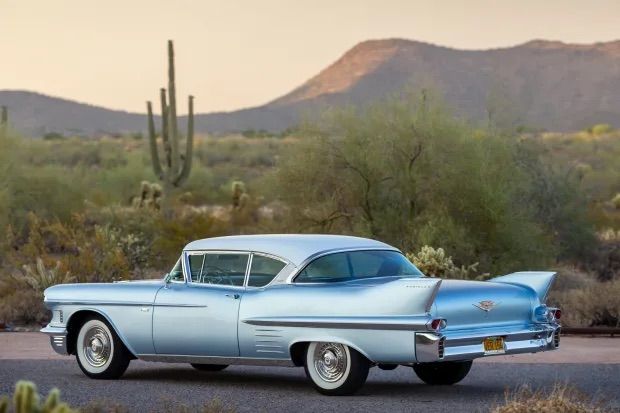 This car is being sold by www.casciomotors.com Visit their site to learn more about their Bring a Trailer consignment process and see their inventory.