You could grab this outlaw at auction…
---
There's no denying the far-reaching influence of the Pontiac Trans Am SE Bandit Edition, as clearly demonstrated by this Jeep Gladiator wearing the black and gold color scheme plus the screaming chicken proudly displayed on the hood. We've seen other vehicles fashioned after the one Burt Reynolds made famous on the silver screen, including a Chevy Silverado and Ferrari F40. This isn't even the first Bandit Edition Jeep we've seen, but it is one of the better done custom jobs we've seen in a while. Plus, this one is for sale.
See what a modern Pontiac Trans Am SE Bandit Edition is like here.
To create this Bandit tribute truck, a 2021 Jeep Gladiator High Altitude was used. That means it uses the 3.6-liter V6 plus an 8-speed automatic transmission. Plus, it comes with plenty of cushy amenities like the forward-facing TrailCam, Selec-Speed Control, rear backup camera, electronic trailer sway control, Nappa leather upholstery, etc. This off-road truck has just 383 miles on the clock, so it's still being broken in.
Of course, the real draw here are the customizations since you can get a 2021 Jeep Gladiator High Altitude off a dealer's lot without getting into a bidding war. The most obvious is the Bandit graphics and unique badging, which along with the gold Bandit snowflake make an immediate connection between the classic Pontiac muscle car and this Jeep. A 3.5-inch Rough Country lift kit allows plenty of clearance for the 38-inch tires. You'll notice the interior has gold accent stitching, a Bandit Edition inscription on the dash, and a special badge on the center console.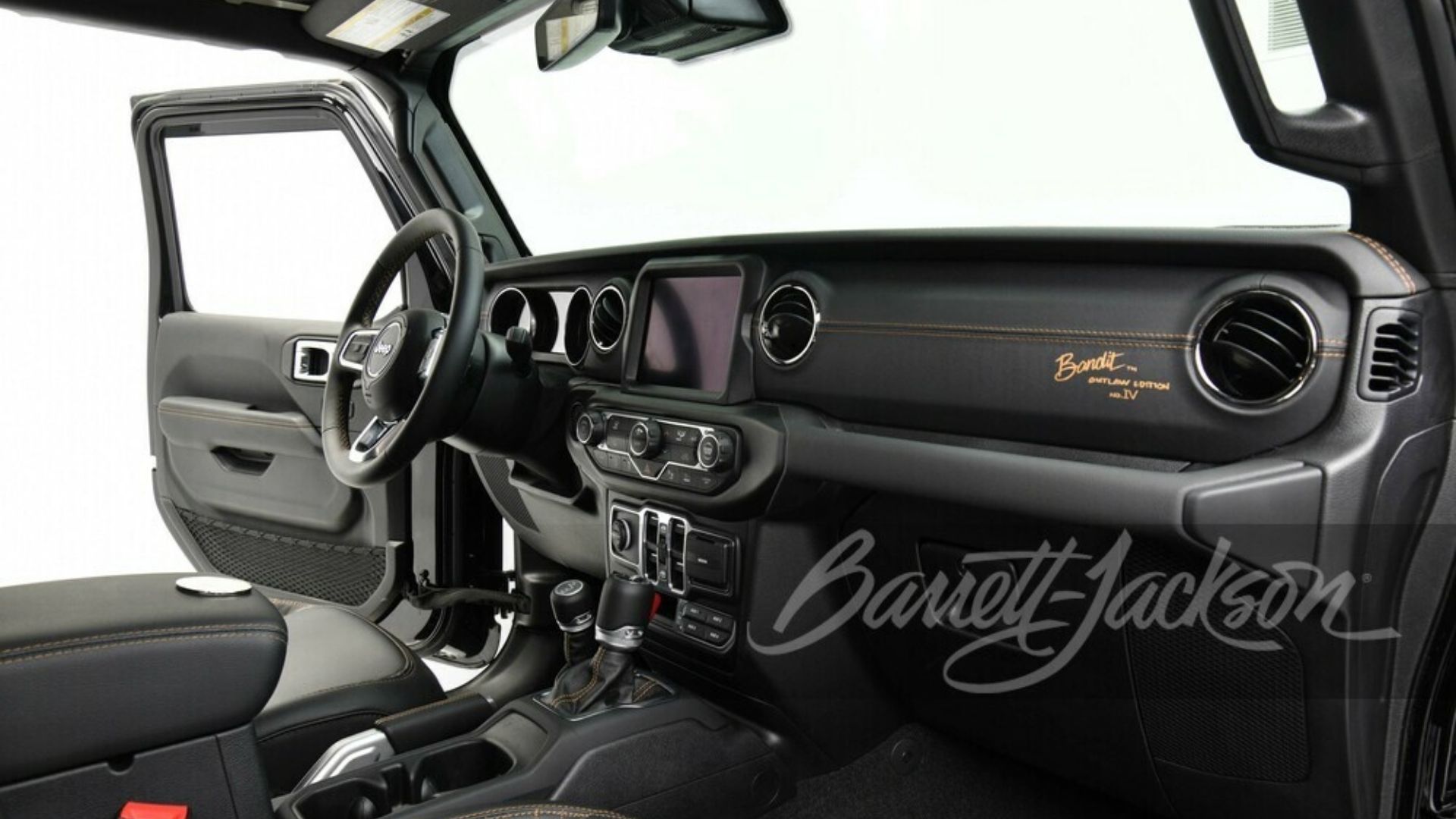 Unlike a Pontiac Trans Am, this truck can haul gear in the payload, tow a fairly large trailer, or leave the pavement behind and go out on rugged trails. While we don't think this is the last Jeep Gladiator Bandit tribute we'll see, such a vehicle is unique enough it should cause enough of a stir when it crossed the block at the Barrett-Jackson auction in Las Vegas.