As if the return of the Supra wasn't exciting enough, the limited-production Launch Edition adds an extra dose of style and collectibility.
---
Last year was a great one for sports car enthusiasts with the introductions of the C8 Corvette and A90 Toyota Supra. Before union and COVID-19 shutdowns turned the 2020 Corvette into a rare car , Toyota had already stirred up collectors with the limited-production 2020 Toyota Supra Launch Edition.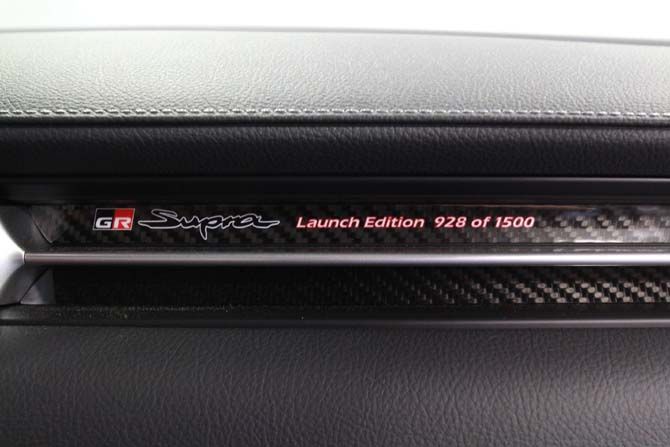 To mark the return of the legendary Supra, Toyota offered the Launch Edition consisting of just 1,500 units decked out with unique styling elements. This includes red accents such as the door mirrors as well as matte black 19-inch wheels, and the Launch Edition models were only offered in three colors including the Nocturnal Black shown on this example. These cars also featured an exclusive red leather interior as well as a serialized dash plaque. Being no. 928 of the 1,500 Launch Editions made, this one has just 2,500 miles showing on the odometer.
The 2020 Toyota Supra is powered solely by a 3.0-liter turbocharged inline-six and a quick-shifting eight-speed automatic transmission allowing the coupe to offer performance that backs up its sporty looks. Just in case the stock 335 horsepower wasn't good enough, though, this one packs some tasteful modifications such as an engine computer tune and an increased-diameter exhaust system that is estimated to bump the Supra's output up to somewhere between 450-500 hp. With its added power, this Supra Launch Edition will surely surprise anything it goes up against.
Streetside Classics of Charlotte has this rare 2020 Toyota Supra Launch Edition listed for $58,995, but you can click HERE to make an offer on this black beauty.