And drive Mustang lovers crazy in the process!
---
The decision between restoring and restomodding can be a difficult and sometimes polarizing one, but there's no arguing the outcome of this gorgeous 1970 Ford Mustang Boss 302. Starting with a legit Boss 302 with an incorrect engine stuffed under the hood, this build took the Mustang Boss 302 to an even higher extreme with a full restomod treatment.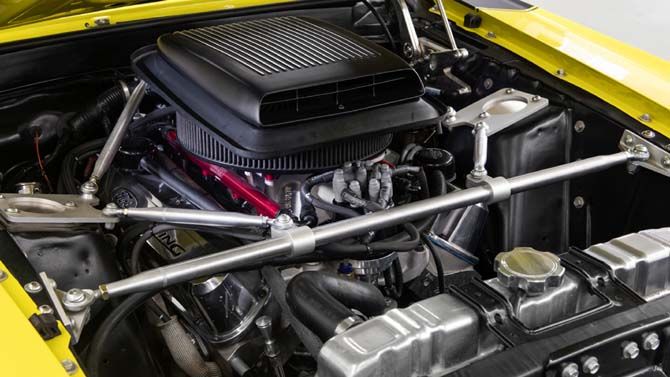 Mustang purists will probably scoff at the idea of modifying an authentic Boss 302 into a restomod, but Farland Classic Restoration managed to retain the car's clean factory looks while hiding a modern fuel-injected engine and a racecar-like interior. The end result is a car that Parnelli Jones and Dan Gurney would have killed for in the 1970 SCCA racing season.
This build started with a clean Boss 302, but body was still stripped and professionally painted in the iconic yellow and matte black paint job seen here. With the exception of the big, wide wheels, it's impossible to spot this Boss 302 as a restomod, but that definitely changes on the inside where the carbon fiber racing seats, Autometer gauges and Hurst shifter are a clue of what type of modern performance this Mustang is packing.
While the factory 302 cubic-inch V8 departed this 1970 Ford Mustang Boss 302 long ago, the restomod build made sure the lack of the original engine was worth it. Under the hood is a fuel-injected 408 cubic-inch stroker V8 (based on a 351 Windsor block) that features a serious cam, aluminum heads and forged pistons. The Tremec five-speed manual sends this power to the rear wheels through a Ford nine-inch rear end with a Detroit locker differential, and four-wheel Wilwood disc brakes and coilovers ensure this Boss 302 handles better than the original.
This amazing 1970 Ford Mustang Boss 302 restomod is being sold for $79,500, which is not only around the same price you'll pay for a stock Boss 302 but it's also considerably less than the $175,000 that has been invested in this car! Contact Farland Classic Restoration today to see how to get this Camaro-slaying Boss Mustang parked in your garage.