Over 50 of your favorite amazing movie and TV cars reside in Jackson, Tennessee.
---
Nestled between Nashville and Memphis, Tennessee on I-40 is the town of Jackson. When traveling through the Volunteer state, you may want to take the exit in Jackson to check out what Rusty Robinson has in store for you at Rusty's TV & Movie Car Museum. Even better, this is something the whole family can appreciate.
Rusty's TV & Movie Car Museum has over 50 cars that have been used in your favorite movies and television shows, as well as different movie memorabilia. In fact, several are the actual movie cars that came from the set.
Wanting to share his collection with the rest of the world, Rusty opened this museum about 10 years ago. Having loved cars since he was a just a kid, Rusty has been collecting cars for more than 24 years with his first car being a blue 1966 Mustang coupe at just 14 years old. Rusty's dad was also a car guy, so over 35 cars have been collected between him and his parents.
"Growing up in the '80s, almost everything had a car in it," said Rusty when we asked how he got into cars.
Check out some of the incredible cars that you can find at Rusty's TV & Movie Car Museum.
Breaking Bad - 1982 Chevrolet Monte Carlo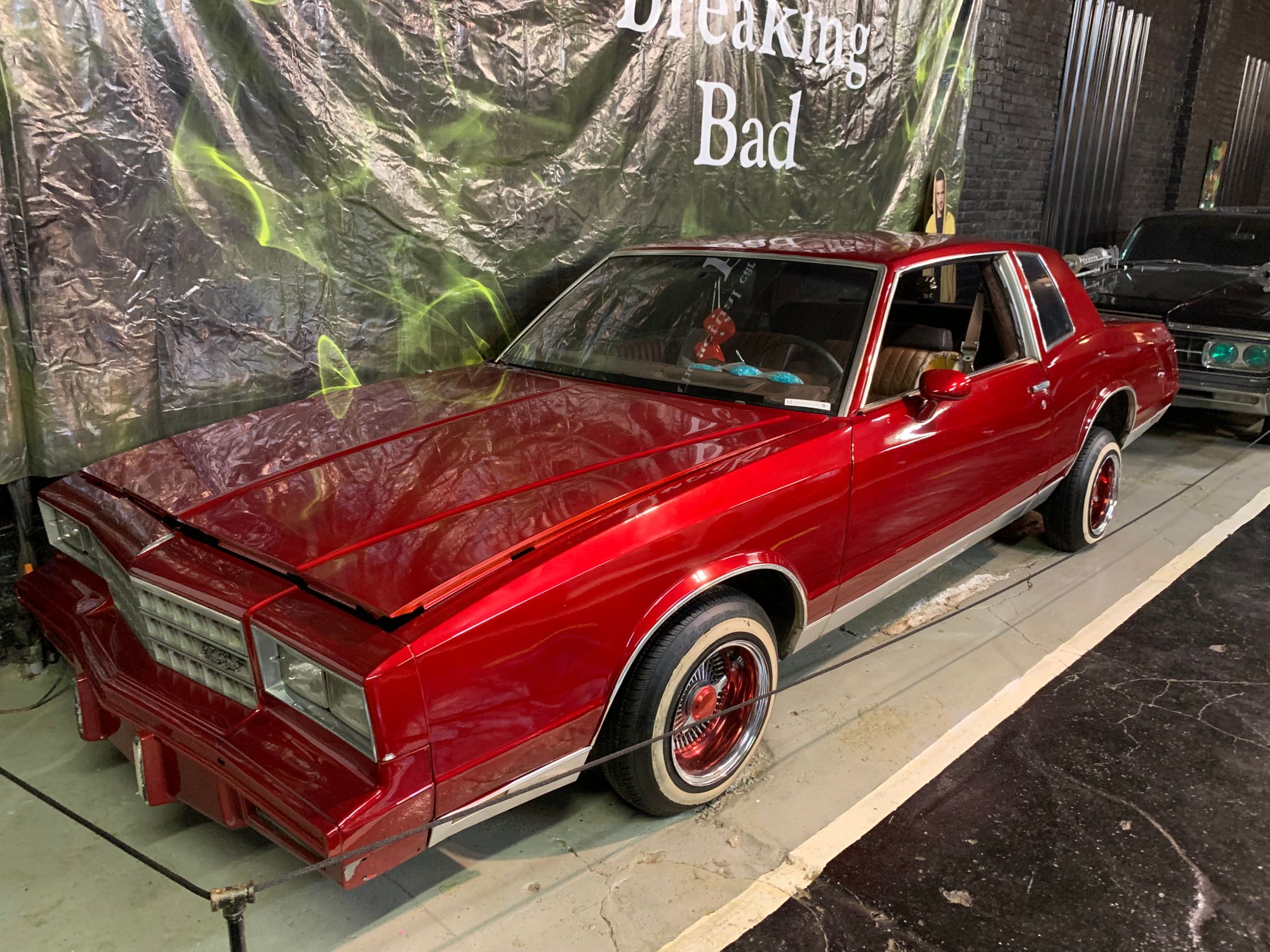 This is the original 1982 Chevy Monte Carlo that belonged to Jesse Pinkman from the television show Breaking Bad. After the show wrapped, everything on the set was auctioned off for charity, and Rusty scooped up the sweet fourth-generation Monte Carlo. The last time you saw the car was probably when it was jumping up and down with its hydraulics to keep Tuco Salamanca away from Hank Schrader. Here's your chance to see it again, but this time in person.
The Fast and the Furious - 1995 Mitsubishi Eclipse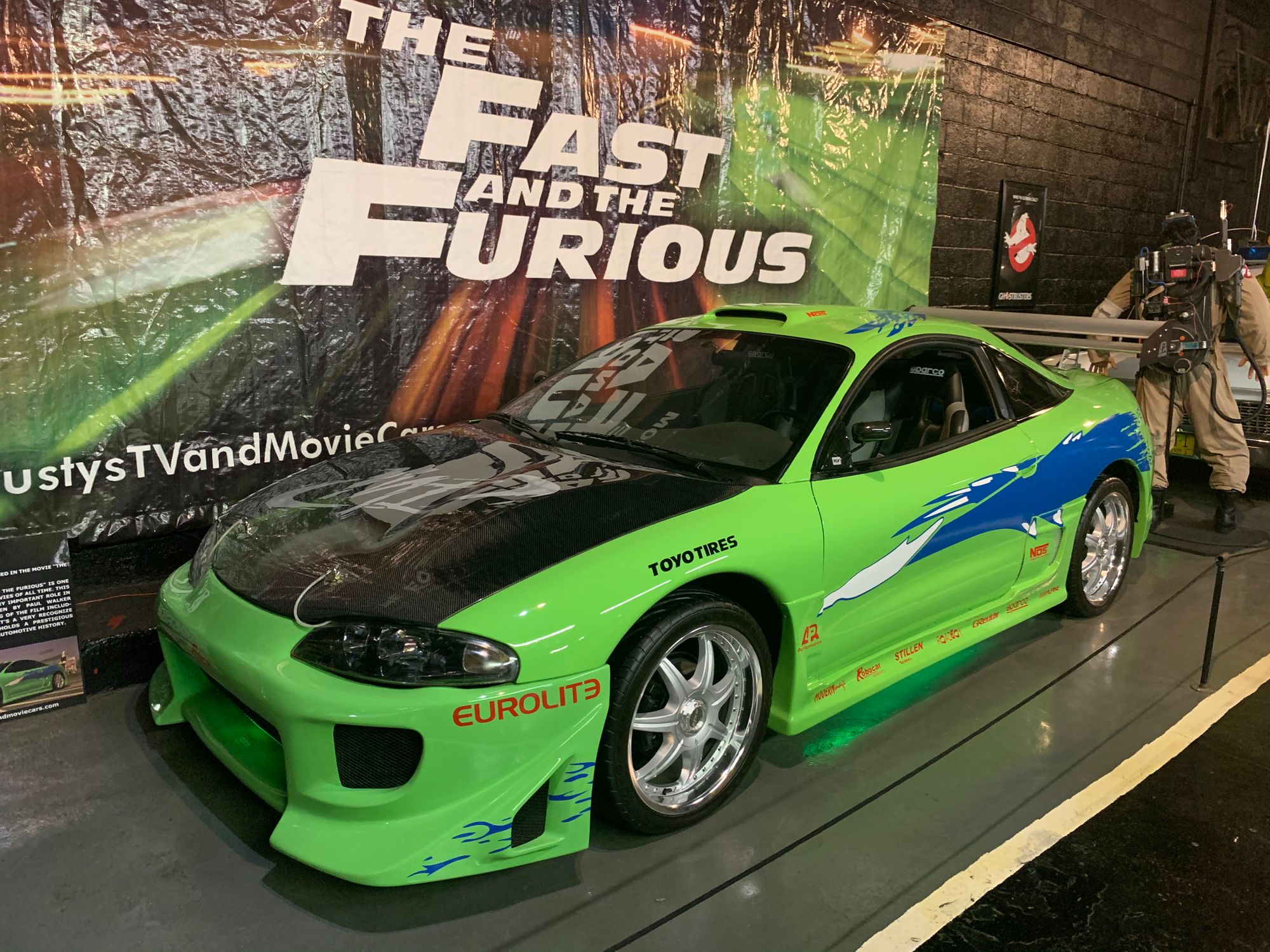 Here we have another actual movie car, the 1995 Mitsubishi Eclipse from the original The Fast and the Furious from 2001. Rusty purchased the car from a museum in Chicago, Illinois about 14 years ago.
Customized by Diamond-Star Motors and Mitsubishi Motors, every fan of the The Fast and the Furious franchise knows this Eclipse driven by Brian O'Conner, aka Paul Walker where he practiced for his first street race in the parking lot of the Dodger Stadium, lost his pink slip after losing to Dominic Teretto (aka Vin Diesel) when he used too much nitrous and overheated, driving it to lure police away from street racers, and when a bullet hit the NOS tank causing the car to explode.
Training Day - 1979 Chevrolet Monte Carlo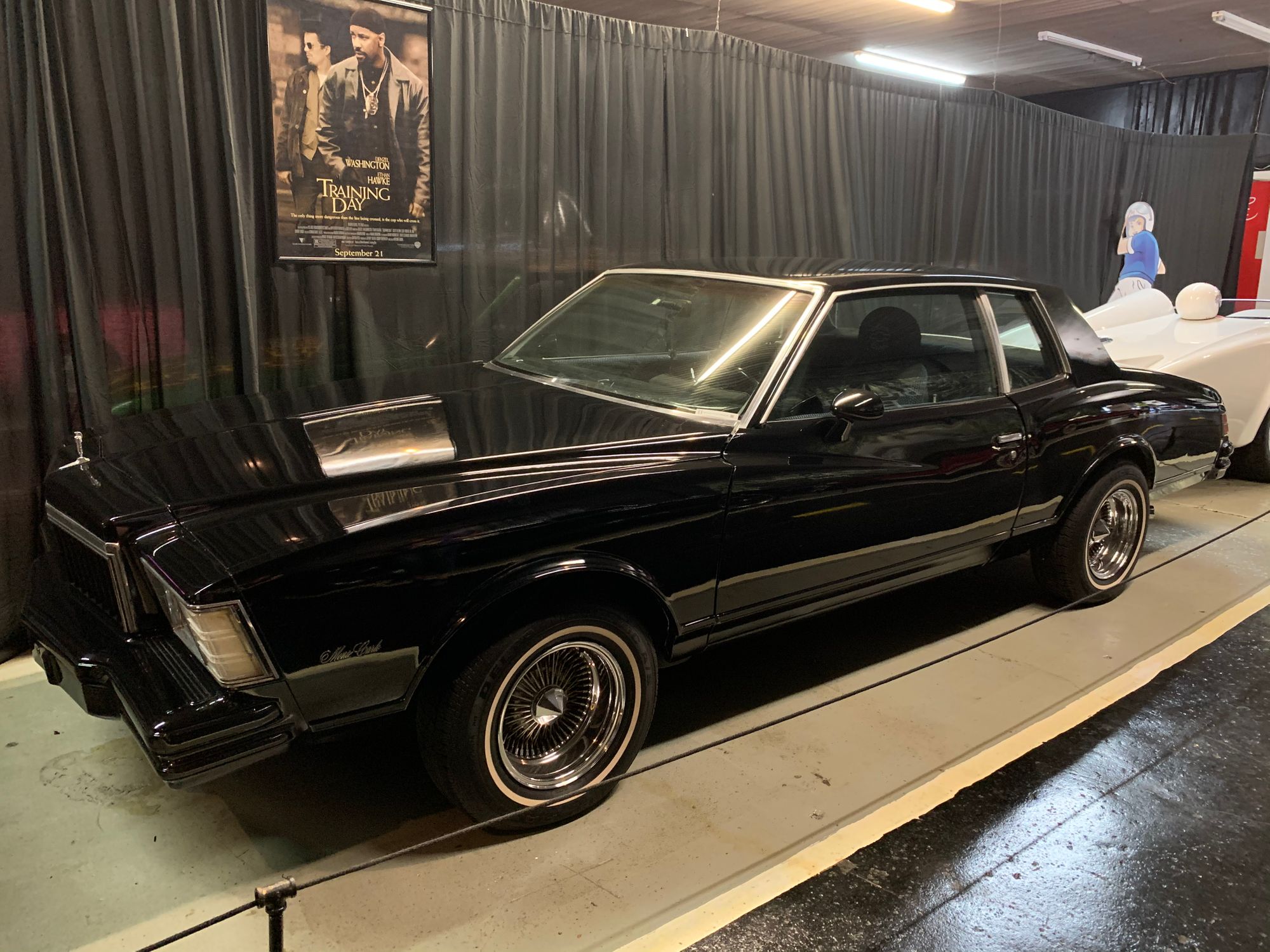 Was Denzel Washington as Officer Harris or his lowrider '79 Chevy Monte Carlo the main star in the 2001 film Training Day? This retro Monte Carlo is a replica from the movie that can be found while browsing Rusty's museum.
Transformers - 1976 Chevrolet Camaro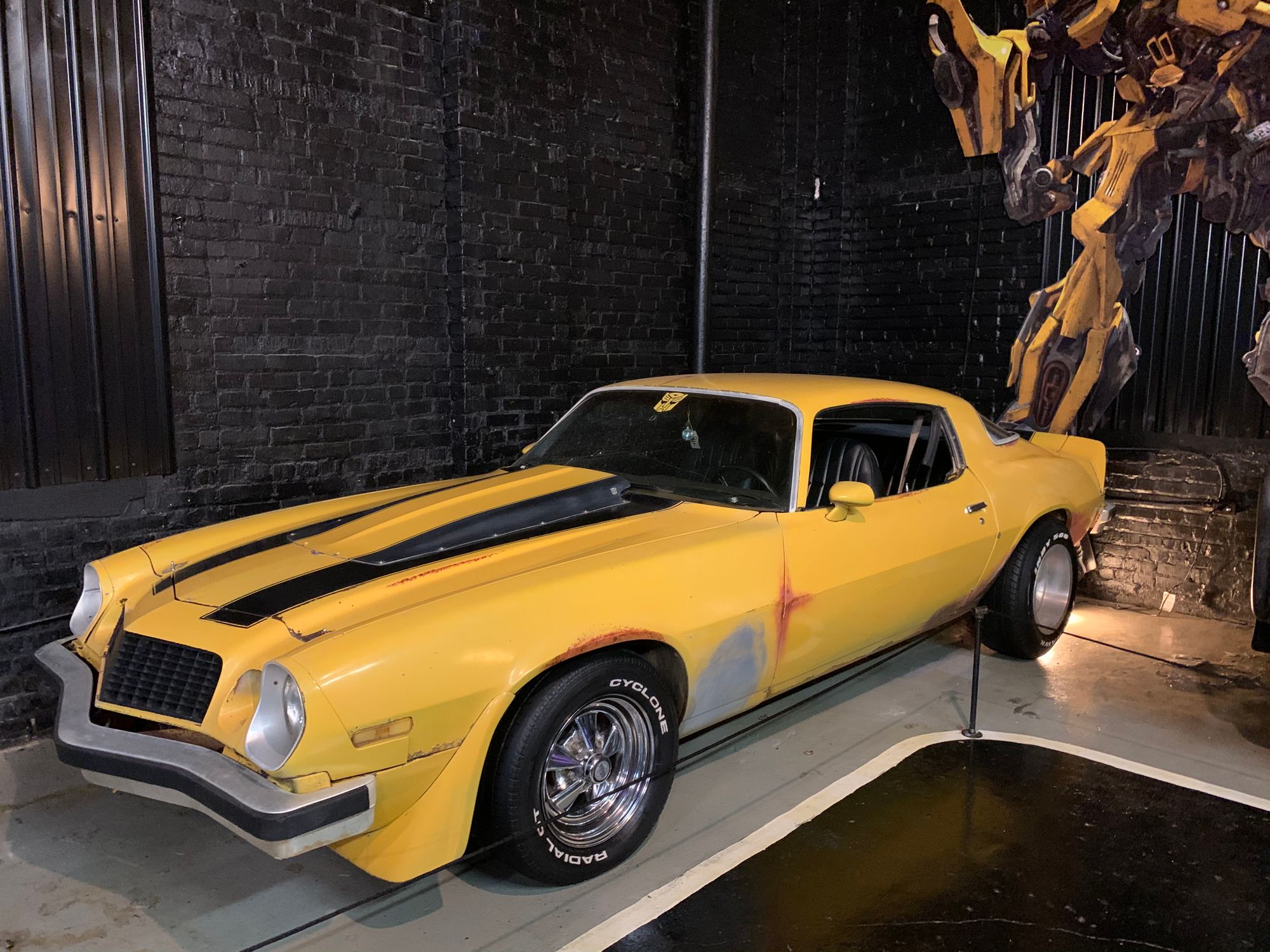 Also sitting among his collection of cars is this replica of the 1977 Chevy Camaro Z28 used in the 2007 movie Transformers. Early on in the movie, Sam (Shia LaBeouf) purchased his car with help from his dad - a  '77 Camaro Z28 that appeared to have seen better days. Unbeknownst to Sam, his American muscle car is a protective robot.
This replica is a 1976 Camaro (made to appear like the '77 model from the movie) that came from the company that promotes for Universal Studios.
Smokey and the Bandit - 1979 Pontiac Tran Am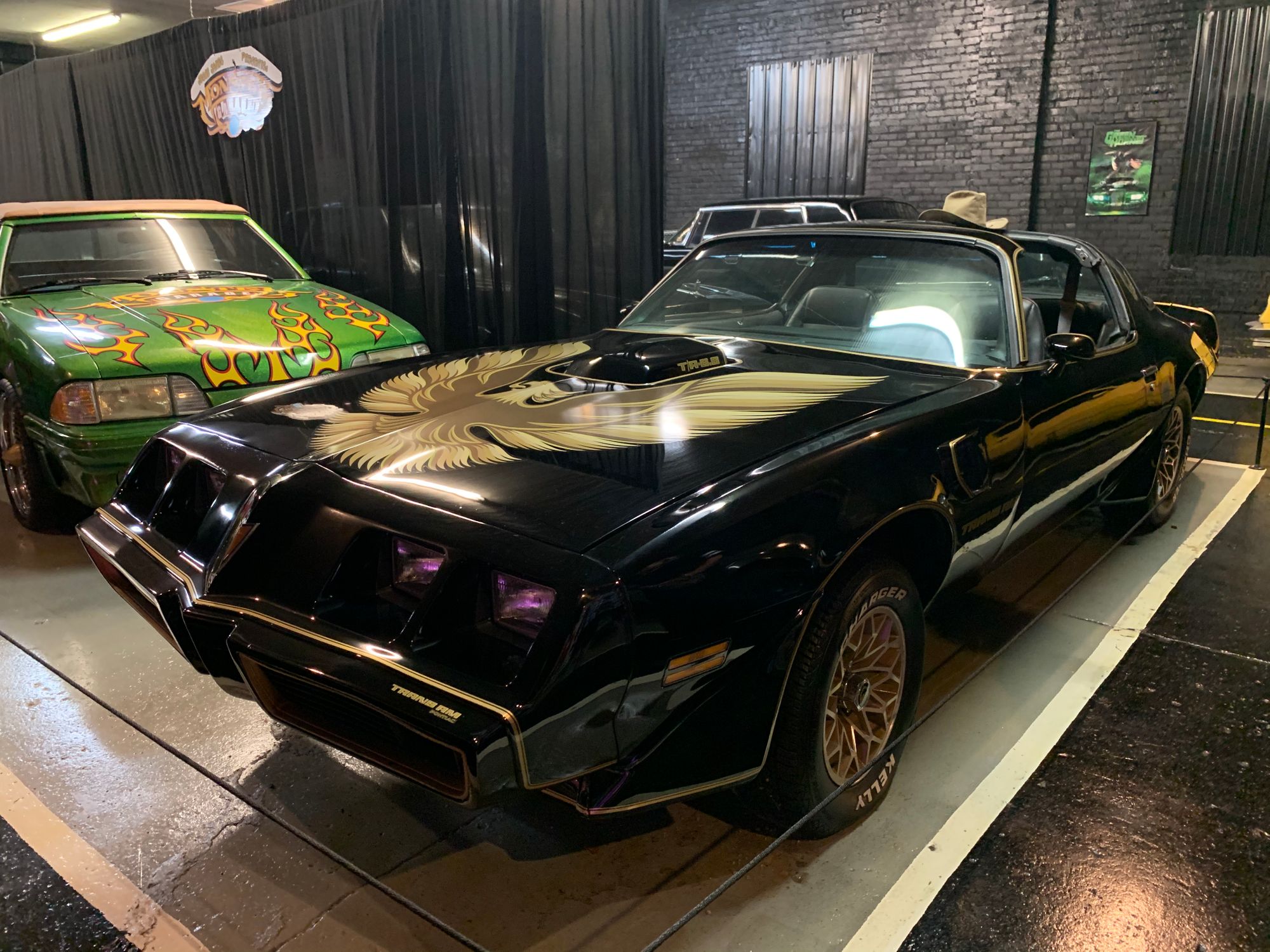 Any car enthusiast (and non-car enthusiast) will recognize this car right off the bat - the 1979 Pontiac Trans Am from Smokey and the Bandit. Driven by Bo "Bandit" Darville (Burt Reynolds) to keep the attention off of the truck driven by "Snowman" (Reed) filled with 400 cases of Coors beer to illegally transport from Texarkana, Texas to Atlanta, Georgia. With the movie developing a cult following, the black and gold Trans Am is forever iconic. Rusty has owned this one for about 4 years.
Ghostbusters - Ectomobile or Ecto-1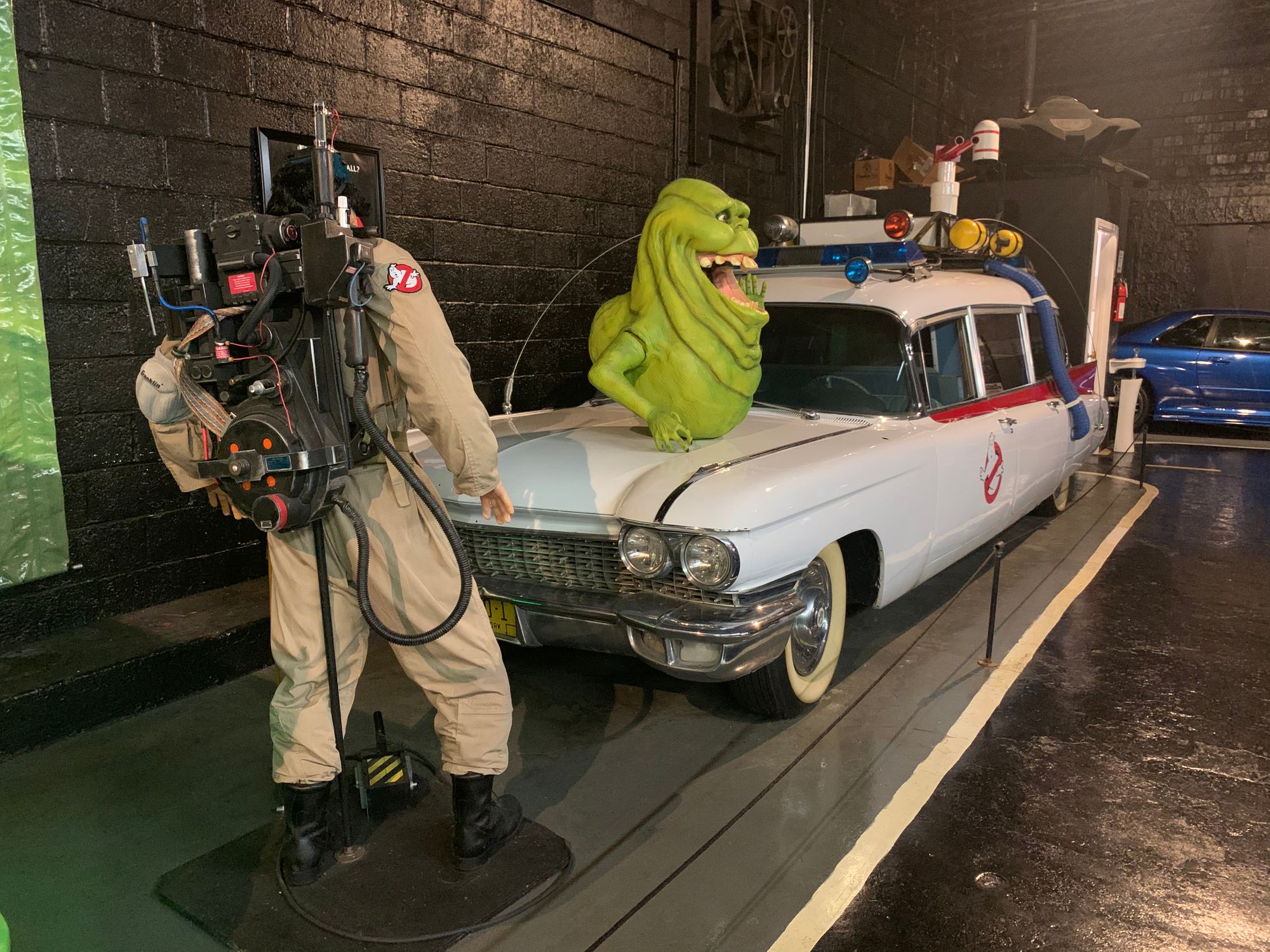 According to Rusty, Sony will never let go of the original cars so he built this Ecto-1 replica from the original 1984 Ghostbusters movie. This movie car took him between 8 months to a year to recreate. The Ecto 1 (or Ectomobile) was built from a 1959 Cadillac Miller-Meteor Futura Duplex limo, the car was originally used as an ambulance and for funerals.
In the movie, Dr. Stantz purchases the car for $4,800 and says it needs plenty of repairs. As he says in the movie, the car needs "suspension work and shocks, brakes, brake pads, lining, steering box, transmission, rear end... maybe new rings, also mufflers, a little wiring...."
Barbie Corvette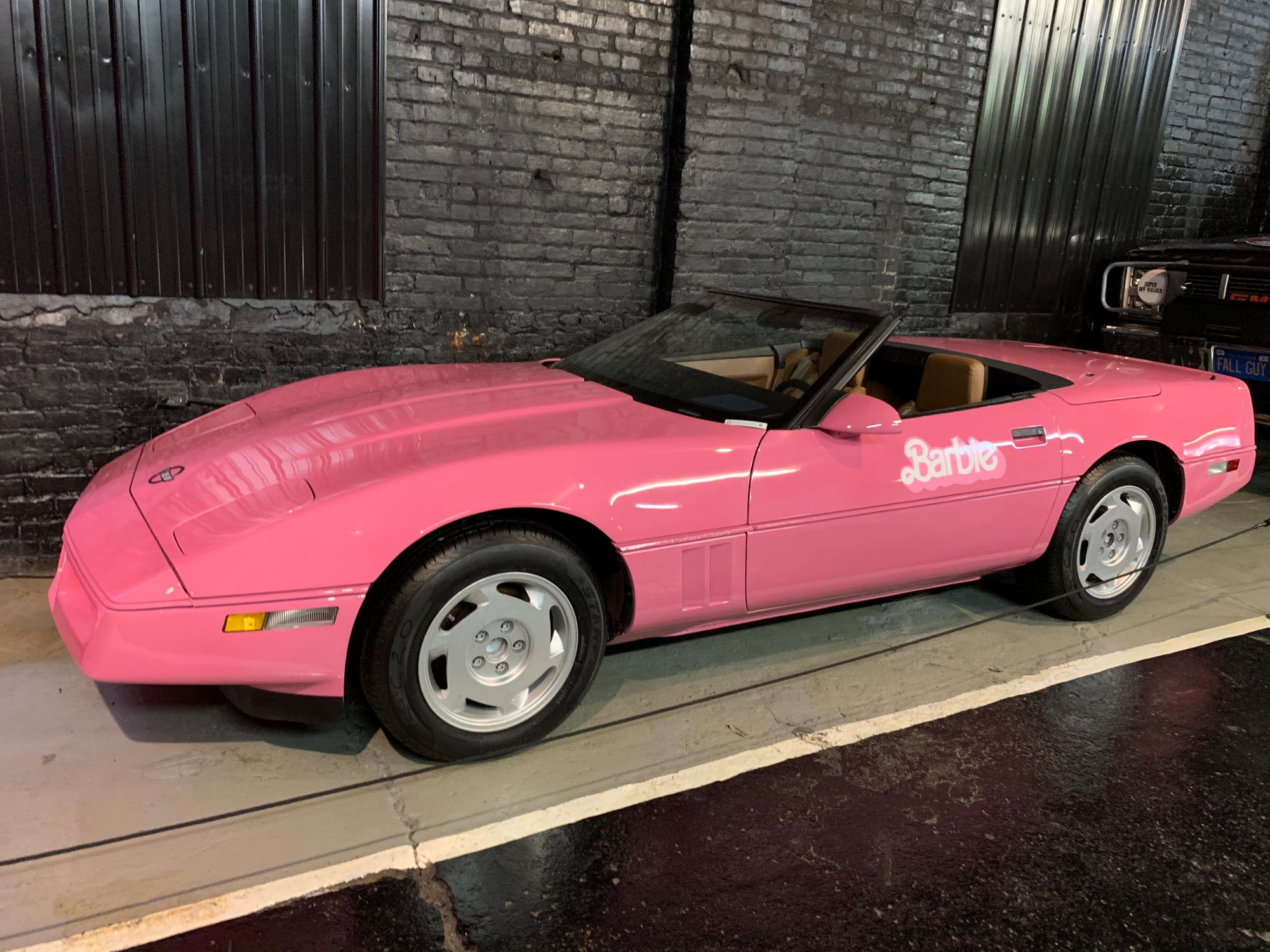 Not exactly a movie car, this car was created into a Barbie Corvette by Rusty when his girlfriend said that he had nothing in his collection for girls. When he asked what she would like, she said that every girl had a Power Wheels Barbie Corvette from the '80s and '90s, so he created a life-sized version. Rusty says that the most pictures are taken in the Barbie Girl Chevy Corvette.
The Fall Guy  - 1986 GMC Sierra Classic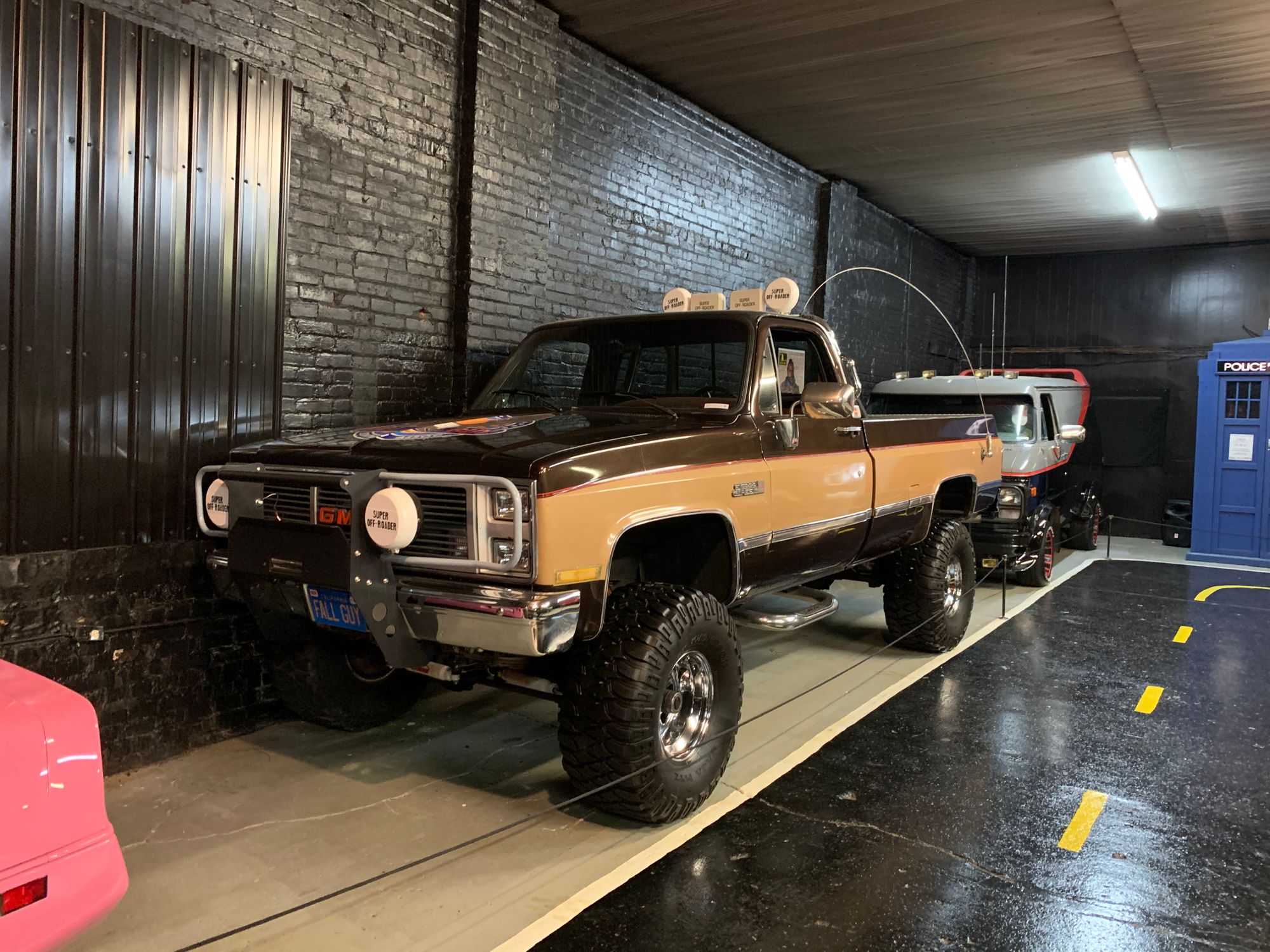 About a stuntman from Hollywood who moonlighted as a bounty hunter, the television series The Fall Guy starred Lee Majors and aired from 1981 through 1986. This is a replica of the big brown GMC Sierra that starred in every single of the 112 episodes and was known for its big stunt jumps. Rusty purchased this replica about 9 years ago.
A Team - 1986 Chevy G10 Van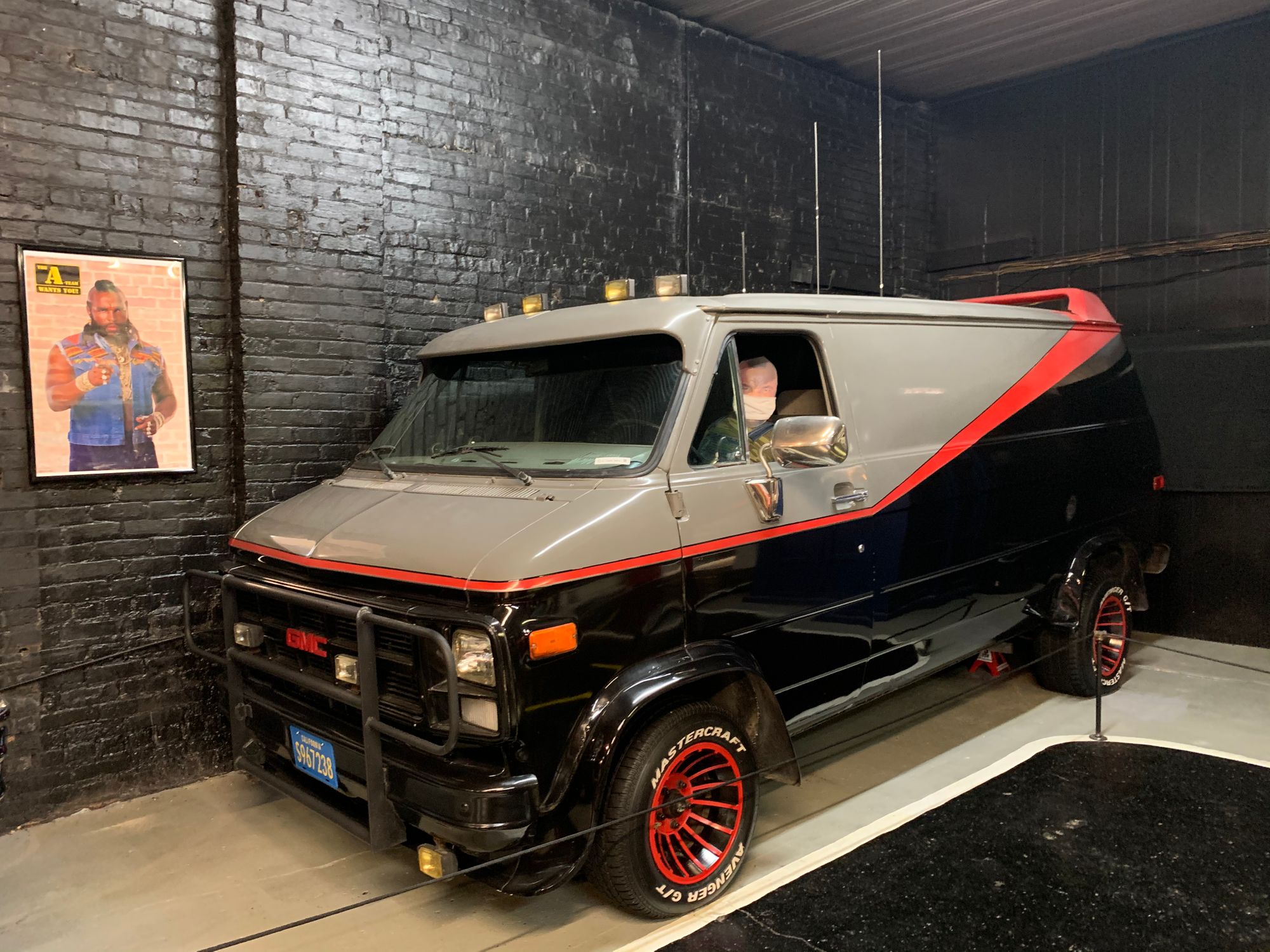 Another action-packed television series from the '80s was the A-Team that aired from 1983 through 1987 on NBC. The show starred Mr. T and was about former members of United States Army Special Forces unit that fled military prison where they were court-martialed "for a crime they didn't commit". While on the run, the A-Team worked as soldiers of fortune and drove a unique van, a black and metallic grey GMC Vandura with red stripes that is now a pop culture icon. According to Rusty, many different years were used, and even a Ford van was used as a stunt vehicle. This replica is a 1986 Chevy G10 van that he bought about 9 years ago.
Cannonball Run - Lamborghini Countach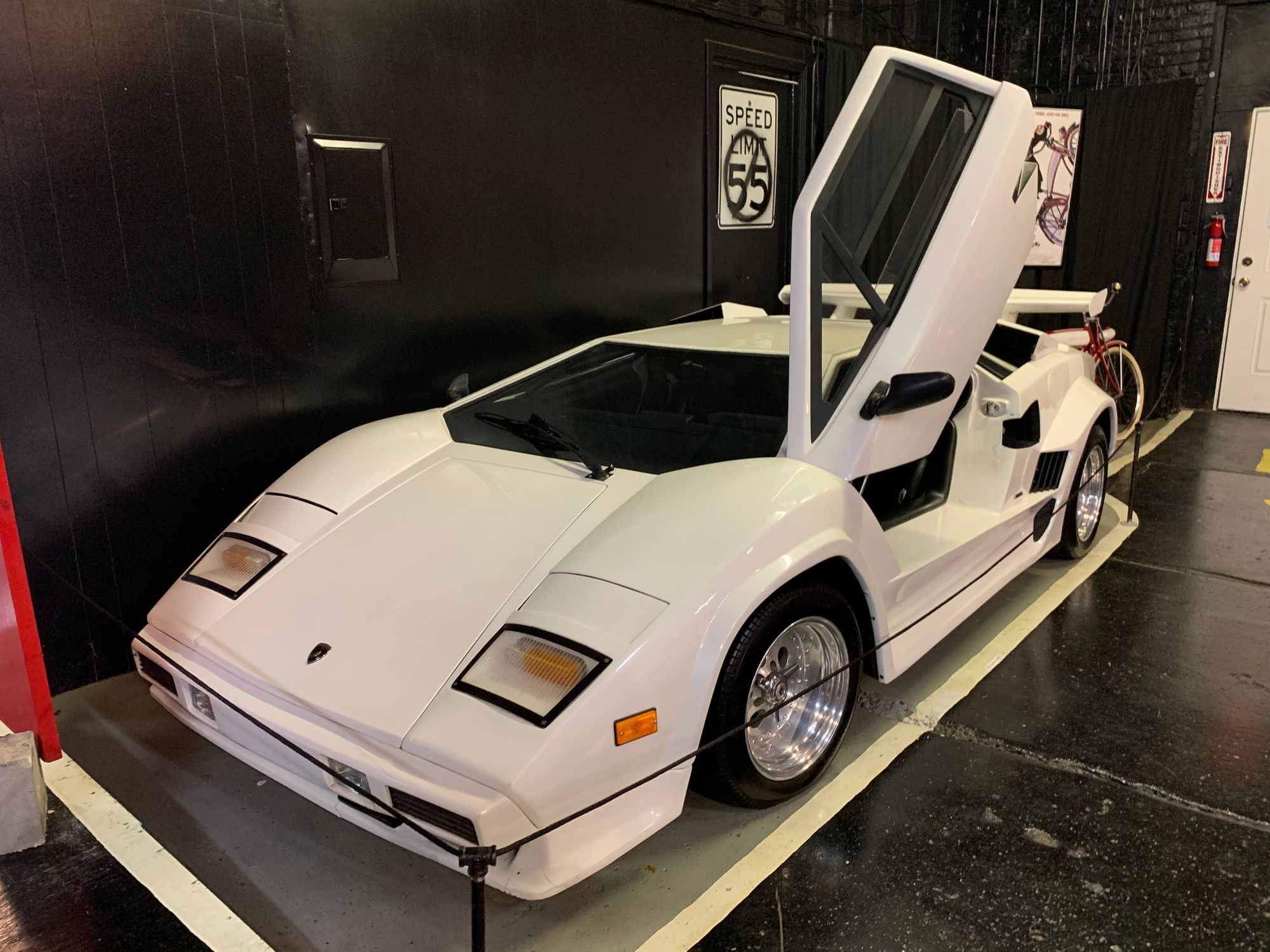 Also calling the museum home is this Lamborghini Countach much like from the movie Cannonball Run, and Rusty has owned this car for 17 years. Many likely fell in love with the Countach thanks to the starting credits of this movie as the exotic V12-powered supercar creeps up behind a police car. Many others can associate the car with Miami Vice, and according to Rusty many people now associate the car with Wolf of Wall Street.
National Lampoon's Christmas Vacation - Cousin Eddie's RV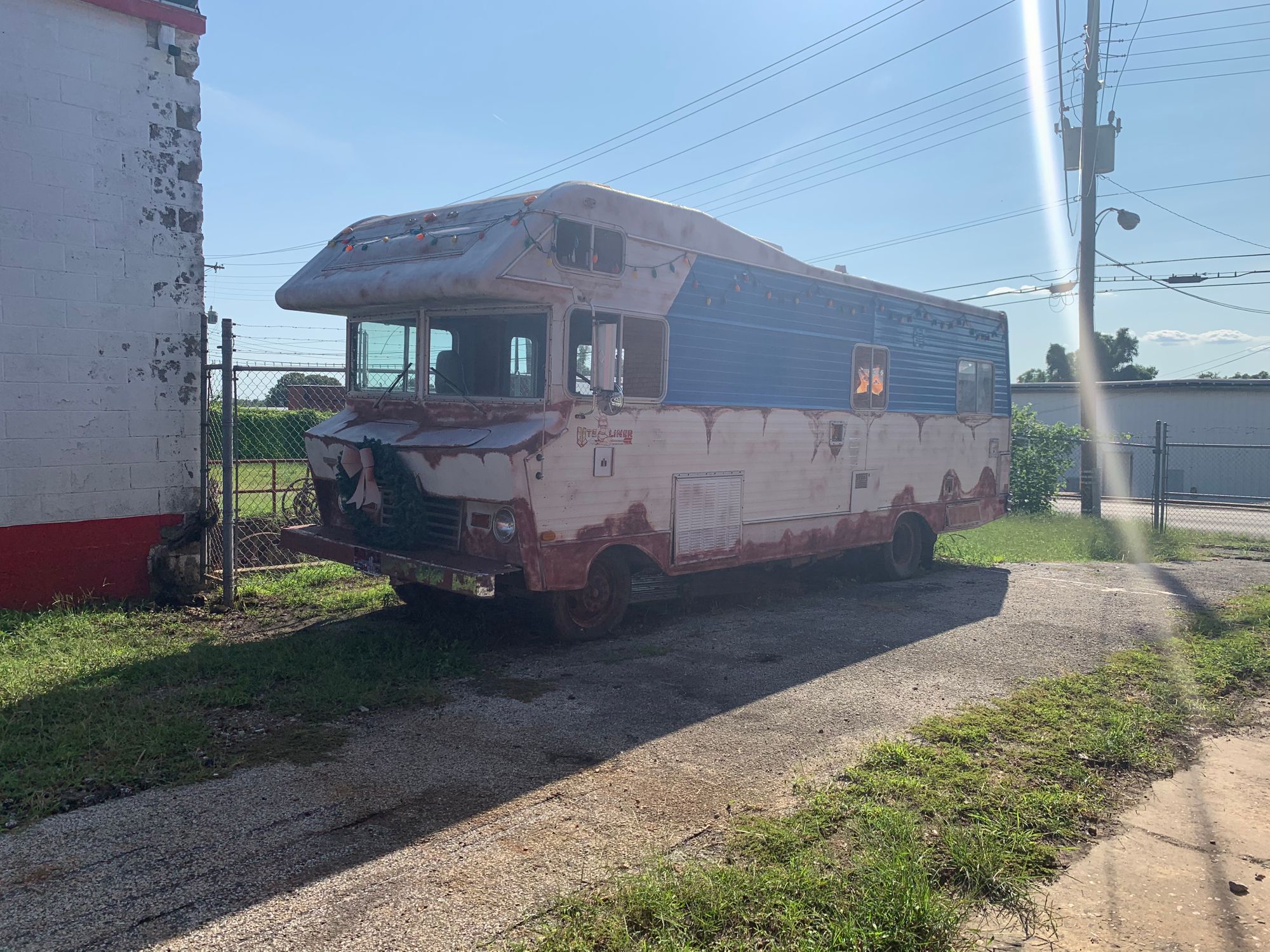 "That there's an RV." Another replica that you can find in Jackson is of Cousin Eddie's RV from National Lampoon's Christmas Vacation. Having owned the RV for about 3 years, Rusty says this is definitely a huge hit at Christmas time. Here, the you-know-what is not full.
Knight Rider - "K.I.T.T." 1982 Pontiac Trans Am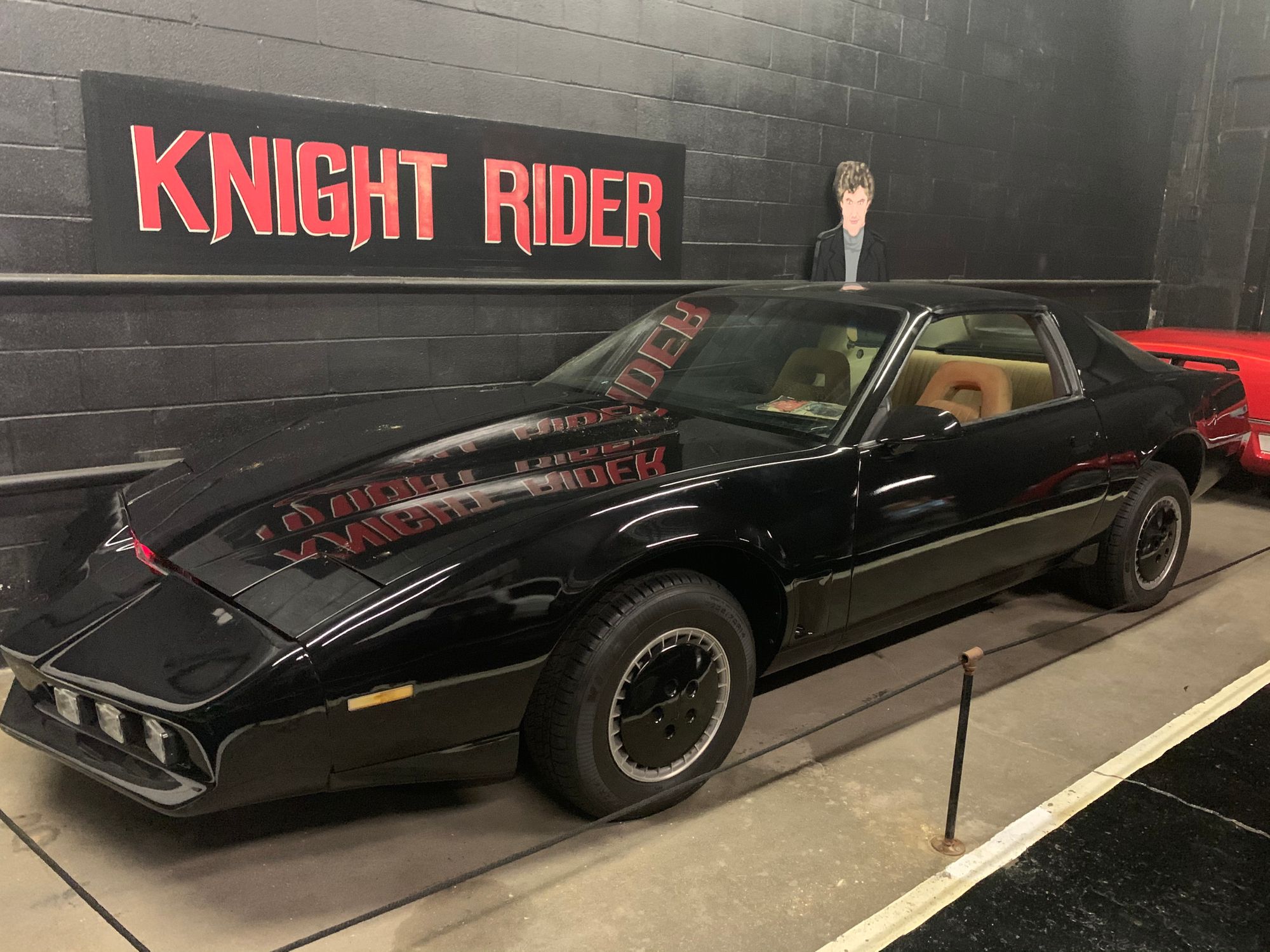 Another replica built by Rusty himself is this 1982 Pontiac Trans Am that he turned into K.I.T.T. from another '80s television series Knight Rider. Purchased bone stock, it took Rusty between 6 to 8 months to give it the K.I.T.T. transformation inside and out. The 'Hoff would approve.
The Blues Brothers - "Bluesmobile" 1974 Dodge Monaco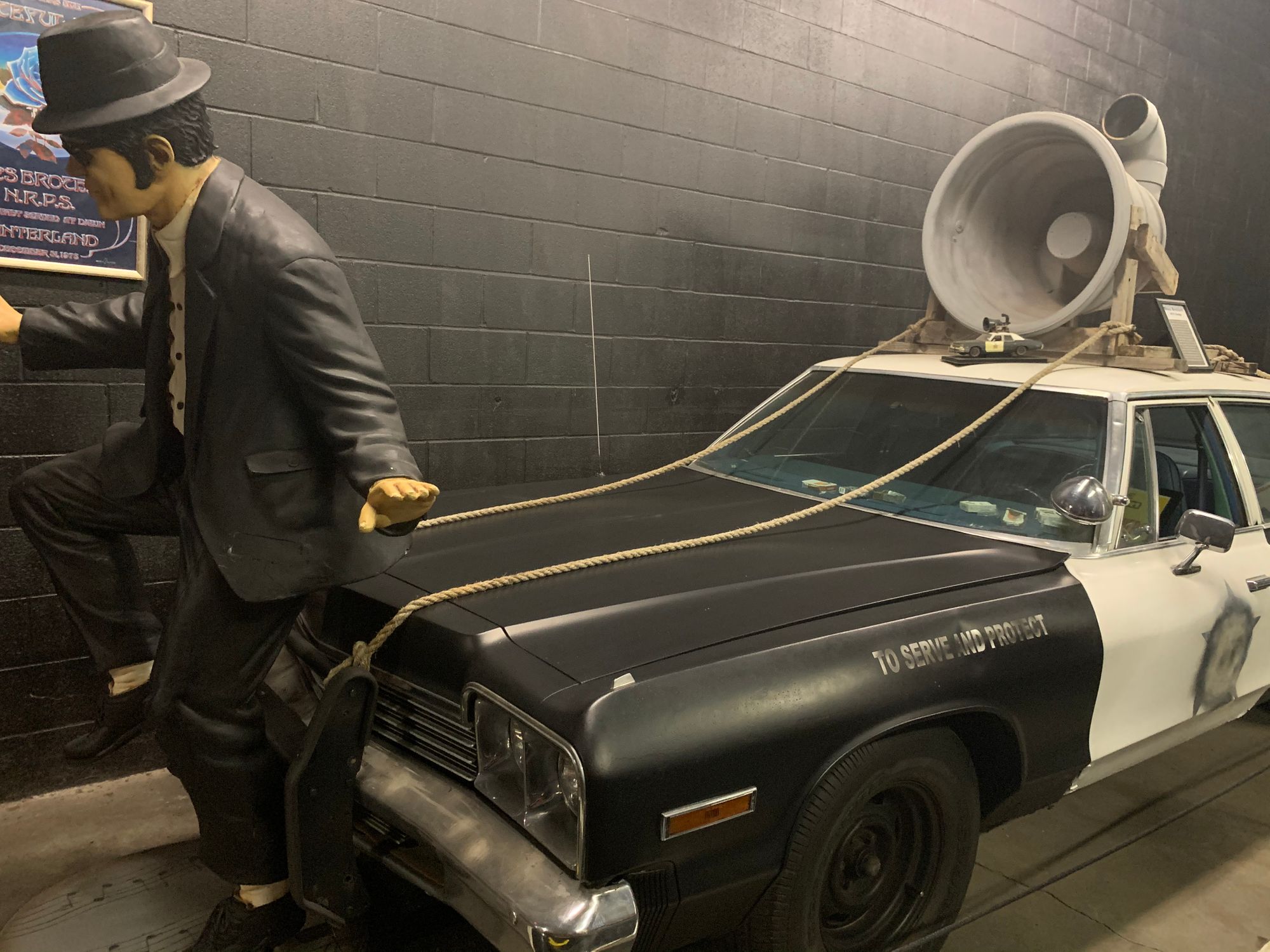 The "Bluesmobile" was a 1974 Dodge Monaco sedan from the 1980 movie The Blues Brothers starring Dan Aykroyd and John Belushi. In fact, Dan Aykroyd co-wrote the film, and he chose the 440 Dodge Monaco because he considered it "to be the hottest car used by police during the 1970s". Rusty bought the car from a guy who works on movie cars, but there's no paperwork to know if this old Monaco was actually used in the movie or not. Considering how many cars they did use in the movie (and destroyed attempting to jump the open 95th Street Bridge in Chicago), it very well could be a possibility.
Starsky and Hutch - 1975 Ford Gran Torino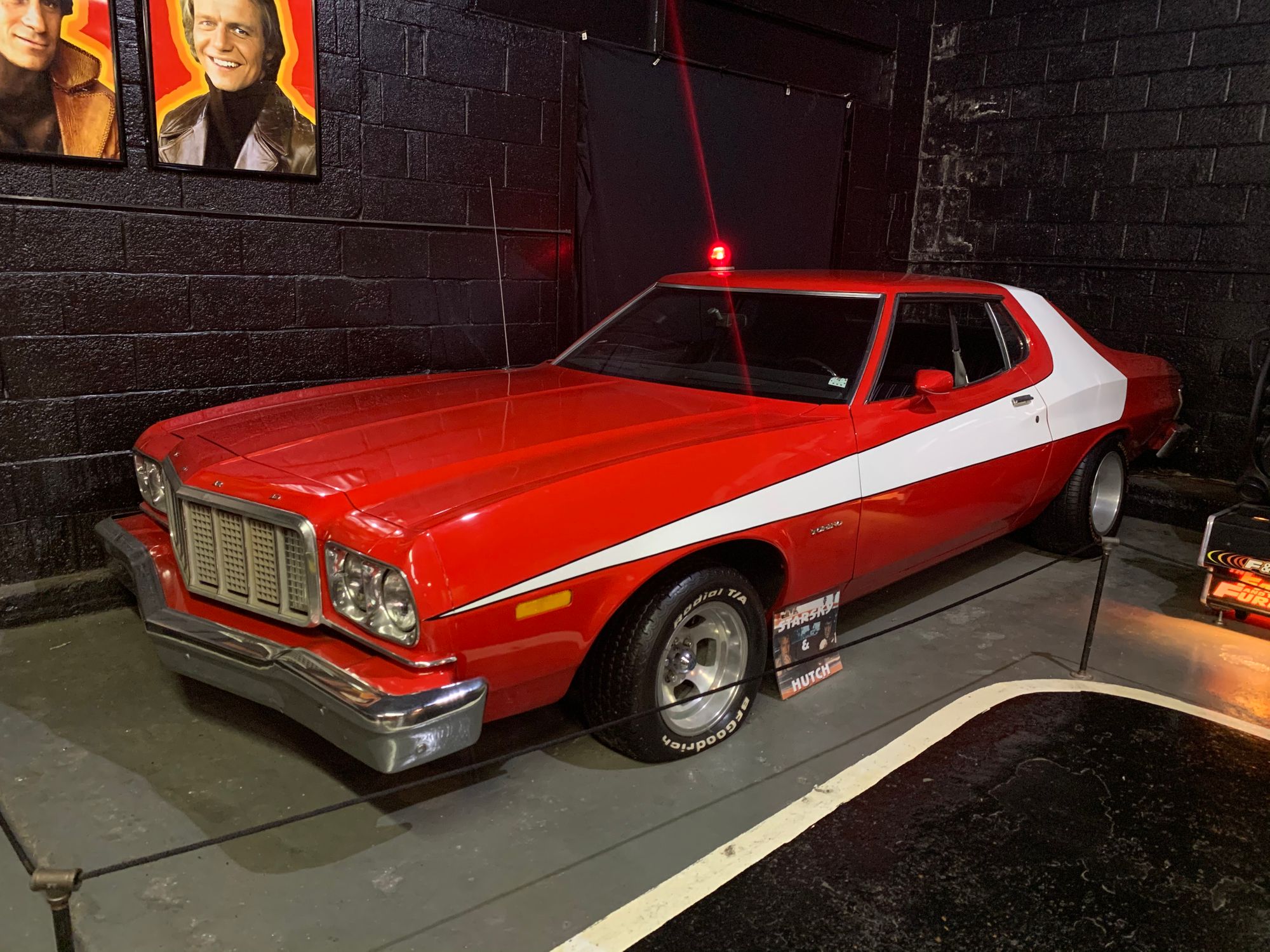 This is a replica of the 1975-76 Ford Gran Torino that appeared in the original television series Starsky and Hutch. Appearing on air from 1975 through 1979 on NBC, the show revolved around two policemen from California. Due to the show's popularity, Ford built 1,002 examples of the 1976 Ford Gran Torino for a very limited Starsky and Hutch edition with the factory stripes and everything. Rusty owns one of the rare replicas which has been in his possession for 13 years.
Wayne's World - 1976 AMC Pacer "Mirthmobile"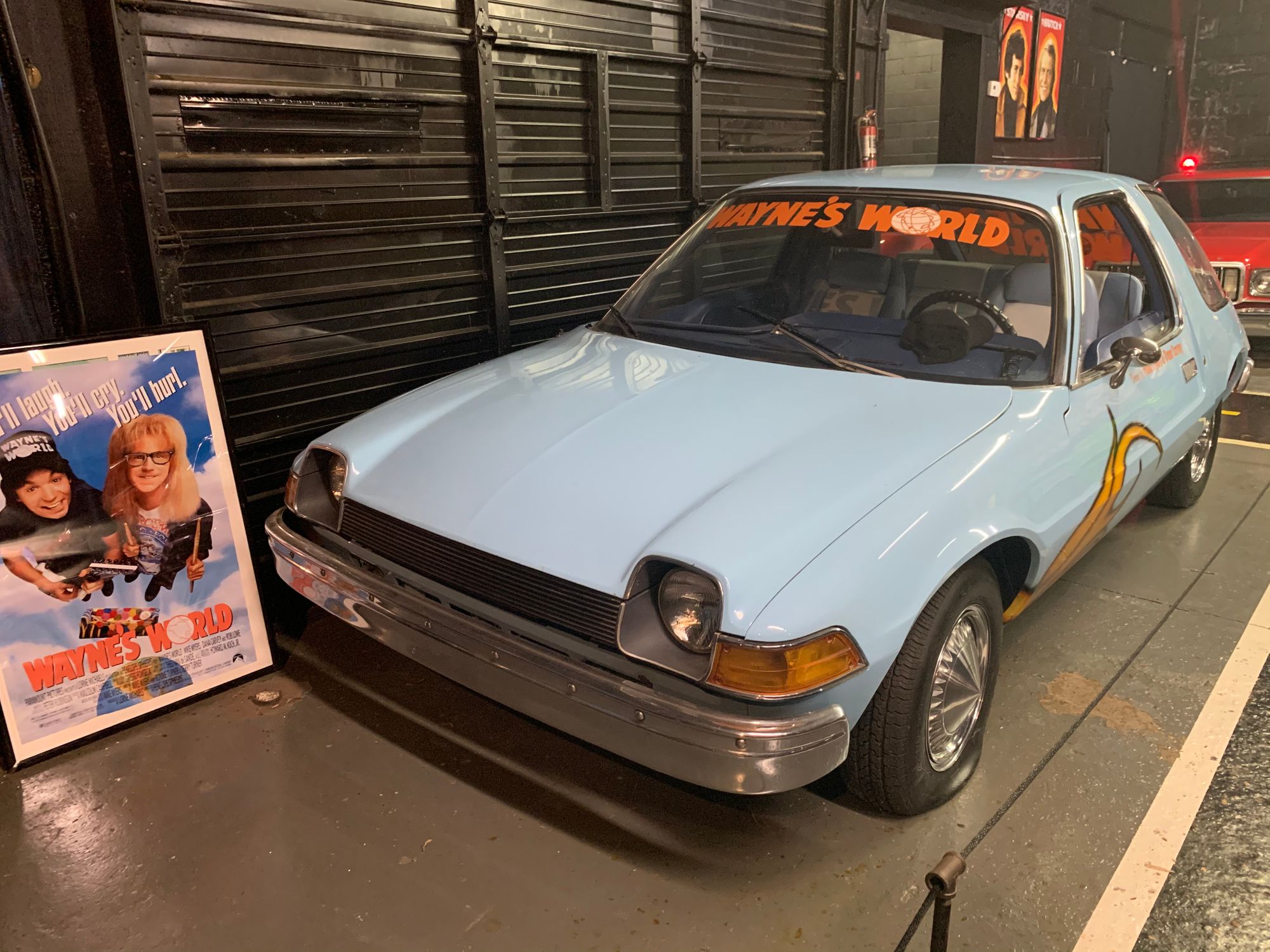 A little Bohemian Rhapsody, gentleman? Everyone is familiar (or should be!) with the famous scene from Wayne's World when Bohemian Rhapsody has the guys head-banging inside Garth Algar's "Mirthmobile", a bright blue 1976 AMC Pacer with flames. Rusty owns the original movie car that appeared in the 1992 comedy.
Batman - 1989 Batmobile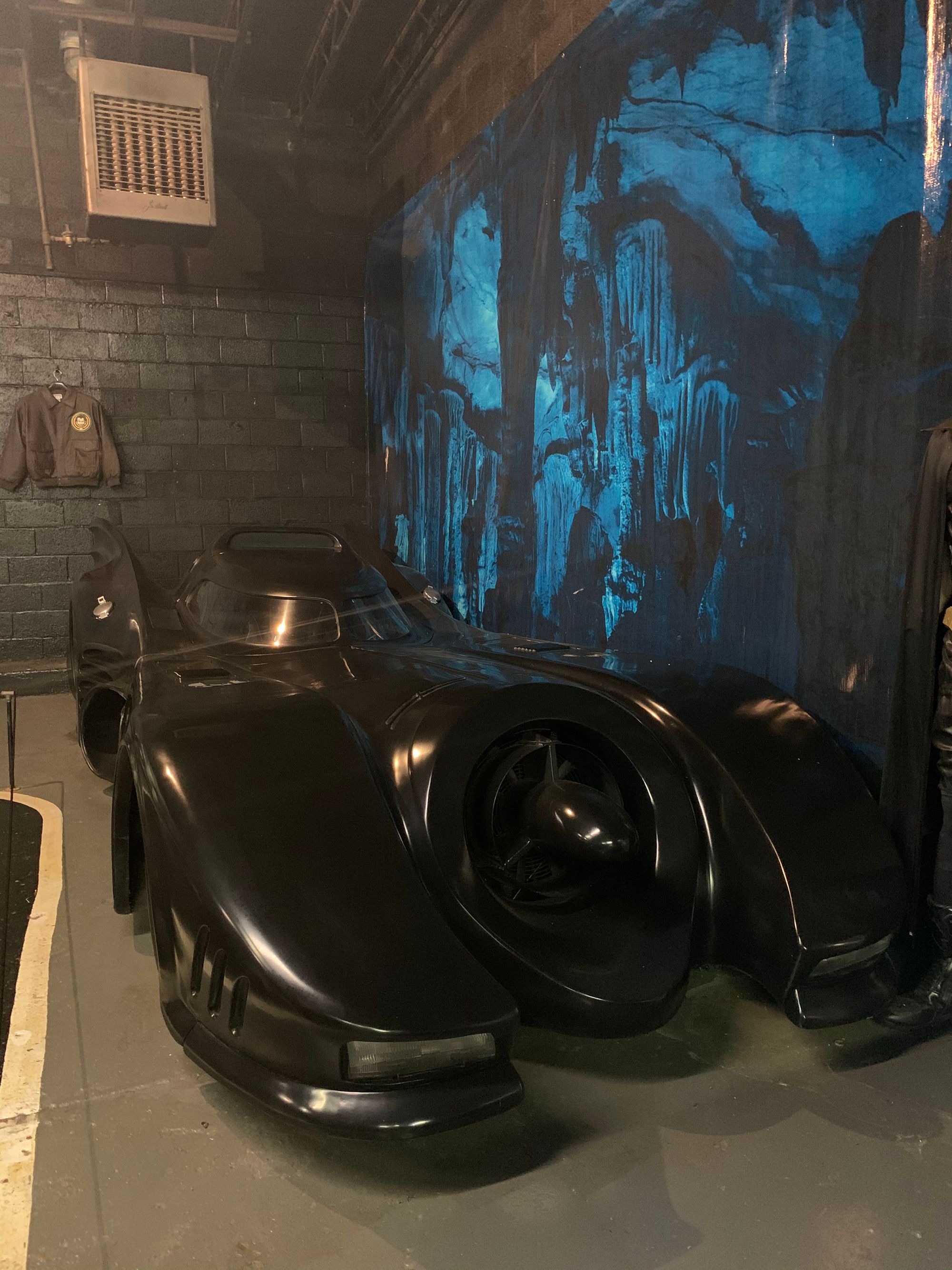 This is a replica of the Batmobile featured in the 1989 film Batman that starred Michael Keaton. According to Rusty, the car is fully operational and street legal. It also made in appearance in Batman Returns.
Death Race - 2006 Ford Mustang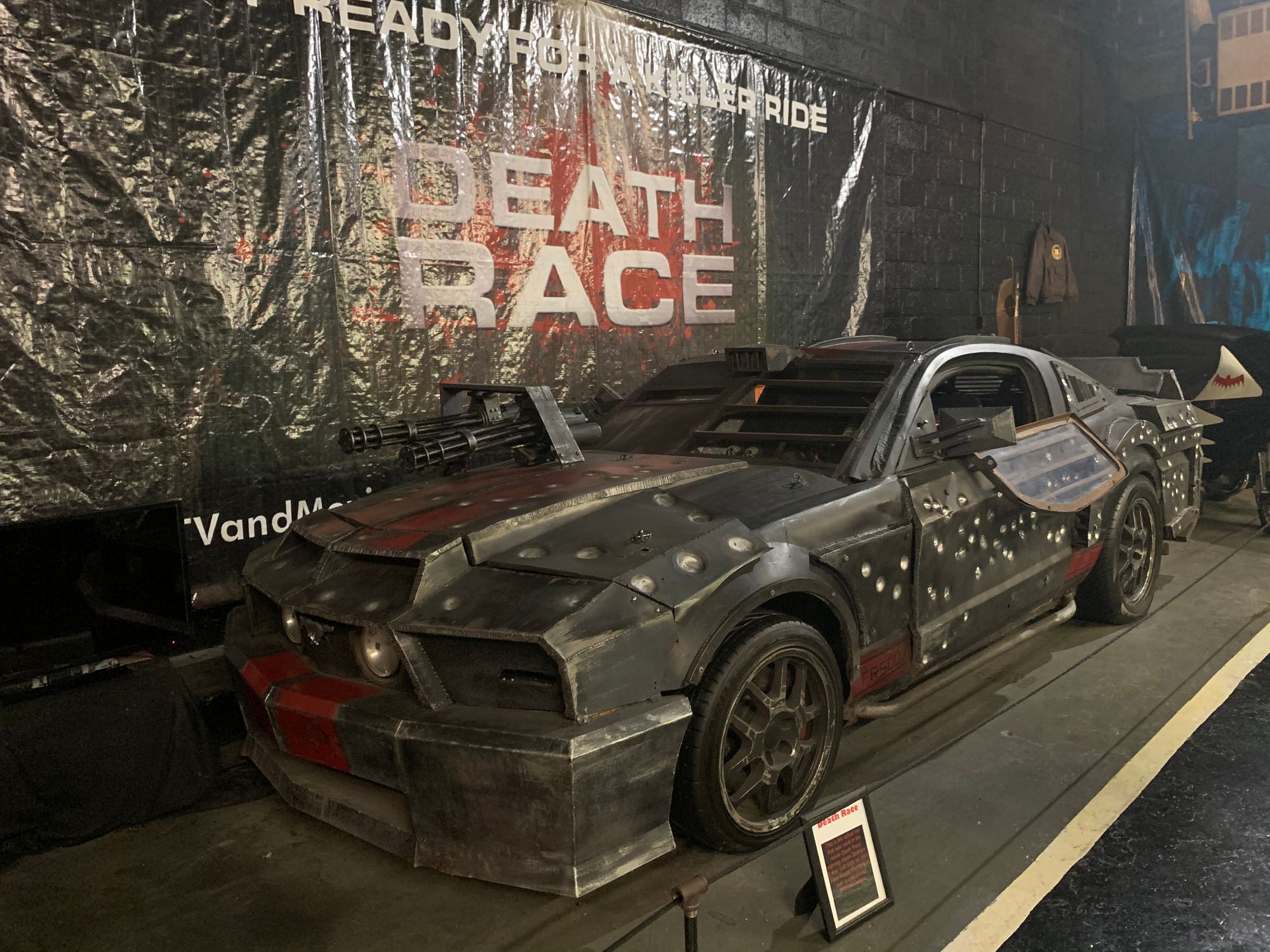 This 2006 Ford Mustang is the actual movie car driven by Jason Statham in the 2008 movie Death Race. Statham plays ex-con Jensen Ames who is forced by the warden of a notorious prison to participate in a post-industrial world's car race against other inmates that kill and brutalize each other to win. Purchased from the studio, this movie Mustang has been a party of Rusty's hoard for 12 years.
Dukes of Hazzard - 1969 Dodge Charger "General Lee"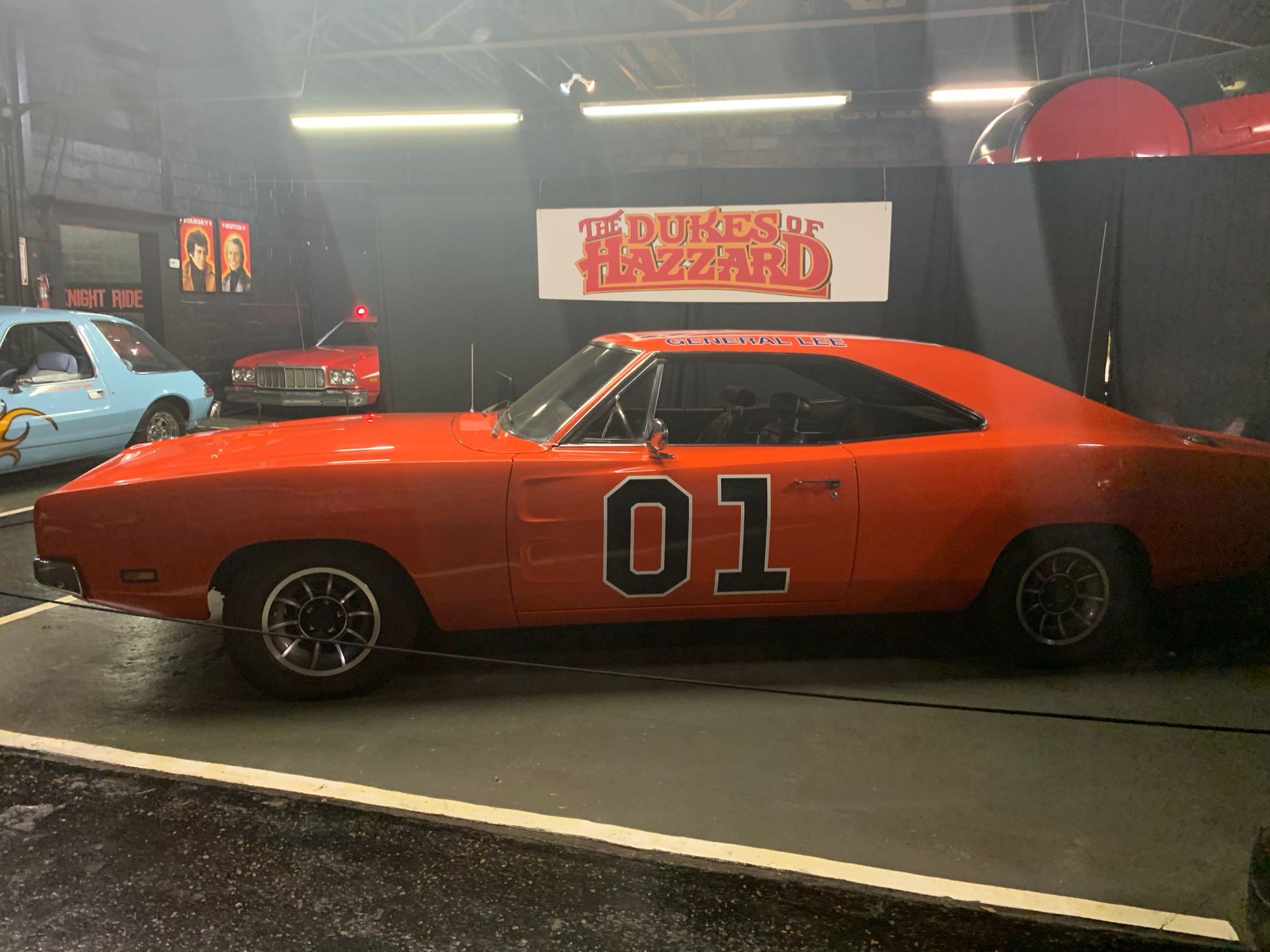 One of the most iconic television cars of all time is the General Lee, and replica fit enough for a Duke boy has been a part of Rusty's collection for about 20 years. A local radio station had people call in if they had something for sale or if they were looking for something specific, so Rusty called in to see if anybody had a Dodge Charger for sale. A gentleman had a factory orange 1969 Dodge Charger inside his garage, and Rusty scooped it up and turned it into this General Lee.
Scooby Doo - 1965 GMC "Mystery Machine"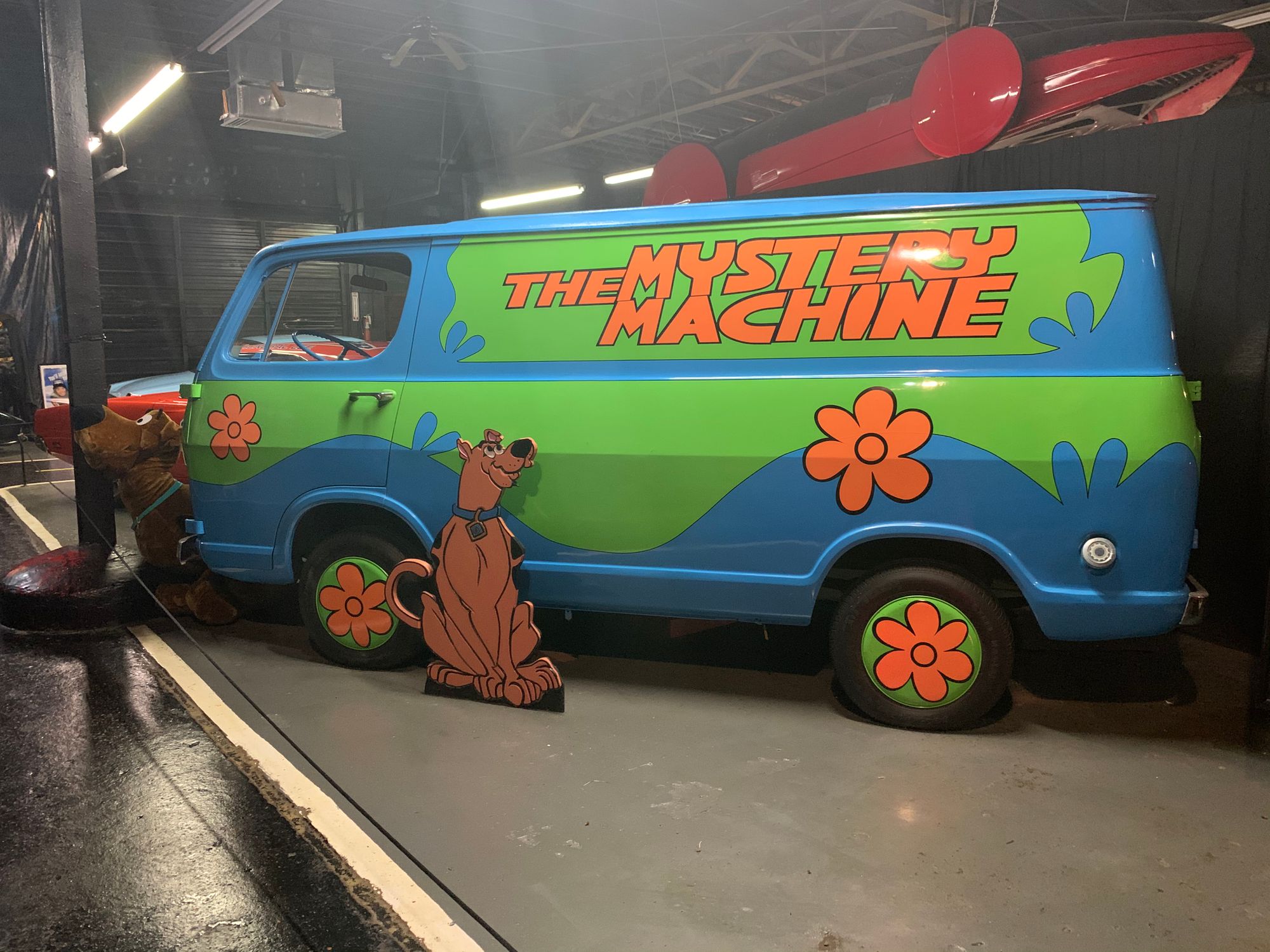 A van that everyone is familiar with would be the Mystery Machine from Scooby Doo. This particular one is a 1965 GMC van that Rusty built in a timeframe of about 6 months back in 2009.
The Munsters - Dragula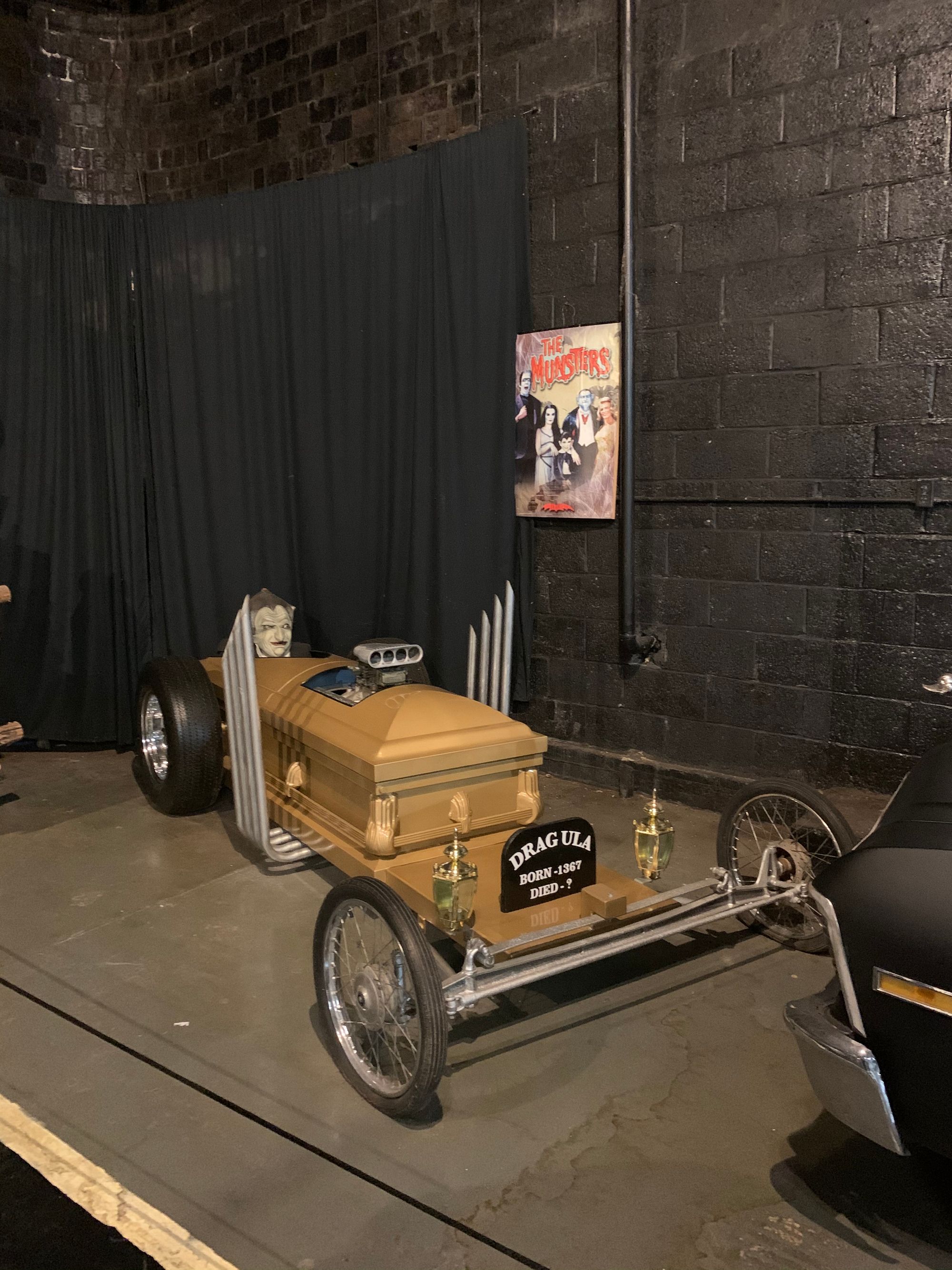 Another car built by Rusty is the Dragula, a replica of the car Grandpa built on an episode of The Munsters: Hot Rod Herman. The Dragula and Munster Koach were both built by George Barris. Using a real coffin, the car took Rusty about 3 months to build.
Ghost Rider - Motorcycle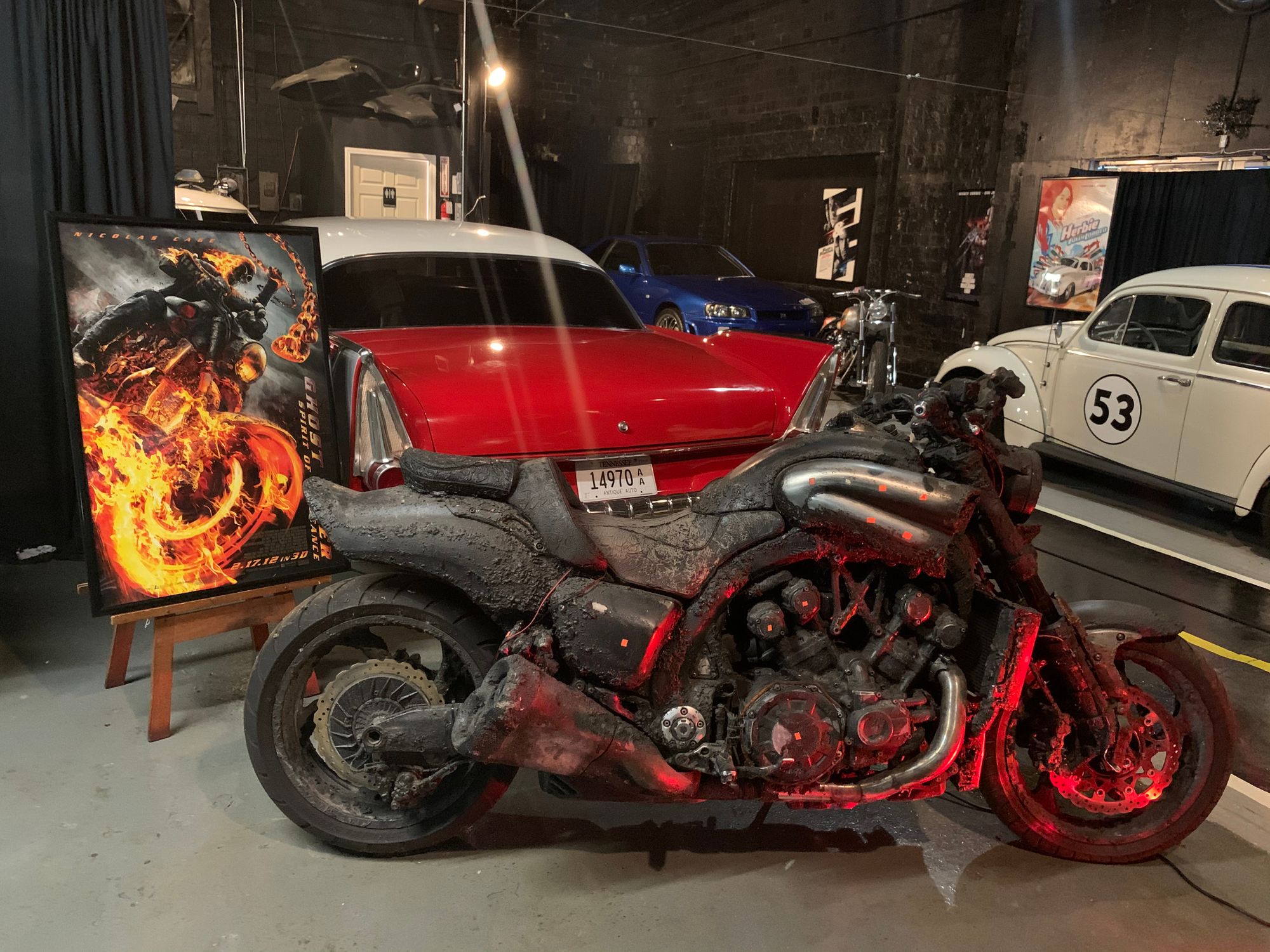 This is the real actual motorcycle that Nicolas Cage rides on as he portrays Johnny Blaze in the 2008 film Ghost Rider. Rusty acquired the bike back in 2012 after purchasing it from Sony Entertainment. Modeled after the Easy Rider "Captain America" motorcycle, this custom HD Panhead Chopper was given a menacing transformation complete with a huge skull that doubles as a headlight as well as chains for forks.
Fast And Furious - Nissan Skyline GT-R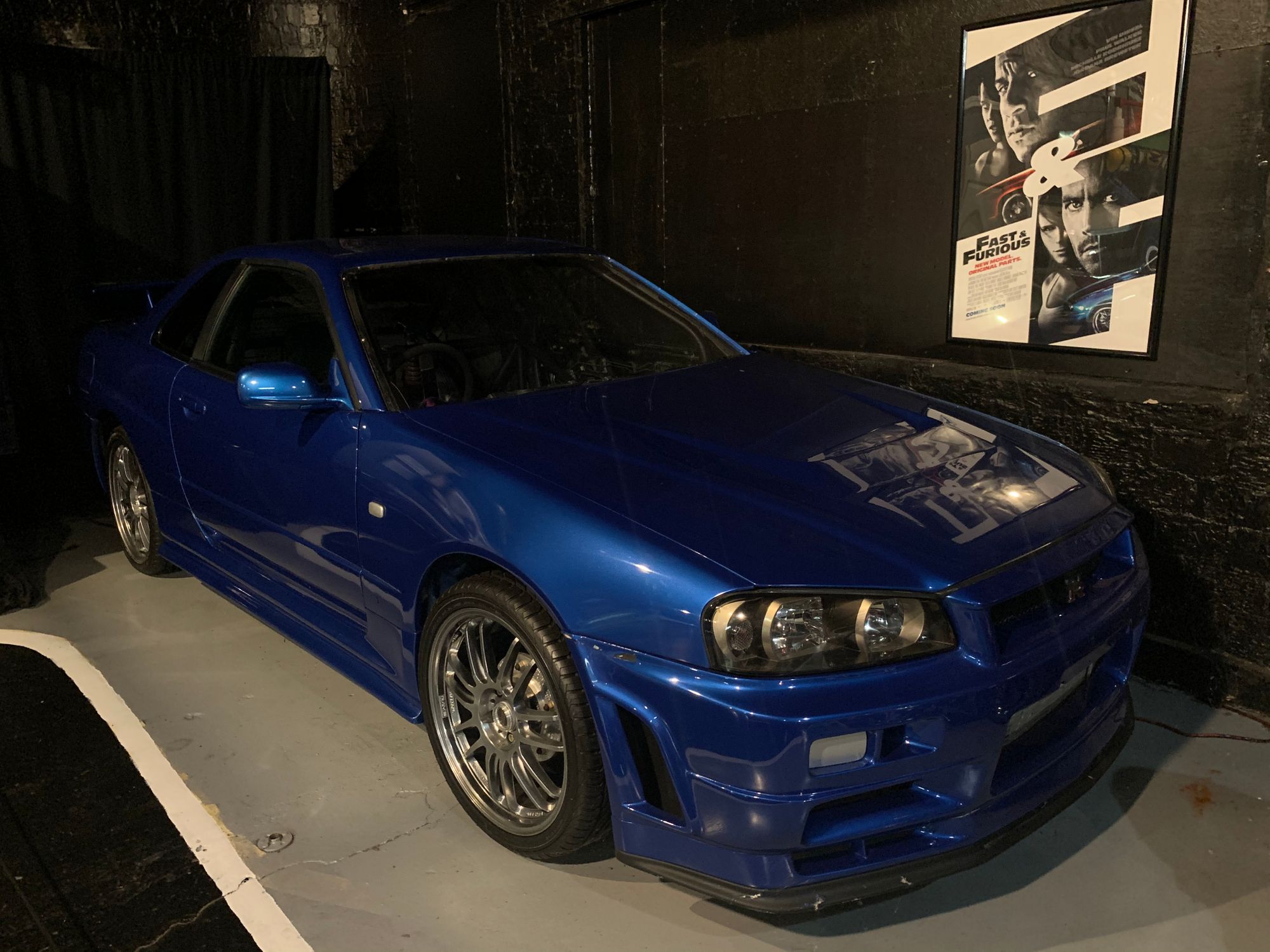 Rusty owns yet another original car from The Fast and the Furious franchise - this Nissan Skyline GT-R that was also driven by Brian O'Conner (Paul Walker) in the movie. Purchased from a guy that supplies Skylines to the movie, Rusty has owned this one for about 8 years.
Christine - 1958 Plymouth Fury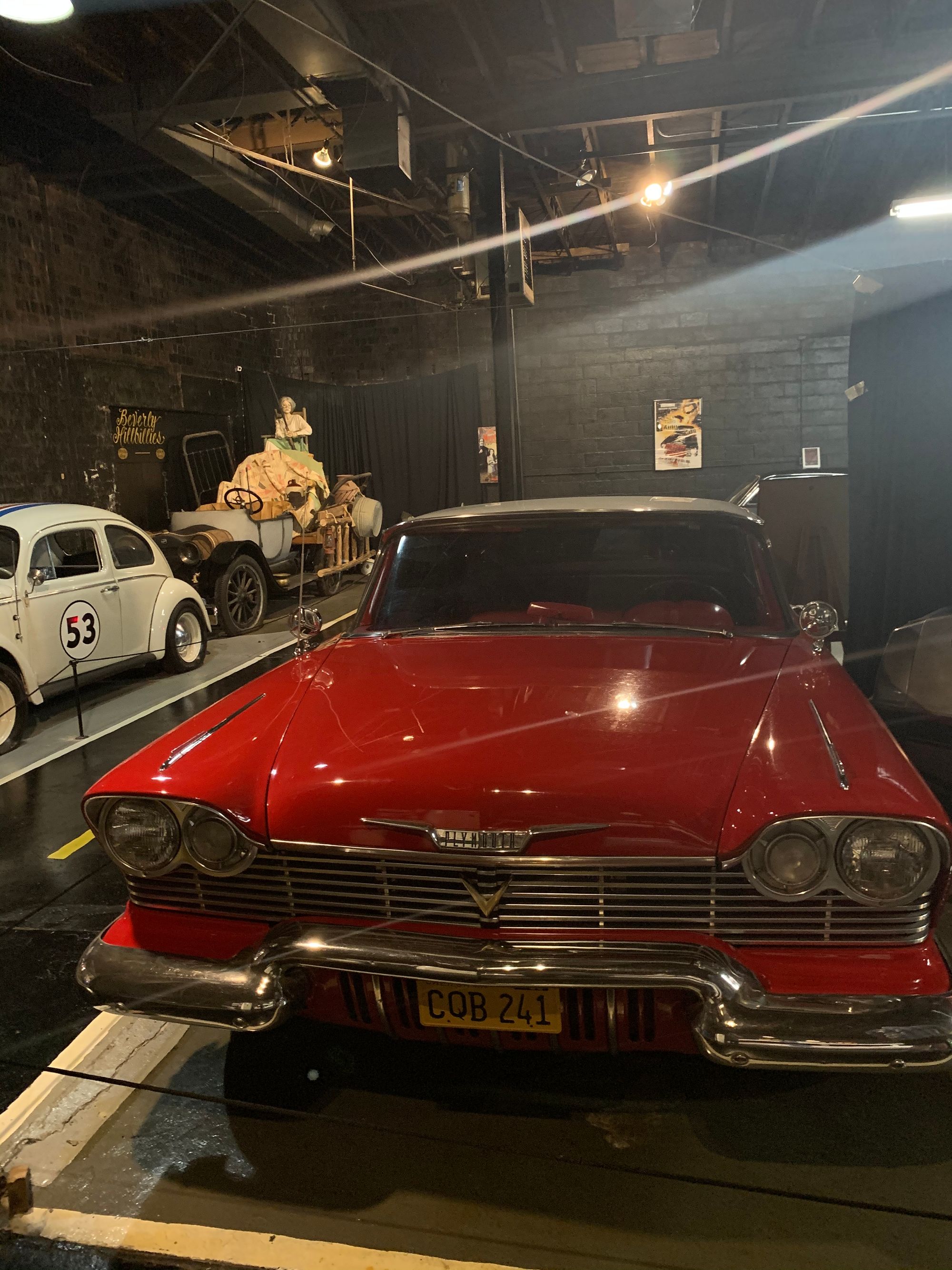 A 1958 Plymouth Fury is well-known for its reign of terror in Stephen King's 1983 horror movie Christine. In the film, Christine was purchased by Arnie Cunningham and was in the process of being restored, and he starts to spend more time with the car. His personality begins to change and Christine threatens to kill everyone around her. Rusty has owned this "killer" replica for about 10 years.
These are just a few of the famous cars that you can find at Rusty's TV & Movie Car Museum in Jackson, Tennessee. From actual onscreen cars to replicas built by Rusty himself (like Lightning McQueen), this is a stop that everyone can enjoy. For just $5, you can check out this incredible museum for yourself. Last but certainly not least, Rusty would like to give a big thanks to his mom and dad.