Here's a cool museum exhibit to check out…
---
While riding a motorcycle is certainly an exhilarating feeling, many of us also enjoy learning about the history of two-wheeled transportation. There are few better, more immersive ways to do this than by visiting a museum. And while many car museums have a few motorcycles tucked in here and there, some do better at highlighting the history and contributions of bikes versus others. It's in that vein we want to highlight a special exhibit on display right now at the Audrain Automobile Museum, called Balance and Power.
Motorcycle chariot races are real and you can see them here.
Many museum exhibits promise to walk you through the history of motorcycles, but they often go light on one time period if not many. That's not the case with Balance and Power, which takes us from the early days when motorcycles were slightly modified bicycles with engines all the way into road bikes and superbikes of the 1990s. The exhibit is divided into 7 major sections, each one exploring an aspect of the history and hobby.
Three of those sections are strictly chronological in nature. First up is of course the progression from modified bicycle to true motorcycles in the early 20th Century. Among the examples is a 1913 Indian Board Track Racer and a 1910 Pierce Four.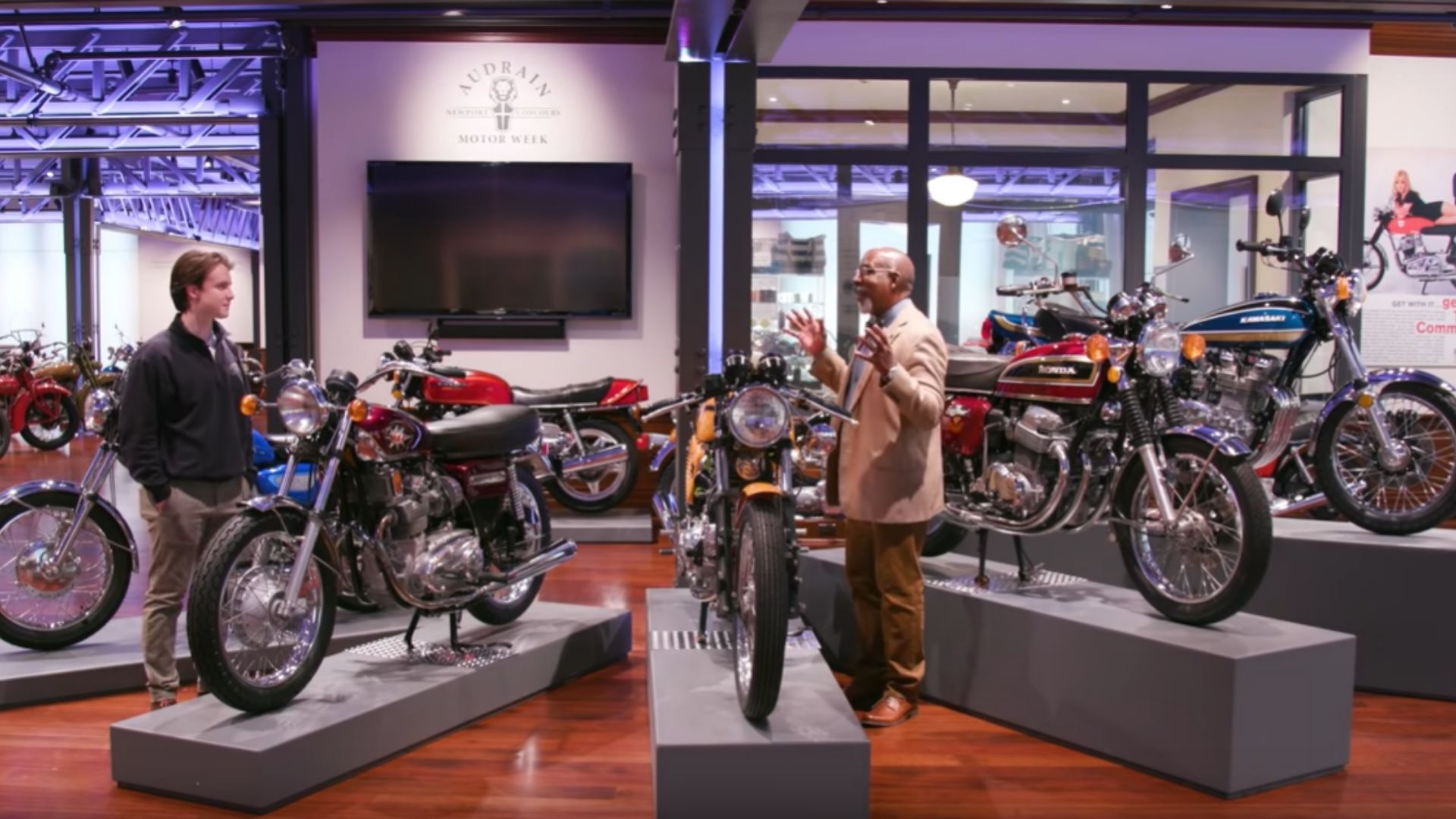 From there, the exhibit explores how motorcycles progressed after the close of WWI all the way until the kickoff of WWII. It was a time of rapid technological developments for bikes and a strong demand for features like sidecars, with Harley-Davidson and Indian leading the pack here in America. To demonstrate this, the museum has motorcycles like a 1928 Harley-Davidson JD and a 1930 Indian 101 Scout.
The third time period is from after WWII through the 60s. That was a time when Italian scooters exploded in popularity as particularly cheap rides. It was also a period when truly loud, powerful, and flashy motorcycles became all the rage. There's plenty to cover in that time and the museum has on hand quite a few bikes, like a 1953 Vincent HRD Black Shadow, 1966 BMW R69S, and 1967 Harley-Davidson FLHS custom.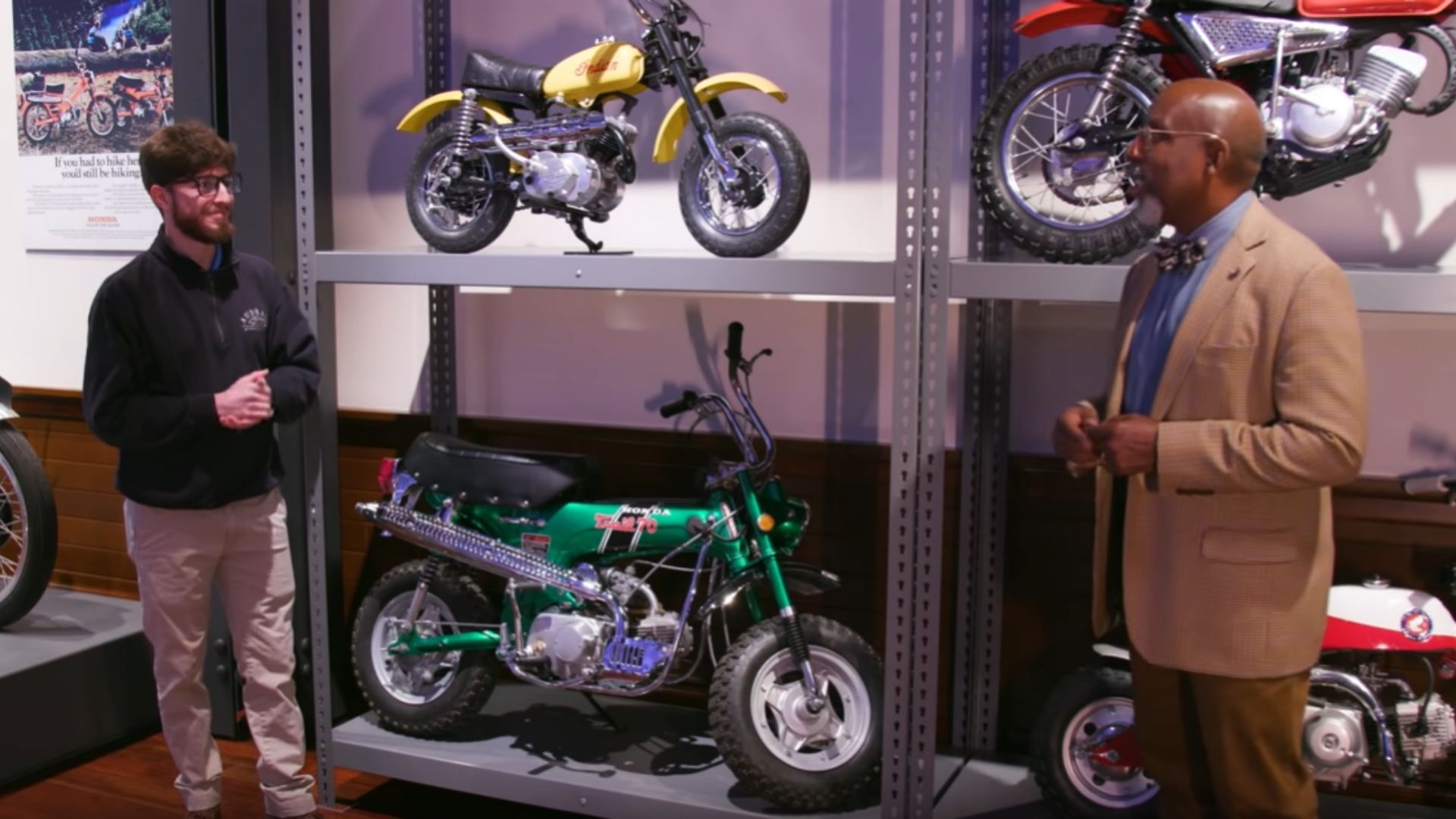 From there are four niche categories for visitors to explore. The first is Scooters and Small Displacement, which is pretty self-explanatory. Minibikes like the Honda Z50 Mini Trail, which helped get a lot of young riders used to the feeling of a motorcycle, are included.
Next up is Scrambler & Dirt Bikes, which pays tribute to the small-displacement, simple, and rugged bikes used for recreational and competitive off-road riding. This of course includes Motocross and Steve McQueen riding in desert races.
A 1970s Superbike Shootout section highlights the push for more power and razor-edge performance in the motorcycle market in the 1970s. We all know the effects of this movement today. The display specifically includes 6 of the 7 superbikes submitted by manufacturers for the 1973 Cycle magazine's Superbike Comparison Test held at the Orange County International Raceway. The Kawasaki 750 H2 was crowned the overall winner.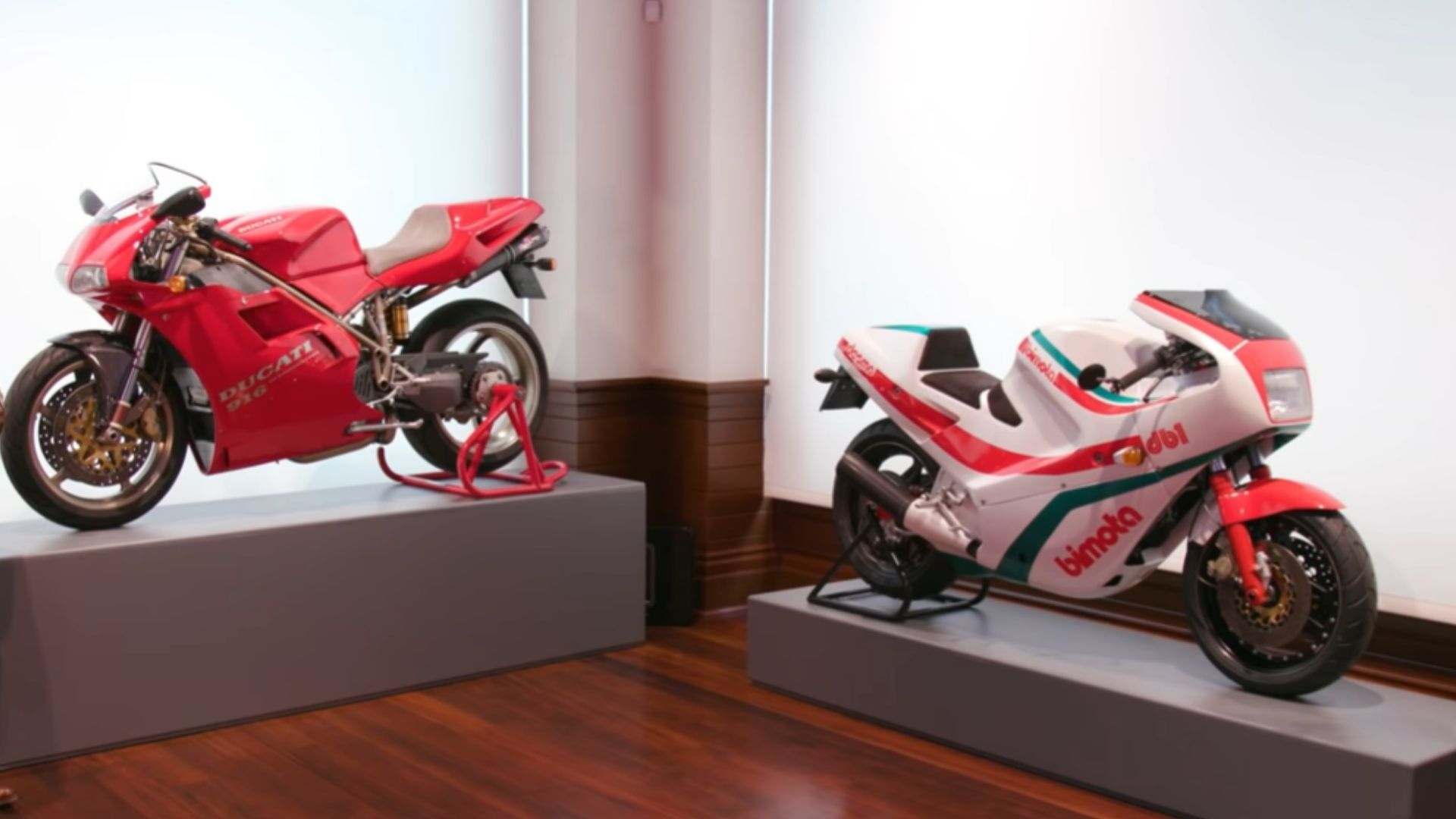 Finally, there's a European vs. the Big Four; Road Bikes to Superbikes section, which continues to tell the story of the performance wars from the 70s into the 90s. The pinnacle superbike displayed is the 1995 Ducati 916, but there are plenty of other go-fast bikes to ogle.
Balance and Power will be featured through May 16, 2021 so make plans to check it out. If you're not familiar with the Audrain Automobile Museum, it's located in Newport, Rhode Island. It's open every day from 10 am to 4 pm, so you can likely find time in your schedule for a visit, especially if you live nearby.
If you can't visit in person, at least check out the video.