Is there anything better than a vintage 'Vette?
---
The Corvette is an American hero in the sports car market. This model came out swinging against the notion that a car can have performance and a certain level of luxury, while also being made in America. What the moniker has evolved into is basically an affordable exotic or supercar, but it's where it came from that we're talking about today. Here are some of the coolest classic Corvettes for sale on Motorious.
1967 Chevrolet Corvette Convertible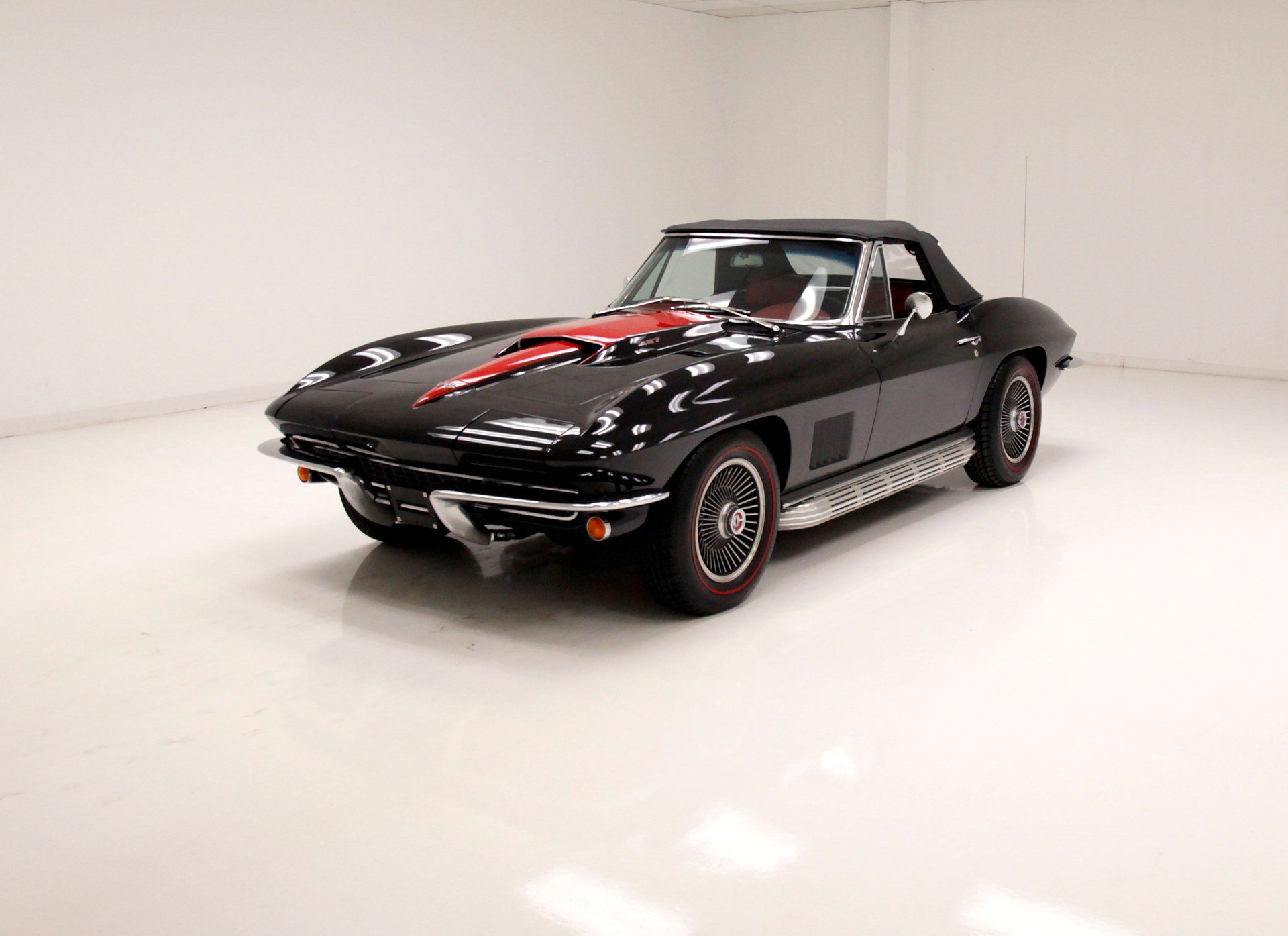 Here we see a 1967 Corvette with the stinger hood.  Born as a power example Corvette with a matching numbers 427 390-horsepower engine, correct Holley Intake and carburetor and 4-speed Muncie transmission.  It has the classic Sting Ray look.  Nimble, very fast, and the look from 1967, Harley Earl's team was definitely at the top of their game, and this car is at the top of the power chain. Exterior Deep Tuxedo Black painstakingly applied shows beautifully and is definitely the deep end of the pool as to paint quality.
1963 Continuation Grand Sport Corvette 640hp LT4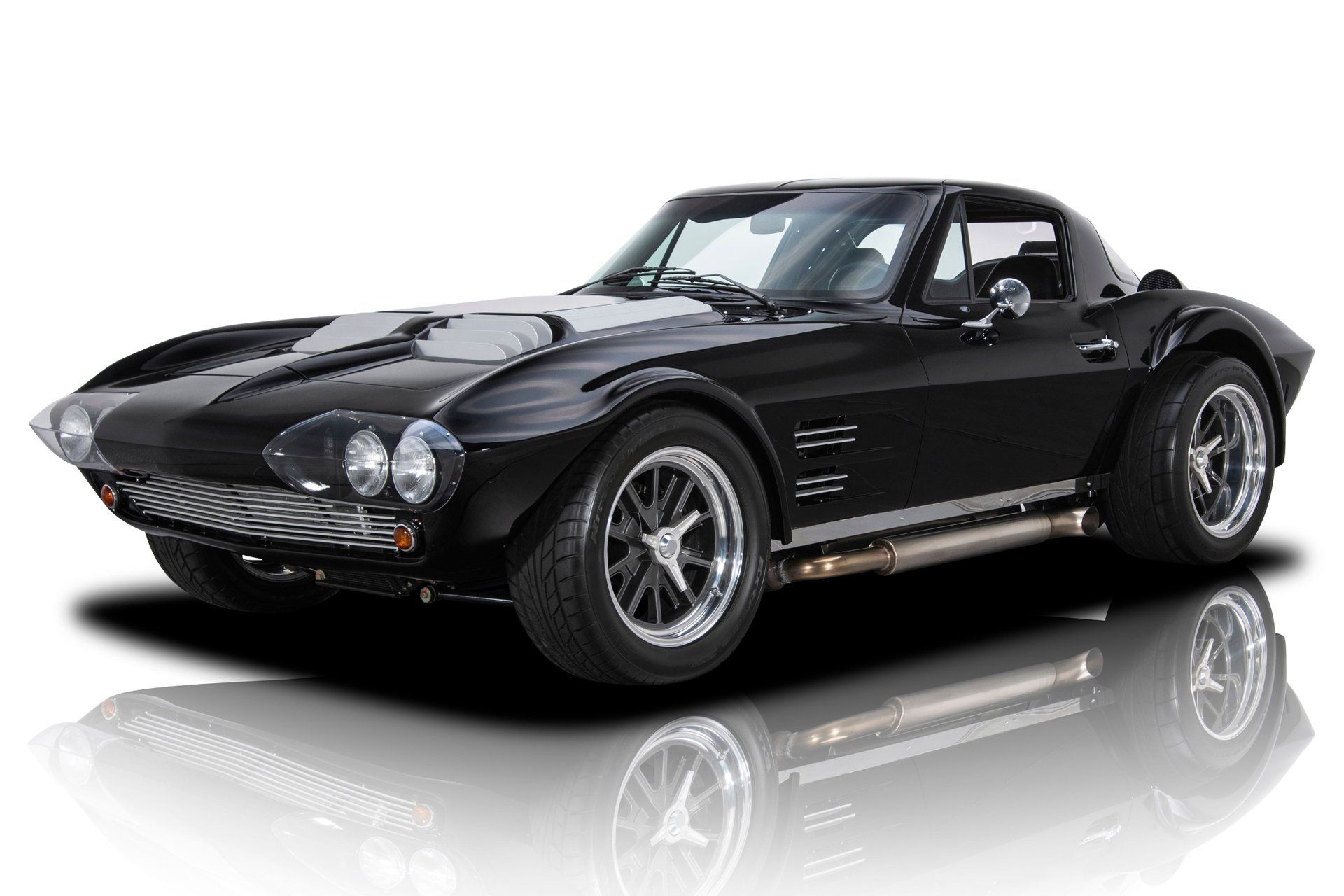 The popularity of some of America's greatest muscle cars has grown to the point that components, and even complete replicas, are produced as entirely new assemblies. Of course, being an astute enthusiast, you already knew that. Think about it: when was the last time you saw an original Shelby Cobra? The replicar phenomenon gained even more momentum when Congress passed the Low Volume Motor Vehicles Manufacturers Act of 2015 and, finally in 2019, outlined regulations that will pave the way for niche builders to assemble complete cars. With that in mind, it seems perfectly logical that this killer Superformance Corvette, a GM-licensed continuation of Zora Arkus Duntov's legendary first-generation Grand Sport, happily prowls the streets as a 2018 Chevrolet.
1957 Chevrolet Corvette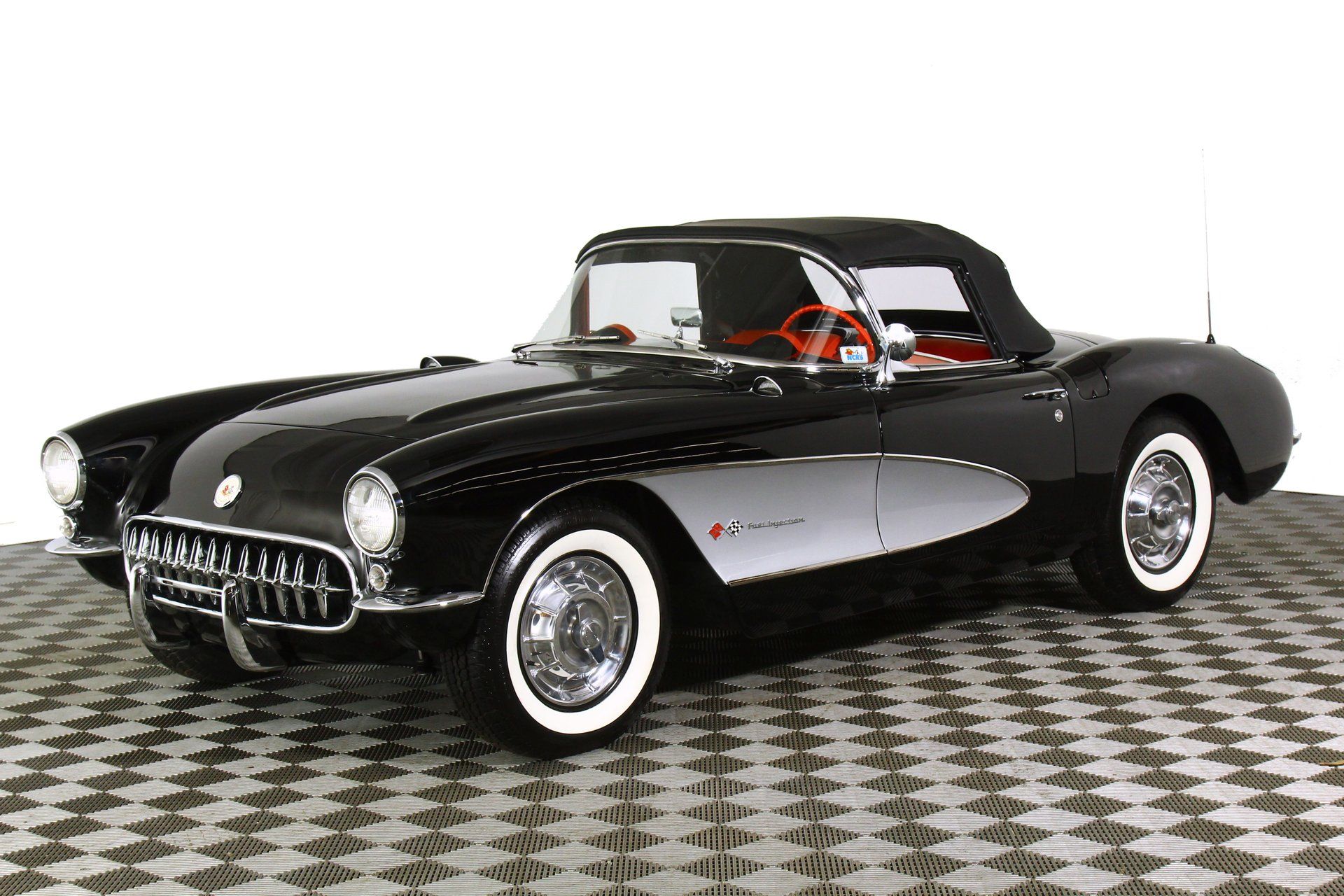 Awarded a Top Flight in 2017 at an NCRS Sanctioned event. Purchased locally from the man who oversaw the restoration of this car that spent most of its life in Nebraska we are proud to have it in our inventory. The seller holds a 1976 Nebraska title that was transferred to our local owner in 2012. Then he started down restoration road and he had only one goal- Top Flight. He did it and the car is magnificent. What could possibly be better than a black Fuelie with red interior and silver coves? Not much in our humble estimation.
1969 Chevrolet Corvette Race Car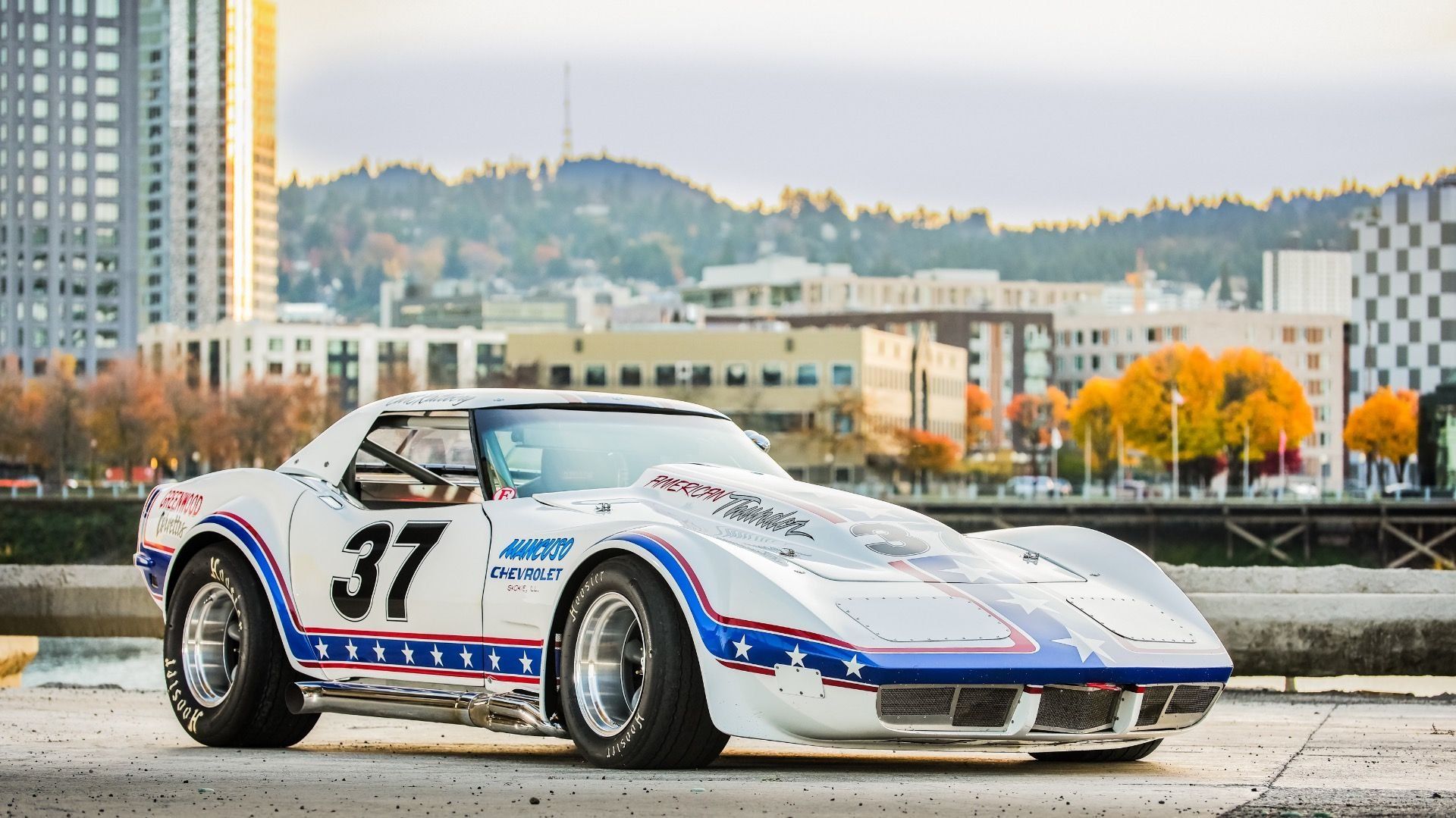 This 1969 Chevrolet Corvette was built into a Greenwood-bodied race car in the 1970s and is believed to have been campaigned in 1975 as a Greenwood team car driven by Rick Mancuso and Burt Greenwood. It was purchased in 1976 by driver Art Siri, who raced it through 1979 in the SCCA, where it continued to compete with two other body configurations through 1988. The car was returned to its Greenwood body style and livery in the mid-2000s and underwent its most recent refurbishment after the current owner acquired it five years ago.
1977 Chevrolet Corvette IMSA "SuperVette"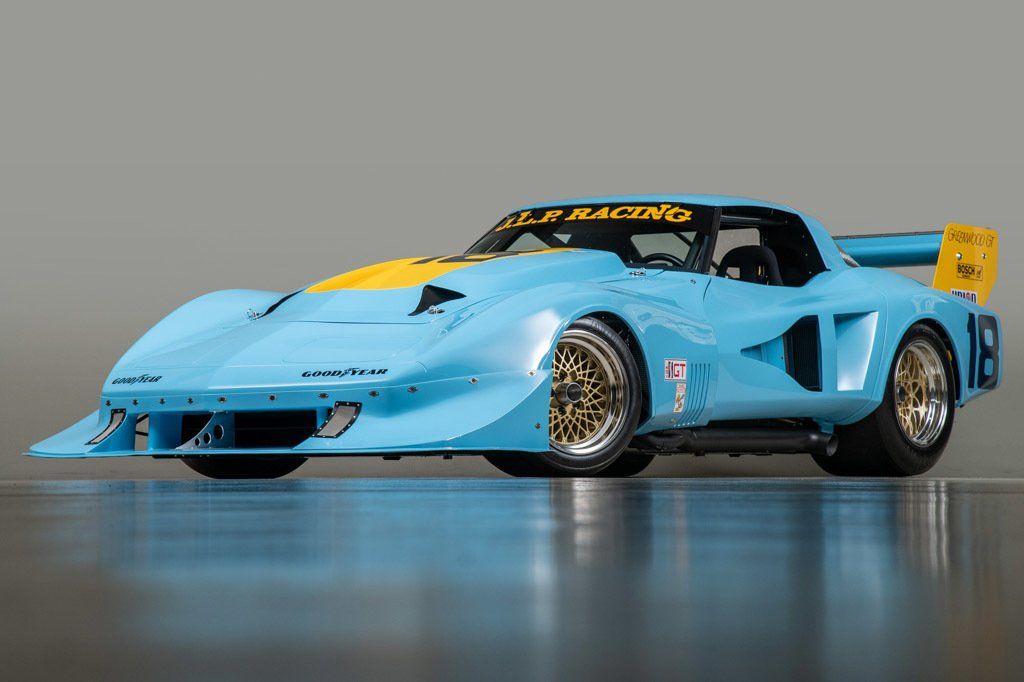 This Greenwood "Supervette", driven by the now infamous John Paul Sr. (JLP Racing), is one of two tube-frame chassis ever built, and was one of the fastest cars in IMSA and a constant threat to its competition. Fully restored by Canepa to its 1978 IMSA specifications, this aluminum big-block tube-frame bruiser designed and built by the pre-Protofab team is the ultimate expression of an IMSA Corvette. In 1976, the IMSA sanctioning body changed the rules of road racing to allow full tube frame cars to compete in the premier North American Road Racing series. John Greenwood saw a major opportunity to design and build the next generation of racing Corvettes.
1971 Chevrolet Corvette LS5 454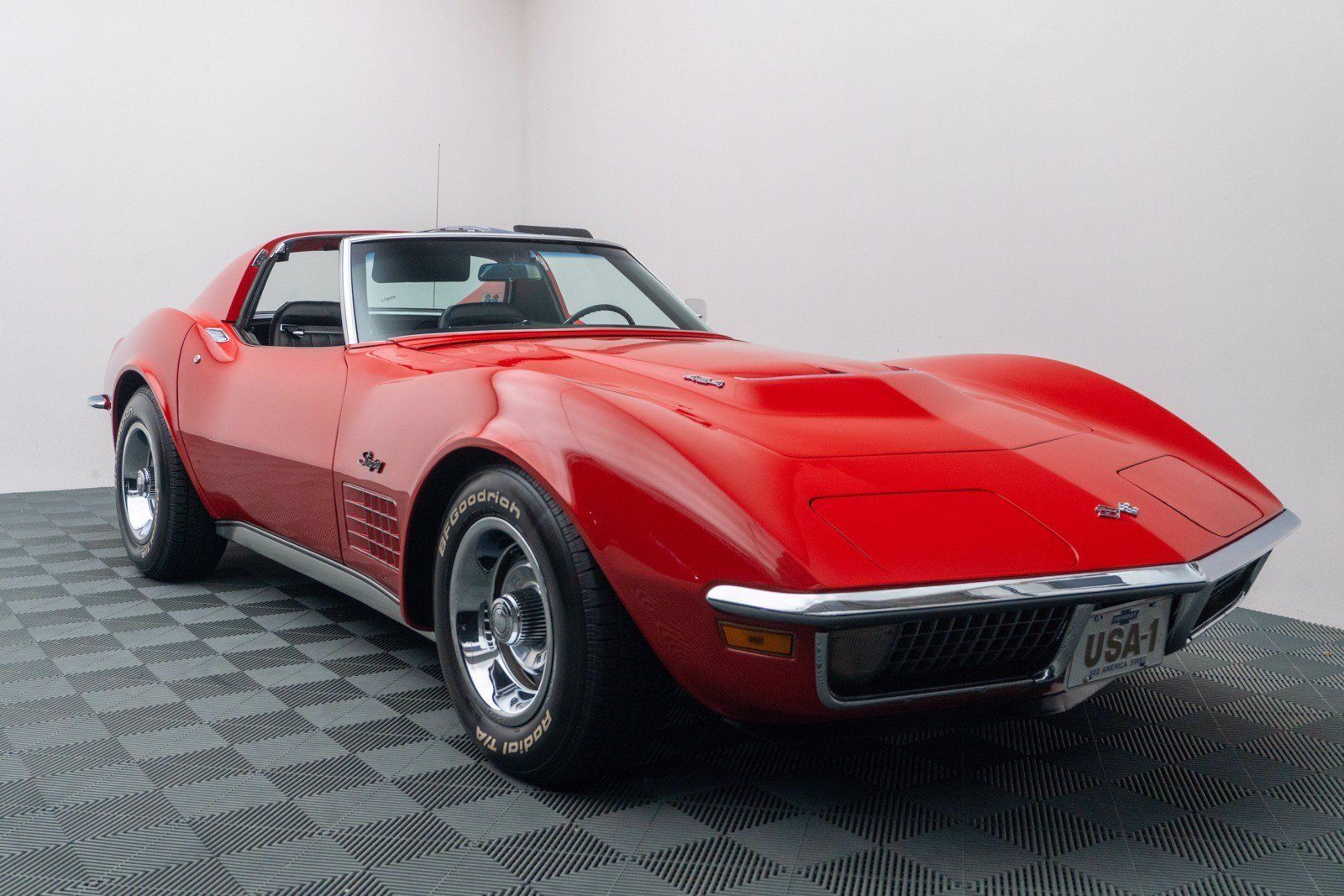 The C3 is the third generation of the Chevrolet Corvette Many improvements to performance and handling arrived with this generation Corvette. Many enthusiasts are drawn toward the early C3 Corvettes for their chrome bumpers, a distinct feature of this 1971. Originally a California car, this fully restored example is powered the LS5 motor, a 454 cubic inch big block motor rated at 365 horsepower from the factory and backed by a Muncie M21 4-speed manual transmission.
1969 Chevrolet Corvette Stingray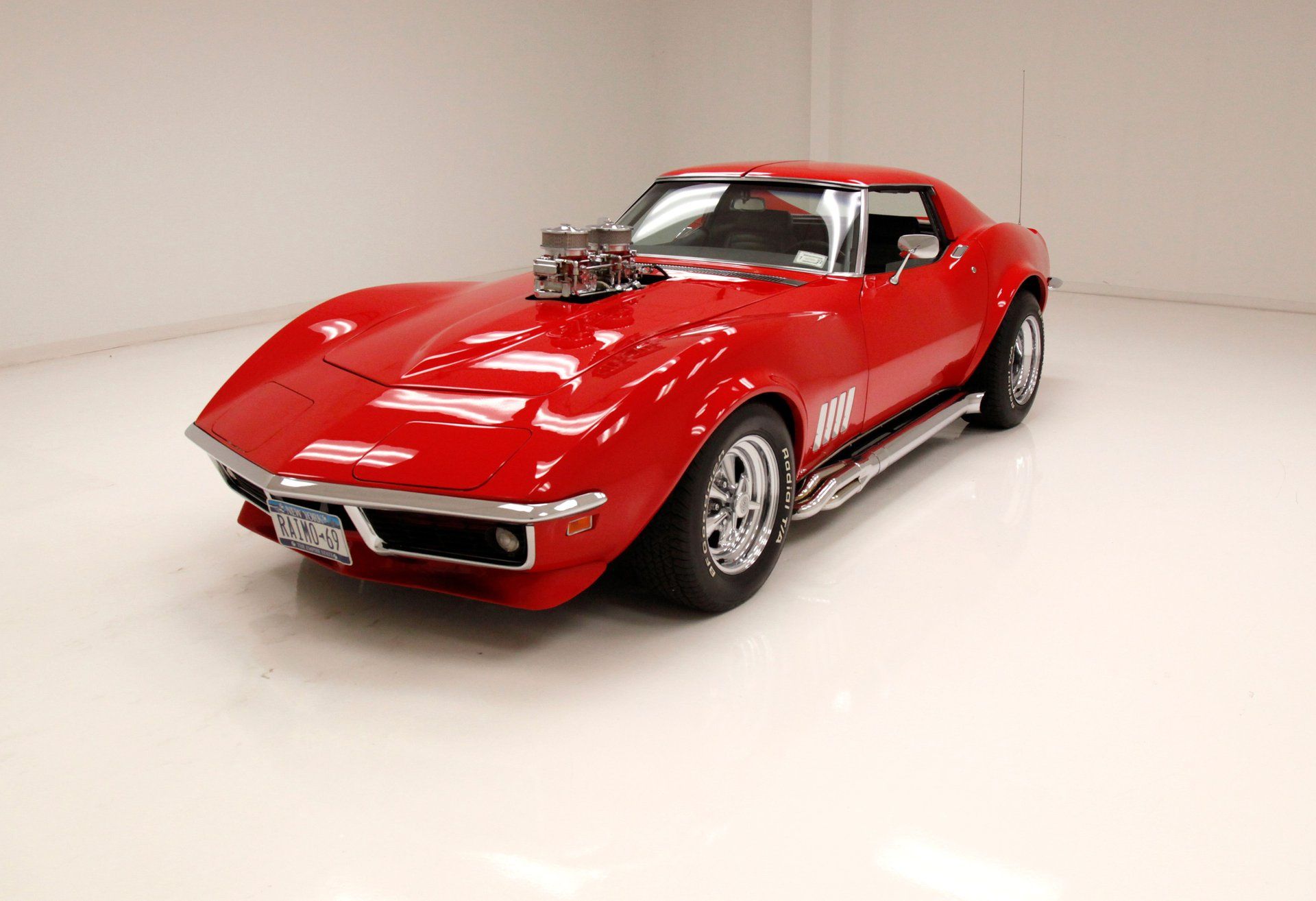 On this 1969 Chevy Corvette Sting Ray, every surface shines brightly, and if you are interested it is a 427ci V8 which is noted as a warranty replacement block from 1969-1970 according to its numbers.  On top is a polished Edelbrock tunnel ram with dual Holley 600cfm 4-barrel carbs.  In back is a numbers matching Muncie M21 4-speed manual transmission which pushes power to the back axle seen in 4.11 posi configuration. This engine bay is a study in detail and attention to it which is what we can call mint condition.
1960 Chevrolet Corvette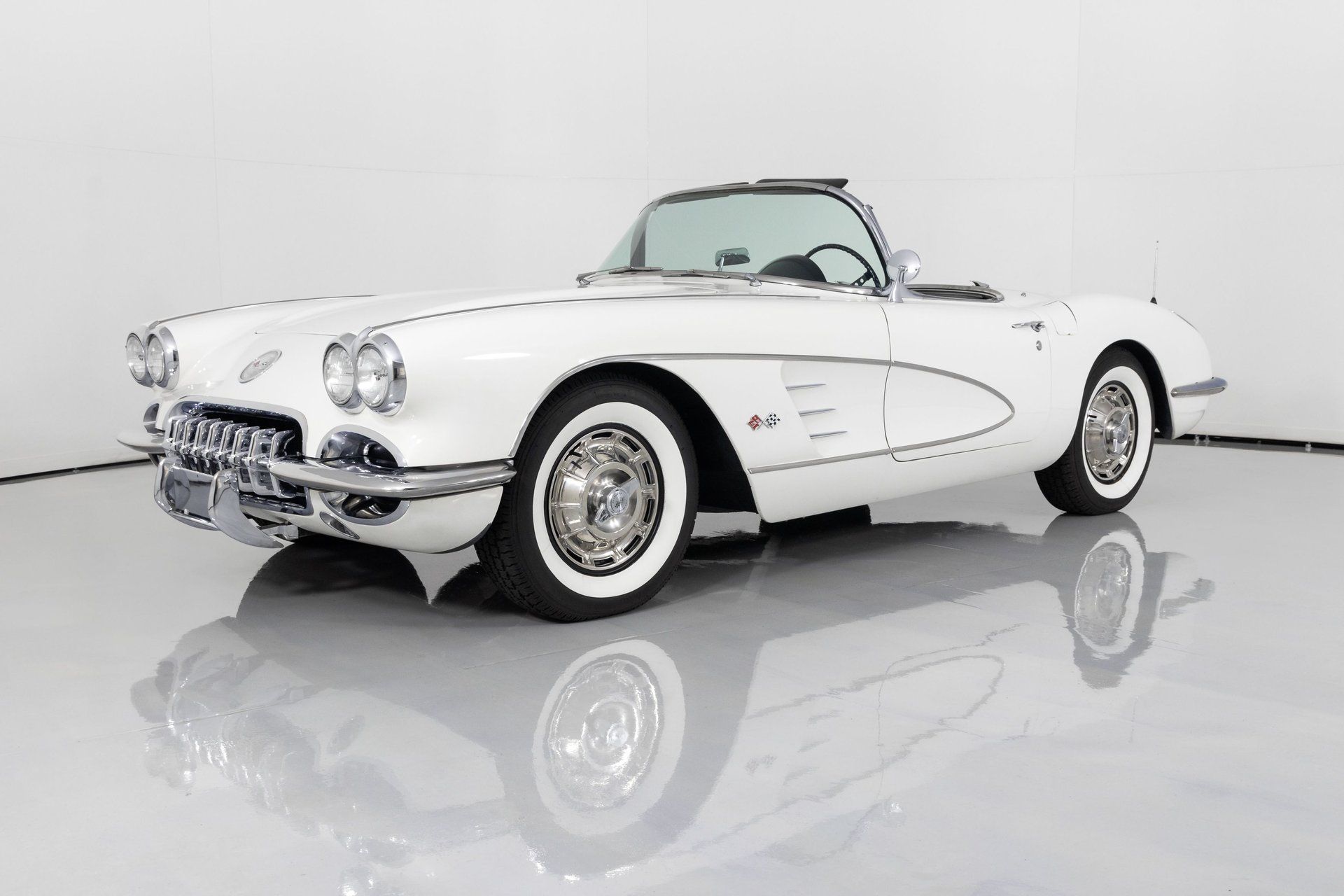 This 1960 Chevrolet Corvette has a 327c.i. V8 with 4bbl carb, powerglide automatic transmission, P55 rear with 3.55:1 Ratio, new bumpers and re-chromed Grill, Wonderbar AM radio, black convertible soft top, 7k center mounted factory tachometer, front license plate bracket, 15-inch steel wheels with spinner hubcaps, BF Goodrich Silvertown white wall tires, detailed engine compartment, correct bumper exiting exhaust, the restoration was completed in early 90's with receipts.