Talented 12-year-old uses photography and his model car collection to overcome autism.
---
Anthony Schmidt, 12, is a talented kid who loves photographing his car model collection, a hobby he picked up to help overcome the daily challenges he faces with autism. The pre-teen just needs an iPhone and a miniature car out of his vast collection that is continuously growing thanks to donations and gifts from fans and members of his community.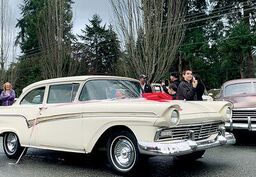 Just recently, an entourage of classic cars paraded down the streets of his hometown of Woodinville so they could present him with one special gift - a real 1957 Ford Custom 300. The owner of Miracle Carpets, Greg Wilkinson, gifted the car to Schmidt, and another huge fan of the kid's photography, Rich McKee, put together the car show and parade. Both found out about Anthony's photography through social media after seeing a post of his work on Facebook. Wilkinson was touched by Anthony's art and wanted to do something for the boy, and that's when he decided to gift him the classic car. McKee, a real estate broker and father of a son on the autism spectrum, was also impressed after seeing the boy's talented creative photography.
McKee learned that Wilkinson was planning to donate the car, so he then stepped in as a volunteer. They even planned out for the car to have a restoration with the help of multiple local auto shops and volunteers. Schmidt's mother was only aware that the vintage Ford was going in the shop for a small tune-up and a quick wash just weeks before the scheduled event. Even members of the Woodinville Car Club got in touch with various auto shops for the big restoration, and NAPA Auto Parts employees chipped in with their own money for various parts and a tune-up. A paint restoration was provided by APC Auto Spa.
Anthony was blown away by the whole thing. "The car show was way more than we ever expected," Anthony said. "We were completely surprised and blown away. It's like something out of a fairytale, no other way to describe the feeling."
Car owners from all around the area met on the day of the parade at the Woodinville Sports Field parking lot. The cars slowly made their way through town and into the Leota Middle School parking lot where Anthony had been waiting. The newly restored Ford then made its way there after a brief pause, and it was driven up right where Anthony was standing. That's when McKee hopped out and handed over a set of keys to the boy.
Wilkinson's service dog, Betty, was also at the event, and that was the name that Anthony gave to his first real car. His grandfather, who had since passed away, was a worker at a Ford manufacturing plant for three decades, and he always wanted to restore a 1950s classic.
Source: NW News
Read More Classic Car News Here...