A fun S.T.E.A.M. project to keep the kids entertained during school closures.
---
As millions of parents around the world are suddenly thrust into an unexpected role of homeschool teacher, a growing number companies are coming up with creative ways to put together makeshift lesson plans. One example of this is UK design firm, CALLUM, which released three coloring pages for kids (or bored adults) of the company's bespoke Aston Martin Vanquish 25.
CALLUM was created by former Aston Martin and Jaguar design boss Ian Callum, who retired from the automotive industry last July, and the company's first project was the Aston Martin Vanquish 25 – a limited run of just 25 units putting a modern spin on the first Aston Martin designed by Ian. Each car is completed stripped down and extensively restored, and it gets modern upgrades over the original including plenty of carbon fiber, a redesigned interior and a wider track. The biggest enhancement is 5.9-liter V12, which receives an extra 60 horsepower to bring this engine's output to 520 hp.
For the coloring pages, the Aston Martin Vanquish 25s are literally a blank slate for artists to imagine their own version of this bespoke supercar in a variety of backgrounds including a comical one showing an elephant and parrot washing the car. If that isn't cool enough, CALLUM designers will also choose their favorite drawings by using the hashtag #colourwithcallum on social media. We'd love to see your designs, too, so be sure to tag us on Instagram, Facebook or Twitter.
Regardless if you're just trying to kill some time or have your kids take part in the competition, just be sure you print out these coloring pages in landscape format.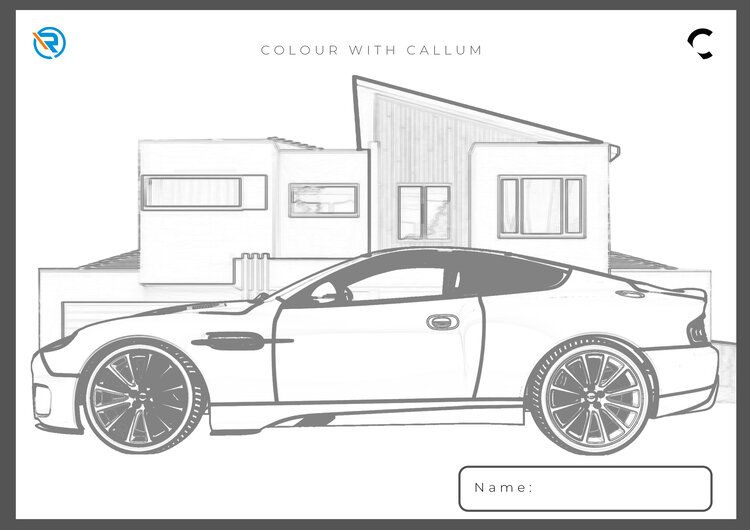 Source: CALLUM
h/t: Auto Express
Related Articles...