A flattened barn took out a collection worth hundreds of thousands of dollars.
---
Ewen Sergison, a racing engineer and high-speed driving instructor, was traveling to his home in the UK when a storm hit the area. While he had a rocky plane trip home, flying through winds blasting up to 100 mph in some places, it was what he saw when he got home that shook him the most. When Ewen returned to home, his barn then collapsed on rare cars, some worth around $350k each.
Ewen had only been home for an hour and a half, following the scary plane ride to get there, when the storm knocked down the barn. He explained:
"We got the dogs in the house and I said to my partner that I thought a tile was going to come off.
"Straight away one did and then the whole courtyard just filled with dust. The building's roof and walls came down."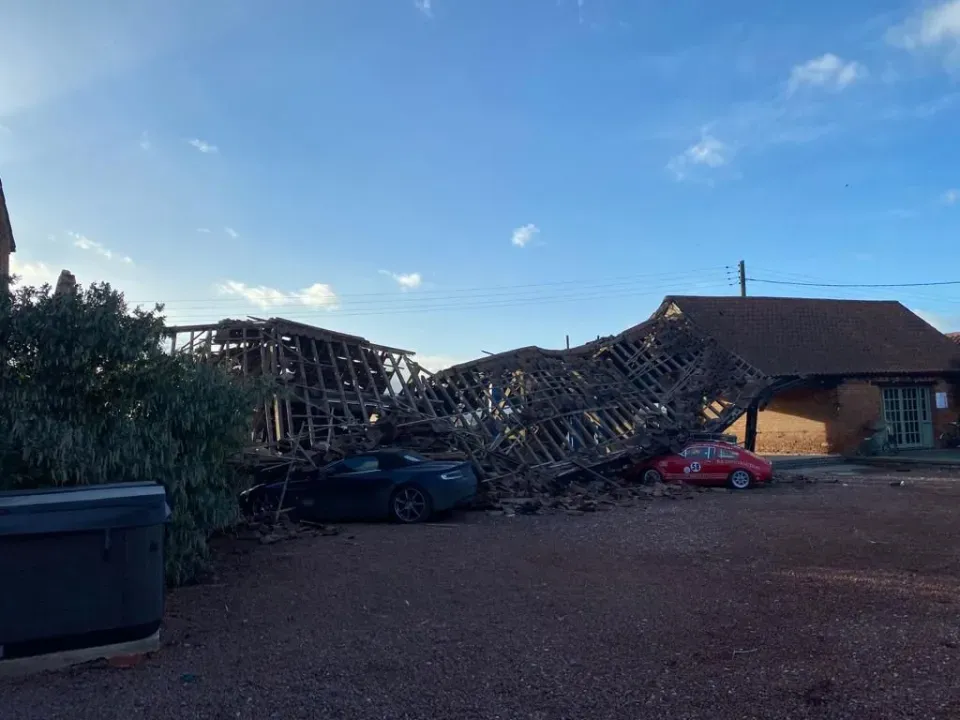 One of the cars in the collection was given to Ewen, now 46 years old, when he was 14 years old as a gift from his mom. The maternal gift was a 1968 Mini Marcos. The barn also housed an Aston Martin Vantage.
'My partner was absolutely hysterical,' he added. 'My first thought was, "Are there any members of staff in the building?"
There were customer cars in the building, said to be undamaged, but the biggest concern was for any people left inside.
"So when I saw there wasn't and everyone was alright, it was a massive relief.
'I had customers' cars in there as well as my own – one of them is worth more than £350,000. Thankfully there was only minor damage to that one.
'Hundreds of thousands of pounds worth of damage has been done. It's pretty devastating."
He is now working to prevent any further damage from the structure continuing to collapse.