Andy De La Vega turned his new Mustang into the movie car.
---
Starting with the pristine, seventh-generation Ford Mustang GT, which is powered by a naturally-aspirated 5.0-liter V8 engine, De La Vega decided to give his Race Red Mustang a transformation that would make it the embodiment of animation nostalgia. The modification involved the application of a special livery that is resplendent with red, yellow, and white graphics, reminiscent of the famous movie car. This custom wrap sports the number 95 and showcases "Rust-eze" sponsor decals, a detail that fans of Cars 3 will certainly recognize.

Check out the latest problem C8 Corvette Z06 owners are experiencing here.
Not just settling for body modifications, De La Vega went above and beyond by adding the signature eyes to the windshield, using a transparent-like film to ensure that visibility is not compromised. The authentic look was further achieved by painting the rims in matching red and embellishing the Continental tires with white "Lightyear" lettering. The rear glass also received a makeover with the addition of three red stripes.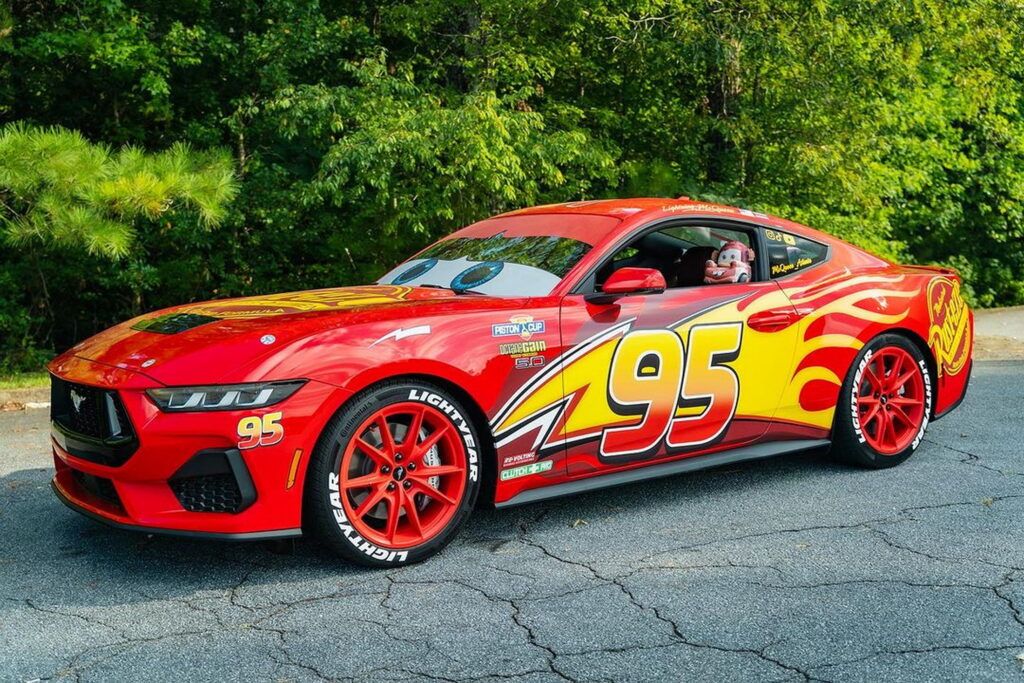 The transformation was not solely aesthetic; De La Vega enhanced the car's performance by incorporating RTR lowering springs to give it a closer ground proximity, mirroring a more legitimate racecar aesthetic. The muscle beneath the hood, the 5.0-liter Coyote V8 engine, retains its stock condition, delivering 480 hp (358 kW / 487 PS) and 415 lb-ft (562 Nm) of torque. To amplify the car's roar, a Steeda H-Pipe was integrated, making this Mustang McQueen notably louder.
Known as McQueen Atlanta on social media, De La Vega enjoys a considerable following and uses his unique Mustang at various events including birthday parties and fundraisers. His profile showcases the Mustang McQueen receiving ample attention as it is driven around Atlanta, and it's not De La Vega's first endeavor into transforming a car into Lightning McQueen; he previously converted a model from the Mustang's previous generation into another vibrant impersonator of the animated character.
Lightning McQueen stands as a celebrated character in animation, envisioned as a generic racecar without a specific production model as its inspiration. This allows considerable creative freedom for real-life interpretations, as opposed to cars like the General Lee, inextricably linked to the classic Dodge Charger. While the Ford Mustang GT serves as a suitable canvas for the Lightning McQueen transformation, one can't help but visualize the potential in other models, such as the Chevrolet Corvette C7, undergoing a similar metamorphosis.
In a world where animation and reality seldom collide, Andy De La Vega's Lightning McQueen Mustang GT stands as a testament to the seamless blend of cinematic charm and automotive innovation, likely to enthrall fans and car enthusiasts alike as it cruises the streets, bringing smiles and joyous surprises to children and adults of all ages.