Unleash the beast.
---
Specialty Vehicle Engineering (SVE) has yet again graced the automobile stratosphere with a marvel of muscle and performance—the magnificent Yenko/SC 2024 Chevy Camaro. A mesmerizing blend of power and aesthetics, this limited-edition powerhouse is ready to set the roads ablaze.
Learn about a new car selling scam you need to watch for here.
Crafted meticulously for those who crave extraordinary power but with a touch of mildness, the Yenko/SC Chevy Camaro emerges with a colossal 750 horsepower. Nestled under its hood is a meticulously blueprinted 6.2L V8 LT1 gasoline engine, an ode to extraordinary craftsmanship and relentless power.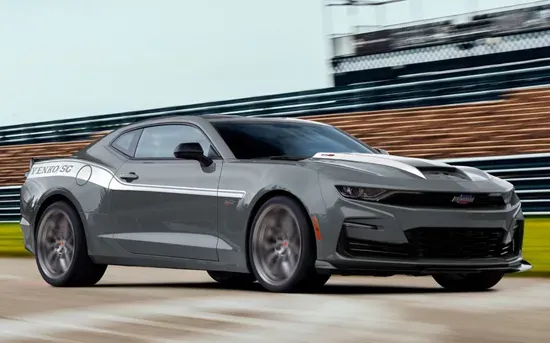 SVE's ingenuity doesn't stop there. The heart of this beast, a remarkable 3.0L twin-screw supercharger, is custom-developed by SVE. It's not merely an addition; it's the 'secret sauce' catapulting the LT1's output into a realm of exhilarating potency. Each rev, each purr, and each roar is a testament to a symphony of modifications including a colossal oversized air-to-water intercooler, a unique intercooled bypass system, and a high-flow supercharger cooling system, culminating in a marvel of mechanical artistry and unmatched performance.
The pursuit of personalized perfection is elegantly embraced, offering the supercharger housing in bespoke color options aside from the standard majestic black finish. In the realm of transmissions, choose between the smooth precision of a six-speed manual transmission or embrace the effortless command of the GM 10-speed automatic transmission.
Externally, the Yenko/SC Camaro echoes a refined ruggedness. Adorned with elegant side stripes and a mesmerizing body color-painted carbon fiber hood that reveals a glimpse of exposed carbon fiber, its presence is a beautiful ode to subdued aggression and design sophistication.
Be forewarned—the Yenko/SC Chevy Camaro isn't for the masses. With a mere 50 units slated for production, it stands as a rare gem in the pantheon of muscle cars, a limited testament to the marvels of automotive innovation and exquisite design. Secure your place among the exclusive custodians of this extraordinary embodiment of power and style.