This reservoir has finally been cleaned up after years of water pollution caused by stashed stolen cars.
---
Modern-day technology has gifted the world many new opportunities within virtually every industry. Some have included CAD design software that makes it easier to design products, robotic factory assembly tools that increase efficiency and productivity, and engine technology that allows for power and gas mileage. However, another field has been made incredibly sophisticated with the help of modern advancements, the search and rescue industry. This particular story shows that while also exploring a pretty weird discovery within the automotive world.
Watch the latest Motorious Podcast here.
Scottish Water, a Scottish Water services company, has finally made some headway in uncovering nine passenger vehicles in Gleniffer Braes, Scotland. While it's unclear who exactly put these cars underwater. We know that the story revolves around nine stolen vehicles likely stashed in the area years earlier. While it may be possible to find evidence of the vehicles' origins or possibly who put them there, the primary concern was to preserve the water and surrounding wildlife. After years of residents talking with authorities, conservationists, and water companies alike, the waters have finally been drained, and the cars have been dug out of their seemingly perpetual residence.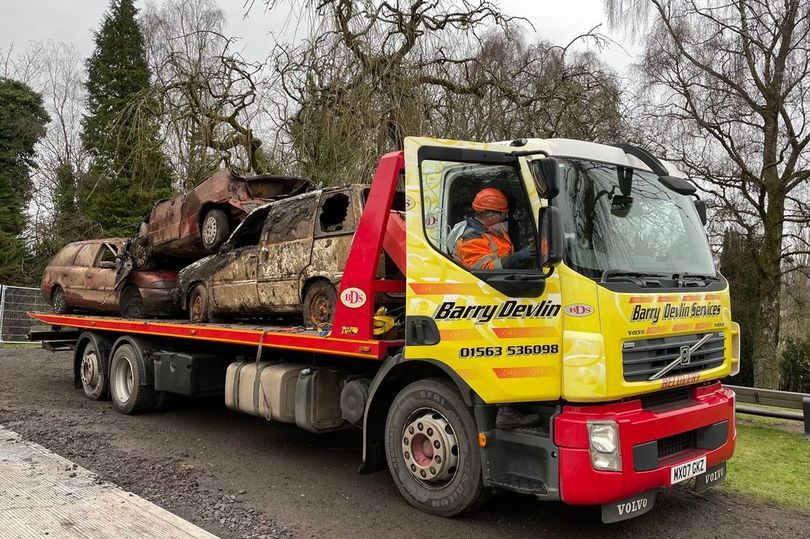 Nowadays, the vehicles have all been carried away on flatbed trucks. This came after the Scottish Water company enlisted the help of contractor George Leslie Ltd. Finally, the Paisley reservoir is free from the rust and metal corrosion that had been slowly seeping into the water. Residents will no longer have to see the up-ended tailpipes of these nine vehicles when the water levels are low, making the area an even more beautiful landscape. Hopefully, the same planning, precision, and technology will be used to free up other places with a similar issue and make the world a cleaner place for water-going citizens.
Source: Daily Record, Daily Record